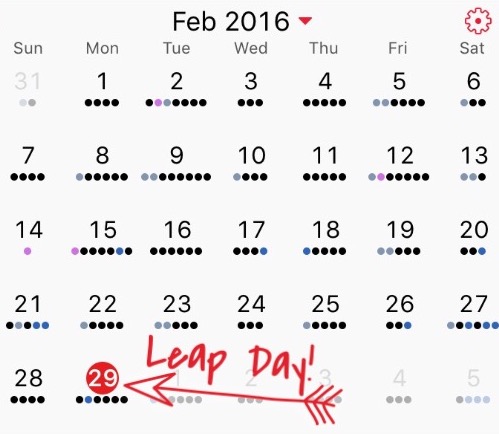 Today is my eleventh Leap Day, which happens to be my lucky number.
On my tenth, in 2012, I took a Leap of Faith, I changed the name of my blog, from Four of a Kind to Bereaved and Blessed, and moved it from Blogger to Self-Hosted WordPress, with this/my own URL.
We had lived in our new home for seven months, Sean was 8 and Abby was 2. Bob and I were both 36. In some ways it doesn't seem like that long ago, time really does fly…
On my ninth, in 2008, our daughter Molly was still alive and President Obama had not yet been elected.
It's fascinating to reflect on my life in four-year segments, to recognize the stages I was at, as well as the milestones my loved ones and I had reached.
Our last Leap Year coincided with another U.S. Presidential Election and the Summer Olympics which were held in London. That is where I lived, for my college semester abroad, during my sixth Leap Year in 1996. I had hoped this current Leap Year, that the Summer Olympics would be held here in Chicago, but we lost the bid to Rio de Janeiro.
This 2016 Leap Year also coincides with another U.S. Presidential Election, one in which I hope, and am working hard, to see former First Lady, Senator, and Secretary of State Hillary Clinton is elected to be our 45th President.
I also hope, pray, and will work to for social and criminal justice reform, including Adnan Syed's exoneration, whom I am convinced is innocent and whose freedom is long overdue. I also hope and pray that someday we find out who really murdered Hae Min Lee, so she and her family can truly have justice.
This weekend I am traveling to Baltimore, MD for A Night For Justice, an event to benefit Adnan's legal fund, as well as to connect with other like-minded people passionate about being the change they wish to see in our world.
My earliest Leap Year memory is from my third in 1984. I was in third grade and a classmate invited me over to play. Legend has it that on Leap Days women are allowed to ask men to marry them. My friend's mom told him about the tradition which somehow translated into him inviting me over to celebrate.
In 1988 we were in seventh grade and gathered at a mutual friend's home that evening to hang out and play board games in honor of Leap Day.
In 1992 we were in eleventh grade and worked together on a Chicago Metro History Fair project about our town's golf course, a sport we both played and enjoyed. I recall seeing each other at some point on Leap Day that year and reflecting on our tradition.
We lost touch after high school, reconnecting four years ago on Facebook in 2008, which seemed fitting being that it was a Leap Year.
It's interesting to wonder where I will be and how my life will have changed on the next Leap Day (in 2020), when my husband (who I married during my seventh Leap Year in 2000) and I will be 44 and our living children will be 16 and 10 years old (in 10th and 4th grades).
Where will Sean be going to high school and what extracurricular activities will be most passionate about?
Which local school will Abby be attending and will she still love dance and/or be pursing other things in her free time?
Will Bob be working for the same company (which he began working for during my seventh Leap Year)?
What will my Beachbody coaching business look like? I believe that I will still be doing this vocation that I love four years from now.
Today, I say a prayer of thanksgiving for a college church/Koinonia community friend who took her last breath. Cancer sucks, on leap day and every day.
Rest in peace, old friend, as you take your leap to Heaven. xoxo

I hope and pray that my family and friends will get to experience and celebrate many more memorable Leap Years in our lives.
This post was adapted from an earlier version that I wrote and shared, as part of The3Six5 writing project, on February 29, 2012 (my tenth Leap Day).