14 years later, I remember. I remember where I was, what I was doing, and how I heard the news. I will never forget that day, the lives that were lost, and how our world changed. ??
In November my mom and I visited the 9-11 National Memorial and Museum in NYC. We were profoundly touched and moved by what we saw. ?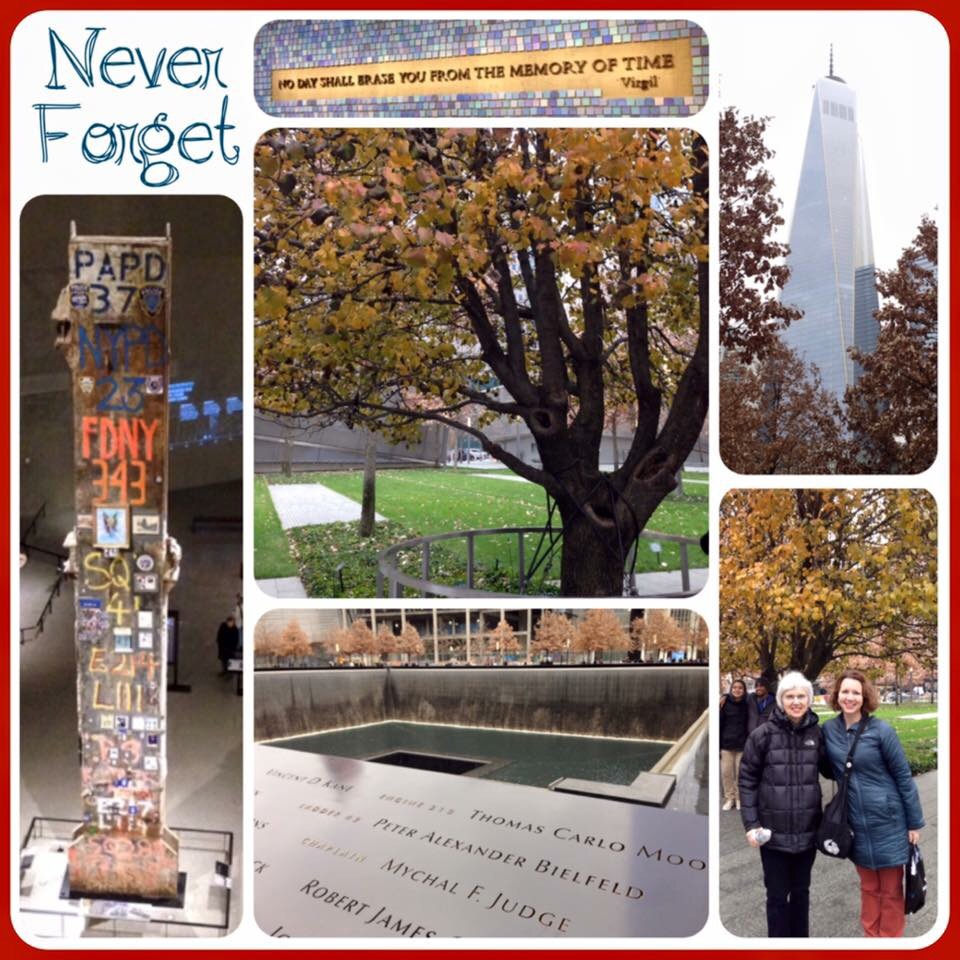 One of my favorite things there, besides the breathtaking water falls surrounded by the names of those who died, is The Survivor Tree. ? My mom and I are pictured here in front of it.
Sending peace, love, and hope to our world on this bittersweet day. ❤️✌??
~~~~~~~~~~~~~~~~~~~~~
I have written a lot about 9/11 over the years on my blog. Here is a round-up of posts that I have shared:
P.S. (9/11/07)
My post from the 6th anniversary of 9/11/01, which I wrote after watching a 9/11 tribute episode of The Oprah Winfrey Show that morning, which had profiled some of the children of those who had died in the World Trade Center, the Pentagon or on Flight 93. I also talked about how when we go through difficult and uncertain times in our lives the importance of being able to transfer what we learn from those experiences into being more sensitive to others who are also struggling, even if their trials are nothing like ours.
We Carry On (8/29/09)
I wrote this about how we carry on after the death of loved ones. It highlights a story that President Obama shared four years ago in the eulogy he gave at Senator Ted Kennedy's funeral. The President talked about how Senator Kennedy reached out to and supported the families of 9/11 victims in his home state of Massachusetts. In light of the 12th Anniversary of 9/11, I think this post is both timeless and timely.
8 Years (9/11/09)
My post from the 8th anniversary of 9/11/01, including my account of my experience on 9/11/01, which I had previously typed up for myself and to share with some loved ones on 9/11/02, as I wanted to remember what I could about my experience that day, while it was still somewhat fresh in my mind.
A Prayer for Peace (5/2/11)
I wrote this soon after I found out that U.S. troops had found and killed Osama Bin Laden that year.
9/11: Remembering & Carrying On (9/11/11)
My post from the 10th anniversary of 9/11/01, in which I share about how Bob and marked the milestone watching many documentaries about what happened, as well as telling our then almost 8-year-old son about the events that day for the first time.
A Beautiful Cartoon (11/16/11)
A post highlighting a talented artist, Jeffery Koterba, and the moving cartoon he made not long after the assassination attempt on Congresswoman Gabby Giffords. Mr. Koterba found out that a young girl named Christina Taylor Green, who was also shot that day and died, happened to be born on September 11, 2001. He drew this beautiful cartoon in her honor and memory.
Time Warp Tuesday: Comments Please (2/7/12)
My 15th Time Warp Tuesday post revisiting the blog entry which I wrote on 9/11/07, mentioned above. It is a post that I was and continue to be proud of, but, prior to highlighting it via my Time Warp Tuesday writing exercise/blog hop series, never received any comments, in part because it was written when my blog was only five months old and I rarely connected with fellow bloggers. It was interesting for me to reflect on the post which I wrote before having Molly and Abby in our lives and how far our family had come since then.
Time Warp Tuesday: 9/11 (9/11/12)
My post from last year, on the 11th anniversary of 9/11/01, and also my 23rd Time Warp Tuesday post in which I revisit the blog entry which I wrote on 9/11/09, also mentioned above. That post includes my account of my experience on 9/11/01 and my Time Warp follow-up looks at how much has changed in my life, our family and the world 11 years later.