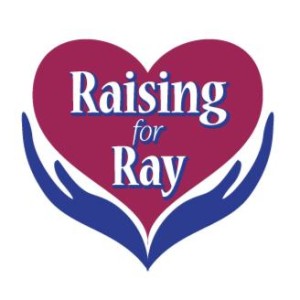 Last week I found out that the planning committee for the upcoming Raising for Ray fundraiser, was looking for a few more volunteers. As I have shared here over the past year, my friend Amanda's husband Ray, who recently received a heart transplant, has had quite a year fighting for his life.
Ray has not been on this roller coaster ride alone. His loved ones, including his wife Amanda, their three children and many other dear family and friends have been hoping, wishing, praying for and supporting them every step of the way.
So when I heard the call, I answered and joined Team Raising for Ray! I intended to attend the event, this Saturday, September 7th from 2:00 – 7:00 p.m. at 115 Bourbon Street in Marionette Park, IL, anyway. So I figured I might as well help behind the scenes too, if I could make it work. I rearranged my schedule to free up a bit more time and let Amanda, Ray and the planning committee know that I was in!
Tonight I attended a meeting with fellow Raising for Ray volunteers. I was moved and inspired to be with a group of people who all have been touched and inspired by having Ray and Amanda in their lives. If you are not busy this Saturday afternoon and live in the Chicago area, I would love to see you at Raising for Ray! It is going to be a wonderful and life-affirming event, not to mention a lot of fun! There are some really awesome raffle prizes, silent auction items to bid on and many more ways to support the Thompson family through Raising for Ray.
To purchase tickets, click here.
If you cannot attend on Saturday and would like to contribute, click here.
Last month Pastor Tim from Ray and Amanda's church, where I first met Amanda 4 1/2 years ago in the MOPS group that we both participated in, spoke about the miracle that is Ray. Watching Pastor Tim's sermon (see below) and being a part of the Raising for Ray volunteer meeting tonight reminded me what an impact one person's life and love can have on so many others.
This year has been far from easy for Ray and Amanda, but their faith and determination to survive this is awesome!
I want to do everything I can to help make Raising for Ray as successful as possible to help the Thompson family with the medical bills and expenses that have accrued from Ray's months of being hospitalized and his heart transplant last month.
As those who follow Ray's Medical Updates Facebook page know, Ray had a routine post-transplant biopsy today, which according to Amanda, "did not go perfectly. They (admitted) Ray for a few days to get fluid off. He feels good, but needs a tune up. No word on rejection signs. Results will come tomorrow."
For updates on Ray's medical condition, you can follow his blog and "like" his Facebook page: Ray Thompson Medical Updates.
Please continue to hold Ray, Amanda, their son and daughters, parents, extended family and dear friends close in your thoughts and prayers. I hope and pray that Ray gets to come home soon and will be able to be at Raising for Ray on Saturday, to experience first hand how many people love and care about him, Amanda and their family. Thank you.
Sending peace, love, light, thoughts and prayers to you and your loved ones wherever and whenever these words find you.