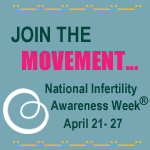 "You are not a real mom until you have two kids."
Who says that?
Especially to a person who is struggling to have another child!
Sadly I know someone who did and they said it to me.
~~~~~~~~~~~~~
It's National Infertility Awareness Week (NIAW) and once again I am taking this opportunity to share about my personal experience with secondary infertility, recurrent pregnancy loss and neonatal death in effort to help raise awareness and let those in the trenches, also dealing with one or more of these situations, know you are not alone.
Last year, in 2012, I wrote a post about secondary infertility called Don't Ignore Those Who Already Have a Child for NIAW.
In 2011, I wrote a post Busting a Myth About Secondary Infertility for NIAW.
The hardest and most defining experience of my life this far has been my husband and my journey trying to expand our family. Throughout my life I was taught that if you worked hard "anything is possible." After what turned out to be a five-year struggle dealing with secondary infertility and loss, between 2004 – 2009, I learned that is not always true.
We have now two amazing living children (a nine-year-old son and three-year-old daughter) who are the bookends to our family building story.
It was a long and painful road in between the births of our living son and daughter, which included three early pregnancy losses and the death of our second child/our first daughter soon after she was born in April 2008.
1 in 8 couples, or approximately 7.1 millions Americans deal with infertility, according the Center for Disease Control and Prevention (2006 – 2010).
1 in 11 couples, or approximately 4 millions Americans deal with secondary infertility, and they account for about 50% of all infertility cases, according the Center for Disease Control and Prevention (2006).
Throughout my family and my experience with secondary infertility we were blessed and lucky to have a lot of friends and family members who supported us and what we were going through. Though many of our loved ones did not understand, we were grateful for those who tried to get a sense of what it felt like to be in our shoes. It meant so much, especially to me, when someone would ask what it felt like to not be able to have another child as easily as a lot of people do. At the same time, there were also plenty of people in our life who didn't get it and didn't try to. Those people would say some pretty insensitive things, which was hard to take while already feeling sad about struggling to conceive again and sustain subsequent pregnancies after giving birth to our first healthy child.
I realize that most people who hurt my feelings with their words and actions in many cases had good intentions. But that didn't mean it wasn't difficult for me to get through the times when I was in public at social gatherings and people made pregnancy announcements or comments about "how hard it was" to have two or more children to take care of. Back then I would have given anything to find out for myself what it was like to be pregnant again and/or parent more than one child. I understand that parenting multiple children isn't easy, but when I was in the trenches dealing with secondary infertility I had trouble being around other moms who would complain about their pregnancies or managing life with their children, when I couldn't get there myself.
I want to emphasize that my longing for more children in no way minimized my love or gratitude for our son, who we wanted so much to give a sibling. Thus I also found it frustrating when people would tell me or insinuate that I should "just be happy with the child I had." This is often something secondary infertiles feel guilty about, so please don't make it worse by adding to our conscience your thoughts on the matter. We know how blessed and lucky we are to have our living children, but that doesn't mean there is anything wrong with us longing to expand our families and feeling sad when that proves to be more difficult than we imagined it would be.
A common theme in life for those going through difficult and uncertain experiences is that no one knows what it feels like to walk in our shoes, unless they have been there too. So it certainly helped me to find and connect with other women and families who also had been diagnosed with secondary infertility and/or had experienced pregnancy loss and/or neonatal death. I also found eventually that one of my biggest take-a-ways from my journey through secondary infertility and loss is that life is not a contest to see who struggles the most or is dealt the worst hand. There is no "Pain Olympics" and most everyone we know is fighting some kind of personal battle. I learned to have a greater sensitivity to and compassion for anyone I knew who was facing a trial, whether it was dealing with infertility, loss, an illness, parenting a child with special needs, caring for aging parents or some other circumstances in their lives that were not what they hoped, dreamed or planned for.
Another thing my journey through secondary infertility and loss taught me was to speak up and out about my experience in effort to pay it forward for those who will follow in my footsteps. There weren't a lot of resources available for those diagnosed with secondary infertility when my family and I were in the trenches and I vowed ever since to change that. I have tried to use my blog to help educate others about secondary infertility and loss, as well as to serve as a place where those who are struggling (and people who care about them) can find support.
I recently developed a Secondary Infertility resource page here on my blog, which I continue to add to frequently. I hope that anyone who finds themselves here who is dealing with secondary infertility, or cares about someone who is, will find the links to websites, articles and books I share about helpful. Please share my Secondary Infertility resource page with people you know who might benefit from checking it out.
I am also working on a new series called Secondary Infertility Stories, which profiles bloggers diagnosed with this disease and will share how they have coped with their struggle to have more children. I plan to début this series in the coming months here on my blog. Update: I ended up getting my first Secondary Infertility Story up this week! Click here to read it.
Finally, as some of you know, I am writing a memoir about my journey through secondary infertility and loss which I hope get published in the future. I know that I would have appreciated such a resource when I was in the trenches and think my story is one that many dealing with secondary infertility can relate to. I believe that since my battle lasted for so long and covered so many components that people with secondary infertility often are faced with, including recurrent pregnancy loss and using Assisted Reproductive Technology to try to expand our family, I am in a unique position to be able to speak to a wide range of secondary infertility experiences.
Thank you for reading and doing what you can to support those dealing with secondary infertility.
If you are dealing with secondary infertility, I feel your pain and am sorry that expanding your family has not gone as you hoped, dream and planned. I wish you the best on your journey to have more children and hope your situation is resolved soon.
~~~~~~~~~~~~~
If you want to find out more about infertility and/or learn more about National Infertility Awareness Week (NIAW), please check out these links: