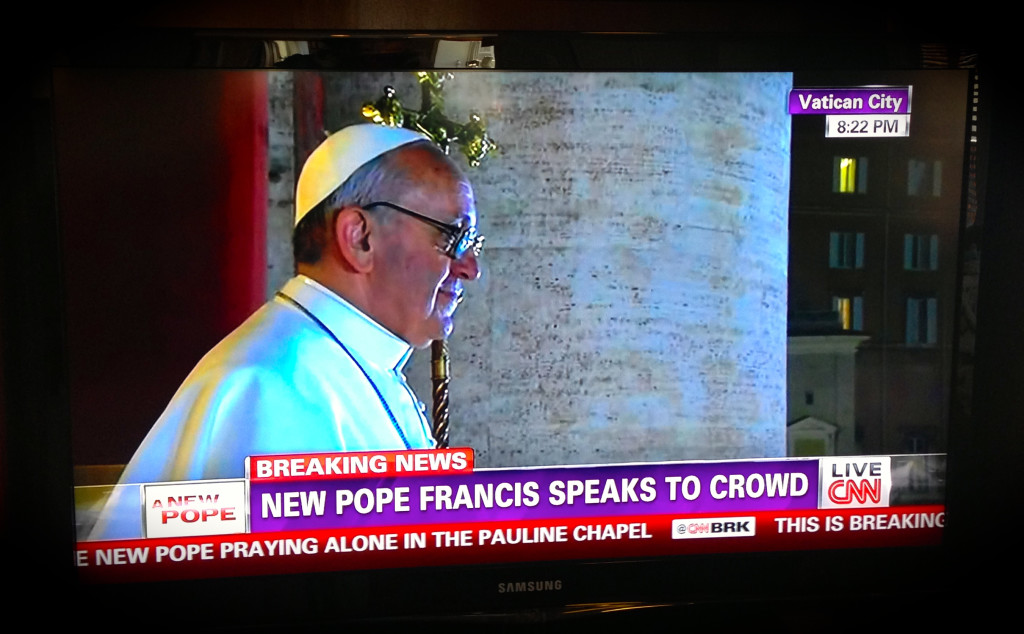 When Abby and I were driving home this morning from Beverly Bodyworks, where I taught a Step Aerobics class and she played in the childcare room with friends, I was listening to CNN on XM Radio and heard that the smoke was due within 45 minutes to an hour from the last vote of the day, the second of the conclave to elect a new pope to lead the Catholic church.
I called Bob at a stop light to give him a heads up, as he stayed home from work today, since he wasn't feeling well. From the moment we walked in the door and turned on CNN to follow the news coverage, I am not sure if I ever sat down for the next three hours, except to maybe go to the bathroom. My eyes were glued to the TV and my phone, especially my Twitter and Facebook apps.
I made Abby's lunch and intended to make mine, as I stood at our kitchen counter, but kept allowing myself to be distracted by the social and news media frenzy on #smokewatch. I was fascinated and entertained by the steady flow of tweets, especially those written by journalists who were camped out in St. Peter's Square waiting to find out if the latest papal vote had proved to be definitive.
Time passed and still no smoke, which gave ample time to Twitter accounts for @SistineChimney and @SistineSeagull (who was perched at the top of the chimney for much of the waiting period) to share lots of witty observations from their perspectives on the impending election of a new pope.
Then it happened.
The smoke was released and people in St. Peter's Square, as well as around the world, along with the CNN newscasters we were following determined that it was indeed white and not black indicating that the cardinals had indeed discerned and elected a new leader.
Habemus Papam!
We have a new pope!
I was excited and anxious to find out who our new pope was. I tried to be patient and optimistic, but worried that my hopes for the new leader of the Catholic church would be only wishful thinking.
Then we heard his name, Cardinal Jorge Mario Bergoglio, and that he was from Argentina (the first ever pope from South America). We also learned that he is a Jesuit priest (and the first Jesuit pope).
We found out that he was the second runner-up eight years ago, finishing behind Pope Benedict XVI. The more I read online and heard on the news, I more encouraged I became about the cardinals' selection.
When I learned that our new pope took the name Francis, my first impressions of him grew more positive.
So many firsts… Which to me signals a heart and mind that is open to renewal and change.
St. Francis of Assisi is one of my favorite saints. On Bob and my wedding day, when we lit our unity candle during mass, our choir played "Make Me a Channel of Your Peace," a beautiful song adapted from the Prayer of St. Francis and set to music by Sebastian Temple. I loved the idea back then (and continue to) that through our marriage, together we can be a channel of God's peace.
When Pope Francis entered the balcony overlooking St. Peter's Square and began to address those gathered there, as well as all of us who were listening around the world, I was moved that he began by asking all of us to pray for him, before giving his own blessing. Some of the other things I have heard about Pope Francis so far, including that he lives in a small apartment (in lieu of a much bigger and more comfortable cardinal's residence), he often cooks his own meals and when he was made Cardinal of Buenos Aires he turned down the opportunity to take a private limousine to work every day, preferring to ride the bus with his people, continue to build my positive impression of our new pope.
All of this said, I am not naïve.
I realize that many of the changes that I would like to see made in the Catholic church, including the ordination of women deacons and priests, as well as married priests, acceptance and recognition of same-sex marriage and support of the use of Assisted Reproductive Technology to help those diagnosed with infertility to build our families, will likely not happen in my lifetime. Though I believe these things can, should and will someday.
I choose to remain Catholic, instead of finding another Christian faith tradition to practice, because I believe that an effective way to help change something you love and care about is from within, often by taking small steps each day in our own ways. There is so much I love about being catholic, even if I don't agree with everything the Catholic church teaches.
I am aware that my views do not reflect those of many of my Catholic brothers and sisters, but I also know that there are many catholics around the world that do embrace a post-Vatican II vision for the future of the church that includes some, if not all, of these changes. This gives me hope for the future, as does this news of our new Pope Francis I, known for ministering to the poor and focusing on social justice.
As I shared in my post last night, For Those Below, about the conclave:
Whomever finds themselves on top as the leader of our flock,
I pray they'll be the rock we need for those (of us) below.
Now that we know who is on top as the new leader of our flock,
I have faith he was called to be the rock for those (of us) below.
I will leave you with my own slightly adapted version of the Prayer of St. Francis in honor and celebration of our new pope:
My Prayer for Pope Francis
Lord, make him an instrument of your peace,
Where there is hatred, let him sow love;
Where there is injury, pardon;
Where there is doubt, faith;
Where there is despair, hope;
Where there is darkness, light;
Where there is sadness, joy.
O Divine Master,
grant that he may not so much seek to be consoled, as to console;
to be understood, as to understand;
to be loved, as to love.
For it is in giving that we receive.
It is in pardoning that we are pardoned,
and it is in dying that we are born to Eternal Life.
Amen.