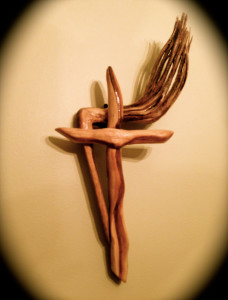 "Extra omnes." Everyone out. Let the election of the new pope begin. Pray for the cardinals.
One of my Catholic friends shared these words on Facebook this morning and it was one of many things that struck me about today, the first day of the conclave to elect the next pope.
I have been praying.
I have also been fascinated by the process and somewhat addicted to the news and social media coverage of this second conclave in less than ten years.
I don't typically write a lot about my faith and religious views here. But last month's news of Pope Benedict's decision to resign, the first Pope to do so in 600 years, followed by preparations for the conclave in recent weeks, has compelled me to share.
As a lifelong practicing and progressive Catholic, I do not respect and agree with everything Pope Benedict did and said during his tenure in the papacy. But I do admire his mindfulness in knowing himself and when it was time to step down.
I am hopeful that the cardinals will take their time as they discern and elect someone to lead the Catholic church who will help to guide us in a positive, just and inclusive direction.
I can still picture where I was April 19, 2005, on the day when the white smoke was released, at the Vatican from the Sistine Chapel, letting the world know a new pope had been chosen. Sean was 19 months old and we had just left Beverly Bodyworks, the neighborhood group fitness club, where I still work out (and now teach) and Sean played in the childcare room with other children (which Abby now does). It know it was a Tuesday, because we then walked (with me pushing him in his stroller) to visit his "GG" (Bob's late maternal grandmother) who lived closed to our home, as we did most every week on Tuesdays back then after going to Beverly Bodyworks.
When we got to GG's house that late morning, she already had the breaking news report on her television set. Someone must have called my cell phone (which was pretty basic and not anywhere near as smart as my current phone), maybe Bob, my dad or a friend (I don't recall for sure), to give me a heads up what was happening. We rushed into GG's house to watch history being made and I couldn't wait to hear who our new pope would be. I have a vivid memory of watching the news with GG and Sean, as we saw video of the white smoke in the sky on TV.
To be honest, when I learned who had been elected, I was disappointed to learn that he was not a pontiff who shared my post-Vatican II vision for the future of our Catholic church. But I tried to keep an open mind and heart to what Pope Benedict XVI's leadership could and would do for Catholics around the world.
I was surprised on February 11th to learn of Pope Benedict's choice to resign and once again find myself full of patient optimism, thinking about what a new leader could do for the catholic church that I was born and raised in and have chosen to remain faithful to and active with throughout my life, even when I haven't always agreed with or embraced the words and actions of some of the leaders in our church.
This morning I was flipping through and listening to XM radio (which I love) channels while driving in our new car. I kept going back and forth between conclave coverage on CNN and listening to music. At one point, as I so often do, especially when it seems as if God is deejaying for me, I came across a song which I had never heard before, by Mumford & Sons called "For Those Below."
I was struck by the lyrics, especially these lines, which are part of the chorus,
You find yourself on top as the leader of the flock
Called to be a rock for those below
I couldn't help but think about what was happening in Rome as I digested those words.
Tonight, on this eve of day two of the conclave, after the first vote today resulted in black smoke being released, showing the world that we do not yet have a new leader for our Catholic church, my thoughts and prayers go out to the cardinals discerning the identity of our next pope, as well as catholics around the world (those below) who are anxious and hopeful as we wait to see who that will be.
Whomever finds themselves on top as the leader of our flock,
I pray they'll be the rock we need for those (of us) below.