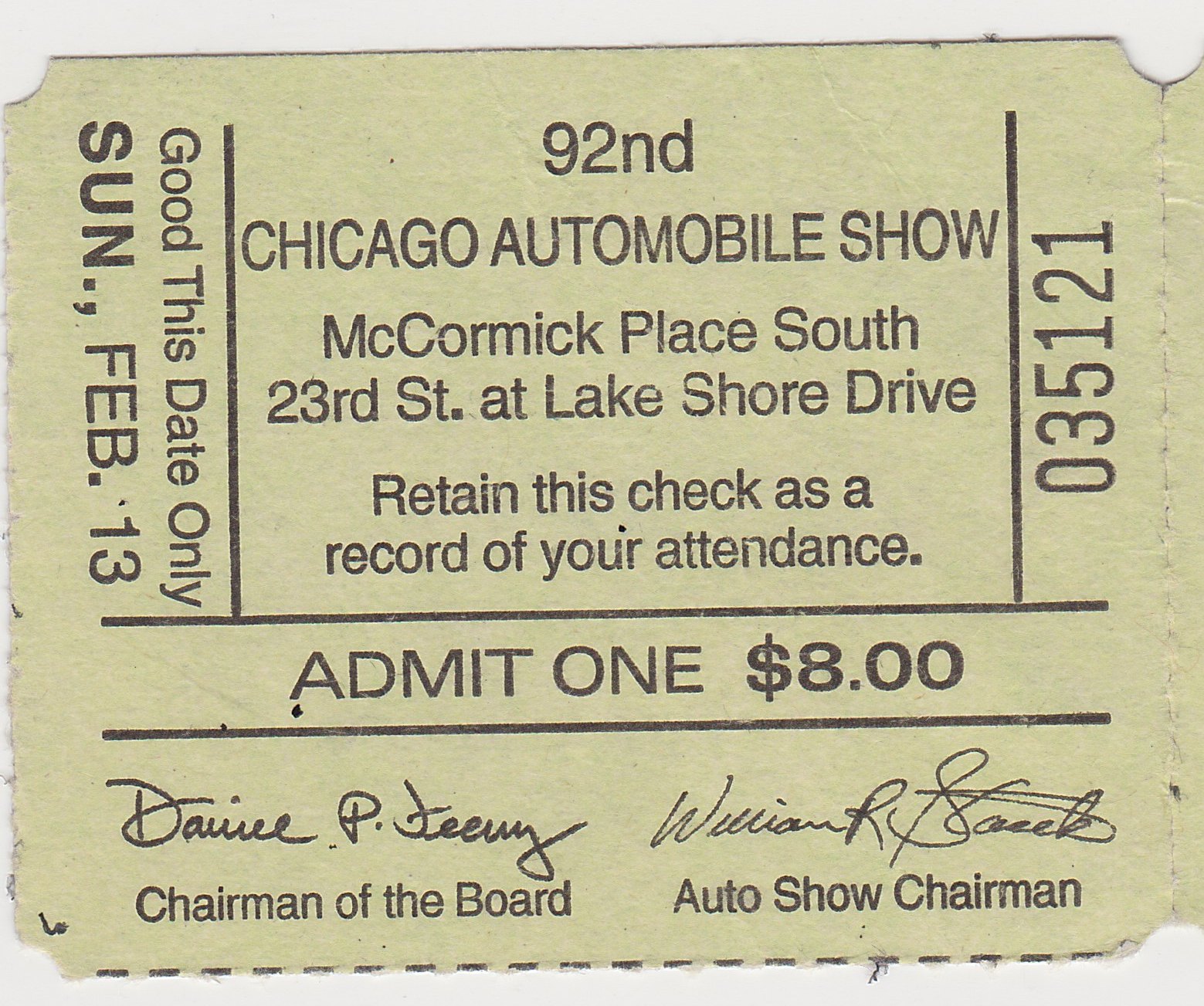 This Friday Bob and I will be attending the Media Preview Day at the 2013 Chicago Auto Show. Though I just found out today from my Chicagonista friend/Editor MJ Tam that, as a blogger, I could have applied for a media pass, we actually got our tickets through a Groupon deal. Our visit will be timely, as last Saturday we found ourselves dropping off our 14-year-old SUV when we picked our almost 10-year-old mini-van up from the repair shop. We were planning to buy a new car towards the end of this year, but now it's looking like will do so within the next few months.
The last (and only other) time I went to the Chicago Auto Show was 13 years ago. It was the Sunday before the Thursday my maternal grandmother (whom I adored and was very close to) died. Of course I didn't know she would die the following week or I wouldn't have missed our regular Sunday brunch with her at my parents' house after church that day or the weekly visit and dinner out with her the night before she passed away.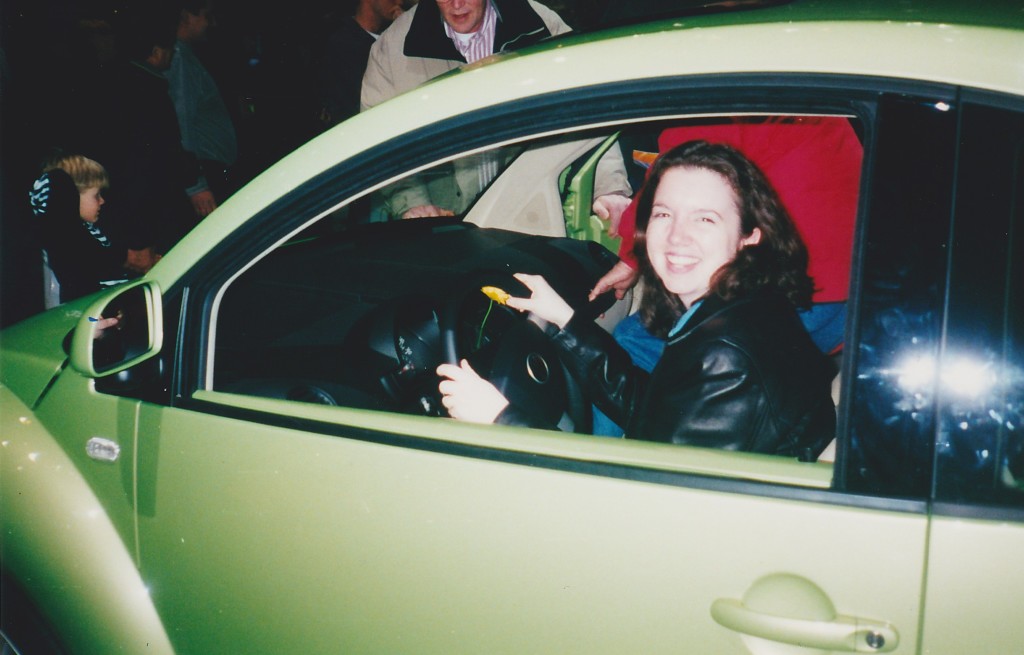 I remember having so much fun with Bob that day at the auto show (we skipped both church and brunch with my family, if I recall correctly) and later that week, on Wednesday night, with the group of senior citizens I took to out to dinner as part of my job with a local park district. But if I had any clue those two meals could have been my last two chances to see and spend time with my dear Grandma Dee, well, you can imagine I would have found ways to be there with her.
Such is life. I get it.
I have so many wonderful memories of the 25 years that I knew my Grandma Dee in this lifetime and that is more than enough to make up for any regrets that linger about my not getting to be with her during the last week of her life.
I know how much my Grandma Dee loved me. I know how happy she was that my fiancé (now husband) Bob and I found each other and that we were enjoying planning for our wedding later that year in September, as well as the rest of our lives together. I also know that my Grandma Dee was very proud of me for graduating with Bachelors and Masters degrees in Leisure Studies: Recreation Management and then going on to get a good job in my chosen field of Parks and Recreation as a Program Coordinator working with park district patrons in their golden years at the time she died.
Soon after my Grandma Dee died we shipped her body and we also flew back to her home for the last two decades of her life (where she and my Grandpa Jack retired in 1979), Hilton Head Island, South Carolina, for her wake, funeral and to be buried next to her husband of well over 50 years. It was a bittersweet family reunion, especially with her younger sister/my Great Aunt Mary June and brother-in-law/my Grandpa Jack's best friend/my Great Uncle Bill, as Grandma Dee spent the last eighteen months of her life living near my childhood home/my parents' house in an assisted living facility. As I shared in this post, I gave one of the eulogies at my Grandma Dee's funeral, along with my mother/her only child and my older sister Meg/her only other grandchild (besides me), both of whom were also very close to her.
My Grandma Dee and I had a tradition every summer, when my family would visit her and my Grandpa Jack, for at least two weeks, on Hilton Head Island. We would pick a morning to get up early and go to the beach to watch the sunrise. So one morning, that February 2000, while we were in town for my Grandma Dee's funeral, Bob and I got up early and went to the ocean to watch the sunrise. I wished and hoped that Grandma Dee would help to give us an awesome sunrise, as a sort of sign that she was okay and happy in the afterlife. This is what we saw that day and it gave me some peace and comfort to share that tradition with Bob, which had meant so much to me and my Grandma Dee over the years.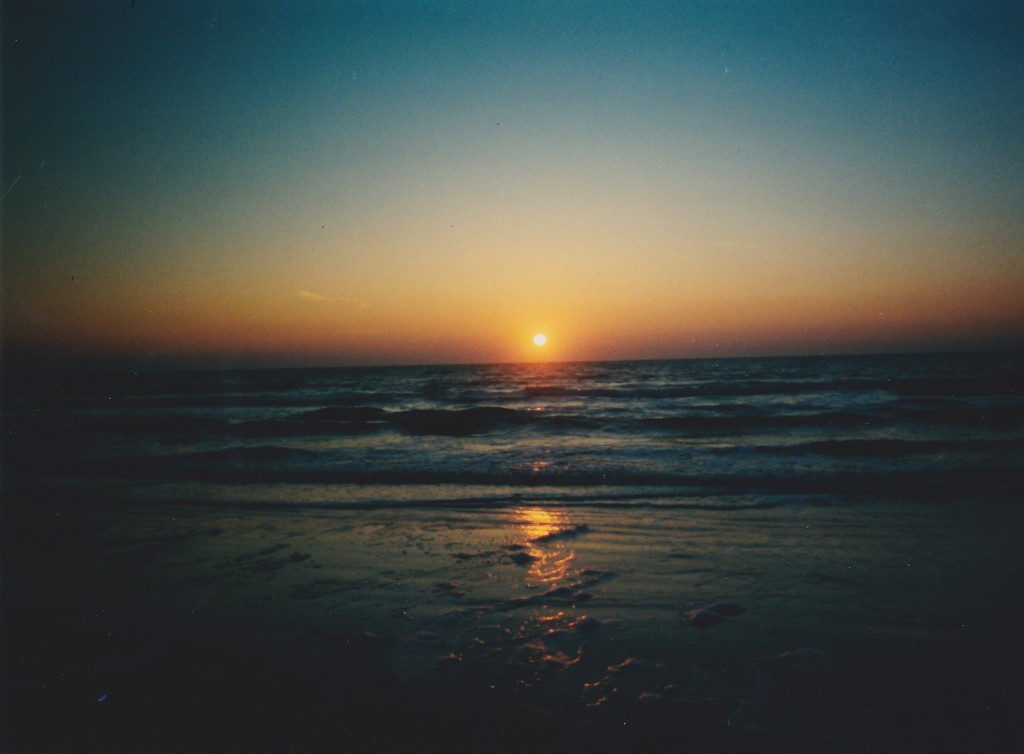 I am excited for Bob and my trip to the Auto Show later this week. It is surreal to think about all that has come to pass since our last trip to the Chicago Auto Show 13 years ago. This time around we are actually in the market for a new car, so we aren't just going for fun like we did before. We hope to learn more and see for ourselves about the various minivans and cross-over SUVs that we are considering buying in the not too distant future.
Do you have regrets about one or more times in your life when by choosing to do one thing, you missed out on being with someone special, whom you didn't realize at the time wouldn't be around much longer?
Did you find a way to make peace with your choice and what you missed out on? If so, how?
Have you ever been to an auto show?
What was your favorite part of the experience?