It's (almost) the last Monday of the month which means its time to share our Perfect Moments from December with Lori from Write Mind Open Heart. I look forward to participating in this blog hop/writing exercise hosted by my friend, and soon to be published author, every month and this month is no exception!
~~~~~~~~~~~~~~~~~~~~~~~~~~
On October 6th I saw this trailer for my all-time favorite musical coming to the big screen:
I couldn't have been more excited to see it, after having already experienced the musical four times live on stage and memorizing most of the soundtrack over the past twenty-some years.
This afternoon I finally got to see Les Miserables at a local movie theater with one of my neighborhood friends, who is also a big fan.
I had heard rumors of some mixed, even bad, reviews about the film, but tried not to pay attention and chose not to read any reviews prior to seeing the movie. I had also seen a lot of gushing, very positive, Facebook status updates about how amazing it is.
I whole-heartedly agree with the latter perspective.
It was nothing less than breathtaking.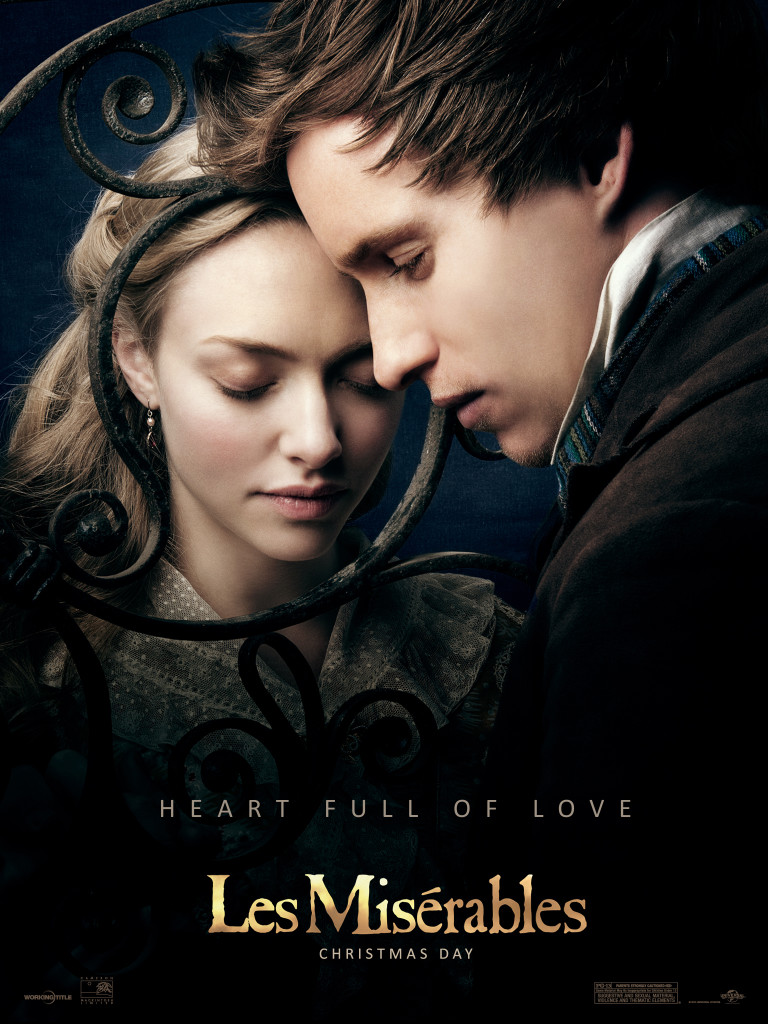 Being able to see this truly awesome story told in a way that could only be done on the big screen was overwhelming and filled with many perfect moments for me.
To get to see the actors' facial expressions close up as they poured their hearts and souls into their roles was incredible.
The scenery, costumes, make-up, acting (especially the chemistry amongst the characters), singing and cinematography far exceeded my expectations, which I didn't think was possible, but it was.
Every time I reread a favorite book, go to see a favorite musical again or revisit a favorite movie I always notice something I haven't before and this time was no exception.
I thought I knew the story of Les Mis in and out, but there was so much I had missed over the years when I saw it live in theaters. The movie helped me to capture every detail about the unique and complex characters that together make up this beautiful, heartbreaking and inspiring musical.
Thank you Victor Hugo (Author of the Novel Les Miserables), Claude-Michel Schonberg (Music/Screenplay), Herbert Kretzmer (Lyrics/Screenplay), William Nicholson (Screenplay), Alan Boublil (Screenplay), Tom Hooper (Director), Hugh Jackman (Jean Valjean), Anne Hathaway (Fantine), Russell Crowe (Javert), Amanda Seyfried (Cosette), Eddie Redmayne (Marius), Aaron Tveit (Enjorlas), Samantha Barks (Eponine), Helena Bonham Carter (Madame ThÉnardier), Sasha Baron Cohen (ThÉnardier), Colm Wilkinson (The Bishop), Isabelle Allen (Yong Cosette), Daniel Huttlestone (Gavroche) and everyone else that played a role in making this movie version of my favorite musical possible.
Les Miserables the movie was everything I hoped and dreamed it could be and more.
My heart is full of love and I look forward to seeing it again either on the big screen or when it comes out on DVD/digital download.
Have you seen Les Mis the movie and/or the musical?
If so, what did you think? 
Do you plan to see either again?
If you haven't seen the movie and/or the musical, do you intend to see one, the other or both?
As I am sure you have already figured out, I highly recommend both if you have the opportunity and means to see them!
I will leave you with some of my favorite lyrics from Les Mis:
"He gave me hope, when hope was gone
He gave me strength to journey on…" ~ Who Am I? (The Trial)

***

"A heart full of love
No fear, no regret…" ~ A Heart Full of Love

***

"You're here, that's all I need to know
And you will keep me safe
And you will keep me close
And rain will make the flowers grow…" ~ A Little Fall of Rain

***

"That I live and you are gone
There's a grief that can't be spoken
There's a pain goes on and on…" ~ Empty Chairs at Empty Tables

***

"When the beating of your heart
Echos the beating of the drums
There is a life about to start
When tomorrow comes!" ~ Do You Hear the People Sing

***

"To love another person is to see the face of God." ~ Beggars at the Feast
~~~~~~~~~~~~~~~~~~~~~~~~~~
Lori from Write Mind Open Heart says that "Perfect Moment Monday is about noticing a perfect moment rather than creating one. Perfect moments can be momentous or ordinary or somewhere in between." I love the idea of being mindful of and blogging about perfect moments. Over the years I have often used my blog more to write about things I am struggling with and though I know that is valid and important for me at times, I appreciate the idea of being intentional about also sharing the simple and very special moments in our lives. Many thanks to Lori for this wonderful opportunity to focus on what is right in our life, instead of what is wrong. 
Click here to read about and comment on more Perfect Moments (there are links to others' posts at the bottom of Lori's blog entry) and/or add a link to one of your own. Thank you for reading. As we approach 2013 I hope that you have a wonderful New Year and that you are aware of, as well as able to notice, many perfect moments in your own lives.