This is my third and final post about Titanic this week.
Here are links to my previous two posts:
Titanic – Part I: It Was Sad When the Great Ship Went Down
Titanic – Part II: Haven Exploration
Originally I envisioned this last post being about some of my other connections and experiences related to the Titanic since my 8th grade school "Exploration" project about it in 1989.
I planned to share about my unexpected pilgrimage to Southampton, England in April 1996. I lived and studied in London during the Spring semester of my junior year in college. I spent Easter weekend that year with a friend and his family who happened to live in Southampton. We had met the previous summer working together at a residential camp here in Illinois (he was here on a work visa). My friend took me on a great walking tour of his hometown, including where the Titanic set sail from on April 10, 1912 and to see the Titanic Engineers Memorial (pictured below — that's me sitting on the bench in the photo).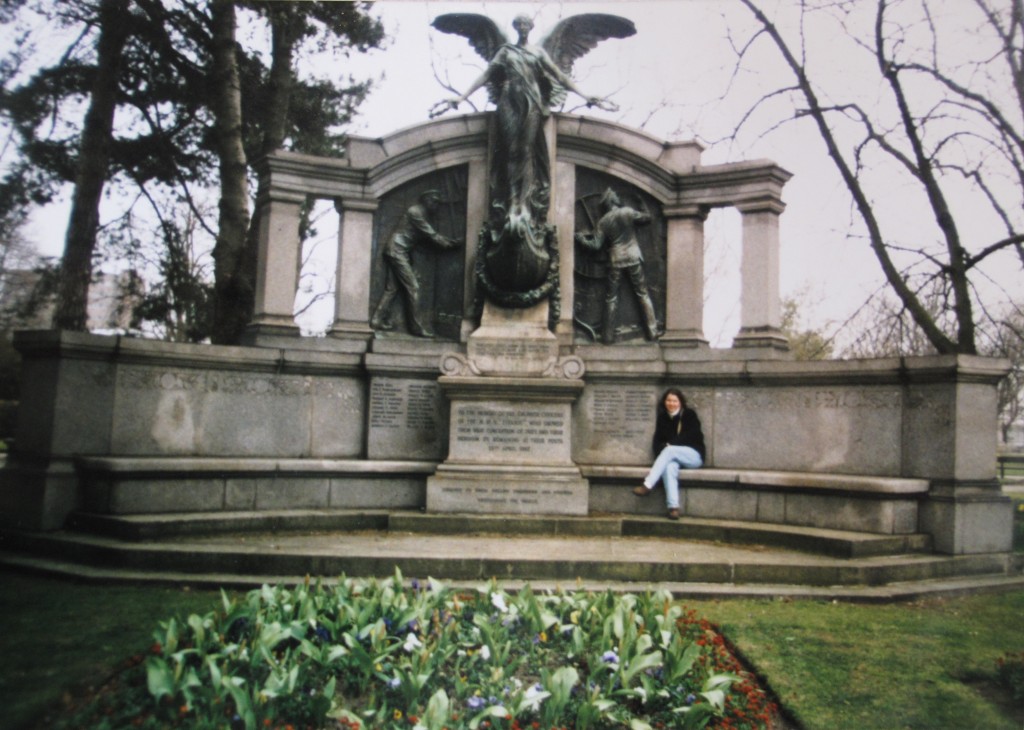 I also intended to talk about when the traveling Titanic Exhibit came to the Museum of Science and Industry here in Chicago in 2000 (the year we got married). Bob and I went to see together with both of our mothers and fathers. It was a very interesting exhibition that included a lot of artifacts related to the Titanic, including a few hundred artifacts recovered from the site of wreck.
Though both of those events were awesome and monumental for me to experience (after having had a life long fascination with Titanic), I don't have a lot more that I feel compelled to share about either one, in addition to what I already have in the previous two paragraphs.
Early this evening it became clear to me what I most wanted to focus on in this post. It came to me towards the end of one of Bob and my rare visits to a local movie theater.
Ever since our son Sean was born in October 2003, we have not had many opportunities, nor have we made much of an effort, to try to see feature films on the big screen. Most of the time we are content to wait until they come out on DVD or make it to cable TV.
There hasn't been a movie that Bob or I have really wanted to see or thought it would be worth the expense in a theater for awhile. That was until I heard that they were re-releasing Titanic in 3D in conjunction with the 100th Anniversary of it's sinking in April 1912.
Bob was admittedly not that interested or excited about seeing Titanic again in the theater, 14 years after we first saw it together in December 1997. So I figured I would try to round up some friends for a girls night out to see it. Then I decided I wanted to see it today, on April 15, the date that the great ship actually sank in 1912. After discussing it with Bob again and both of us seeing it as an opportunity for a date, which we also have not gone on many recently, his enthusiasm for the idea grew. I found us a sitter to watch the kids and our plans were set.
So this afternoon we had the opportunity and privilege to see Jame Cameron's epic movie on this 100th Anniversary of Titanic's sinking. Though we own the VHS tape and have watched the 3 hour 15 minute movie a handful of times straight through since we bought it, this is definitely one of the movies that in my opinion is so much more amazing to see on the big screen in a movie theater.
To say that I was moved is an understatement.
Watching Titanic as a 37 year old who has been married for 11 years with three children (an 8 year old son, a 2 year old daughter and a baby girl in Heaven, who would have been 4 years old this Tuesday if she lived) definitely brings a very different perspective than watching Titanic as a 22 year old who had recently graduated from college, was about to begin graduate school and had been dating my then boyfriend (now husband) for a little over a year.
A lot can happen in a person's life and our world in 14 years, not to mention 100.
More than anything seeing Titanic tonight made me appreciate my life, my family and the many blessings we have.
Our life hasn't always been easy and we have been through many struggles over the years, especially related to trying to build and expand our family. But watching Titanic and reflecting on the experiences of the passengers and crew, as well as the differences between our world in 1912 and today, was sobering and inspiring.
In one of the final scenes in the movie (SPOILER ALERT – If somehow you have managed not to see Titanic after all these years and don't want the ending to be ruined), the two main characters Rose and Jack are floating in the freezing cold Atlantic Ocean not long after the Titanic sunk. They are fighting for their lives, not knowing if and when the life boats from Titanic might return to try to rescue them. At some point it becomes clear that one or both of them may not survive. I had already been bawling (which is challenging when you are wearing 3D glasses) and the heartwrenching interchange between the two added to my tears.
Jack seemed to be aware that he would likely not make it out of the water alive and was trying to express to Rose how much it meant to him to have met her. Though the fictitious characters knew each other for less than a week, the love they shared was profound and he wanted her to know how grateful he was to have had her in his life.
Jack told Rose that he didn't want her to ever give up on life or herself (as she contemplated doing early on in the movie, right before they officially met and Jack both literally and figuratively "saved" her). Rose promised the love of her life that she would "never let go" and went on to live in a way that I believe would have made Jack proud.
As I watched the end of Titanic tonight with Bob, I thought about one of my new favorite songs by Jason Mraz called "I Won't Give Up." The first time I heard it I was struck by the power of the lyrics and Jason's incredible voice. I downloaded the song soon after that and have listened to it many times since. For me it represents the journey that the love of my life and I have been on together and how though we have been through some rough patches and experienced heartbreaking losses, we will not "give up on us," as Jason sings in his beautiful song.
On this April 15, 100 years since the RMS Titanic sank:
I send my thoughts and prayers to who all those who greet each new day with the wisdom, courage and strength to live and make the most of the gifts that they have been blessed with.
I honor the lives and memories of all those who died that night the great ship went down, as well as those who survived Titanic's sinking and later passed away whether it was months or many years later.
I feel grateful to have the perspective that comes with being "thirtysomething," married for more than a decade, a proud and bereaved parent of three and alive in the year 2012.
I am determined not to give up on anyone or anything in my life, especially myself.
I leave you with a "lyrical music video" for Jason Mraz's "I Won't Give Up." (In case you have any difficult viewing or hearing it, I have also included the lyrics below, following the video).
I hope and pray that it will touch you (as it has me) and that you will not give up either.
Take care, God bless and may the souls of the great ship Titanic and all those loved ones who have gone before rest in peace.
I Won't Give Up
by Jason Mraz
When I look into your eyes
It's like watching the night sky
Or a beautiful sunrise
Well there's so much they hold
And just like them old stars
I see that you've come so far
To be right where you are
How old is your soul?
I won't give up on us
Even if the skies get rough
I'm giving you all my love
I'm still looking up
And when you're needing your space
To do some navigating
I'll be here patiently waiting
To see what you find
'Cause even the stars they burn
Some even fall to the earth
We've got a lot to learn
God knows we're worth it
No, i won't give up
I don't wanna be someone who walks away so easily
I'm here to stay and make the difference that i can make
Our differences they do a lot to teach us how to use the tools and gifts
We got yeah we got a lot at stake
And in the end, you're still my friend at least we did intend
For us to work we didn't break, we didn't burn
We had to learn, how to bend without the world caving in
I had to learn what i got, and what i'm not
And who i am
I won't give up on us
Even if the skies get rough
I'm giving you all my love
I'm still looking up
I'm still looking up
I won't give up (No I'm not) on us (Giving up)
God knows i'm tough (I am tough), he knows (I am loved)
We got a lot (We're alive) to learn (We are loved)
God knows we're worth it (And we're worth it)
I won't give up on us
Even if the skies get rough
I'm giving you all my love
I'm still looking up