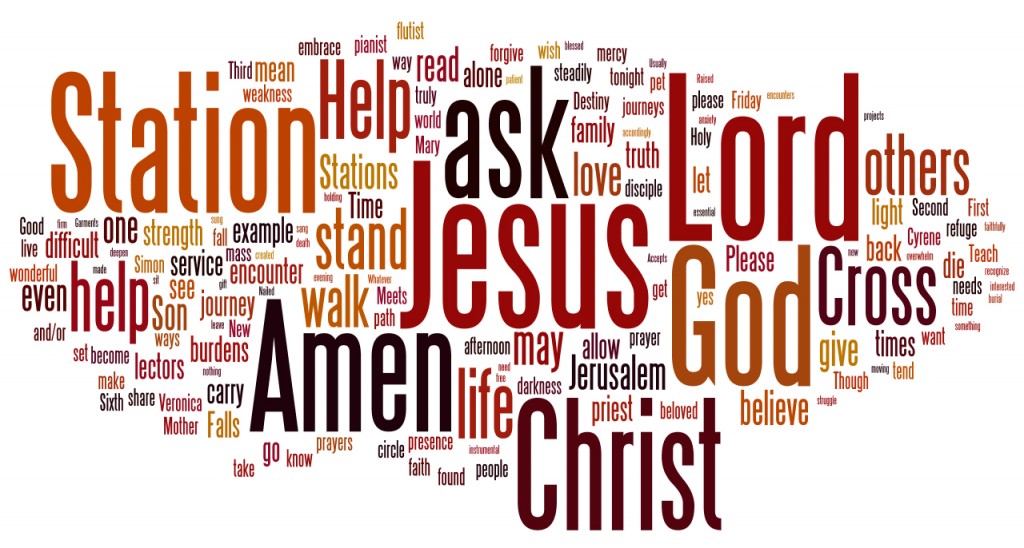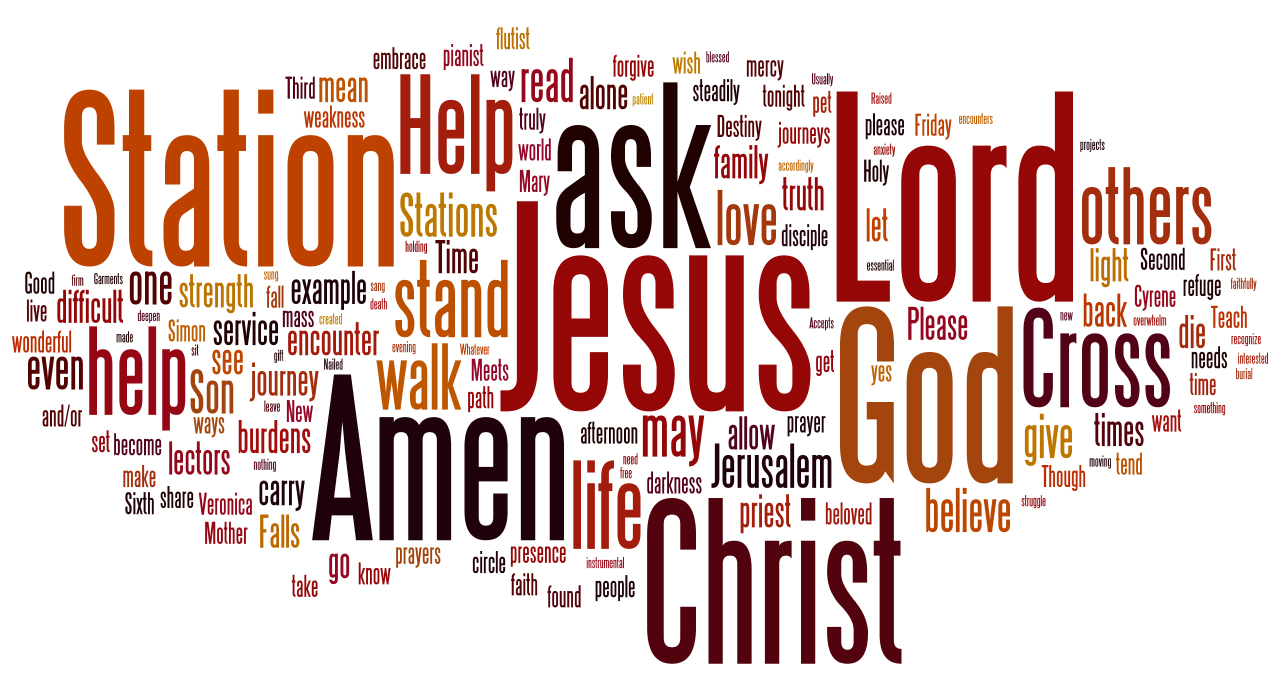 Usually my family and I, or at least I, attend Good Friday evening mass during Holy Week. However, we decided to go to The Stations of the Cross at our church this afternoon instead. Though I have vague recollections of participating in the Stations a few times throughout my life, it has not been something I have done regularly during Lent over the years.
We gathered with others from our community at St. Barnabas Catholic Church at 3:00 p.m. The service was led by a priest, two lectors, a cantor, a pianist and a flutist. The format for each of the fifteen stations was a scripture reading (read by the priest or one of the lectors), followed by a reflection (read by another of the lectors and/or the priest) and then a communal prayer. After every other station we also sang a short song or listened to an instrumental piece played by the pianist and/or flutist.
I was very moved by the readings and reflections that we heard and the prayers that we read together.
For those who are interested and/or may not have made it to some kind of Good Friday service or mass tonight, here are the prayers that we read in conjunction with each of the Stations of the Cross.
The First Station: Jesus is Condemned to Death
O God, my strength and my shield, give me the integrity and the courage to proclaim the risen Lord and his gospel faithfully. Help me acquire the perspective of faith when I encounter opposition to your word, so that I may be united with your Son in his humiliation and suffering for your great glory. We ask this through Christ our Lord. Amen.
The Second Station: Jesus Accepts His Cross
God, my refuge and my strength, help me to accept, even embrace, the crosses that I encounter in life. Teach me what it means to be an authentic disciple of your beloved Son. Transform my human weakness into steadfastness. We ask this through Christ our Lord. Amen.
The Third Station: Jesus Falls the First Time
God of Light, there is so much darkness in our world and in my life at times. Pull me out of the darkness into your own wonderful light. When the burdens of life become too heavy and cause me to fail, help me to get back up. Whatever my circumstances, allow me to stand in the circle of your light and love — and share it with others. We ask this through Christ our Lord. Amen.
The Fourth Station: Jesus Meets His Mother
Heavenly God, it is not easy for me or any of us, to see the truth about ourselves, the world in which we live or our relationship with you. Help me to walk steadily along the path that leads to truth, the truth that will set me free. We ask this through Christ our Lord. Amen.
The Fifth Station: Simon of Cyrene Helps Jesus Carry His Cross
God, my rock, my deliverer, thank you for the example of Simon of Cyrene and for the gift of your Son Jesus who helps me carry my burdens. Teach me to walk alongside Jesus and take his yoke upon my shoulders so that, with his help, I can carry my burdens and help others carry theirs. We ask this through Christ our Lord. Amen.
The Sixth Station: Veronica Wipes the Face of Jesus
God, Most Holy, I am curious to know more about Veronica than what is found in the simplicity of this Sixth Station. But it is enough that her example inspires us to share your love with others. Please give me the ability to recognize people's needs and to help them in whatever ways I can. We ask this through Christ our Lord. Amen.
The Seventh Station: Jesus Falls the Second Time
Lord, let the light of your countenance shine upon me. I acknowledge my weakness. There are times I do not stand firm when my beliefs or values are tested or attacked. When I fall, please help me get back up. And keep me on the path of your kingdom. We ask this through Christ our Lord. Amen.
The Eighth Station: Jesus Meets the Women of Jerusalem
O God, I take refuge in you. Please manifest your presence in my life so that I will know that I do not walk alone. Help me to stand in solidarity with the women of Jerusalem — with all of your children — so that we will remain steadfast in our encounters with the forces of evil and chaos that tend to overwhelm us. We ask this through Christ our Lord. Amen.
The Ninth Station: Jesus Falls the Third Time
God, my Savior, deepen my faith and trust in your love for me. I believe that you are all we have, and with your help, I can face any obstacle on my pilgrim way. But that does not mean that I have lost all my fears, lack of confidence and anxiety. Please be patient with me as I struggle to stand each time I fall. And give me the strength I need each day. We ask this through Christ our Lord. Amen.
The Tenth Station: Jesus is Stripped of His Garments
O Lord, my God, it is difficult to stand or sit or kneel in your presence just as I am, with no pretenses, no camouflage. It is even harder to allow you to guide me on my journey; I often prefer to chart my own course. Help me to listen to you so that I may truly give my heart to you, holding nothing back. We ask this through Christ our Lord. Amen.
The Eleventh Station: Jesus is Nailed to the Cross
God of mercy and compassion, we are learning that forgiving does not mean forgetting, but rather remembering so that we will not allow the hurt to be repeated. At the same time, I find it difficult to forgive others and even myself. Help me to learn from the example of my crucified Lord how to truly forgive. We ask this through Christ our Lord. Amen.
The Twelfth Station: Jesus Dies on the Cross
My God, my God, how awesome it is to stand at the foot of the Cross with Mary and see your Son die. He is the New Adam who has said yes to you, and his Mother is the New Eve. Saying yes to you, even to the moment of death, is essential to be a beloved disciple. I believe this, but please help me to say it and mean it. We ask this through Christ our Lord. Amen.
The Thirteenth Station: Jesus is Taken Down from the Cross
God, Creator of all, it is very moving to stand near Jesus's mother, Mary, as she holds the body of her dead son before allowing it to be prepared for burial. So many people die or are killed with no family present to console them or to embrace their bodies. Help me to understand — and act accordingly — that everyone I encounter belongs to your holy family and is my sister or brother. We ask this through Christ our Lord. Amen.
The Fourteenth Station: Jesus is Laid in the Tomb
Loving God, I believe that Jesus is the resurrection and the life. Help me to lay aside my needs for the sake of others as Jesus did. Help me to be the instrument of your healing love so that others may experience new life and live in the circle of your mercy and love. We ask this through Christ our Lord. Amen.
The Fifteenth Station: Jesus is Raised from the Dead
Almighty God, I tend to hold on to things and people. I want to control my own life. It is difficult for me to "let go" of pet peeves and pet projects. It is hard to "let go" of old habits and walk more steadily in your ways. Help me to die to self so I may become the person you created me to be. We ask this through Christ our Lord. Amen.
~~~~~~~~~~~~~~~~~~~~~~
I will leave you with some of the lyrics in the Opening Song we sung at The Stations of the Cross prayer service this afternoon called Jerusalem My Destiny by Rory Cooney:
I have fixed my eyes on your hills, Jerusalem my Destiny!
Though I cannot see the end for me, I cannot turn away.
We have set our hearts for the way; this journey is our destiny.
Let no one walk alone. The journey makes us one.
I believe that our lives are made and our happiness is found in how we approach and respond to the events and people we encounter on our journeys. Likewise, I do want anyone to have to walk alone and know first hand how journeying together can make us one.
To my fellow Christians, I wish you a wonderful and peace-filled Easter weekend.
To my Jewish brothers and sisters, I wish you a blessed and joyful Passover tonight and in the week to come.
Take care and God bless.