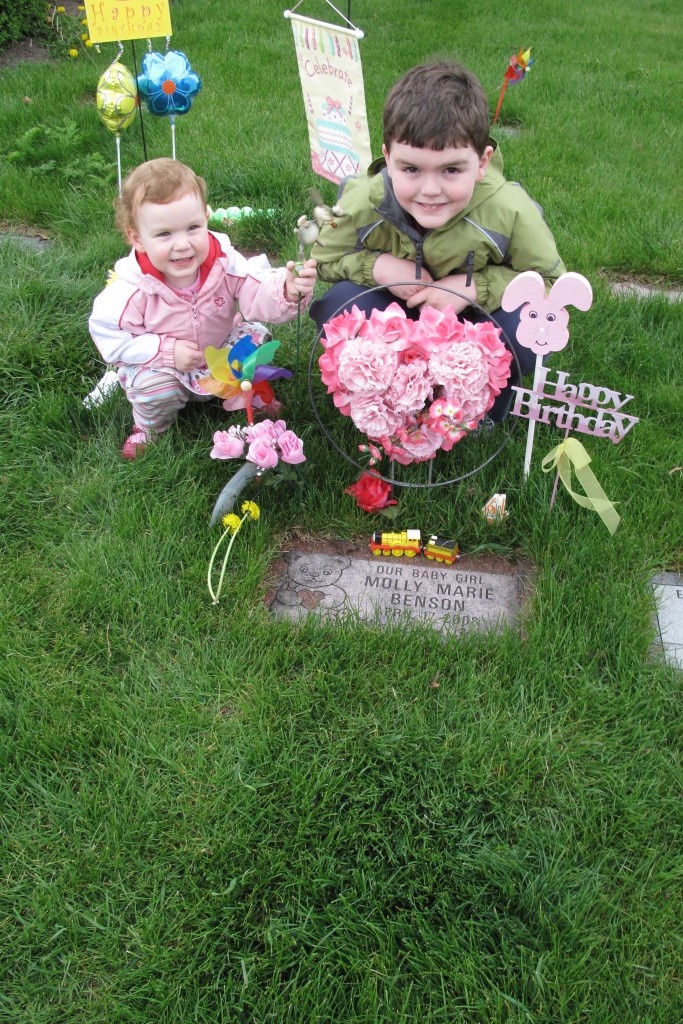 Happy 4th Heavenly Birthday
Molly Marie!
Has it really been four years since I last held you in my arms? It's hard for me to believe that much time has passed since you were born and took your last breath.
It is both painful and healing for me to write you this letter every year. It reminds me that you were real, you lived and you were here, if only for a short while.
It makes me happy to know that your life and memory lives on in the hearts and minds of those who were touched by your existence, especially your Daddy, older brother Sean and me.
Sometimes when I see the little girls in our life who were also born in 2008 I day-dream about who you'd be today. You likely would have started preschool last Fall and maybe dance classes too.
I can imagine how much fun you would have playing with Sean and your younger sister Abby, as well as many cousins and neighborhood friends.
I wonder what you would think of our new house. It was bittersweet to leave our old home and move last July, as that place held so many meaningful memories of the time we had together when I carried you.
There are pictures of you and mementos in your honor in almost every room of our new home and that helps us to feel connected to you, our forever baby girl.
Abby loves to see pictures of you and watch the video we made from the day you were born. She'll say, "She was cute! She is cute!" Your sister was very excited to help make your birthday cupcakes for our family gathering on Saturday.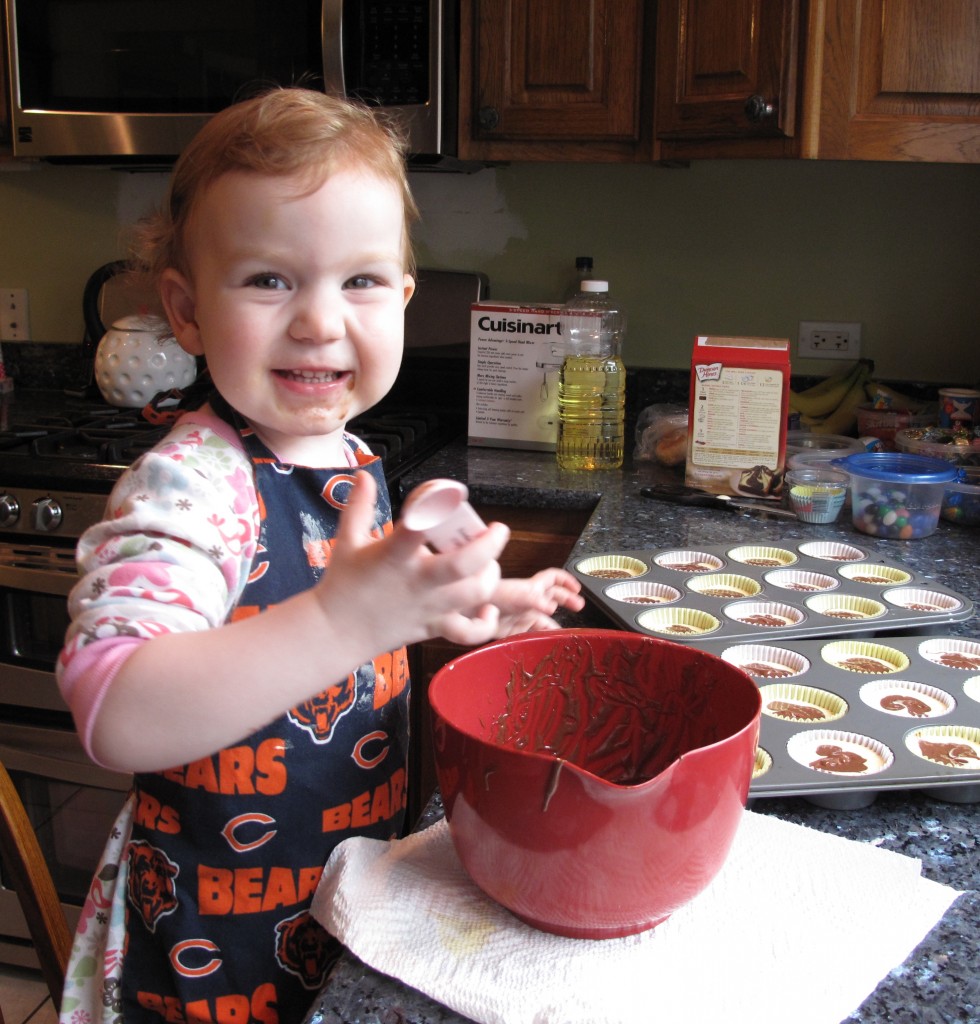 With each passing year Abby is learning more about you and seems to be able understand who you are and what you mean to our family. She asks thoughtful questions and we do our best answer them in terms that will make sense to her.
I am so sorry that you and Abby didn't get to meet each other in this lifetime. Sometimes I imagine that your souls were together after you died and before Abby was born. That brings me some peace and comfort, whether or not it is true. Either way, I believe that our family will be together again someday in Heaven.
Not long ago, after visiting your grave at the cemetery, Abby said: 
"I wish Molly could come back and play with us at our house. I wish she could come back and play with me sometimes. I wish I could give her a hug. I wish she could get me a hug."
Abby will also ask at times "Where is she?"
We will reply by telling her that "Molly's body is in the ground at the cemetery" and that we believe your soul is with God and Jesus in Heaven.
On Saturday we celebrated your life and memory with some of our family and close friends. During dinner your Godmother/Aunt Meg asked "Where's Molly?" She was playfully quizzing her daughter/your cousin Cora to show that she knows/we believe you are in Heaven. Cora did answer correctly, but before she had the chance to get your name out, Abby responded enthusiastically with "Molly is in Heaven!"
Soon after that Aunt Meg said to Cora, "Who else is in Heaven?" and again Abby interjected, "God and Jesus!" I think it is so sweet that your younger sister and cousin both understand, as much as they are able to, where you are and how important you are to our family.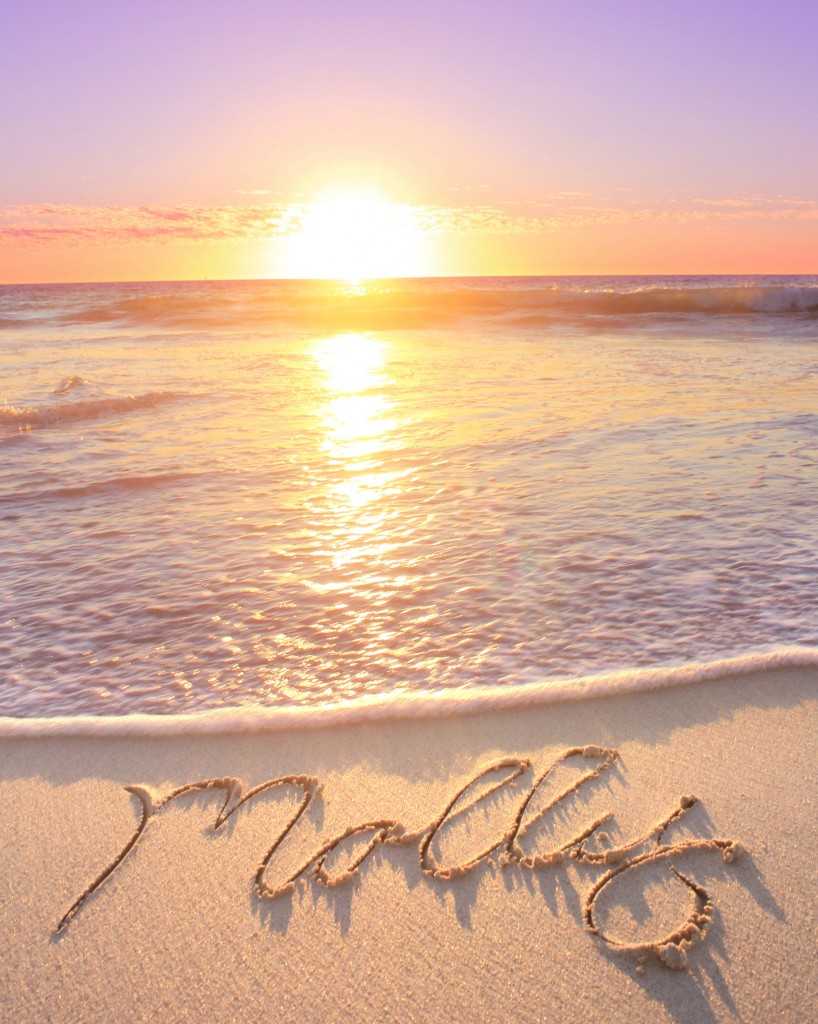 Sean and I have been training to run in our neighborhood's annual Memorial Day 5K next month. I am so proud of your big brother as he learns about endurance and pacing himself for the race.
Your name, short life and legacy often comes up during our runs. Sean is starting to notice and appreciate "silver linings" that have come about through your death. He is realizing how we can use our grief and experiences since we lost you to reach out to and support others who have also lost a child or a sibling, especially babies.
Sean seems to "get it" in ways that few people are able to, unless they have also experienced the death of a loved one who left this world much to soon.
I continue to participate regularly in the monthly perinatal bereavement support group called Caring Connection at the hospital where you were born and died. I find a lot of comfort and validation through sharing with and helping others who have also lost babies.
The writing and connecting that I do through my blog here also continues to be therapeutic for me as a "wounded healer" trying to reach out and be there for those who are following in our footsteps and/or trying to cope and find joy when their lives have not gone as they hoped, wished or planned.
Four years later it's the little things that mean so much to me, when it feels like a lot people in our life have moved on. I know deep down that they haven't forgotten you Molly, but it still hurts sometimes.
It warms my heart when someone mentions your name or I come across something that shows me our loved ones are still honoring your life and memory in their own ways. These signs mean a lot to me and help me feel that I am not alone in missing you and wishing you got to stay with us longer.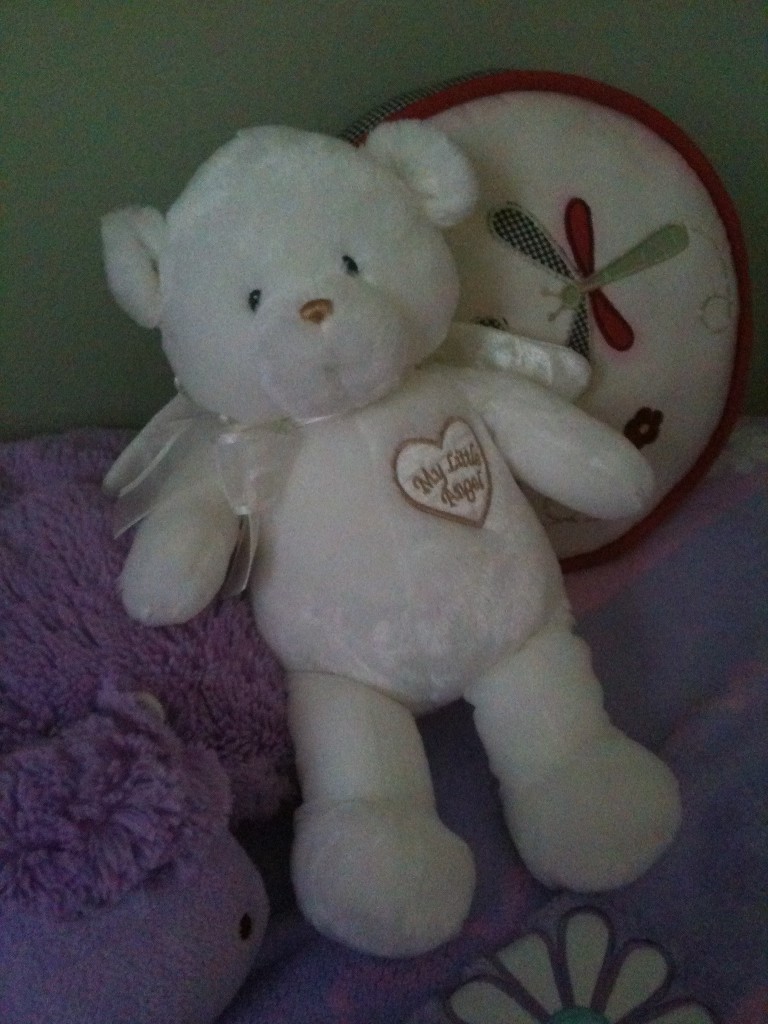 One of these special "Molly moments" happened on Easter at the home of one of your aunts and uncles. Your aunt made a delicious meal, which she knew was a favorite of mine. The last time I ate it was when I was pregnant with you in March 2008 and she served it for Easter dinner. I didn't make that connection this year until later on Easter evening at home when your Daddy and I were reflecting on our day.
Back to the special moment, after dinner Abby and I went upstairs to play and ended up in your cousin's room, who was born about six weeks after you were due and about four months after you died. Abby was playing quietly with some toys in the room and I sat down on your cousin's bed. I happened to look over and see some stuffed animals next to me, including one that we gave her "from you" when we went to meet her at the hospital the day after she was born.
I was so moved to find out that your cousin's "angel bear" is still a part of her life and maybe even something she likes to cuddle with when she sleeps. It was always my hope in giving it to her that the bear would somehow represent your watching over her and bring her some comfort when she needs it. I took this picture on my phone that day to help me remember that moment and how much has happened since your cousin got her "little angel."
There is something special to me about being able to have pictures of things that help me feel a closer connection to you. Often when we visit your grave I take a picture of it so that in between visits I can remember how it is decorated at that given time of year. For some reason doing this brings me some peace and comfort when I don't get there as often as I might want to.
In recent months one of your Heavenmate's mommy's and I have started a reciprocal tradition, that only someone who has had to bury a loved one could fully appreciate. Since you and her baby girl are buried in at same cemetery, in the same section, we have taken to visiting each of your graves on our visits, taking a photo of your graves with our phones and then texting the photos to each other. As a result, on any given day I may receive a text out of the blue with a picture of your grave and headstone.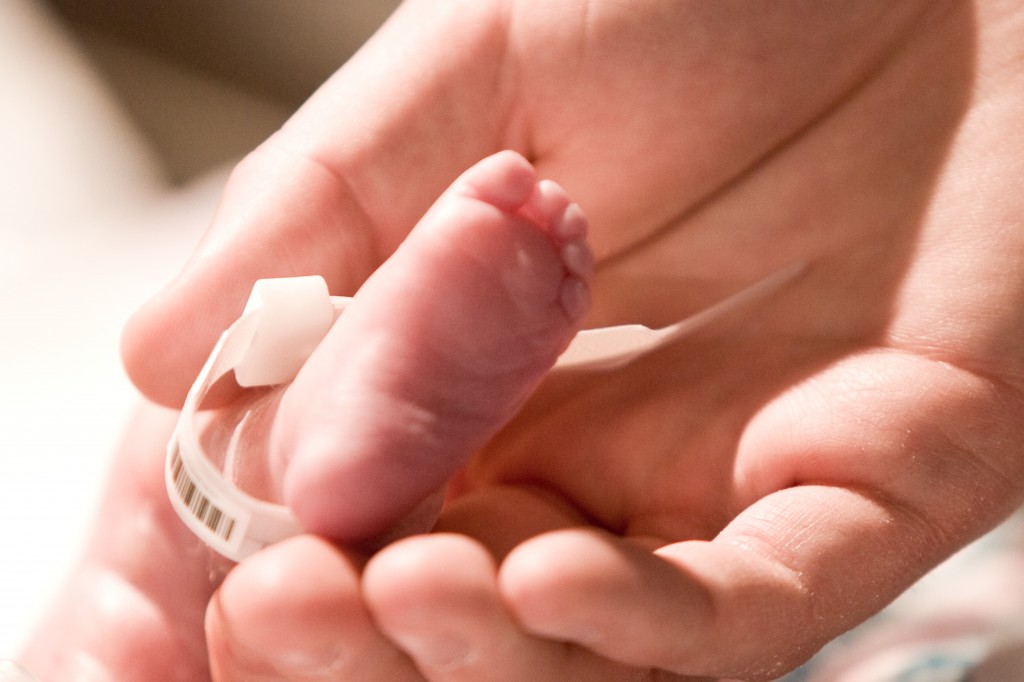 It always brings a smile to my face and sometimes also tears to my eyes (but in a good way) when those photos pop up on my phone. Your Heavenmate's mommy has told me how much receiving pictures of her baby girl's space means to her too. So I think we have a good thing going, yet another meaningful way for us to honor your lives and memories in ways that bring us peace and comfort for our journeys until we meet again.
Speaking of your Heavenmates, I hope that you and those other precious children are having a great big party to celebrate today! My support group friends and I talk from time to time about the fun we hope, pray and like to imagine that you all are experiencing together in the afterlife, along with our other loved ones who have gone before us (including your Great Grandparents and other special family members and friends).
Thank you for all that your life and death continues to teach me about being a better and more compassionate woman, wife, mother, daughter, sister and friend.
Though I wish so much that we were celebrating your birthday today with you here in our home, singing, dancing, playing, eating, blowing out candles and giving you some special gifts, I believe that you are able to feel the love and birthday wishes that we are sending your way.
It was bittersweet to light that candle at the cemetery and sing "Happy Birthday" to you with your Daddy, brother Sean, sister Abby and other dear family members on Saturday.
As we let go of those four pink balloons and watched as they were whisked away quickly on such a windy day, I imagined you receiving them where you are with a big smile on your face (something we never got to see in this lifetime) and all the love in your heart that we could give you while you were with us here.
Happy Birthday Molly-girl!
Love always,
Mommy
I have you in my heart. ~ Philippians 1:7
~~~~~~~~~~~~~~~~~~~~~~~
Remembering Molly: