It's the fourth Monday of the month which means its time to share our Perfect Moments from April with Lori from Write Mind Open Heart.
~~~~~~~~~~~~~~~~~~~~~~~~~~
Last week was the fourth anniversary of our daughter Molly's birth and death. We celebrated with our family on Saturday, April 14th by going to the cemetery where she is buried to pay our respects, sing happy birthday and release four pink balloons in her honor and memory.
We also had 4:00 p.m. mass that day said for her and then gathered at our home for pizza and cake. It meant so much to me and my family that some of our family and close friends chose to spend part of their weekend with us as we remembered our Molly Marie.
On Tuesday, April 17th, Molly's actual birthday and the day she died, Bob, Abby and I went to 8:45 a.m. mass at our church which was also said in Molly's honor and memory. Sean did not attend as he was in school and we chose not to take him out or bring him late, since he had been with us at mass on Saturday.
After mass Bob caught the train downtown to go in to work, while Abby and I returned to the cemetery to visit Molly's grave again. The weather on Saturday when we were there was cool and overcast, but Tuesday it was clear and sunny. Though we had just been there a few days earlier, I didn't want to let our baby girl's special day pass without another visit, especially when the weather was so nice.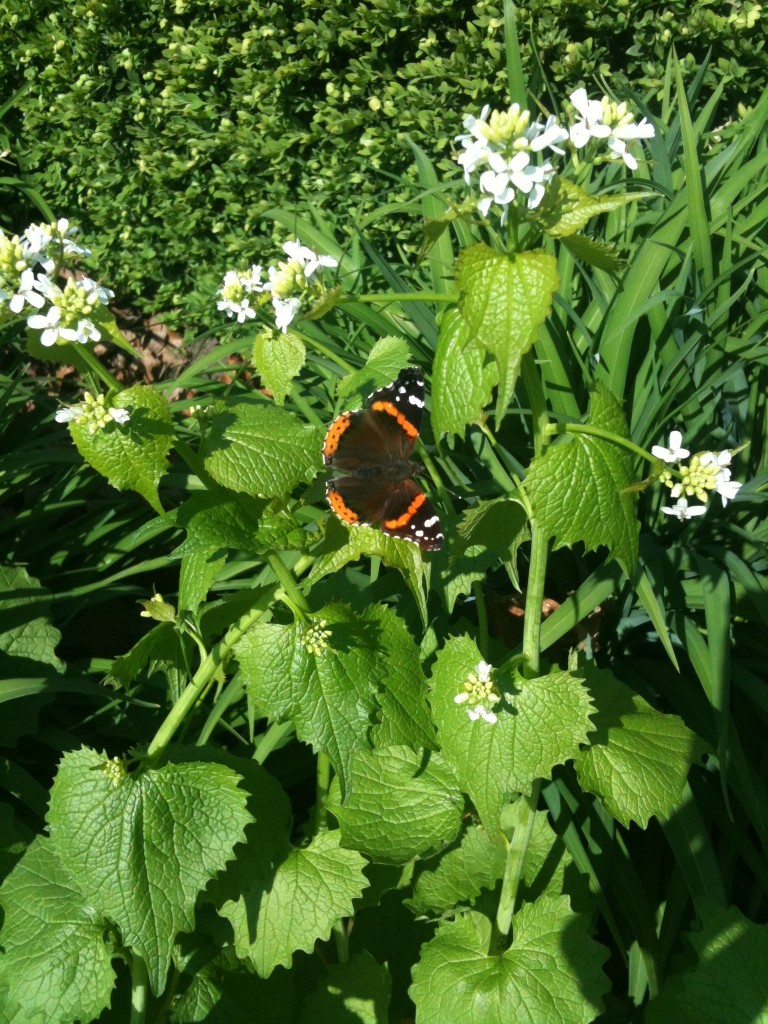 As I have written about here before, ever since soon after Molly was born and died in 2008 I have felt a special connection to butterflies. Whenever I see them I think of our baby girl and often feel as if in some way they are a sign from her or maybe even in some way her spirit visiting us.
Do I really believe that our daughter is visiting us as a butterfly? I am not sure, probably not, but I like to imagine it anyway and it works for me.
I feel peace and comfort when I see butterflies and I love that they remind me of Molly.
Abby and I pulled up to the "Holy Innocents" (a.k.a. baby section) of the cemetery where she is buried and no sooner got out of the car when we noticed there were two butterflies (this is one of them) that were flying around playfully! I like to think it was a sign from our baby girl and her Heavenmates on her 4th Heavenly Birthday.
I especially appreciate that the two butterflies seemed to be flying and playing together, as there is another special angel baby's grave (her name is Vivi) that our family visits regularly when we are visiting Molly's grave.
I shared in Molly's birthday post  last week that Vivi's mom and I have taken to texting each other photos of each other's daughter's graves when we visit our own daughters. Receiving these surprise photos from my friend and fellow bereaved mother on any given day brings a smile to my face and warms my heart. I know when I do the same for Vivi's mom that it means a lot to her too.
While at the cemetery I texted both a photo of Vivi's grave to her mom and this photo of one of the two butterflies. I told her how it felt to me like the butterflies were signs from our two baby girls that they are together and happy in Heaven. Vivi's mom texted me back a few minutes later and told me that when she opened her back door that morning that she saw a butterfly that looked exactly like the one in the photo I sent her and that she absolutely believes that they were signs from Molly and Vivi!  I got chills reading my friend's message about having also been greeted by a butterfly that morning.
As the day went on Abby, Sean (after we picked him up from school) and I saw butterflies everywhere we went!
Before we left the cemetery that morning Abby and I stopped to pay our respects to Bob's paternal grandparents, who are also buried there (in a different section), and what did we see when we got out of the car and approached their graves? You guessed it — a butterfly!
Next Abby and I stopped by our church's rectory to pick up Sean's First Communion portrait proofs and were pleasantly surprised to see butterflies outside there too!
When we went home for lunch, we parked our car in the side driveway, instead of the garage (as we often do), since the exterior of our house is being painted. As we walked from our car towards the front door Abby and I were greeted once again by two playful butterflies who were fluttering around our front yard and landing on our front porch and near our front windows!
Later when we went to pick up Sean from school, after his yoga class, we saw butterflies outside there too and when I commented on them, Sean shared that he had noticed some during his recess outside earlier that day as well!
Finally, that afternoon when Sean and I went for our run, (we are training to run together in our neighborhood's annual Memorial Day 5K race next month) with Abby riding along in our jogging stroller, I am sure you wont be surprised to know who joined us on our route.
So my perfect moment this Monday and for the month of April was getting to see BUTTERFLIES EVERYWHERE on our baby girl Molly's 4th Heavenly Birthday this year!
It brought me so much peace, comfort and joy to see those beautiful butterflies flying around playfully everywhere we went all day long and to feel that in some way it was our Molly-girl's way of letting us know that she's alright and was celebrating her birthday too where she is in the afterlife.
~~~~~~~~~~~~~~~~~~~~~~~~~~
Lori from Write Mind Open Heart says that "Perfect Moment Monday is about noticing a perfect moment rather than creating one. Perfect moments can be momentous or ordinary or somewhere in between." I love the idea of being mindful of and blogging about perfect moments. Over the years I have often used my blog more to write about things I am struggling with and though I know that is valid and important for me at times, I appreciate the idea of being intentional about also sharing the simple and very special moments in our lives. Many thanks to Lori for this wonderful opportunity to focus on what is right in our life, instead of what is wrong. 
Click here to read about and comment on more Perfect Moments (there are links to others' posts at the bottom of Lori's blog entry) and/or add a link to one of your own.
Thank you for reading. I hope that you have a wonderful week and that you are aware of, as well as able to notice, many perfect moments in your own lives.