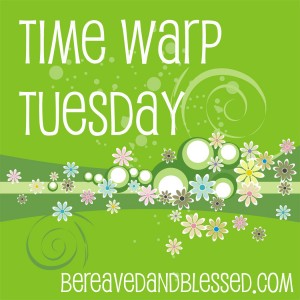 Let's do the Time Warp again!
Welcome to the seventeenth installment of my blog hop/writing exercise called Time Warp Tuesday and my first here at Bereaved and Blessed!
For those not familiar with Time Warp Tuesdays, which I host on the 2nd Tuesday of every month, here is the background of how and why I came up with the idea. If you are here to participate and link up your post, you can do so with the Linky Tools at the end of this post (or if you have any difficulty using it, you can share the link to your post in the comment section here).
The gist of Time Warp Tuesday is to revisit and share some of our favorite blog entries from our archives and reflect on our journeys since we wrote them.
~~~~~~~~~~~~~~~~~~~
The theme for this week's Time Warp Tuesday is: Faith
For those dealing with adoption, infertility, loss and/or other unexpected challenges in life our faith (whatever that may be) can be tested. Find a blog entry in your archives where you talk about faith. You can interpret this topic however you choose. If you do not believe in God or practice an organized religion you can choose a post where you talk about how you cope with difficult, uncertain and/or painful times in your life. Then write a new post on your blog about why you chose the post that you did and what has happened in your life since.
Participants can write about whatever you want in your new blog entries. However, for those who might have needed some help and inspiration to get started, here are some questions to consider:
Why did you pick this post? Has your perspective changed since the day you wrote your original post? Do you think you would still feel the same way if you were writing your post today? What have you learned about yourself, your family and your life since you wrote your original post?
~~~~~~~~~~~~~~~~~~~
Time Warp Tuesday: Faith
Though my blog is far from evangelical, I do believe in sharing openly about my faith here. I don't write a lot about being a practicing Catholic, but I do try to weave some thoughts about my religion and my beliefs into my posts when it seems relevant and appropriate.
My primary focus here is not to share about my faith, however being a Christian and being able to find peace and comfort through believing in God and an afterlife has helped me immeasurably on our journey trying to build our family, including the five years we dealt with secondary infertility and loss.
As I skimmed through my archives looking for a post that best fit this month's topic, I found this one that I wrote about our daughter Molly's memorial service that we held in May 2008, about three weeks after she was born and died.
Here is a link to my post:
Please go and read the post that I am reflecting on today (and comment if you choose), if you haven't already, and then come back here to see what I have to say about my journey since I wrote it.
***Here is where you left off before you stopped to read my old post.***
It's been almost four years since Molly's memorial service and when I wrote this blog entry. It had been a long time since I read this post and reflected on the way we chose to honor and celebrate Molly's life that day. I felt proud reading about how much thought had gone into each song and reading we picked for her memorial service. It was therapeutic for me to remember how I was feeling back then, so early on after we lost our baby girl. It was also comforting for me to see how strong my faith was during that incredibly painful time in my life. It was moving for me to see that even then I was able to find blessings in my bereavement and focus on some of the silver linings that were already apparent in the midst of our grief.
This is one of my favorite parts of the post:
We chose for our Communion Song "We Remember" by Marty Haugen. The chorus is "We remember how you loved us to your death, and still we celebrate for you are with us here. And we believe that we will see you, when you come, in your glory Lord. We remember, we celebrate, we believe." This song sums up how I feel about both my relationship with God and our daughter Molly. It helps me to find peace with Molly being in Heaven now and speaks to our belief that our family will all be together again Heaven some day.
Four years later I continue to find peace, comfort and hope in believing that I will be reunited with Molly and get to meet God when I die and go to Heaven. Though I hope and pray that will not be for a very long time.
As for where I am today and what has changed since I wrote this post in May 2008, my core values and beliefs are the same as they were back then. I pride myself on having an open mind and questioning faith. I don't hide the fact that I don't embrace everything the Catholic church teaches. But I also believe that doesn't preclude me from being a practicing catholic. I try to live my faith and share it with others through my actions, as much or more than using words.
Since we choose not to send our children to Catholic school, I prioritize Sean and Abby's religious education and am proud to have been a catechist in our parish's Religious Education program for the past two years. I try to incorporate God and our faith into our routines as home, including praying before meals and bedtime. We go to mass regularly, honor our faith traditions and make an effort to talk about God and what we believe especially during special times in our liturgical year, including Advent (the weeks leading up to Christmas) and Lent (the time between Ash Wednesday and Easter Sunday).
I also try to find time to connect with other Christians and Catholics to share our faith and how that relates to our lives as parents, spouses, adult children, family members, friends and community members. Last year I participated in two retreats at our parish, one of which I helped to plan and facilitate as the Lay Director. That was an incredible experience and it helped me to feel more connected to God and my faith than I had been in awhile.
As a member of a local Mother of Preschoolers (MOPS) group, I have the opportunity twice a month to gather with other Christian women who are raising children and want God and their faith to be a significant part of their lives and their families. I have been a part of this inspiring group of mothers for three years now and am grateful for they ways they help motivate me to be a better parent and disciple of Jesus Christ.
One night a month at our MOPS meetings we do a craft, which is fun and often therapeutic to create something as we connect about the challenges and rewards of being mothers. The other night each month we have a guest speaker who shares about their lives and faith journeys with us. I have learned a lot over the years from the people that have spoken to our group and look forward to my new role in MOPS next year, when I will be responsible for finding the guest speakers for our monthly meetings.
I am honored to have been asked to be the speaker this Thursday at our MOPS meeting. I will be sharing the witness that I wrote for and gave on the Christ Renews His Parish (CRHP) retreat that I helped to "give" last November for other women in our church. I hope that sharing some of the most important and pivotal experiences in my life and my faith journey will touch the hearts of the women I speaking to this week.
As I have shared here before, when I think about my future vocation, after my children are grown or at least further along in their schooling, I often consider returning to a job in the professional world that would be faith based, as my last one was before having Sean. I feel called to use a lot of what I have learned on our journey through secondary infertility and loss to serve in a vocation that I will be able to help others going through difficult, painful and/or uncertain times in their lives, such as a hospital chaplain, a campus minister or another form of lay ministry.
In the meantime, I appreciate being able to minister to others through my blog, the perinatal bereavement support group that I participate in and other connections that I am able to make with those also dealing with infertility and/or loss, no matter where they are at on their journeys.
Thank you for reading and for doing the Time Warp with me this month. I look forward to your feedback about this post, as well as reading and commenting on all of yours.
Please feel free to comment even if you didn't write your own Time Warp Tuesday post. It is not too late to participate if you are interested, click here for the details.
~~~~~~~~~~~~~~~~~~~
The topic for the next Time Warp Tuesday (on April 10th) is: Blogoversaries
Whether you have been writing your weblog for a year, five years or more, many of us like to share a special blog entry each time we mark the anniversary of when it all began. It can be interesting and therapeutic to reflect on how far we have come from year to year. Choose a blog entry from your archives that you wrote on the day of, or around the time of, one of your "Blogoversaries." Then write a new post on your blog about why you chose the post that you did and what has happened in your life since.
Participants can write about whatever you want in your new blog entries. However, for those who might need some help and inspiration to get started, here are some questions to consider:
Why did you pick this post? Has your perspective changed since the day you wrote your original post? Do you think you would still feel the same way if you were writing your post today? What have you learned about yourself, your family and your life since you wrote your original post?
Note: If you have an idea for a future Time Warp topic, theme and/or writing prompt, please feel free to share it in the comment section or send me an email. If I choose to use your idea, I will give you credit and link to your blog that month.
~~~~~~~~~~~~~~~~~~~
For those new to Time Warp Tuesday, here is a quick recap of how it works:
1) Browse through your old blog entries to find one that fits the topic for the given month. The topic is shared at the end of the previous month's "Time Warp Tuesday" post here on my blog (see above for next week's topic).
2) Write a new blog post in which you introduce, link to and then reflect on your journey since you wrote the older blog post and put it up on your blog on Tuesday. Please include this link http://bereavedandblessed.com/projects-regular-series/time-warp-tuesdays/ in your blog entry, so your readers can find their way to my post with the list of other participants, in case they would like to read more or participate themselves.
3) Share the link to your new post here on Tuesday and then visit, read and comment on the other blogs.
4) After you have done all of these things, you are welcome to grab the code for the the Time Warp Tuesday button by clicking here and put it on your blog. The link will take you to a Google Doc where you can copy the code. If your browser does not allow access to your computer's clipboard, you can use Ctrl-C for Copy and Ctrl-V for Paste, or use your browser's Edit menu.
5) Check back here on the 2nd Tuesday of the month to find out the new topic, theme or question for the next Time Warp Tuesday (I welcome your ideas and suggestions) and then return to Step 1 of this recap to participate.Please let me know if you have any questions and I hope to see you back here next month,on my 5th Blogoversary: Tuesday, April 10th (the 2nd Tuesday of the month), when we'll "do the time warp again!"
~~~~~~~~~~~~~~~~~~~
Thank you again for reading, commenting and participating in my Time Warp Tuesday blog hop. Link up below and click through to visit others who are doing the Time Warp! (If you have any trouble with Linky Tools, please share the link to your blog entry in the comment section. Also, please don't forget to comment on my post here, as I do not have a link to this (my own) post below, but I would still really appreciate your feedback. xoxo
---
This linky list is now closed.