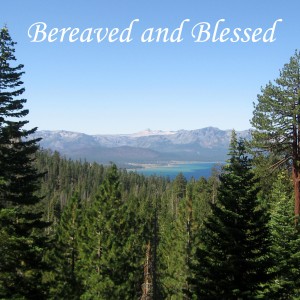 Welcome to Bereaved and Blessed!
If you are here for the first time you can read about me and my blog here. You can also check out the other tabs above the header (which I designed all by myself) to find out more about me, my new blog and other places I write. There are also pages that include some of my favorite posts, favorite quotes, the projects and regular series that host, as well as resources and links that I recommend. If you followed me here from Four of a Kind, thank you so much and of course you are welcome to explore my new space as well.
A little over a month ago I decided to take a "leap of faith," buy my own domain name/URL and move from Blogger to Self Hosted WordPress. It was one of many leaps of faith that I have taken since I began blogging almost five years ago in April 2007 and throughout my family and my journey to build and try to expand our family over the past ten years.
Over those ten years I carried, gave birth to and got to bring home two healthy children (our now 8 1/2-year-old son Sean and 2 1/2-year-old daughter Abby). During five of those years (between 2004 – 2009) I also got pregnant four other times, three of which ended in early losses and one of which became our baby girl Molly who had a rare, severe and fatal combination of congenital heart defects. Molly was born and died on April 17, 2008. During those years that we struggled with secondary infertility and loss, we also tried three fresh IVF cycles (one of which ended up being converted to IUI) and one FET in our effort to have another child and give our son Sean a sibling.
As I recently shared, my husband Bob and I are moving towards putting an end to our family building efforts. It's a decision that we have not arrived at easily and something that is very bittersweet for us. We always hoped, dreamed and prayed that we would be able to have a big family. Ideally we wanted three to four children that were close in age, but we were open to more if it worked out that way.
It didn't work out that way.
Please don't get me wrong, though we have experienced more than our fair share of being on the "wrong side" of the odds, as bereaved parents and siblings, we have also been blessed with many wonderful silver linings in spite of the suffering we have endured on our journey to build and try to expand our family. That duality is where the name for my new blog/website grew in my mind and in my heart.
I envisioned a place where I would be able to continue to write about my life and share my experience as a bereaved and blessed mother, wife, daughter, sister, friend and neighbor. I imagined a space that could serve as a resource and comfort for others who are also learning to cope and find joy when life doesn't go as we hope, dream and plan (whether due to infertility, loss, illness and/or other circumstances).
I spent the past month learning how to design this new blog of mine and moving my content from my old blog Four of a Kind. It was time-consuming and not always an easy process. My OCD tendencies were a factor throughout my experience tempting me to focus too much and too long on certain aspects of developing Bereaved and Blessed. But overall I am very pleased with how it has turned out and proud of myself to doing it on my own (with lots of support and encouragement from fellow bloggers, as well as reading and watching a number of online tutorials).
I am very grateful for those of you that have been a part of my journey before I made my way here to Bereaved and Blessed. I also look forward to getting to know those of you who are joining me for the first time as I start this new endeavor. As with many leaps of faith in our lives, I didn't fully grasp what I was getting myself into when I bought my new domain/URL and started the process of moving to this new space. Likewise, I have been amazed at my capacity to adapt and to learn with each challenge and triumph I faced along the way.
I am so excited that you are here today to celebrate and inaugurate Bereaved and Blessed with me!!!
In honor of my launching Bereaved and Blessed this week, celebrating almost five years of blogging and in gratitude for each of you being a part of this experience with me, I am hosting a GIVEAWAY!
There are FIVE PRIZES, FIVE WAYS TO ENTER and FIVE DAYS for you to participate!
The prizes each represent something that helped me at various stages throughout our five-year journey through secondary infertility and loss and the five years that I have been blogging. I am sure that many of you are familiar with some, if not all, of them.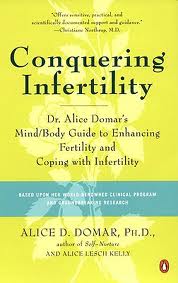 Prize #1 — In honor of my 1st year of blogging (2007 – 2008): I am giving away a copy of a book (paperback or Kindle version) that I read and found very validating and empowering during that year in my life, when I was in the midst of our struggle with secondary infertility and recurrent early pregnancy loss. The therapist that I worked with between September 2006 – February 2007 recommended it to me. I especially appreciated the chapter Dr. Domar included about Secondary Infertility. The book is Conquering Infertility: Dr. Alice Domar's Mind/Body Guide to Enhancing Fertility and Coping with Infertility.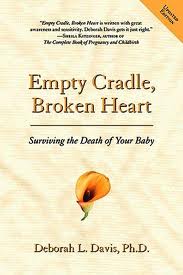 Prize #2 — In honor of my 2nd year of blogging (2008 – 2009): I am giving away a copy of a book (paperback or Kindle version) that I read after our interstitial ectopic pregnancy (our third early loss) in November 2005 and again after our daughter Molly was born and died in April 2008. I have also referred back to it on many occasions since as I continue to learn to live without the babies we conceived but never got to bring home. Some friends from the perinatal bereavement support group that I have attended off and on since 2006 recommended it to me. I found so much peace and comfort in this book and have given it as a gift many times over the years to loved ones in my life that have also lost a baby. The book is Empty Cradle, Broken Heart: Surviving the Death of Your Baby by Dr. Deborah L. Davis.

Prize #3 — In honor of my 3rd year of blogging (2009 – 2010): I am giving away the soundtrack (CD or iTunes version) to a musical that meant a lot to me throughout our journey through infertility and loss. I saw it for the first time with Bob on a trip to NYC in June 2005. At that point we had tried to have another child for year, had experienced our first miscarriage (in December 2004) and I found listening to the lyrics to many of the songs (especially "Will I?," "Without You" and "Seasons of Love") resonated with my experience and was very therapeutic for me. I would go on to see this musical two more times between 2005 – 2009, including in April 2009, with the original two male leads, here in Chicago, when I was pregnant with Abby. Bob took me again that time to celebrate my 34th birthday. The soundtrack is:  The Best Of Rent: Highlights From The Original Cast Album (1996 Original Broadway Cast).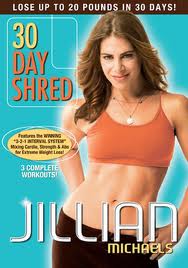 Prize #4 — In honor of my 4th year of blogging (2010 – 2011): I am giving away an exercise DVD that I used often and got great results from doing in the weeks and months after Abby was born in September 2009. I  wanted to get back into shape and shed both post-pregnancy weight and post-IVF/FET weight I gained before I even got pregnant with Molly. I had not lost all of that weight when we conceived Abby, so after we brought her home and the six-week postpartum period was over, I had my work cut out for me. This awesome DVD has three levels/different workout routines that are only 27 minutes long from start to finish. I especially appreciated this DVD on those days when I didn't have a lot of time to fit a long workout in (which was often), when I was nursing Abby round the clock and her nap schedule precluded me from running outside or making it to group fitness classes. I would always tell myself, "it's ONLY 27 minutes" and I always felt great afterwards! I still enjoy doing the routines now and then when I can't get out for a ran or go to an exercise class. The DVD is: Jillian Michael's 30 Day Shred.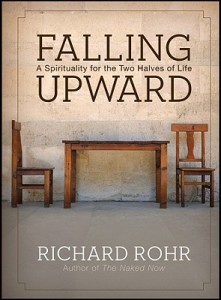 Prize #5 — In honor of my 5th year of blogging (2011 – 2012): I am giving away a book (hardback or Kindle edition) that I recently started reading myself. It came highly recommended by two older adults in my life that I admire and respect (one of which is my dad). I will be reviewing it for the next issue of Exhale Magazine. The book is:  Falling Upward: A Spirituality for the Two Halves of Life by Richard Rohr. Here is the book description from Amazon:
In Falling Upward, Fr. Richard Rohr seeks to help readers understand the tasks of the two halves of life and to show them that those who have fallen, failed, or "gone down" are the only ones who understand "up." Most of us tend to think of the second half of life as largely about getting old, dealing with health issues, and letting go of life, but the whole thesis of this book is exactly the opposite. What looks like falling down can largely be experienced as "falling upward." In fact, it is not a loss but somehow actually a gain, as we have all seen with elders who have come to their fullness. This important book explores the counterintuitive message that we grow spiritually much more by doing wrong than by doing right–a fresh way of thinking about spirituality that grows throughout life.
Here are the five ways you can enter (you may get "credit" for entering once each way, but not more than that):
Option One: You may enter once for sharing about a "Leap of Faith" that you took in your life and what you learned from the experience or writing about a "Silver Lining" that you have found in the midst of, or following, a painful, difficult or uncertain time in your life.
Option Two: You may enter once for subscribing to my RSS feed , adding http://bereavedandblessed.com/ to your Google Reader and/or signing up to follow this blog via email (on the sidebar), all easy ways you can get notified of each new post. If you already do one or all of these options, you may let me know that in a comment.
Option Three: You may enter once for telling me about a favorite book, song, CD, TV show, movie, quote or something else that has helped you to cope and find joy during a painful, difficult or uncertain time in your life.
Option Four: You may enter once for following me on Twitter @BereavedBlessed and/or "liking" my Facebook page also called Bereaved and Blessed. If you already follow me on Twitter and/or "like' my Facebook page, you may let me know that in a comment.
Option Five: You may enter once for telling me what one of your favorite of my blog posts is and post the link to it here. If you don't have a favorite or are new to my blog/writing, tell me why you like to read my blog (I hope you do if you are here/still reading this) or how you found your way here.
*THIS NEXT PART IS IMPORTANT:*
With each entry (a maximum of five, using each of the above options only one time), please indicate which prize you would like your entry to qualify you for and which version you would like (if it come in paperback and Kindle or CD and iTunes). You can use all five entries to try to win one particular prize or any combination that you can and want to come with up.
Example: Hi Kathy! I love your new blog! 🙂 I already follow you on Twitter, I just "liked" your Facebook page and look forward to receiving updates about your blog in my news feed over there! I would like this entry to count toward one entry for Prize #3: Rent Soundtrack (I would like the iTunes version). Thanks! 🙂
This giveaway will run through 8:00 p.m. (CST) on Monday, March 5.
I will then randomly select one winner for each prize from all the qualifying entries that indicated they wanted to be eligible to win that particular prize. Each person can only win once. If you really want to win one prize more than another, you may want to consider that when indicating your preferences with each entry.
I hope this all makes sense. Please let me know if you have any questions or need any clarification.
I will announce the winners in a blog entry here on my 37th birthday next week, Tuesday, March 6th!
I think it will be fun to giveaway presents on my birthday this year as a thank you for your support and encouragement of me and my writing over the years, especially as I begin this new journey with Bereaved and Blessed.
Also, my big birthday gifts this year from Bob and the kids were purchasing my own domain/URL and Self Hosting through Host Gator, getting this ebook that was very useful during my move and also buying the The Thesis Theme for WordPress from DIY Themes. I have wanted to make this move for awhile and it was a wonderful present to receive this year to have the resources to finally be able to do so!
Even if you choose not to participate in my giveaway, I would love for you to still comment on this post and let me know that you are sticking with me here at my new place.
Thank you for reading, for your kinds words, for your enthusiasm and most of all for taking this leap of faith with me, on this leap day, during this leap year from Four of a Kind to Bereaved and Blessed!
Finally, today also happens to be my the3six5  post day! You can read more about it here.
Click here to read what I have to say on this Leap Day: February 29th.