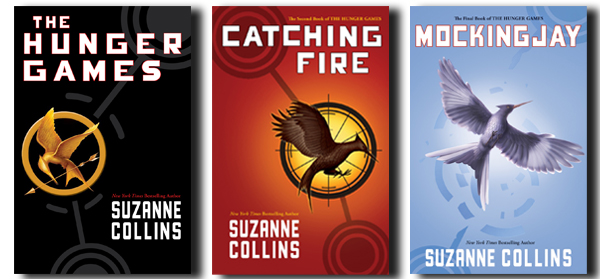 In recent weeks my thoughts and daydreams have been filled with fictional characters, including Katniss Everdeen, Gale Hawthorne and Peeta Mellark. I was reading The Hunger Games trilogy by Suzanne Collins and often felt like I was part of their world, living in Panem, and fighting against the leaders of the Capitol for freedom and to protect my loved ones.
I am actually surprised how much I enjoyed the series, as when I first heard about the premise, it did nothing for me. The idea of reading about teenagers fighting to their death disturbed me, but when our ten-year old son Sean expressed interest, I knew I needed to find out more.
I talked with other parents who had allowed their children to read them. I discussed with my husband Bob about whether he felt Sean could handle the subject matter. We agreed that it would be okay and bought the first of the three books for him.
Sean loved The Hunger Games and couldn't wait to read more!
We made sure to debrief what happens in the story with him, wanting him to be clear it was science fiction.
Meanwhile, I was getting very curious to know more about this world that Sean had become so engrossed in. So rather than purchasing the hard copy of the second book, Catching Fire, for Sean. I decided to buy the whole series for my Kindle. Sean and I share the Kindle account and thus we could both read all three that way. We both read them on Kindle apps on our respective iPhones (his is a hand-me-down that we turned into an iPod touch). Sean finished them first and loved hearing my thoughts, as I went a long and caught up. It was fun and interesting to be able to discuss with him.
Now that we are both done, I am experiencing some withdrawal. As with other compelling books, movies and television series, I understand the story could not go on forever. But I did feel some sadness, as well as relief, when I read the last page of Mockinjay.
If you are on the fence as to whether you should read The Hunger Games series, I encourage you not to be put off by the subject matter. There is a lot more to the stories than gore and death, though there is a lot of that. There is complex romance, politics and a fascinating look at human nature, especially how far a person will go to protect their family and friends.
Sean and I also watched the movies based on the first two books together (The Hunger Games on DVD and Catching Fire in the theater). We really liked being able to see how the stories were transferred to the big screen. Again, we discussed at length the subject matter, so I was sure Sean was comfortable with it and I could answer any questions he had. After seeing Catching Fire we were excited to find out that Mockingjay Part I will be released this November and Part II will come out in November 2015!
Knowing that the first book in the series was published in 2008, I imagine many of you have already read one or more of the books and/or seen the movies. I would love to know what you think!
Did you like any or all of the books?
Have you seen the movies?
What did you find most compelling about the stories?
Who was your favorite character and why?