Halloween is over and, if you're anything like me, it's never too early to start thinking about or even shopping for presents for the upcoming holiday season. K-Mart released its  "Fab 15" Hottest Toys for 2013 and I had the opportunity to pick one to receive and review, as well as one of the same item to giveaway. Since our four-year old daughter Abby is a big fan of the TV show Doc McStuffins on Disney Junior, I chose the Disney Doc McStuffins Get Better Check-Up Center.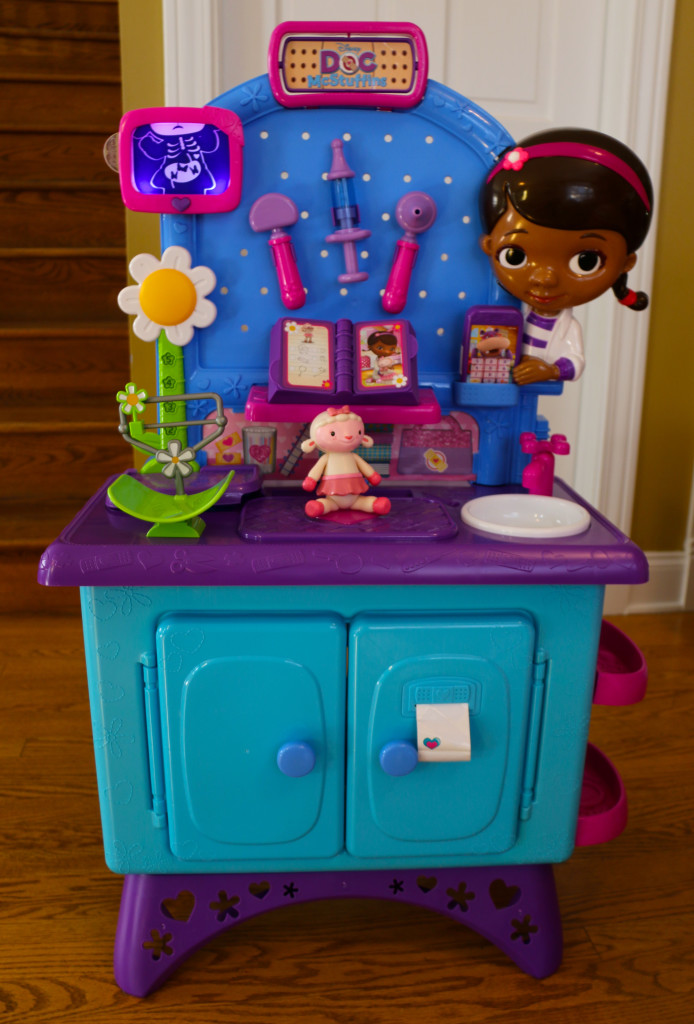 Abby, like many preschoolers, is really into pretend play. She loves to make meals in her play kitchen and be creative while playing with her dolls and stuffed animals, along with other toys. Though our daughter already had two different doctor kits, they don't hold a candle to what is included in the Disney Doc McStuffins Get Better Check-Up Center. The center comes with 13 pieces to imagine and play with. From the moment I first showed Abby the box it came in, she was enthralled.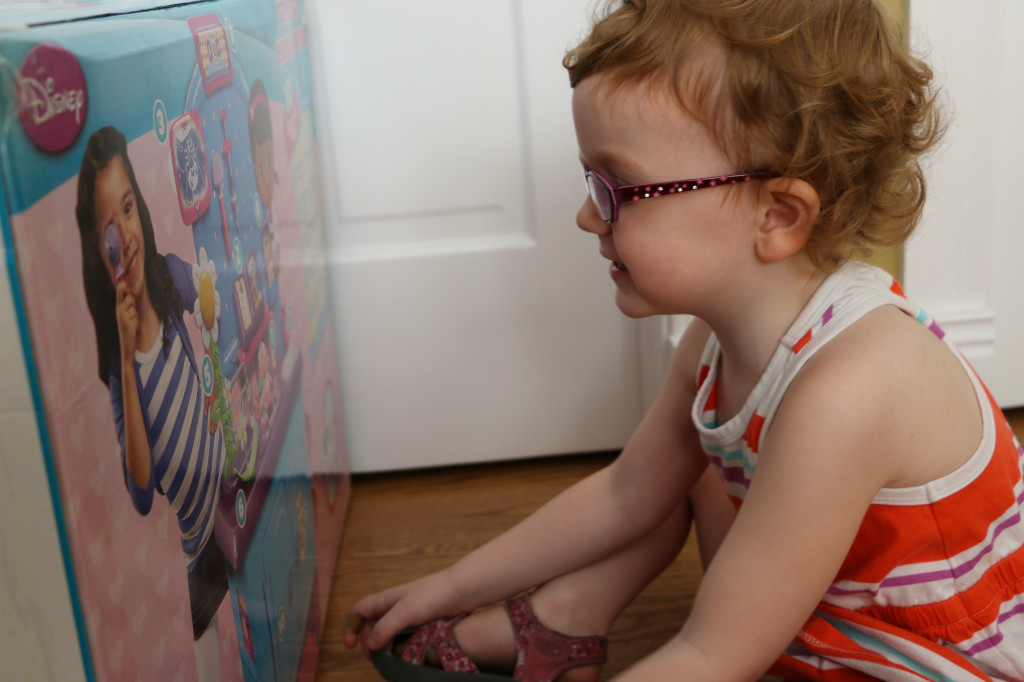 I took notes as we unpacked the Get Better Check-Up Center box and put it together, as I wanted to remember Abby's first impressions of her new toy. As we began she exclaimed,
"Yay! I can't wait to see how it works!"
Then, as we took each piece out of the packaging, Abby kept repeating,
"Wow!"
When she would discover a new part to the center, she'd say,
"Wow! What's this for?!"
At one point, Abby asked to take a look at the directions herself and proclaimed,
"Let me see what we're missing?!"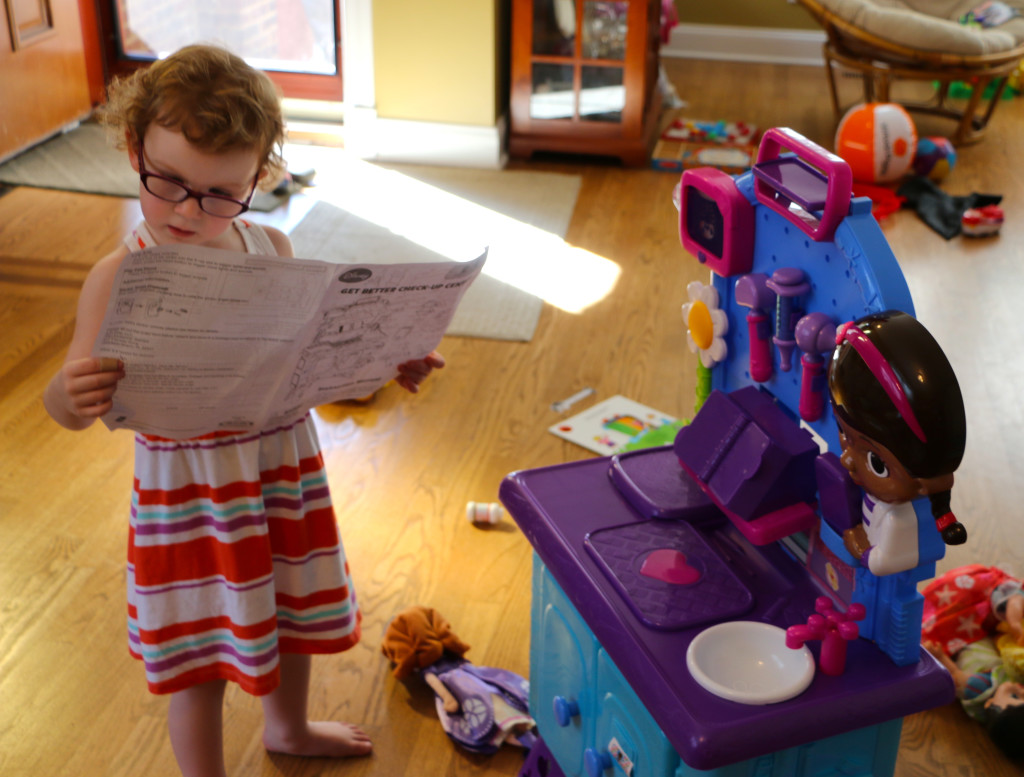 This toy is truly fun right out of the box!
When she saw the little white sink, she said,
"I'm gonna wash my hands in this!"
Some of the other comments Abby made as we put it together were,
"This is so cool!"

"It comes with Lambie!"

"Wow! This so cool!"
As she played with the toy phone that comes with the center, while I was assembling other parts, I heard Abby commenting,
"It that a phone?

"Who should I call?"
Then at one point she told me,
"If you need me, I'll be in the chart room with Lambie!"
After awhile Abby decided she wanted to check out more of her toys with her new Get Better Check-Up Center. So she said,
"I'll be right back, I'm just going get someone to check out!"
Abby returned with her stuffed animal Curious George, among others, and proceeded to give him an eye exam.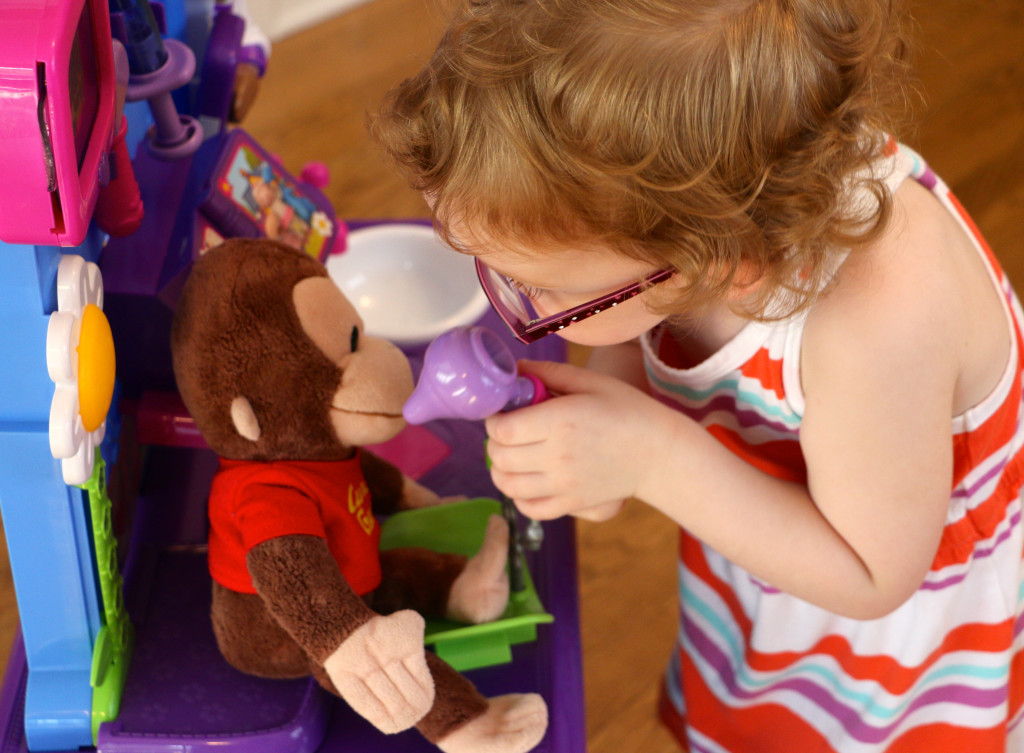 One of my favorite components of the Get Better Check-Up Center is the eye chart, as since our daughter recently got glasses for the first time, it was awesome to watch her pretend play about something she is getting used to in real life. The chart that comes with the center has animals, instead of letters, just like the one at Abby's eye doctor's office. Since she can't read yet, they used that same kind of chart to evaluate her.
As Abby examined George, followed by other dolls and stuffed animals, I heard her say about one,
"I'm going to give pretend glasses. They'll help her see the animals on the chart better."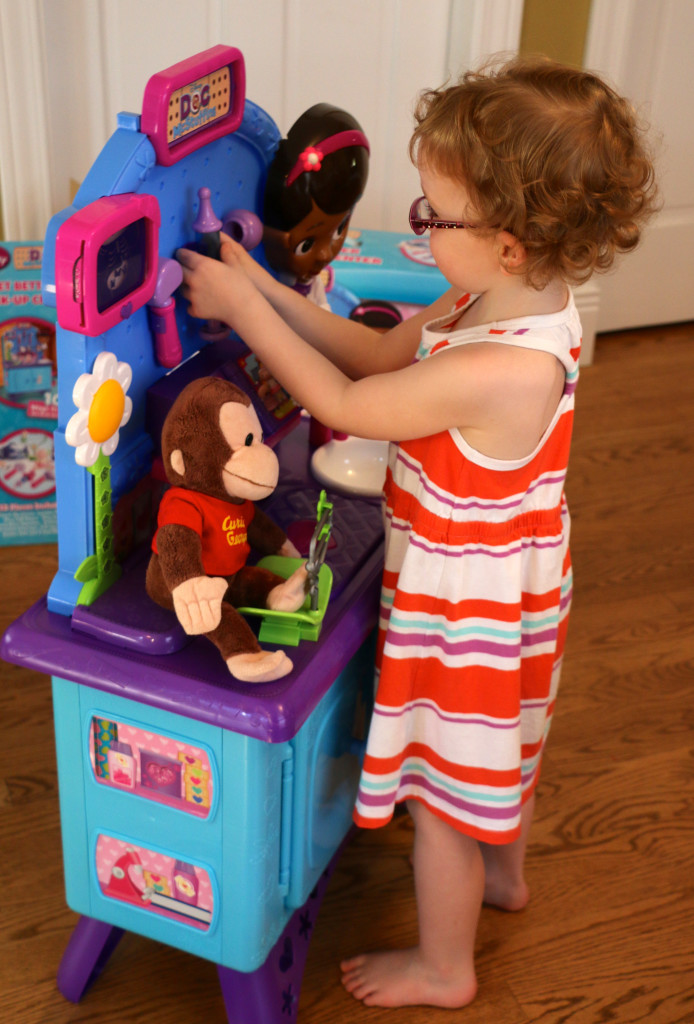 Abby tried to be patient as I finished putting the center together and while waiting she even made up a song, singing, "Put it together!" and "Are you done?" In case you are wondering, it took me about 45 – 60 minutes to assemble it and Abby thinks it was well worth the wait.
Other cool features of the Doc McStuffins Get Better Check-Up Center are the lights and sounds, especially the X-Ray viewer (see picture below). It's been about a month since we got this and Abby still really enjoys playing with it. Earlier this week she brought home a small pumpkin from preschool and later that day I found her examining the pumpkin at her Get Better Check-Up Center.
There are also other Doc McStuffins toys we've found that go along with the Get Better Check-Up Center. Though as I mentioned, Abby already had two doctor kits before we got this, she ended up using a gift card card, that she received for her birthday, to buy the Doc McStuffins Doctor's Bag Set to use with the center. She has also put other coordinating Doc McStuffins toys on her Christmas Wish List.
If your little one is into Doc McStuffins and/or pretend play in general, the Get Better Check-Up is a lot of fun and worth adding to their Holiday Wish List this year!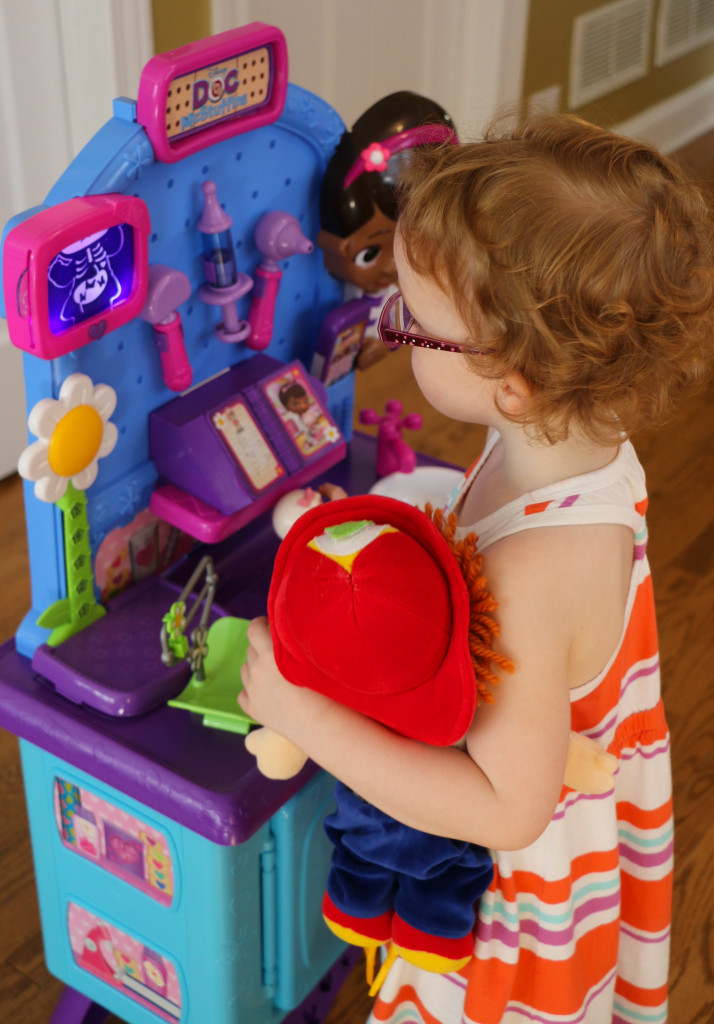 Now for the giveaway details!
To enter to win a Disney Doc McStuffins Get Better Check-Up Center:
Leave a comment here between now and Thursday, November 7th letting me know what appeals to you most about the toy and who in your life you will give it to. 
Each person may only comment or enter once, but you are welcome to ask family members or friends to enter on your behalf.
I will use the True Random Number Generator on Random.org to pick the winner from the comments on my post here.
The winner will be announced on Friday, November 8th.
~~~~~~~~~~~~~~~~
Disclaimer: I received the Disney Doc McStuffins Get Better Check-Up Center as compensation for writing this review, as well as the opportunity to give one away to a reader. However, the opinions expressed here are my own.
Update (11/8/13): Congrats to Lia (comment #55) on winning the Disney Doc McStuffins Get Better Check-Up Center! Thank you to everyone who entered the giveaway, shared what appeals to you about the center and who you'd give it to!