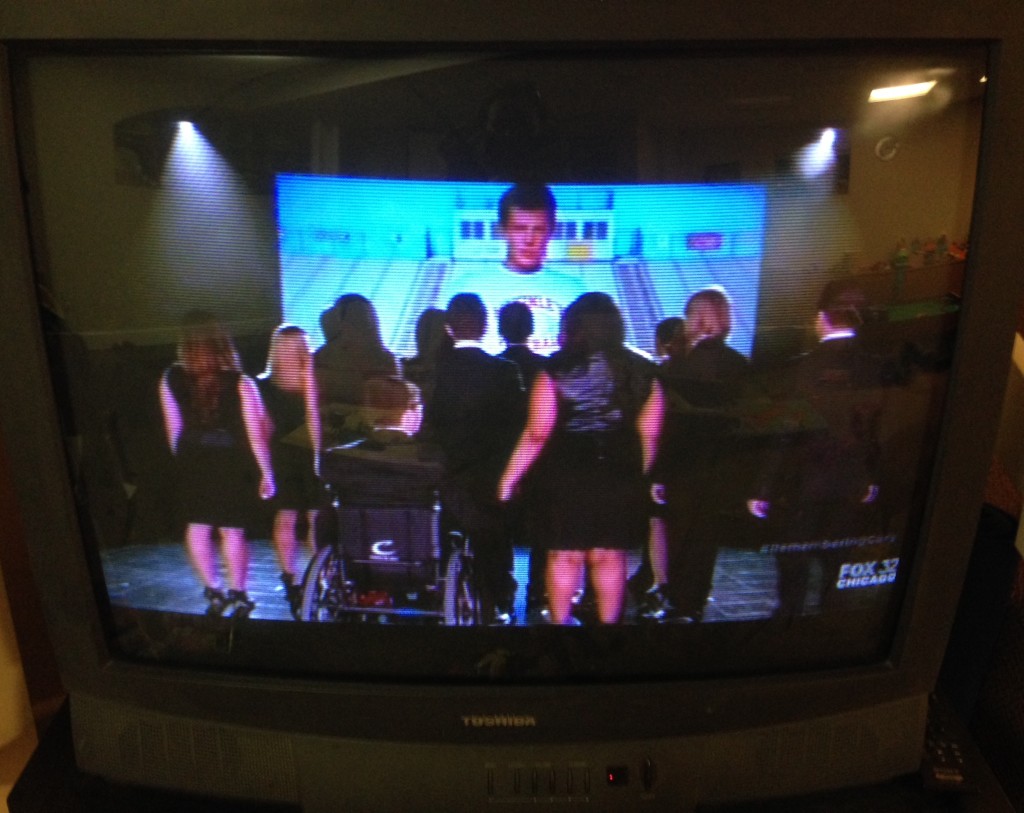 I haven't watched Glee regularly in a while.
But there was no way I was going to miss tonight's episode, honoring the life and memory of Cory Montieth (1982 – 2013), who played Finn Hudson on the show.
In fact, I watched it twice in a row.
The first time, just to experience it, as I almost emptied a box of Kleenex.
The second time, to take notes on my phone about all the parts that touched my heart and to transcribe the quotes that I didn't want to forget.
They had me in tears from Seasons of Love (one of my favorite songs, from one of my favorite musicals) right through to the end with Make You Feel My Love.
The song choices, in tribute this man who touched so many lives, through his role as Finn on Glee and surely many more in real life, were perfect.
In case you didn't recognize or catch the names of all of them, here they are:
Songs for the Quarterback
Seasons of Love from the musical Rent
I'll Stand By You by the Pretenders 
Fire and Rain by James Taylor 
If I Die Young by The Band Perry
No Surrender by Bruce Springsteen
Make You Feel My Love by Bob Dylan 
A note about the song, If I Die Young, I'd never really listened to the lyrics and this verse really got me, as I often think of our Molly when I see rainbows and wonder if they are signs from our baby girl.
Lord make me a rainbow, I'll shine down on my mother
She'll know I'm safe with you when she stands under my colors, oh,
And life ain't always what you think it ought to be, no
Ain't even grey, but she buries her baby.
I was so moved by watching the cast of Glee tonight, all of whom seem to deeply love and care about Cory, work through their very real grief and loss on this episode.
I was very impressed with the writing. There were so many awesome lines about the feelings and emotions people feel after they lose a loved one. They also captured how family and friends deal with grief and loss in their own ways. They show how it is okay to feel how you feel and say what you need to say or not…. From feeling and expressing anger, to a numbness, to making it all about ourselves and of course just feeling so very sad.
As I have done here before at times, after watching something on television which I felt compelled to share, as I process what it means to me, I transcribed specific interactions and dialogue from tonight's episode of Glee. Though in the past I focused on brief interchanges, this time I typed up a lot, as there was so much that resonated with me as a bereaved mother, granddaughter, cousin and friend.
If you haven't watched this memorial episode of Glee yet and you intend to, I suggest you read the rest of this post afterwards.
Also, if you saw the show and want to share in the comments what struck you about it, I would love for you to do so. Thank you.
QUOTES ABOUT GRIEF FROM THE GLEE TRIBUTE TO CORY MONTIETH/FINN HUDSON
"Being together is hard, it makes it more real.

But I also need my friends right now.

People keep asking me,

'What are you feeling?

How are you feeling?'

I have no answers….

Everyone wants to talk about how he died too.

But who cares.

One moment in his whole life.

I care more about how he lived….

This isn't real.

I am not going home for this.

He's going to be there.

I'm going to spend my entire life missing him."

~ Kurt Hummel (Finn's step-brother) in his opening monologue after Seasons of Love
~~~~~
"I'm grieving and I grieve by insulting those who mean the most to me.

It's just a coincidence that it's also what I do when I'm not grieving."

~ Sue Sylvester (McKinley High School principal and former coach of the Cheerios cheerleading club)
~~~~~
"We honor Finn Hudson by taking care of the people he loved." ~ Sue
~~~~~
"Singing isn't going to bring him back!" ~ Noah Puckerman (a.k.a. "Puck")

"No, it's not, nothing is, not ever.

But, for two minutes or so, we can maybe remember the best parts of him."

~ Mr. William Schuster (a.k.a. Mr. Schue and Will), Director of the McKinley High School Glee Club
~~~~~
"I don't understand. Why would someone do something like that?" ~ Kurt

"Who knows?

Grief can bring out the irrational in all of us.

Sometimes it makes people do very strange things.

Sometimes when people die, we want to hold onto what's left of them, to get us through the hard times." ~ Sue
~~~~~
"You don't have to do this now. It can wait." ~ Burt Hummel (Kurt's Dad/Finn's Step-Dad)

"There's no timetable." ~ Kurt

Said to Finn's mom who feels compelled to sort trough and separate his things and decide what to do with them, in fear that she never will otherwise.
~~~~~
"Finn knew how you felt about him, honey.

He kind of liked it when you yelled at him." ~ Carole Hudson (Finn's mom/Kurt's Step-Mom)

"I shoulda hugged him more. Ya know?

We'd fist bump or high-five, but, I shoulda given him more hugs….

The last time I saw him… it was the perfect time for a hug.

But for whatever reason I gave him a pat on the back and now he's gone." ~ Burt

"I always thought that when I a…

How do parents go on when they lose a child?

You know when I would see that stuff on the news?

I'd shut it off, because it's just too horrible to think.

But I would always think, how do they wake up everyday?

I mean, l how do they breathe?

But you do wake up.

And for just a second, you forget.

And then, oh, you remember.

And it's like getting that call again and again, every time.

You don't get to stop waking up.

You have to keep on being a parent, even though you don't get to have a child anymore." ~  Carole
~~~~~
"I don't think I need grief counseling." ~ Will

"Will, I was with you when you found out that Finn died and I stood right next to you at the funeral.

And I couldn't help but notice something, you haven't cried." ~ Emma Pilsbury (Will's wife and McKinley High's Guidance Counselor)

"What are you saying?

That, that I don't feel anything?

Of course I feel something, Emma.

I feel, I feel more than I know how express.

I'm heartbroken.

To be honest, I don't even know how were all supposed to move forward.

But in the meantime, I have to make sure that the people around me are taken care of." ~ Will

"Okay, okay, listen to me. Listen to me. Listen, I love you. Okay.

Whatever you feel and however you want to show it, that's okay.

I just, I think there's gonna come a time when you need to let it all out and I want you to know that I plan on being here for you, when you do." ~ Emma
~~~~~
"You don't have to be scared to have feelings." ~ Shannon Beiste (A.K.A. Coach Beiste or Coach)

"That's crap! Of course I do!" ~ Puck

"Why? We're all havin' 'em!" ~ Coach

"Not like mine! No one understands!" ~ Puck

"Understands what? Tell me!" ~ Coach

"That if I start crying, I don't think I'll ever stop!" ~ Puck

"What chance do I have of not being an idiot and hurting people?

Without him around to remind me who I really am?" ~ Puck

"You just gotta do that for yourself now and see yourself how he saw you." ~ Coach

"It's not good enough for me! It's not like when he was alive." ~ Puck

"You gotta make it good enough, because it's all we got left.

And I'm telling you this straight, cuz that's how you and I talk.

He's dead and all we've got left is his voice in our head.

I'm sorry, but it's time, you gotta be your own quarterback." ~ Coach
~~~~~
"If there's one thing I've learned from Finn dying it's that shame is a wasted emotion.

I'm sure Finn had his secrets too, but who cares now." ~ Kurt to Santana Lopez
~~~~~
"All of us want some piece of Finn to keep close to us." ~ Mr. Schue
~~~~~
"He was such a good guy and I'll never get to tell him.

There's no lesson here.

There's no happy ending.

There's just nothing.

He's just gone….

Oh, it's just so pointless, all the potential." ~ Sue
~~~~~
"Nobody treat me with kid gloves, okay?

I don't know what to say either.

I loved Finn and he loved me and he loved all of you guys.

I know he did." ~ Rachel Berry (Finn's girlfriend, played by Lea Michele who was in a committed relationship with Cory when he died)
~~~~~
"Ya know, I used to love coming here, but now it reminds me of everything I lost." ~ Santana to Mr. Schue

"I understand, you should go." ~ Mr. Schue

"Geez, Mr. Schue! You don't have to rush me out of the door." ~Santana

"I'm a teacher, its supposed to make me happy to see my kids grow up and leave the nest." ~ Mr. Schue

"Does it?" ~ Santana

"I can say for a fact that it definitely beats the alternative." ~ Mr. Schue
~~~~~
"You know what's trippin' me out?

This line, between the two years (when he was born and died), it's his whole life.

Everything that happened is in that line." ~ Puck

"What are you gonna do with your line?" ~ Coach
~~~~~
"How are you doing?" ~ Rachel

"Everyone keeps asking me that." ~ Mr. Schue

"Well, from what I hear you've been a rock for everyone, so I know that means that sometimes you don't get to grieve yourself." – Rachel

"I'm okay. I'm mean, I'm really not okay.

But, I, yeah, I'm okay.

But more importantly, how are you?" ~ Mr. Schue

"I have no idea.

I talk to him a lot.

I can still see his face and I can hear his voice so clearly.

Do you think that I'll ever forget it?

Because I'm afraid that one day I will….

I had it all planned out….

Then we'd live happily ever after." ~ Rachel

"Did you tell him?" ~  Mr. Schue

"He already knew." ~ Rachel

"And, now what?" ~ Mr. Schue

"I don't know, something different." ~ Rachel

"Maybe something better?" ~ Mr. Schue

"I don't think that that's possible.

He was my person.

But, thank you so much for doing this.

I felt like I didn't know if I would be able to sing again.

But, now I know that I can." ~ Rachel
~~~~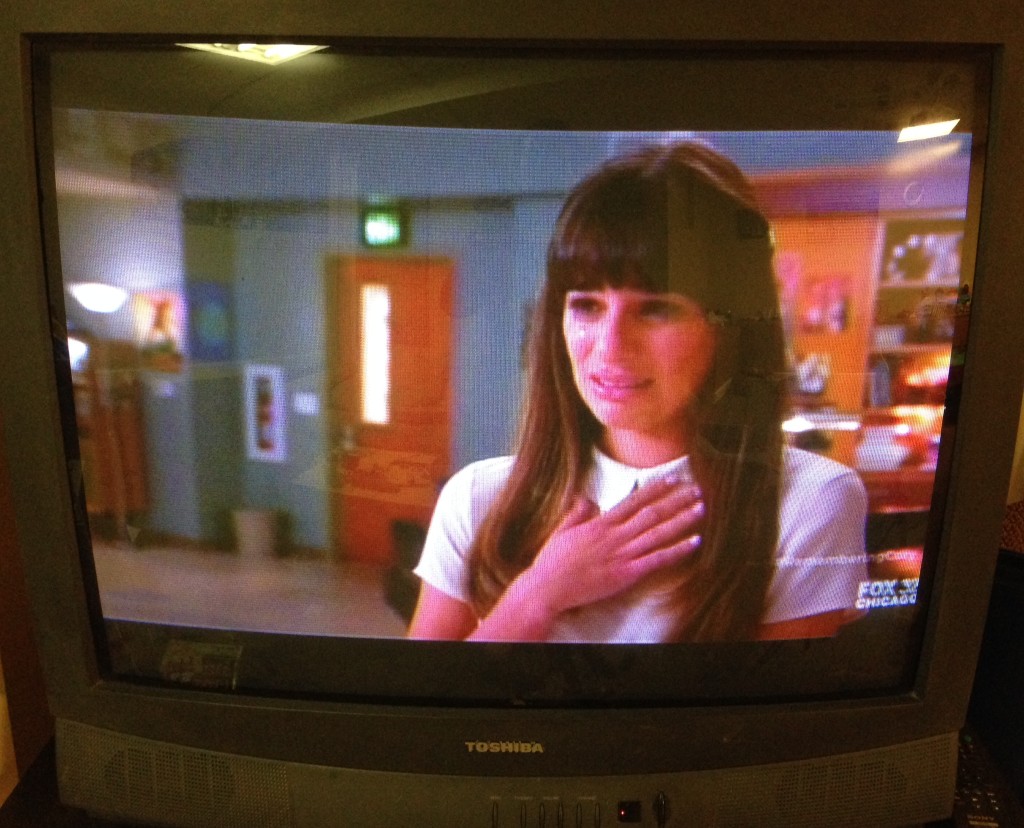 Finally, after we discovered who was the last person to have and hold Finn's varsity jacket, which was passed around throughout the episode as a source of comfort to his loved ones, Glee ended with a PSA, delivered by three cast members, who shared resources for those struggling with addiction. They said:
Our friend Cory didn't look or act like an addict, he was happy, successful and seemingly had it all.

Addiction is a serious disease that can hide in plain sight. But no one needs to fight it alone.

If you or someone you know needs help, call 1-800-622-HELP for a referral to treatment services or support groups in your area or visit www.findtreatment.samhsa.gov 
Though they never directly addressed how Finn's character died on the tribute episode, I appreciate that they spoke of a major factor that contributed to Cory's death in real life.
As someone who has loved ones who have dealt with addiction, thankfully most of whom are in recovery, I am glad the staff and cast of Glee choose to do this.
I didn't know what to expect with tonight's episode of Glee, but it was truly awesome and a fitting tribute to the Quarterback of this groundbreaking show which has never avoided exploring topics that make some people uncomfortable to watch and/or talk about. Kudos to everyone who had a hand in it.
I will go to bed now emotionally exhausted and inspired by Cory/Finn's legacy, which lives on in his loved ones and all those who are, or have been, fans of Glee over the years.