Last Monday, thanks to the lovely ladies of #ChicagonistaLIVE, I had the good fortune to eat lunch at the newest Fogo De Chão restaurant, in Rosemont, IL. I got to dine and visit with other awesome local bloggers, some of whom I have met before and others who I got to meet for the first time.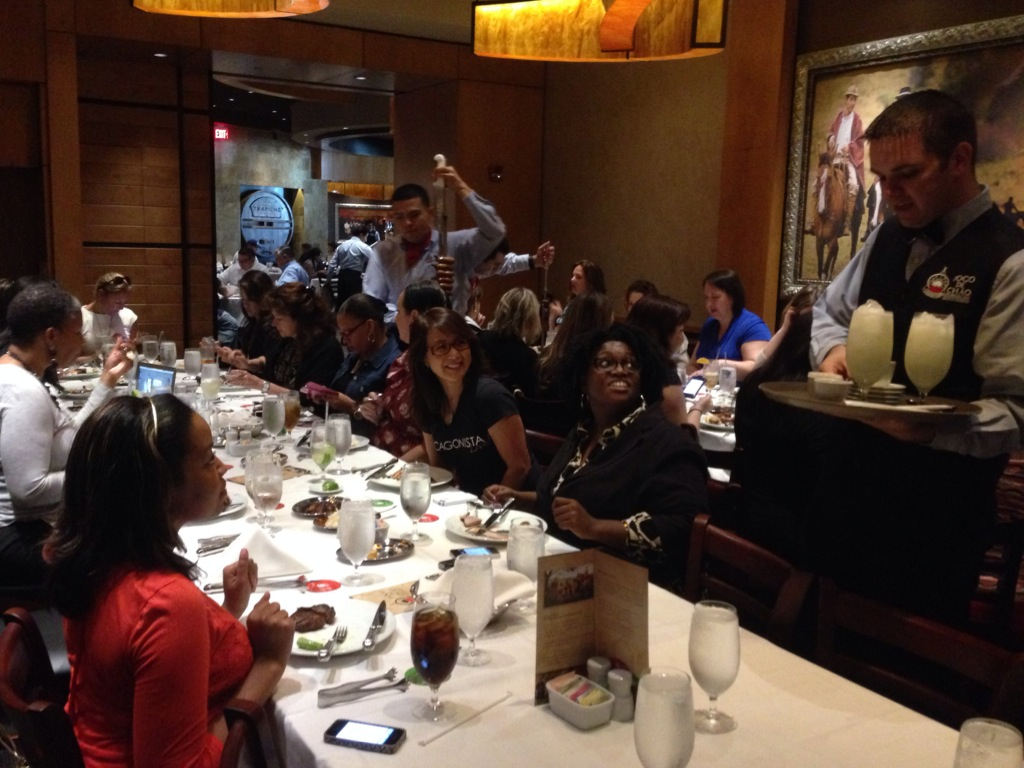 As a stay at home mom I rarely go out to eat with friends during the day, so this was a special treat, as well as a wonderful opportunity to get an inside look at Fogo De Chão, which serves mouth-watering food, unique and refreshing beverages and offers a beautiful setting to gather with family and friends.
If you haven't been to a Brazilian Steakhouse before, it doesn't get any better than Fogo De Chão. I often joke that I'm the opposite of a vegetarian, because I love to eat meat! So the idea that there is actually restaurant where I can try 16 different cuts of fire-roasted meat, carved table-side by authentic gaucho chefs, is pretty awesome. I also got a kick out-of-the-way diners communicate with servers in regards to if they are hungry or full.
If you want to eat more you flip a card, which looks like a coaster (and is what I originally thought they were), to the green side and if you are done, or at least want to take a breather, you turn it to red. A few times I forgot to turn mine to red, when I was feeling full, and was overwhelmed by how the gaucho chefs kept bringing me meat to try. When I realized why, I quickly flipped my card back over to red.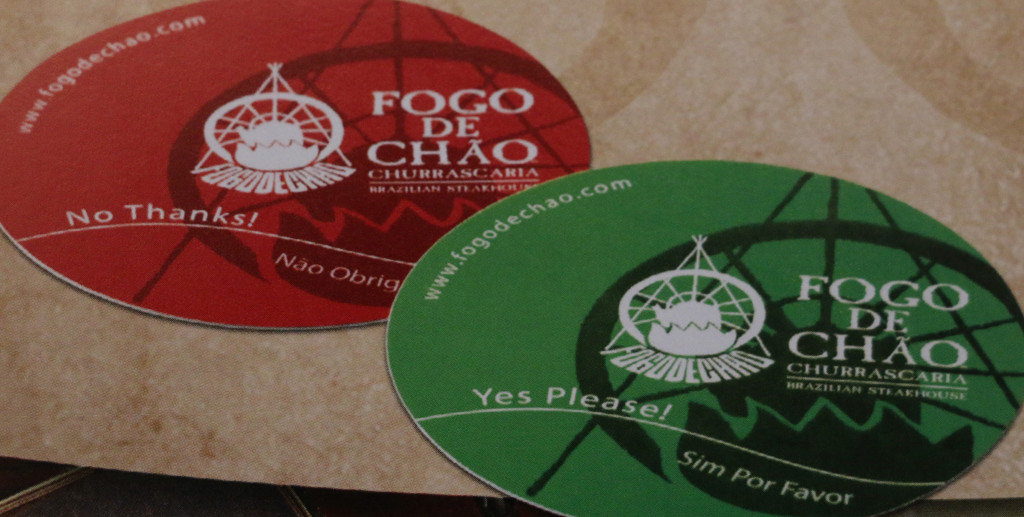 There is also a big gourmet salad and sides bar, which is a great way to start off your meal. But be careful not to have too much or you won't have enough room for the many courses. Likewise, Fogo De Chão also offers unlimited traditional Brazilian side dishes, which include: pão de queijo (warm cheese bread), crispy hot polenta, garlic mashed potatoes and caramelized bananas. I was warned to pace myself with the cheese bread, because it is so good and filling. I only intended to have one piece, but in the end couldn't help myself from eating another. I thought the caramelized bananas were also yummy.
Now for the giveaway details!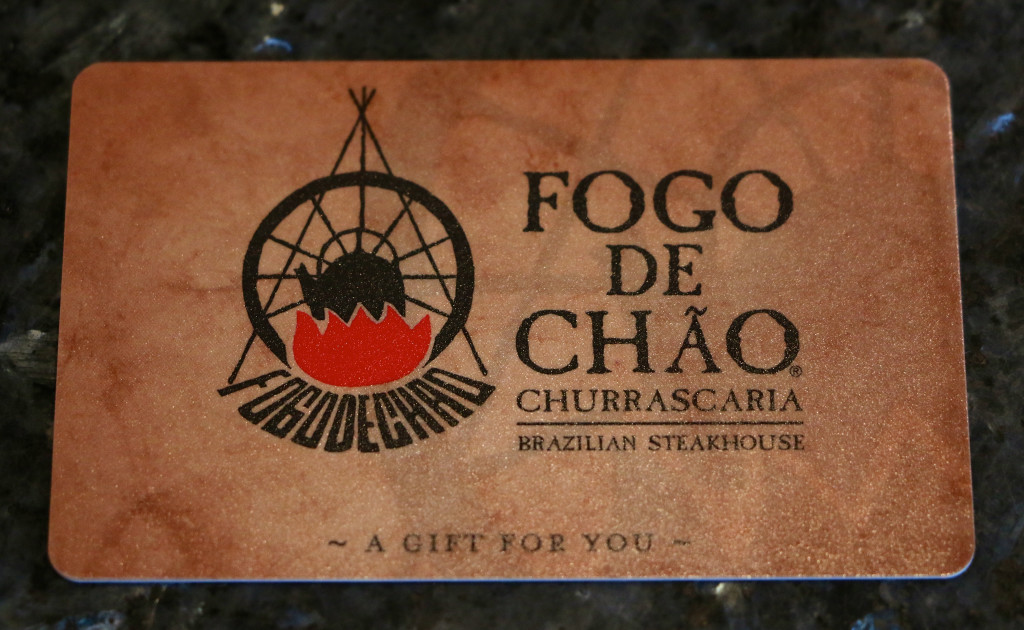 To enter to win a $50 Gift Card for Fogo De Chão:
Leave a comment here letting me know if you have been to a Fogo De Chão before. 
If you have, tell me what you liked best about the experience.
If you have not eaten at a Fogo De Chão, please let me know what you are most looking forward to trying there, if you win and/or when you go there.
Fogo De Chão will be picking the winners from the comments on my post here by October 8th.
Also, throughout the month of October, if you go to eat at Fogo De Chão in Rosemont (#FogoRosemont), you will receive a complimentary dessert when you mention "ChicagonistaLIVE."
Here's a photo of three delicious desserts I tried, all of which I highly recommend (including Fogo de Chão's Signature Papaya Cream, chocolate cake and Creme Brulé).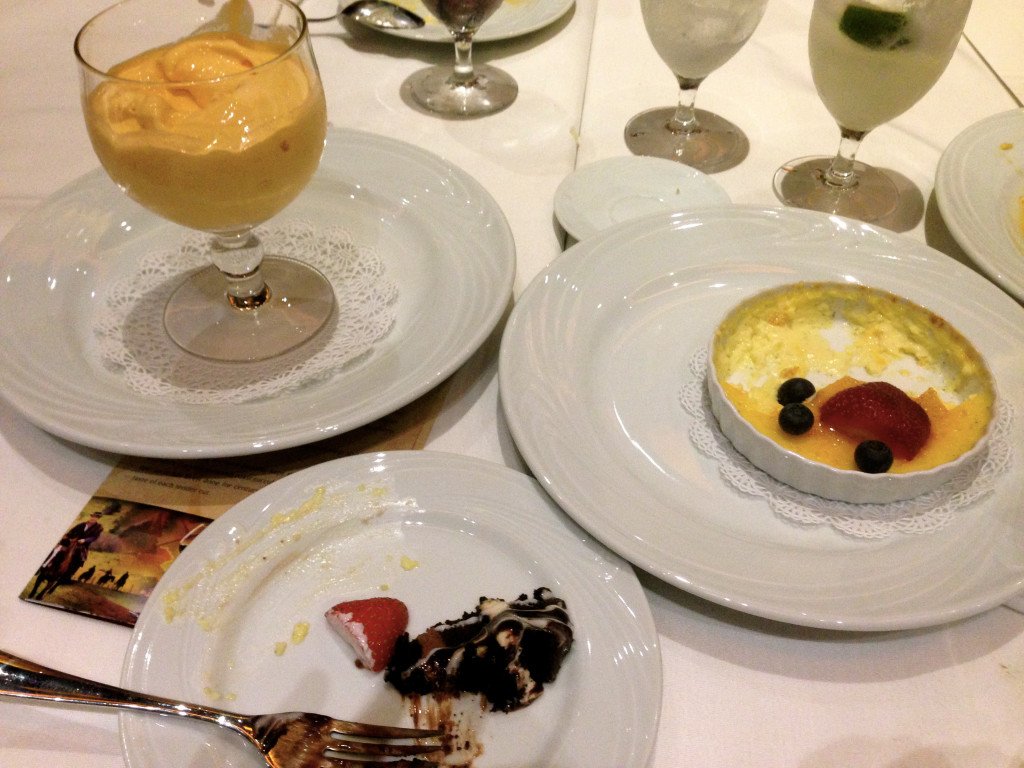 The gaucho chefs at Fogo De Chão provided excellent service and some also had a great sense of humor. As we neared the end of our meal and didn't know if we could possibly make room to indulge in their desserts, one of our servers told us, "We have dessert that breaks down protein, so you will feel better!" If only that were true… But they sure were worth finding room for!
As I mentioned earlier, in addition to the fabulous meat, salad, sides and desserts, at Fogo De Chão, I relished in the opportunity to get to know some new-to-me bloggers, including Nancy Loo (one of the Chicagonistas hosting the event and a reporter for WGN News), Dr. Renee Matthews (Ask Dr. Renee), Nicole Phillips (Help! Mama Remote…) and Bonnie Kenaz-Mars (ChilL Mama).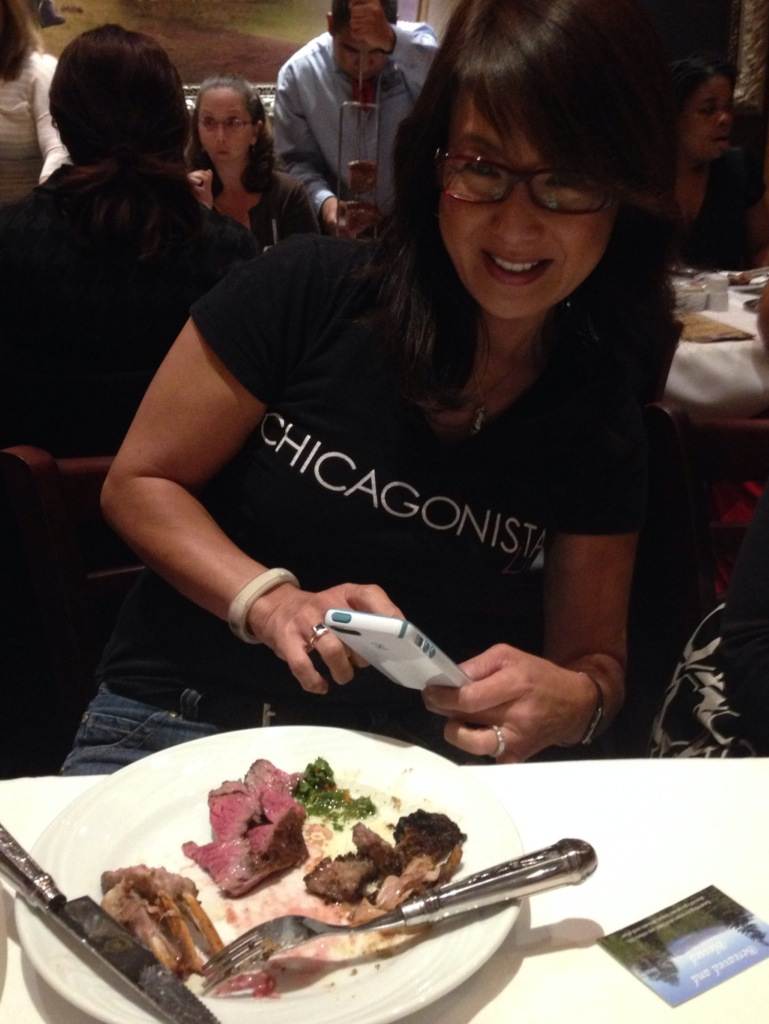 One of the highlights for me, was overhearing a conversation between Nancy Loo and Renee Matthews. They were talking about how at times other women will ask them for advice, whether it has to do with business, blogging or life in general. Both of these women are successful in their careers and have worked hard to get where they are today. They relayed how frustrating it is when they take the time to mentor people and later find out they have not taken the wisdom they shared to heart.
Nancy and Renee said that they do really like to help people, but it's embarrassing when they take the time to help someone network with their connections and then that person doesn't follow-up. I also loved when I heard Nancy say, "You have to have your elevator pitch ready." Though I know that, it helped to be reminded to always be prepared to tell others I meet about myself, my blog and the projects I'm working on.
If you want to learn more about Fogo De Chão, #ChicagonistaLIVE will be broadcasting live from #FogoRosemont on Tuesday, October 8th at 2:oo p.m. CST, on www.ChicagonistaLIVE.com, with special guests Check, Please! new host Cat D' Orio and Guy-a-titian David Grotto.
Giveaways winners will also be announced on the October 8th #ChicagonistaLIVE show.
I highly recommend you try Fogo De Chão the next time you are looking for a great place to eat lunch, a fun night out and/or a delicious place to eat with colleagues, family and friends. There are 23 Fogo De  Chãos across the United States. So if you are local, be sure to try the Chicago and/or Rosemont locations. If not, click here to find the ones closest to you.
To read what other Chicago area bloggers have to say about their experiences at #FogoRosemont and for more chances to enter and win a $50 Fogo De Chão Gift Card, click on the links below:
Update (10/9/13): Congrats to Sarah Boldman on winning the $50 Fogo De Chão Gift Card! The winners were announced on #ChicagonistaLIVE yesterday. Thank you to everyone who entered the giveaway and shared what appeals to  you about Fogo De Chão!