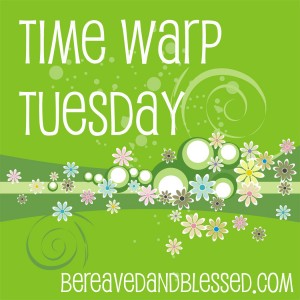 Let's do the Time Warp again!
Welcome to the 35th installment of my blog hop/writing exercise called Time Warp Tuesday!
For those not familiar with Time Warp Tuesdays, which I host on the 2nd Tuesday of every month, here is the background of how and why I came up with the idea. If you are here to participate and link up, you can do so with the Linky Tools at the end of this post (or if you have any difficulty, you can share the link to your post in the comment section).
The gist of Time Warp Tuesday is to revisit and share some of our favorite blog entries from our archives, as well as others', and reflect on our journeys since we wrote or read them.
~~~~~~~~~~~~~~~~~~~
The theme for this month's Time Warp Tuesday is: Learning
As many people head back to school (whether as students or teachers), the month of September calls to mind lessons we have learned over the years. Choose a post from your archives OR another blogger's in which you or they wrote about a lesson(s) learned. Maybe it was through a difficult experience or uncertain time in life that you or they were able to find a silver lining. Or maybe it was something a teacher, student or loved one helped you or they to better understand. Another option is to choose a post that you or another blogger wrote through which you learned something new. Maybe writing or reading it helped you to see a situation from a different perspective. Then write a new post on your blog about why you chose the post that you did and what has happened in your life since it was written.
Participants can write about whatever you want in your new blog entries. However, for those who might have needed some help and inspiration to get started, here are some questions to consider:
Why did you pick this post? Has your perspective changed since the day you wrote your original post or read the other blogger's? Do you think you would still feel the same way if you were writing or reading the post today? What have you learned about yourself, your family and your life since you wrote or read the original post?
Note: Many thanks to Keiko from The Infertility Voice and Team Zoll for suggesting "Learning" for September! If you have an idea for a future Time Warp topic, theme and/or writing prompt, please feel free to share it in the comment section or send me an email. If I choose to use your idea, I will give you credit and link to your blog.
~~~~~~~~~~~~~~~~~~~
Time Warp Tuesday: Learning
It's day three of National Suicide Prevention Week and today is World Suicide Prevention Day. Until a few years ago, I didn't know there were such things. But advocating for Suicide Prevention is something I have become passionate about after losing loved ones to suicide in 2011. I have been sharing information on Facebook, Twitter and Google+ this week and will continue to do so to help raise awareness about how we can help to support our loved ones and prevent suicide. I encourage you to try to be aware of and sensitive to those in your lives who may be suffering in silence and do what you can to let them know they are loved and that you care. Thank you.
That said, when I realized that Time Warp this month would fall on World Suicide Prevention Day, I wanted to find a way to merge my passion for raising awareness about suicide prevention with the theme of Learning. I immediately thought of a post that I first came across via Twitter during National Suicide Prevention Week in September 2011. At that time I was really struggling with the death of an old friend, who died in April that year. I was trying to make peace with the idea that she had chosen to take her own life and believed back then suicide was a selfish act, leaving friends and family members behind having to try to make sense of it all. I felt that way until I read this by Cristi from Motherhood Unadorned:
Is Suicide Selfish? (August 2011)
Though I have had loved ones in my life for as long I can remember who have struggled with mental illness, I didn't fully understand how their illnesses could influence their reasoning and ability to choose life, even in the depths of their depression. I appreciate so much of what Cristi shared candidly in her post about her own experience with mental illness and feelings suicidal, especially this:
I personally have not been suicidal since having children (thankfully) but I have been in the past pre-kids. I know that it was close to impossible for me to see or believe that a future existed. My family, my loved ones had nothing to do with it. It was the mental illness talking. It was my altered mind that could not see a future, and mistakenly thought my family and friends would be better off without me.
Cristi also went on to make the analogy between the care and treatment people seek who are diagnosed with a physical illnesses and how those with mental illness deserve the same level of concern and medical attention.
Just like a cancer patient who loses the fight with cancer, so does a person who loses his or her battle with depression, PTSD, bipolar disorder or other mental illness. It is a disease. One that we have not chosen to have, just like any other illness. But one that with proper and timely treatment can be overcome.
In the infertility and pregnancy/neonatal loss community we often make similar analogies, wanting society to recognize and respect that our pain and struggles are valid and deserving of medical insurance coverage, among other things. Of course having difficulty trying to conceive a child or dealing with recurrent miscarriages is not the same as having cancer, but it is something that many people experience and not enough of their loved ones understand or are able to support them through.
Reading Cristi's post about whether suicide is selfish was a game changer for me and the way I think about suicide. I learned, through what she shared, a new way to look at my loved ones who left this world too soon by taking their own lives. It helped me to see their deaths in a different light and allowed me to stop blaming them for leaving me and others behind.
Since Cristi wrote that post two years ago, she and I both have gotten more involved in suicide prevention advocacy. Cristi has done so on a much larger scale, including participating in an overnight walk in Washington DC to raise money for awareness of suicide prevention to starting a Facebook group and Twitter hashtag (#MHBlogs) to connect and support Mental Health Bloggers. At this point, my advocacy efforts have remained more local, here on my blog with the creation of my Mental Health & Suicide Prevention resource page and my Gatekeeping series.
Going forward I do believe it is possible to have a #WorldWithoutSuicide. I intend to continue to do what I can to raise awareness about suicide prevention and keep the conversation going. Sometimes when I am up later at night I will see status updates in my newsfeed on Facebook from National Suicide Prevention Hotline '1-800-273-TALK (8255)'. Though I have never felt suicidal in my lifetime, I have certainly struggled some with depression over the years. When I see those status updates trying to remind me and others that we are not alone and that there are people who care, I smile and hope that they reach one or more people who may need to see them the most that night.
Wherever this post finds you, on this World Suicide Prevention Day, I hope that you know you are not alone. I care and want you to know that if you are ever feeling suicidal, there are other options and I for one want to talk with you before you it is too late. Whether or not you are struggling with mental illness yourself, I encourage you also to reach out to and support your loved ones who sadly may consider suicide at some point too.
For more information about what is happening during Suicide Prevention Week, check out one of Cristi's recent posts with suggestions how you can get involved with helping to create a #WorldWithoutSuicide.
I am also sharing/linking up this post as part the University of Southern California School of Social Work's Suicide Awareness Blog Day.  Click here to learn more about their Suicide Prevention Blog Campaign and how you can help
Thank you for reading and for doing the Time Warp with me this month! I look forward to your feedback about this post, as well as reading and commenting on all of yours.
Please feel free to comment even if you didn't write your own Time Warp Tuesday post. It is not too late to participate if you are interested, click here for the details.
~~~~~~~~~~~~~~~~~~~
Here is where I would usually give the topic for the next Time Warp Tuesday…
However, after almost two years straight of doing the Time Warp, first weekly and eventually monthly, I am ready to take a break.
Many thanks to everyone who has participated in one or more Time Warps since I began doing this in 2011!
It has been such an awesome journey revisiting and reflecting on old blog entries with you, while covering so many different interesting topics a long the way.
This month's Time Warp topic "Learning" seems to be a fitting way to end this blog hop/writing exercise, at least for now, as I have learned so much through this experience.
I may bring Time Warp Tuesdays back sometime in the future, but feel the need to focus my time and energy on my family, our home and other writing projects now.
Thank you again, for understanding and your support over the years that we did the Time Warp here at Bereaved and Blessed. xoxo
~~~~~~~~~~~~~~~~~~~
For those new to Time Warp Tuesday, here is a quick recap of how it works:
1) Browse through your old blog entries or another blogger's to find one that fits the topic for the given month. The topic is shared at the end of the previous month's "Time Warp Tuesday" post here on my blog (see above for next week's topic).
2) Write a new blog post in which you introduce, link to and then reflect on your journey since you wrote or read the older blog post and put it up on your blog on Tuesday. Please include this link http://bereavedandblessed.com/projects-regular-series/time-warp-tuesdays/ in your blog entry, so your readers can find their way to my post with the list of other participants, in case they would like to read more or participate themselves.
3) Share the link to your new post here on Tuesday and then visit, read and comment on the other blogs.
4) After you have done all of these things, you are welcome to grab the code for the Time Warp Tuesday button by clicking here and put it on your blog. The link will take you to a Google Doc where you can copy the code. If your browser does not allow access to your computer's clipboard, you can use Ctrl-C for Copy and Ctrl-V for Paste, or use your browser's Edit menu.
5) Check back here on the 2nd Tuesday of the month to find out the new topic, theme or question for the next Time Warp Tuesday (I welcome your ideas and suggestions) and then return to Step 1 of this recap to participate. Please let me know if you have any questions and I hope to see you back here someday in the future, if and when we "do the time warp again!"
~~~~~~~~~~~~~~~~~~~
Thank you again for reading, commenting and participating in my Time Warp Tuesday blog hop. Link up below and click through to visit others who are doing the Time Warp! (If you have any trouble with Linky Tools, please share the link to your blog entry in the comment section. Also, please don't forget to comment on my post here, as I do not have a link to this (my own) post below, but I would still really appreciate your feedback. xoxo
---
This linky list is now closed.