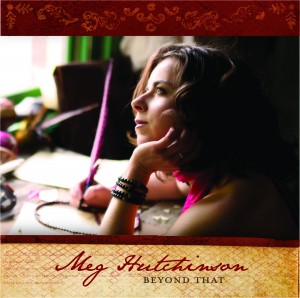 Today I went for a run, but instead of listening to my regular running mix, I chose play Meg Hutchinson's new album Beyond That.
I have been listening to it as much as I can since it was released earlier this week, in anticipation of seeing her perform live on Sunday at Evanston SPACE. But I was often doing other things at the same time and thus wasn't really getting to hear Meg's amazing lyrics. So it was an awesome and unique experience this morning to run while immersing myself in her words and music.
Whether or not you have heard Meg's moving and inspiring songs before, check out Beyond That. I also highly recommend Meg's previously released album, The Living Side, which first introduced me to her gift for capturing what so many of us think and feel in her music.
As I've shared in the past, a certain song that Meg wrote a few years ago, has become one of my favorites and inspired the Gatekeeping series here on my blog. It was her first interview on the Bob Edwards show, in March 2010, that drew me to Meg and listening to her therapeutic songs.
I cannot wait to see Meg perform live in my hometown, this Sunday evening, with my parents! I hope to get the chance to meet and talk with her in person after the show. But regardless I know it will be wonderful experience. If you live in the Chicago area and want to join us, you can buy tickets here.
Update: I just found out that tickets for Meg's show on Sunday at Evanston SPACE are sold out. According to the website, "it's unlikely there will be any additional tickets available for this show. Occasionally a small number of tickets are available just before showtime at the door."