The older I get the more acutely aware I become of our mortality, especially that of my parents and their generation. A few of my close friends have lost one or both of their parents and via Facebook I am also connected to many more people from my past who have had to watch their mother and/or father pass away.
One of my old friends from college, also named Kathy, and I have really bonded since we reconnected on Facebook in recent years. Sadly, one of the things we have in common is grief and loss. Kathy's father died in 2009 and her mother died in May of this year. I can't imagine having already lost both of my parents at this age. Unfortunately Kathy is not my only friend to have experienced that and my heart goes out to all those living without their parents at this stage of their lives.
I have appreciated being able to share with my old friend and sorority sister about our experiences with grief and loss. As recently I wrote about in this post, another of our sorority sisters is caring for her husband who has terminal brain cancer. As Kathy and I, along with so many others, have tried to be there for our sorority sister, to show our love and support, we have talked more and more about our personal experiences with our loved ones who have passed away.
As Kathy and I communicated, I noticed what a gift she has with words. Kathy is able to say (in status updates, comments and messages on Facebook) what so many of our fellow sorority sisters are thinking and feeling, as we walk with our friend who is saying goodbye to her husband. I know our sorority sisters have really responded to what Kathy has shared and I thought you, as my readers, would also appreciate her writing.
Kathy has so much heart and wisdom to share about her experience losing both of her parents in recent years. I thought it would be awesome for Kathy to write a guest post here about how it felt to be with her mom during her illness and at the end of her life, as well as what her grief and healing has been like since both of her parents died.
This is the first time Kathy has shared her writing publicly. I am so proud of my friend and honored to be featuring her today, here, in my first guest post on Bereaved and Blessed.
So without further adieu, meet Kathy…
~~~~~~~~~~~~~
Grief
How does this one word impact your life?
What does it mean to you?
This is the story of how a five letter word began to define me.
Me
I am the youngest child of three, the baby of the family. My parents had me late in life and early on I realized that my parents were older than the others. What I didn't know was that I would have to lose my parents before the others too.
I grew up as most children at that time did, in a two parent household, went to college and met my love, married him and had three babies… A typical story so far, one I didn't realize was an enchanted story.
A Forgotten Phone
In June of 2009, when my youngest was only two years old, that enchantment, like most fairy tales came to a screeching halt.
My father passed away unexpectedly.
I had forgotten my phone that day, no big deal, what could possibly go wrong.
My brother was desperately calling to tell me what had happened. After hours of his incessant calling he finally got ahold of me.
And with that one call, everything changed.
By the time I reached the hospital there was nothing left to say (his heart simply stopped), there was only the pieces of my mother to pick up.
She kept repeating words I will never forget, "He left me. He promised he would never leave me. He left me."
I was confused at how she could equate the two.
He died.
He didn't pack his bags and run away from their life together.
It was in that moment that I saw the fragility of my parents, one dead and the other broken.
In the months that followed I began to understand that those words held her raw emotion for the way she felt, alone. I had never seen my mother so vulnerable. I had never seen her so lost.
My mom was left feeling alone while I was left feeling angry. I felt angry at myself for forgetting my phone, (as if having my phone somehow would have saved him), angry at everyone else that still had their dads (because it simply isn't fair), and angry at God for taking him so abruptly and not giving me the chance to say goodbye.
"@#$% phone!" (a phrase I repeated or mumbled to myself for months).
If only I had my phone!
I could've done something if I had that damn phone!
This is what I would perseverate on in the months to come.
Anger, resentment and jealousy is what I had instead of having my dad.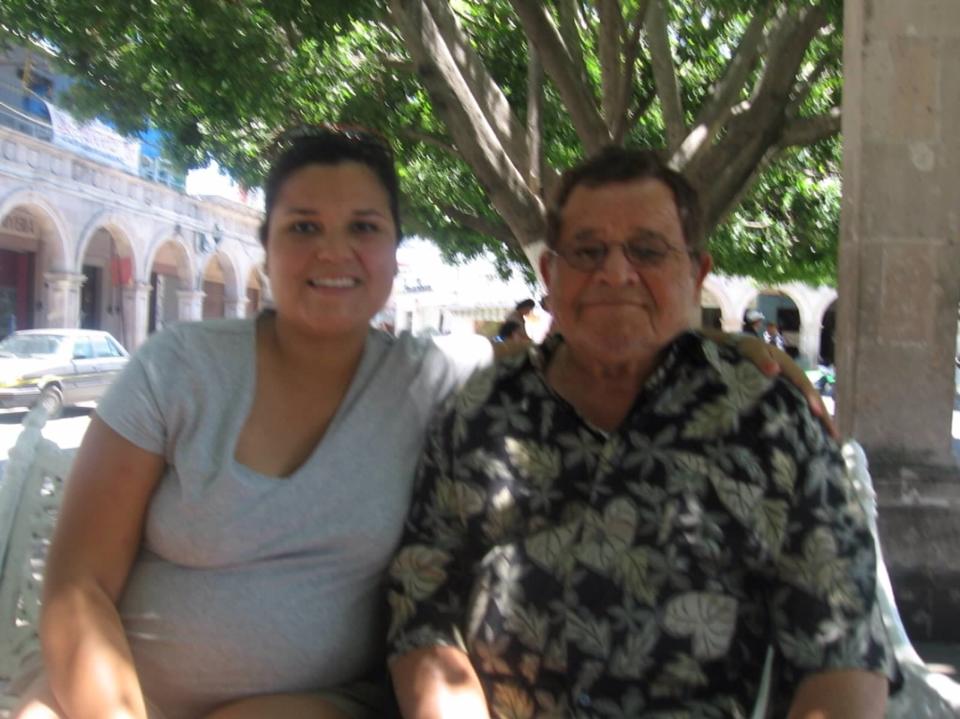 Healing Part One 
The months that followed were filled with tears and longing. Watching my mother grieve for her husband of 44 years was more than I could bear.
This woman, who somehow always made everything better for me, who always knew what to do or had a plan at the very least, had nothing.
I began to wonder why I felt this way.
Naturally, I asked mom. Surely she would have the answers to heal my broken heart, but she didn't.
She was as lost as I was.
My parents were so strong for my entire life. I began to realize they were human like the rest of us. Two young kids who fell in love, had a family and tried to figure it all out… The story began to sound eerily familiar.
Through my sorrow of having lost my dad, I gave thanks that for 34 years they protected me from the harsh realities of life. It is a parent's job to love their children, educate them, and protect them. They did their jobs as my parents and protected me for as long as they could.
Healing Halted
In September of that same year, my mom was diagnosed with liver cancer.
It was a shock to us.
But in hindsight, her spiritual self had taken its toll on her physical self.
In February of 2010, the medical team gave her months to live, a dire prognosis.
My mom, a fighter to the end, beat every odd until she finally died on May 19, 2013, over three years after the original prognosis.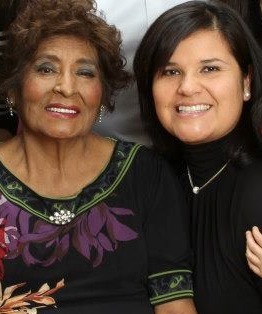 Three Years
My experience began as many must, filled with fear. I felt fear of the unknown, fear of what my mom would have to endure (I mean hadn't she been through enough?), fear of what was to come, but more importantly fear of losing my mom too.
As you sit and hear all of the options you begin to realize that these options suck, but there aren't any other ones. There are glimpses of hope that you see now and then, but in the end those glimpses of hope are like an oasis in the desert. You crawl towards them in search of water and when you reach them, and find there is no water, you are forced to drink the sand.
As my mom began to respond to the treatment available, we became cocky and complacent thinking that we could beat this. Not knowing at that time that this is a battle which no one seems to win.
We dealt with many hospital stays, learned to adjust medication and adopted a 100% organic lifestyle for my mom, so that her liver wouldn't have to process anything unnecessarily. She had been discharged from the hospital so many times that we had no reason to believe that last time would be any different (but it was).
She was admitted under the same circumstances as usual, encephalopathy (confusion) due to high levels of ammonia build up, a casualty of a bad liver, but this time she was having difficulty breathing.
That was odd.
It turns out fluid had begun filling her thoracic cavity.
No big deal, the answer is easy; drain it.
Then drain it again, and again, and again.
They decided to put in a chest tube (PleurEx) to make the draining easier.
She could go home with the PleurEx and we could drain it at home (Great! Another procedure for us to learn and manage), but Yay!
She's going home.
"See? I told you there is no reason to believe that this time would be any different," I lied to myself (but it was).
The fluid kept building at alarming rates.
We were discharged with Palliative Care options, knowledge of Hospice (who needs hospice? That's for people who are dying) and a truckload of medical equipment for my mom's house.
"See? I told you there is no reason to believe that this time wouldn't be any different!" I told myself defiantly.
Guidance
A lot can be reconciled in hindsight.
During that last hospital stay mom had many moments of confusion.
Among those moments there were times of her asking me, "who is that man standing in the doorway?"
It was always a man.
It was always a doorway.
Then there were the dreams of my dad.
They were getting ready for a fancy party.
He was dressed and ready to go.
She was still getting ready, putting her jewelry on to be exact.
He kept telling her to hurry up and that everyone was waiting.
I should've known…
Three Days
I had Book Club with my usual girls, more like Wine Club, my husband would joke. Nevertheless, I had earned a night out and I was going!
At 10 p.m. my sister called, she knew I was at book club and wouldn't call unless it was urgent.
"Come home," she said.
"Mom is asking for you" she continued.
"She is beginning to say Goodbye," her voice broke.
An over reaction of my sister?
How could it be?
She was just fine?
I had to go and be sure.
I entered moms house as I always did, a casual and carefree,
"Hi Mom!" as I still hung on to hope that my sister was over reacting.
Mom looked up and weakly said, " You're here. You came. I have to go."
"Where are you going?" I replied.
"To the next life," she said matter-of-factly.
It took all of my strength to not scream.
How could this be?
We were winning this game!
But I knew I had to give her permission to go.
I knew that's what she was seeking.
"Ok, it's ok. You can go if you feel like its time. I am extremely proud of you for fighting the way that you did. I understand why you need to go," I lied.
"I love you. Say 'Hi' to dad for me," was all I could say before the tears took over.
NO WAY I was gonna let her see me cry.
NO WAY would I make her feel bad for what she needed to do.
She fell asleep and would never wake again.
It would take three long days at her bedside for her body to shut down.
In those Three days we watched scores of hospice workers that must have been angels in disguise.
I have NEVER met such compassionate strangers.
There must be a special place in Heaven for hospice nurses.
Three long days…
My punishment for being angry about having my dad ripped away from me…
This is what I get for questioning God and His plan.
This was my doing and I had NO ONE else to blame!
I was angry I never got the chance to say goodbye.
I was mad that He let me forget my phone!
Well, this time I had my phone.
This time I had all the time in the world to say goodbye.
It still hurt just the same.
This was my punishment.
Last Breath
On that Sunday morning my brother, my sister and I woke up at 6:00 a.m., almost simultaneously.
We went to check on mom, cleaned her up and noticed her ragged breath.
Last night's hospice nurse had said her breathing was fine but would begin to slow.
We deemed that she was still ok.
By 6:45, my brother decided to make breakfast. My sister was in mom's room getting clean clothes to change mom into, and I was in the hall closet looking for clean linens.
We were in three separate areas of the house.
As if there was a gravitational pull, the three of us walked to her bedside almost robotically, leaving what we were doing undone, eggs cooking on the stove.
She took one breath, we held ours.
She took another breath, a tear rolled down her cheek.
She took one last breath, and her hand fell from mine.
We were dumbfounded not knowing if what we had just witnessed was what we thought we had just witnessed.
The three of us cried together like we have never cried before.
We thanked each other for being there for each other and we asked ourselves, "What now?"
The time was 7:08 a.m.
Orphan
I spent the rest of that morning making arrangements.
By 3:30 p.m. all if the plans had been made.
My brother and sister felt a bit of relief having all the arrangements made.
I, however, knew that my darkest hour was yet to come.
I had to voyage home to tell my children.
They were incredulous. They melted into my arms seeking comfort.
I realized two things in that moment:
1) I had no one to hold me the way I was holding my children. I had no one to comfort me the way I needed to comfort my children. I was an orphan, a 37-year-old orphan.
2) One day I will have to inflict this pain on my children and their children. One day they will feel as lost and alone as I feel.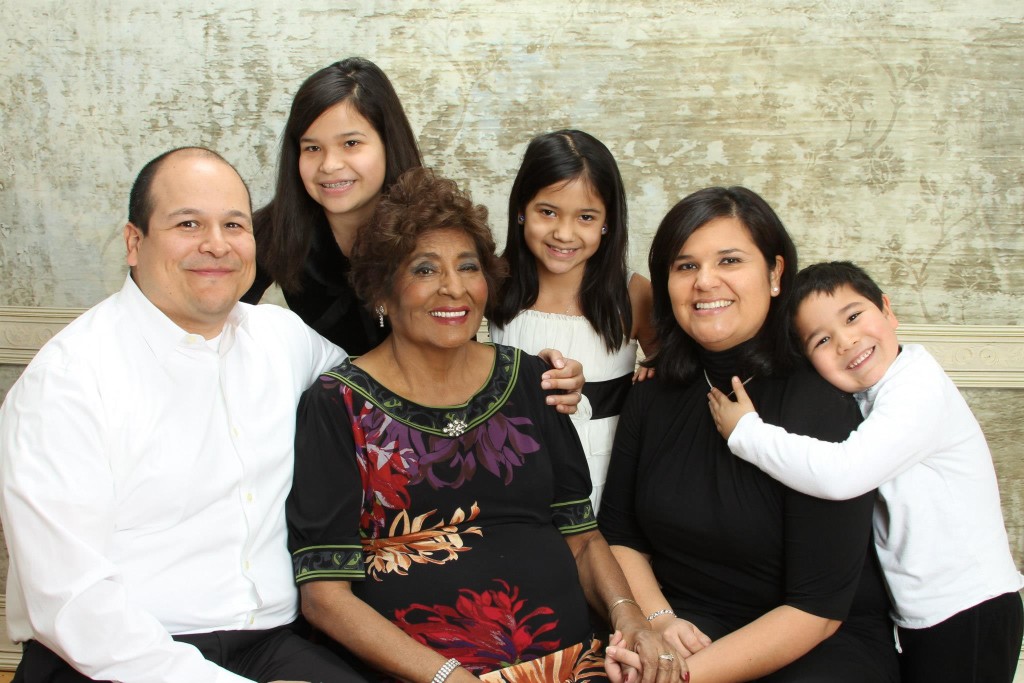 Healing Part Two
It's been almost four months since I lost my mom.
Grief is a wound that scars over time.
The slightest occurrence can rip the scar open to reveal a live wound. I have found this to be the most challenging.
Just as I begin to feel like I'm keeping my emotions above water, I will dream of my mother or my son will make a face that looks like my father and just like that, the live wound is exposed.
I continue to work towards a life I know they'd want me to lead.
"Don't cry those precious tears," my mom would say to me when I was a child.
"It won't solve the problem."
She was right as usual.
Grief
As I write this, an old friend is forced to contemplate life without her husband (another victim of cancer).
It is through sharing stories of grief that I am learning I am not alone.
I have recently discovered that my parents lived a full life, watching the three of us graduate college, get married and raise our own families.
Through my grief, my husband has remained my constant, picking me up when I couldn't stand in my own, holding me while I cried and drying my tears when I am done.
I am learning gratitude through my grief.
My parents loved me like nothing else and so does my husband. I know I am not alone, I know he walks with me. I know he will catch me when I fall and I will fall again.
I realize that I was not being punished for being angry at the way I lost my dad.
I now realize I was given a gift by having three days to lay with my mom and say goodby in my own time.
I realize that my parents absence didn't leave me alone, I have my husband and my children to accompany me on this journey.
I have a lot to learn and a lot of healing to do, but I will NOT let grief define me.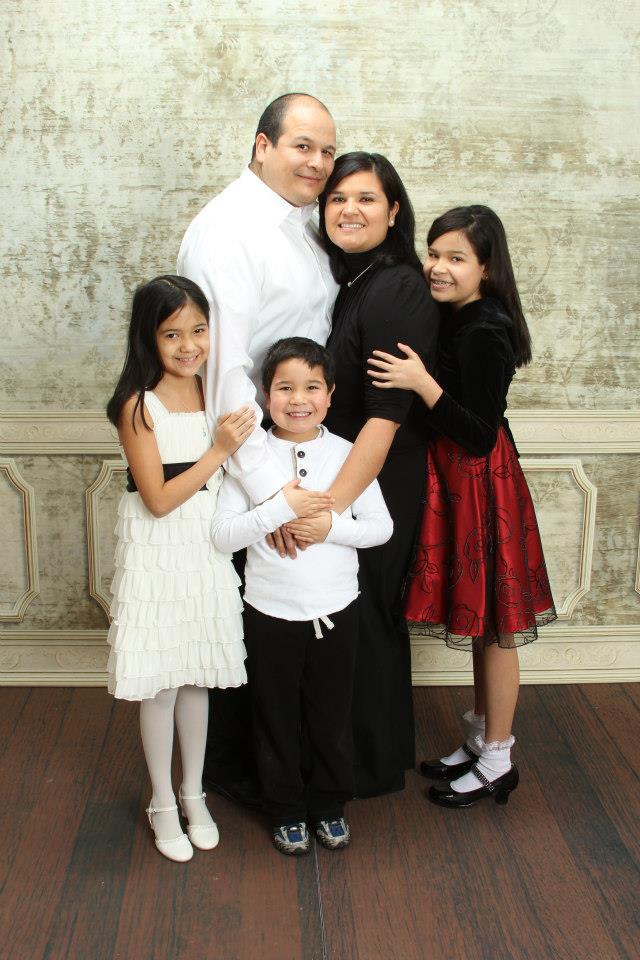 ~~~~~~~~~~
Bio: Kathy Lopez is a mom of three, married to her college sweetheart, who works as a librarian and lives in a far North suburb of Chicago. Though Kathy has journaled privately for years, this is her first public piece published online. She found writing this to be both enjoyable and therapeutic.