"You can't boil the ocean, if you try to, your life/blog becomes generic."

~  Maria Ross
That is my biggest takeaway from BlogHer`13. I heard it towards the beginning of Pathfinder Day, in the Keynote One to One with Maria Ross and Lesley Pinckney. Maria, a brand strategist, author, speaker and brain aneurysm survivor, has so many awesome insights about how we need to figure out what is worth our time/energy and then focus on those things. This concept seemed to be a common thread throughout the many wonderful sessions and keynotes that I attended, as well as the conversations I had with friends/fellow bloggers, during BlogHer'`13 here in Chicago.
This summer has been awesome and overwhelming for my family and me. We have a tendency to over-program our schedules and thus have spent a lot of time coming and going, with lots of unpacking, laundry and repacking in between. We have had so much fun together and on our own with our various trips and outings, including quality time with friends and extended family. Two highlights for me were my 20-year high school reunion and BlogHer`13. But our whirlwind summer has also left us feeling exhausted and yearning to get back to the basics, including our more regular routine.
Earlier this week I still had grandiose visions of the BlogHer'13 conference wrap up post I wanted write. Then it hit me that there are no rules about what I have to share on my blog about my experience and that it would be okay if I chose not to write a detailed play-by-play about everything I did, everyone I spent time with and all that I learned.
There were so many awesome things about BlogHer`13, here in Chicago. This being my second, or sophomore year, at an annual BlogHer conference, I definitely went into the experience with less anxiety and more confidence.
I knew many people who were going to be in town for BlogHer`13, from my beloved fellow Adoption/Loss/Infertility (ALI) bloggers to local Chicago bloggers and a lot of other bloggers who I was excited to connect with. After my trip to NYC last summer for BlogHer`12, I had a better idea what to expect, especially when it came to who I might hang out with, what it would feel like to approach bloggers who I wanted to meet in person and what I could learn from the sessions.
Last year I was a speaker and this year I had no formal role at BlogHer`13. Though I missed some of what being a speaker brought to my first conference experience, the relaxed nature of being "just an attendee" made up for it. Also, I loved being able to informally mentor some "newbies" who were attending for the first time, helping them to navigate the waters of blog camp, including introducing them to other bloggers that I knew and thought they might want to connect with (I love networking).
After reading others' wrap-up posts over the years and in recent days I got it in my head that I needed to rank how this year's conference experience compared to my previous one. But I realize it isn't necessary for me to pick a favorite. BlogHer`12 and BlogHer`13 felt equally wonderful to me for different reasons.
I really appreciated the opportunity to participate in Pathfinder Day this year, something I didn't do last year. As an aspiring author, slowly working on my memoir of our journey through secondary infertility and loss, I welcomed hearing more what my friend and mentor Melissa Ford had to share about the process of trying to write and publish books as bloggers. I also enjoyed connecting with other women who have similar goals, hopes and dreams in the Pathfinder Blog to Book track.
Thursday evening, as well as at many meals and other events throughout the conference, I spent time with my roommates (Justine and Maud) and other friends/fellow ALI bloggers (pictured below). It was awesome to be with our tribe, which felt so much like hanging out with old friends at summer camp. Though I certainly missed those who were with us last year (who couldn't be there this time around), I also loved getting to know some other bloggers better that I hadn't gotten to be with in person before.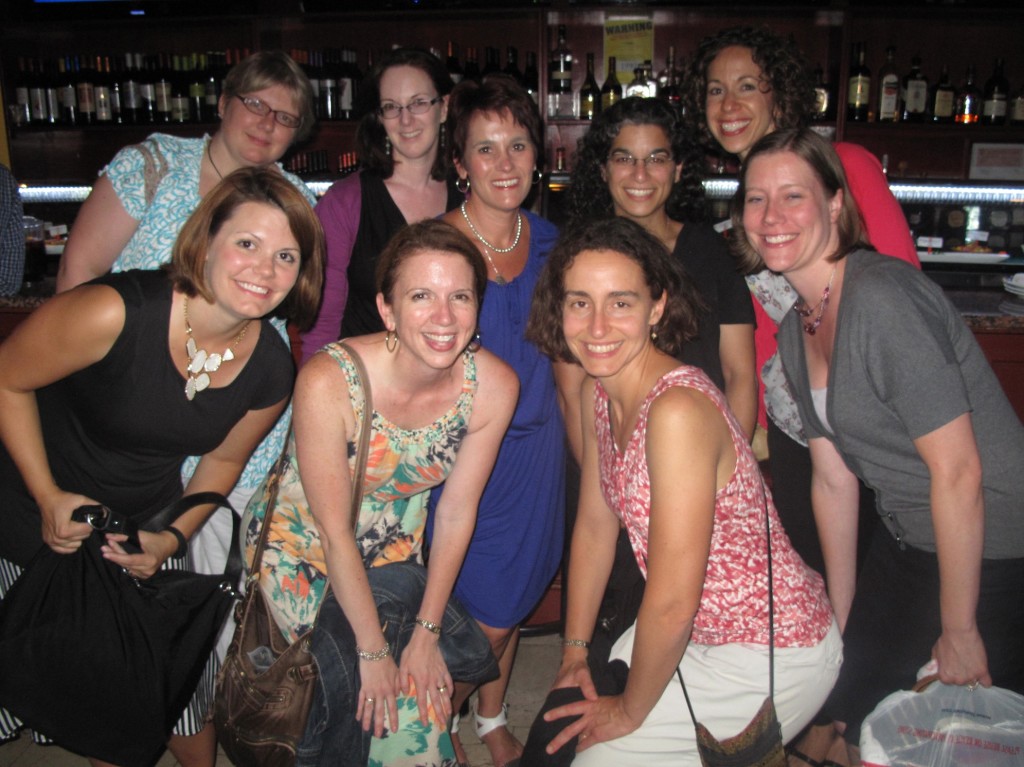 I made it to every BlogHer`13 keynote and found a session that spoke to me during each scheduled slot (mostly within the Writing – Pitch & Publish and Tools & Technology tracks). As with last year, I left inspired to continue to write and to blog often, as well as to maybe even try a few new things, such as podcasting and/or creating an email list of/newsletter for my blog readers.
Other highlights for me were running the BlogHer Best Buy 5K Friday morning (which was so well-organized this year and I even got a free FitBit for participating!), witnessing another moving Voices of the Year (VOTY) Community Keynote, spending time with old and new bloggy friends (many of whom are true kindred spirits, who I found it very difficult to say goodbye to) and cheering for friends and fellow bloggers on the runway at the 2nd Annual BlogHer Fashion Show (which I missed last year).
One of my only regrets was not being able to stay Saturday evening after the fashion show. My husband and kids were scheduled to pick me up and I found out later that I missed hours of fun on the dance floor, which I know I would have loved! Next year…
Speaking of which, I went into BlogHer`13 fully expecting to have gotten my fill and to take the next year or more off, either from blogging conferences completely or maybe to try something else (another blogging or writing conference, hosted by another organization). However, I left feeling pulled towards and excited to participate in BlogHer`14. So though they have not announced the dates or location of the next BlogHer annual conference, I am seriously considering going whenever and wherever they decide to hold it.
Circling back to how I began this BlogHer`13 wrap up, there is so much more I could have shared here, but have decided going forward with my blog and my life to try to have more realistic goals and expectations for my writing and myself in general.
I have a tendency to do things like my Winter/Spring/Summer Shed Series here on my blog, in effort to try to make positive changes in my life and be accountable for them. However, I find that I spend so much time writing about my progress, or lack there of, that I would be more efficient and effective if I stopped writing about it and just did what I have set out to accomplish (especially when it comes to straightening/cleaning our house)!
So without any major fanfare, I intend to stop my weekly Shed check-ins, though I may choose to do them now and then (to share about how things are going), to take some pressure off of myself on a regular basis. Hopefully this will free me up more to write and share here as the spirit moves me and less out of feeling like it is something I have to do.
I have been trying to boil the ocean for too long in my life, my home, with my family and friends, and even here on my blog. It is time for me to stop trying so hard, get back to the basics and embrace the things that are most healthy for me and my loved ones, as well as what makes us happiest.
This isn't the first time I have resolved to make changes related to my priorities and wanting my life to reflect what I claim they are. So I get that, as always, I need to recommit to doing this every day, one day, one hour and one step at a time.
I also know that I cannot do this alone, which is why I am so grateful to have many wonderful friends and family members who help to support and encourage me as a woman, mother and writer, among other roles that I serve in. As the Beatles sang, "I get by with a little help from my friends" and I will leave you with another awesome quote from Maria Ross, which encompasses so much of what BlogHer'13 taught me to me:
"Asking for help is not a sign of weakness; it is a sign of growth."

~ Maria Ross (BlogHer`13 Pathfinder Day Keynote Speaker)