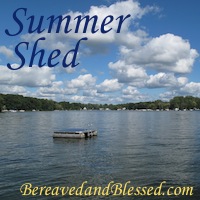 Welcome to the fifth check-in for the Summer Shed!
Here is the back story about this support group/blog hop for those trying to be accountable for the positive changes we are making in our lives in 2013. After ten weeks of doing the Winter Shed and thirteen doing the Spring Shed, we have moved on to the Summer Shed. Whether you are trying to shed weight, find more balance or let go of something else that is dragging you down in this third season of the New Year… We can do this — together!
I realize that for various reasons it has been many weeks since anyone else has linked up here, but it's never too late to join this round of the shed, so I will continue to add a LinkyTool at the bottom of the post. 🙂
Now to report on how I did during week five of the Summer Shed and week twenty-eight in 2013:
1) Healthy Eating
I did okay with this, but it wasn't my best week. My family and I were not at home/on the go a lot, which makes it more challenging for me to count calories and plan healthy meals. It's certainly not impossible, but just harder to do.
2) Keeping Fit (Physically/Emotionally/Spiritually) & Shedding Weight
This was my worst week of keeping fit (or not so much) all year, I think! 🙁 I was so busy with 20 year high school reunion stuff and other busyness that I only managed to do one day of formal exercise! 🙁 That was my Modern Dance class on Tuesday evening and walking to/from home and trains stations earlier that day. The rest of the week I was active, but didn't do much in the way of formal exercise. I did have a blast dancing with old friends on Saturday night at one or our reunion events.
I gained 3 lbs. since last Friday and since Friday, December 28th I am down 8 lbs. (in 28 weeks)! 🙁 I wish I could blame the weight gain on having too much fun at my reunion, but I was actually the same on Monday morning as I was on Friday. I think most of the gain since is from being constipated (see below) and not exercising as much as I usually do/watching my calories/portion control.
No pelvic floor physical therapy this week and I am still not doing my PT homework enough. I know I sound like a broken record, but I must change this to aid in my healing.
On Tuesday evening, after I got home from my dance class, I started having some strange pain in my back. I thought I had pulled a muscle and attributed my discomfort to that explanation. I went to bed uncomfortable, but figured it would pass. A few hours later I woke up feeling worse and vomited from the pain, which had moved around to my right side by that time. I had the chills, though no fever, and my gut feeling told me something was very wrong. I Googled my symptoms and thought I might have appendicitis. I had the doctor on call at my PCP's office paged and though she said it didn't sound to her like appendicitis, she encouraged me to go to the ER anyway. So Bob called a family member, who graciously came over to watch the kids, and we headed to the hospital.
We ended up being there about 5 hours, which included blood and urine tests, a CT Scan and getting an IV with fluids to keep me hydrated. The doctor who examined me, along with our nurse, thought I might have a kidney stone. But I did not. In the end they attributed my pain, which got better after they give me a strong dose of Motrin, to constipation. They sent me home with various meds to help me work that through (so to speak), even though I already do a lot of things daily (as part of my pelvic floor PT) to try to avoid constipation. Go figure?! I was relieved that it wasn't something more serious, but also frustrated that had if I taken pain medication (as I had considered) the night before when going to bed, I might have slept through the night and avoided the trip to the ER.
3) Housekeeping & Purging
Ha! Other than many loads of laundry and unpacking from and repacking for trips, I got nothing done in this category.
4) Family, Friends & Faith Focus
The highlight of this week for me was most definitely my 20 year high school reunion weekend! Having been part of the planning committee and working on it for months, it was so awesome to finally get to experience it. I can honestly say the events and being with old friends exceeded my expectations! It was wonderful and overwhelming (at times) to be surrounded by so many familiar faces and voices from my past.
When I got home after the last event on Saturday night (more like Sunday morning by then), I felt like a big part of my life had just flashed before my eyes. It was surreal to try to reflect on and digest reconnecting with everyone who was able to join us from my hometown high school's Class of `93! Many thanks to all who were with us this weekend and those who couldn't make it, but were there in spirit. There's truly no party, like an E-town party! 🙂
Other than that, Bob, the kids and I spent quality time this week with both sides of our families, celebrating birthdays and doing other fun summer activities, such as going to the beach and visiting Daddy at work.
5) Writing & Reading
Other than keeping up with my weekly Us magazine reading (which I usually skim through), I did very little blog reading or commenting.
Though I did follow the developments on my local friend/amazing writer Katy's blog. She wrote an incredible post this week, giving readers a beautiful and honest window into the world of someone who recently was diagnosed with breast cancer (again): http://katydidcancer.blogspot.com/2013/07/day-1119-say-little-prayer-for-me.html. These words from Katy took my breath away:
"This is what you are trying to live for, more of this, all of this humanity that you see."
As I shared in the intro to my Winter Shed Series…
When I reflect on what has helped me to shed weight, get/stay in shape in the past, prioritize housekeeping tasks and find more balance in my life, accountability is huge! I have kept myself accountable various ways in the past, but this time I am finding doing so publicly here on my blog have been effective.
Once a week, on Fridays or sometime over the weekend, from now until at least mid-September/Fall, I will continue to check in and share how my week has gone in the key areas I am working on. My hope and intention is that knowing I have this self-imposed report card to file will continue to motivate me to stay focused on my goals.
For those who want to join me in this "Summer Shed," I will add a Linky Tool to my weekly Friday posts and you are welcome to link up to your Summer Shed blog entries, and/or you can comment here on how you are doing from week to week, so we can support and encourage each other, as well as share what works and what doesn't for each of us when it comes to striving towards our goals.
Please join me and we can cheer each other on as we kick off the third season of 2013 strong (and stay the course long past February 16th)!
We can do this — TOGETHER!
You are welcome to grab the code for the Summer Shed button by clicking here and put it on your blog. The link will take you to a Google Doc where you can copy the code. If your browser does not allow access to your computer's clipboard, you can use Ctrl-C for Copy and Ctrl-V for Paste, or use your browser's Edit menu.