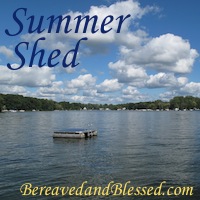 Welcome to the second check-in for the Summer Shed!
Here is the back story about this support group/blog hop for those trying to be accountable for the positive changes we are making in our lives in 2013. After ten weeks of doing the Winter Shed and thirteen doing the Spring Shed, we have moved on to the Summer Shed. Whether you are trying to shed weight, find more balance or let go of something else that is dragging you down in this third season of the New Year… We can do this — together!
Now to report on how I did during week two of the Summer Shed and week twenty-five in 2013:
1) Healthy Eating
I did pretty well with this. I struggled the most when eating out at restaurants with family and friends, where I splurged a bit on beverages, entrées and dessert. As so often happens, I spent much of the week making up for the times when I overindulged. But overall still ate healthy and watched my portions.
2) Keeping Fit (Physically/Emotionally/Spiritually) & Shedding Weight
I exercised 5 out of 7 days this week, including walking with my mom on Friday, running a neighborhood 5K route followed by toning/stretching on Saturday and riding bikes with Sean, while I pulled the trailer with Abby in it to/from her preschool before her camp on Tuesday. Tuesday evening I took my first of six Modern dance classes this summer, which was awesome. It was the first dance class I have taken in about 9 years.
On Wednesday Sean and I rode bikes, with me pulling Abby in the trailer to/from her preschool before camp and had an active day around the house straightening/organizing Sean's room. On Thursday Sean and I rode bikes all over town with Sean and pulling Abby/Abby's friend/groceries in the trailer.
I lost 0.5 lbs. since last Friday and since Friday, December 28th I am down 9 lbs. (in 25 weeks). I am 2 lbs. from my lowest in recent weeks and 4.5 lbs. from my goal weight.
I did both physical and emotional therapy this week, both of which were helpful to helping me to stay fit and balanced.
3) Housekeeping & Purging
While Abby was at camp this week Sean and I worked on straightening, organizing and cleaning his room, which really needed his/our attention. We were both proud of what we accomplished together and intend to try not let it get so messy again. Other than that and trying to keep up with basics (dishes, laundry, etc.), we were busy and I did not spend a lot of time working on this.
4) Family, Friends & Faith Focus
Since I gave Bob the first season of the TV show Homeland for Father's Day, we have been addicted to watching episodes. We didn't realize it was a Showtime cable show and since we currently have a free three-month trial of Showtime, we were also able to watch the second season On Demand. So we took out two seasons/24 episodes in 9 days! It is one of the best shows Bob and I have watched in a long time. We were drawn into the characters, compelling storyline and couldn't wait to watch each subsequent episode. The third season premieres in late September and we can't wait. We really bonded watching Homeland together and discussing theories about what was happening. We are in a bit of withdrawal now that it is over and I highly recommend it to anyone who hasn't seen it.
We had a niece and a nephew sleep over on Saturday at our house. Sean and Abby really enjoyed having two of their cousins visit, as did Bob and I. On Sunday we when to a local racetrack with my side of our family for our annual belated Father's Day celebration there. We have been doing this for years and always have a lot of fun watching and placing wagers on the horse races. Bob and I often do "exacta box" bets, where we pick two horses to come in first and second or vice versa. We rarely win and actually did on one race, which was cool!
Sean's last day of school was on Monday! It was a long school year, because of the Chicago Public School teachers strike last Fall and it is nice to finally be able to get his/our family's summer vacation started! Abby's last day of camp at her preschool was on Thursday. So she is also now free to have lots of fun summer adventures with her big brother and our family! We had a CRHP retreat team formation meeting, which went well and won't meet again for two months because of everyone's busy summer schedules.
On Wednesday evening I had a girls night out with some friends. We went to a local restaurant/winery. We began with a wine tasting, which I had never done before (though I have had flights of wine with dinner before). It was so fun and interesting to try 8 different kinds of wine and visit with my friends before we sat down to a delicious dinner. It was a much-needed and enjoyed night out. I also spent a lot of time this week planning and preparing for my 20th high school reunion next month, as I am on the committee organizing it. I am really looking forward to connecting with old friends as we celebrate this milestone.
5) Writing & Reading
Most of my writing this week was focused on my reaction to a New York Times op/ed that ran on Friday, June 21st about one woman/family's experience choosing to have an abortion at 23 weeks gestation after learning that their unborn son had a life-limiting prenatal diagnosis. I ended up writing my first letter to the editor of the NYT sharing about my experience with receiving a similar diagnosis and pointing out that family's have another option when faced with such a diagnosis, which is known as perinatal hospice and palliative care. It is what we did with our daughter Molly in 2008 and it is something that I feel passionate about (helping to educate others about this option). I was optimistic that the NYT would publish some of my letter and ultimately learned the hard way one of the reasons they may have chosen not to.
This week I also wrote and shared my last post for The Today Voice, the awesome weekly writing project that I participated in over the past year. It feels bittersweet to be done, but also a somewhat of a relief to have less of my writing plate, leaving me more time to focus on my own blog/other writing projects.
Other than keeping up with my weekly Us magazine subscription, I did not do much other reading this week.
As I shared in the intro to my Winter Shed Series…
When I reflect on what has helped me to shed weight, get/stay in shape in the past, prioritize housekeeping tasks and find more balance in my life, accountability is huge! I have kept myself accountable various ways in the past, but this time I am finding doing so publicly here on my blog have been effective.
Once a week, on Fridays or sometime over the weekend, from now until at least mid-September/Fall, I will continue to check in and share how my week has gone in the key areas I am working on. My hope and intention is that knowing I have this self-imposed report card to file will continue to motivate me to stay focused on my goals.
For those who want to join me in this "Summer Shed," I will add a Linky Tool to my weekly Friday posts and you are welcome to link up to your Summer Shed blog entries, and/or you can comment here on how you are doing from week to week, so we can support and encourage each other, as well as share what works and what doesn't for each of us when it comes to striving towards our goals.
Please join me and we can cheer each other on as we kick off the third season of 2013 strong (and stay the course long past February 16th)!
We can do this — TOGETHER!
You are welcome to grab the code for the Summer Shed button by clicking here and put it on your blog. The link will take you to a Google Doc where you can copy the code. If your browser does not allow access to your computer's clipboard, you can use Ctrl-C for Copy and Ctrl-V for Paste, or use your browser's Edit menu.