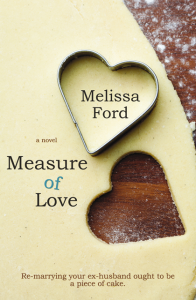 Welcome to my first post as part of Melissa Ford's new Gonna Read it Anyway Book Club, a.k.a. the GRAB(ook) Club! One of the things I love about Mel's latest brain-child is the relatively simple format. Though I really enjoyed my past experiences participating in online book clubs and book tours, they can be very time-consuming. With the GRAB(ook) Club we read the book selection of the month, in this case Mel's own sequel to her first novel (Life from Scratch), called Measure of Love, and then pose a question for discussion on our blogs. After that we hop around to the other participating blogs and comment on their questions. Please feel free to answer my question below, even if you haven't read the book (which I thought was wonderful and highly recommend).
I love how Mel tackles the reality of complicated relationships in adulthood: from marriage to friendships, as well as in-laws and acquaintances in Measure of Love. I found reading this book as a late-thirtysomething mom, who has been married for almost 13 years, that so many of the story lines resonate with me. In almost every instance I was able to call to mind someone I know, whether it be a loved one or more of an acquaintance who has experienced something similar. Not to mention the many situations that hit really close to home, because some version has happened with me and my family or friends over the years. I also appreciate what seemed to be the central theme of how communication (and lack there of) impacts relationships.
Two of my favorite quotes from Measure of Love are this:
"What I didn't realize in all my convictions that relationships are always doomed to unravel or be peppered with misunderstandings is that they can also be rebuilt strong and with greater comprehension of the other person."
and this:
"But even having the benefit of retrospect, I would meddle all over again, just in a better, more open-minded, for-the-right-reasons way. Everything I did, I did out of love. Because I care. Because people who care get involved."
The older I get the more I understand that not all relationships last and that's okay. Some connections with friends and even family members are bound to ebb and flow, at times because we just grow a part and in other cases because of a conflict that occurred or due to miscommunication. That said, I believe that some relationships are worth fighting for, because as Mel points out "they can be rebuilt strong and with greater comprehension of the other person." It is truly awesome when that happens.
I also think that sometimes we need to walk away from toxic people in our lives and stop trying to make those relationships work, especially when it becomes obvious that the other parties don't care enough to try to resolve the differences that are driving us apart. I realize that there are relationships we don't really have the choice to walk away from and in those instances we need to do the best we can to get along and be civil with each other, while not spending too much time and energy worrying about the depth or shallowness of our connection.
How do you determine whether a relationship that is in jeopardy is worth working to try to save? How do you measure the risks versus rewards of attempting to repair/rebuild such a relationship? 
After you answer my question, please click over to read the rest of the book club questions for Measure of Love.  You can get your own copy of Measure of Love by Melissa Ford at bookstores including Amazon.