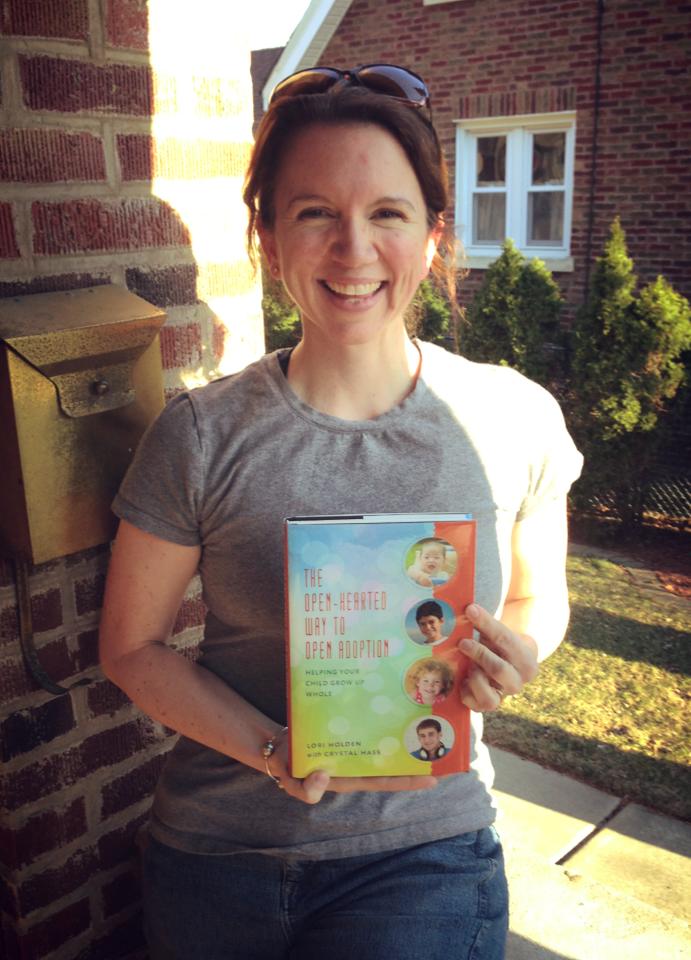 Greetings and welcome to this stop on the The Open-Hearted Way to Open Adoption Book Tour!
This is my fifth time participating in a book tour. My previous experiences were with Eat, Pray, Love, Life from Scratch, A Gift of Time and The Sound of Hope.
For those of you not familiar with book tours, they are essentially online book clubs. On a given date the tour leader, in this case Mel from Stirrup Queens, who is a published author herself, collects one or more questions from each reader. Soon after that we all receive a list of questions (that were posed by our fellow book club members, each participant submits at least one question) from which we are to choose between one and three to answer on our blog in a post, such as this.
I have been looking forward to participating in this book tour since I first learned that my friend Lori, from LavenderLuz.com, was writing a book about open adoption. From that moment I knew what a gift it would be to everyone in the adoption community, from adoptive parents to birth parents to those who work at adoption agencies and anyone else that is related to or who cares about someone in the "adoption constellation," as Lori refers to often in her newly published book, The Open-Hearted Way to Open Adoption: Helping Your Child Grow Up Whole, which she wrote with Crystal Hass, her daughter Tessa's first mother.

Lori and I have both been blogging since the spring of 2007 and though our paths crossed a few times over the years, including during a book tour in 2008, we didn't really connect and get to know each other well until a few years ago. I am grateful to have Lori in my life for so many reasons, including all that I have learned from her about open adoption. Being a proud aunt to my sister and brother-in-law's daughter and son, who are both adopted, are the two of the biggest reasons I appreciate having Lori's wisdom and experience to draw on regularly through her blog posts and now this wonderful guide-book for those helping adopted children to grow up whole.
One of the first things I recall learning from Lori on her blog was advice she got from her dad about "drawing a wider circle," to be more inclusive, in our lives and I still think about that often. It also speaks to the philosophy of open adoption that Lori outlines in this book. I was drawn into The Open-Hearted Way to Open Adoption right away with the Foreword written by Carolyn Savage. I know Carolyn personally, we met years ago when we were both trying to expand our families, and I have so much respect for her. She was the perfect person to write the Foreword, having stood in the shoes of both birth mother and expectant mother.
Lori had me from her Introduction in this book, as the aunt of two children in open adoptions I don't fully understand what it is to be a first parent or adoptive parents, but Lori quickly allowed me to think and feel as if I am. I also learned a lot about being a better parent to my children, even though they are not adopted.
I recall having mixed feelings when I first learned about the concept of open adoption, when my husband Bob and I attended an information session at our fertility clinic early in 2007, while we were trying to decide whether to do In Vitro Fertilization (IVF), as our Reproductive Endocrinologist had recommended or to pursue adoption. We ultimately chose IVF in part because we had great insurance and it was more economical for us at the time, but we didn't rule out adoption and might have considered it more seriously down the road if our third child, our daughter Abby, had not come along when she did.
Lori, more than anyone or anything, has helped me to understand and appreciate why open adoption is such a kind and compassionate way of raising an adopted child. This book only further helped to develop my knowledge and appreciation for this approach to raising adopted children whole. I really like the structure of the book; it makes sense and is user-friendly. I also love that Crystal chimes in throughout the book with her perspective as a birth mother/first mother. I got tears when she described the days after Tessa was born and how Lori, Lori's husband Roger and Crystal built trust in each other.
I really liked the sections about understanding terminology related to open adoption. Lori makes a convincing case as to why words matter and guides the reader through the logic and reasoning behind the words she uses in this book, on her blog and in conversation.
I wish this book existed when my sister and brother-in-law began their adoption journey. But by the time they were trying to adopt their second child, we were lucky to know Lori and at times even get first-hand advice from her about how to approach and handle various situations and communication with birth parents. It also led to my sister Meg becoming a contributor to The Open-Hearted Way to Open Adoption (pages 79 – 80 and 135 – 136), which was exciting to see and read how Meg was able to share her experience with a failed adoption in effort to help others who will follow in her footsteps.
One of my favorite quotes in this book is on page 16, when Lori talks about how "open adoption is a process, not a point in time." I also appreciate how she explains that open adoption is not about co-parenting and like the analogy she makes to the relationship first parents and adoptive parents have to being like that of in-laws who become extended family through marriage.
Lori gives honest pros and cons to the experience of open adoption and explains the importance of trying to move from "either/or" to "and/both" thinking when considering how to approach everyone in the adoption constellation. She also highlights the various types of adoption professionals and agencies, as well as what to look for when choosing whom to work with. There is so much to chew on in this book, from the process of trying to adopt or place a child to navigating raising children in an open adoption relationship involving first and adoptive parents.
I think The Open-Hearted Way to Open Adoption should be required reading for everyone in the adoption constellation, including extended family members (like me) and friends who want to be able to understand and support their loved ones. 
I also think it is a book that any parent can benefit from reading, as Lori shares great advice about parenting and relationships in general, within the context of demystifying open adoption. The suggestions she gives for helping everyone involved in the adoption constellation to get along can be applied to in-law relations and other relationships that are sometimes difficult to navigate. She talks about how most relationship problems stem "from not knowing the other person's motives and filling that void with (our) own assumptions."
So true and one of so many take-a-ways that I am left pondering after reading The Open-Hearted Way to Open Adoption. I had high expectations for this book and Lori exceeded them with her writing style and invaluable insights! If you haven't read this yet, get your hands on a copy as soon as you can, it is available in hardcover and Kindle e-book versions. I promise you and the loved ones in your life connected to adoption will be so glad you did.
Now let's get to the two questions I chose to consider and my answers to them (please feel free to comment and share your thoughts about the questions and/or my answers):
Question 1: Lori refers to the relationship between adoptive parents and birth parents as similar to an in-law relationship. Does thinking about the relationship influence how you approach open adoption?
Yes! As I mentioned earlier in this post, I really like this analogy. I think it is a very helpful way to think about the relationship between first families and adoptive families. Just as we may not always see eye-to-eye with our extended families that we are joined to through marriage, I can see how first parents/birth parents and adoptive parents might have similar personality clashes and struggles over the years. But in the same way that in-law relationships are often child-centered, in effort to allow our children to get to know and have a positive connection with their grandparents, aunt, uncles and cousins, Lori makes the case in The Open-Hearted Way to Open Adoption for why and how all those involved in the adoption constellation should also strive to make open-minded/open-hearted decisions based in the best interest of the child and not their own personal egos and agendas.
That said, in many instances in-law relationships can be and are so much more than just being able to get along well for the sake of the children involved. I find it encouraging and inspiring to read about the relationships Lori shares about in her book where first parents and adoptive parents, including Lori, Roger and Crystal, seem to genuinely care about and love each other, beyond just being respectful of each other's roles in their children's lives.
I know going forward when I discuss my sister and brother-in-law's relationships with their children's first parents, I will keep this in-law analogy in mind. I have had the opportunity to meet my niece's first mother and did my best to treat her with kindness and respect. Likewise, if I ever get to meet my niece's first father or my nephew's first parents or any of their extended first families, I will remember to try to think of them as our extended family, which they are, and treat them accordingly.
Question 2: Lori often stresses the importance of exploring difficult emotions. Describe a time when you have been forced to explore difficult emotions related to adoption and the outcome of this exploration.
As my sister Meg shared in her contribution to The Open-Hearted Way to Open Adoption (pages 79-80 and pages 135 – 136), the hardest experience for Meg, her husband, and our family during their journey to adopt their two children was in November – December 2011, when we found out that the  birth parents they had been matched with to adopt their baby had decided to parent their daughter. Meg and the birth mother had formed a strong bond and it was very hard for everyone involved to understand and try to make peace with what happened.
Meg and her husband had been in the delivery room and got to spend time with the baby soon after she was born. I don't think any of us understood how common it is for birth parents to decide not to place after their baby is born. We didn't realize, as we do now, that birth parents choose to allow their child to be adopted (or not) many times throughout the process. Though they seemed confident in their choice to ask my sister and brother-in-law to adopt their daughter, in the end no one knows how they will think and really feel until after the baby is born.
Through reading Lori's book I can appreciate rationally that these birth parents didn't "owe" my sister and brother-in-law anything, even after all they had been through together and done for them, in the weeks leading up to this baby girl's birth. But it was still hard for me to accept at first and make peace with their change of heart/mind.
I wrote in detail about my thoughts and difficult emotions at the time in this blog entry: Feeling Helpless, But Not Hopeless (December 2011). As I shared towards the end of that post:
I am so proud of my sister and brother-in-law. I know this experience has been very hard for them both and they have handled every up, down, twist and turn with strength, mindfulness and grace.

My sister has talked about finding relief in finally knowing the birth parents' decision. I too find some relief in this situation being resolved, even though things didn't turn out the way many of us hoped/wanted them to. I also feel disappointment and sadness that this child will not be a part of our family. As my sister has said and I agree, this precious baby girl is so very loved and will be raised by parents who do really care about her. All three of them are blessed to have had my sister and brother-in-law in their lives.

I hope and pray that the birth parents will pay forward the kindness my sister and brother-in-law have shown them someday, if nothing else by being the best parents to their daughter they can be. My sister and brother-in-law did everything they could have to assure she entered this world knowing only how much she was wanted and loved.
I also am able to reflect on this experience now and know that if things had played out differently my sister and brother-in-law might be parenting that baby girl, but then they likely would not be parenting their son, whom they were matched with eight months later, in July 2012. Our family adores their baby boy and feel blessed and lucky that his first mother chose my sister and brother-in-law to adopt him.
Thank you for reading my thoughts on The Open-Hearted Way to Open Adoption and my answers to the questions I chose to answer for the book tour. I look forward to your comments.
Please return to the main post to read more opinions on Lori Holden's The Open-Hearted Way to Open Adoption.