It's the last Monday of the month which means its time to share our Perfect Moments from March with Lori from Lavender Luz. I look forward to participating in this blog hop/writing exercise hosted by my friend, and newly published author, every month.
38 is the number of families who are represented on our Team Caring Connection t-shirts.
Sadly these 38 families, including mine, together have lost over 50 babies.
I am so moved by the response we have received since I began Team Caring Connection in honor of our baby girl Molly's 5th Heavenly Birthday this year.
Watching our team grow to what it is today has been filled with many perfects moments for me this month.
I continue to be amazed by how therapeutic and healing preparing for this race seems to be for so many members of our Caring Connection perinatal bereavement support group, which meets monthly at a local hospital where many of our babies were born and/or died.
If you have not donated to our team and/or would like to join us in running for hope and remembering our babies at the 6th Annual Running for Hope 5K Run/Walk on June 2, 2013, click here for the back-story and more information.
Here is what the back of our t-shirts, which we are wearing on race day, will look like. The actual shirts have our babies' first and last names on them, and in some cases say "Baby or Babies" followed by their last name, if they were not given a first name (which is common with early miscarriages/pregnancy losses). Out of respect for the privacy of our Team Caring Connection families, I have removed all but the babies first or last initials, except for our Molly and Babies Benson to share here on my blog.
Update: For members of Team Caring Connection who have seen this and are confused. I did not change the design of the shirts. Your babies names will still be listed with their first and last names or "Baby or Babies" and your last names. I just created this version to protect your privacy here on my blog.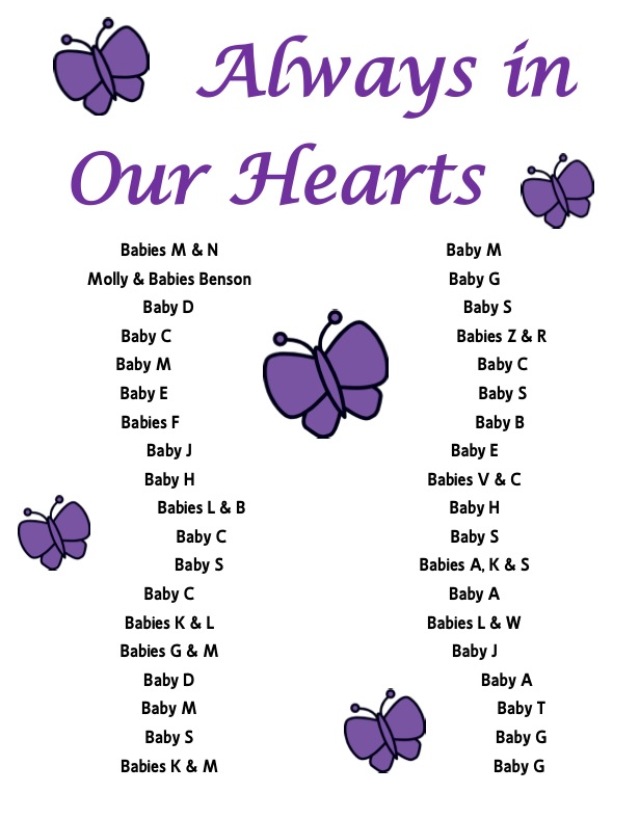 Lori from Lavender Luz says that "Perfect Moment Monday is about noticing a perfect moment rather than creating one. Perfect moments can be momentous or ordinary or somewhere in between." I love the idea of being mindful of and blogging about perfect moments. Over the years I have often used my blog more to write about things I am struggling with and though I know that is valid and important for me at times, I appreciate the idea of being intentional about also sharing the simple and very special moments in our lives. Many thanks to Lori for this wonderful opportunity to focus on what is right in our life, instead of what is wrong. 
Click here to read about and comment on more Perfect Moments (there are links to others' posts at the bottom of Lori's blog entry) and/or add a link to one of your own. Thank you for reading. I hope that you have a wonderful week and that you are aware of, as well as able to notice, many perfect moments in your own lives.