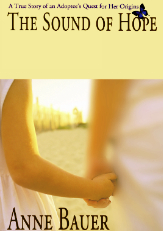 Greetings and welcome to this stop on the The Sound of Hope Book Tour!
This is my fourth time participating in a book tour. My previous experiences were with Eat, Pray, Love, Life from Scratch and A Gift of Time.
For those of you not familiar with book tours, they are essentially online book clubs. On a given date the tour leader, in this case Lori from Lavender Luz, who is a newly published author herself, collects one or more questions from each reader. Soon after that we all receive a list of questions (that were posed by our fellow book club members, each participant submits at least one question) from which we are to choose three to answer on our blog in a post, such as this. For this tour there are two groups (A & B). From what I understand for this tour there were two different lists of questions that were given to members of the two groups. Group A (of which I am a part of this time) is posting their answers on their blogs today (Tuesday) and Group B will do so on Thursday.
Life has been a whirlwind lately and I didn't have time for a book tour, but somehow ended up signing on to participate anyway. It was a combination of Lori selling me on The Sound of Hope: A True Story of an Adoptee's Quest for Her Origins by Anne Bauer in her introductory post  and the fact that I was one of two giveaway winners (who commented on the post) sent a copy of the book autographed by the author. This is an excerpt from a comment I left on Lori's post, which explains what intrigued me about The Sound of Hope:
You had me at, "Anne Bauer's book title refers to a certain musical starring Julie Andrews that premiered shortly before the author was born, songs from which are interwoven throughout the narrative, sometimes in surprising ways." I am fascinated to see how she does that!

I do love a good book tour, not to mention reading memoirs. I also like to try to understand as much as I can about all aspects of adoption being the aunt of two adopted children and friends to numerous adult adoptees.
As it turns out The Sound of Music references weren't quite what I expected and neither was Anne Bauer's book. But I still found The Sound of Hope interesting and enlightening. Anne certainly has a compelling story, one that anyone connected with adoption can appreciate and learn from. Though I didn't always feel a strong connection with her voice, there were parts of Anne's book that moved and resonated with me.
As I have shared openly here on my blog (with permission) in recent years, I am a proud aunt to my sister and brother-in-law's two children (a daughter and a son) who they adopted domestically soon after they were born in 2010 and 2012. That connection, along with growing up with close friends who were adopted and being a part of the Adoption/Loss/Infertility community online has helped me to understand and become more sensitive to the "adoption mosaic," as Lori refers to it.
So going into reading this book I didn't need to be convinced of the merits of open adoption. However, I also didn't realize how the old school way of thinking about the adoption process still effects so many adoptees, as well as their adoptive parents and first parents. In addition to that, I wasn't aware how many states still make it so difficult for adoptees to have access to their original birth certificates.
Another thing that drew me to this book is that I love to read memoirs. I have always been fascinated by people's life experiences, especially how their formative years impact who they become as adults. Also, since I am working on my own memoir, albeit very slowly, I appreciate reading others' to get sense of various approaches, voices and styles that authors use to tell their own personal life stories.
And now, without further ado, here are the three questions I chose to consider and my answers to them (please feel free to comment and share your thoughts about the questions and/or my answers):
Question 1:  I was struck by how differently the many adoptees in the book (Bauer, her brothers, her adoptee friends) approached the possibility of finding their birth parents. While I totally understood the author's need to find her birth parents I was surprised that other adoptees didn't feel that same urge, or that it was trumped by guilt or ambivalence. Did you identify more with the author's drive to find her parents at any cost or did you better understand better the other adoptees' ambivalence? Why?
I absolutely identified more with the author's drive to find her parents. Though I do respect the choices of the adoptees who appeared to be more ambivalent (though I wouldn't describe them quite that way). I have always been a very curious person, especially when it comes to my family history and genealogy. I love researching my extended family tree and hearing stories about my ancestors. I can't imagine what it feels like to grow up not knowing much, if anything, about those who gave you life. Though of course not being an adoptee, I can't say for sure. I imagine that if I were adopted and did not know the identity of my first parents, I would be more like Anne, going to great lengths to try to track down and connect with them.
I did find it interesting, as well as heartbreaking, to learn about the guilt that surrounds most everyone in the adoption mosaic. I am not sure how much I had ever thought about that before. On page 216, Anne talks about how,
"Not once did anyone consider what was best for me…. I was at the heart of (the whole adoption drama)–but no one seemed to recognize that."
This baffled me.
Again, I have the benefit of being a thirtysomething adult in an age when open adoption has become more accepted and even the norm. But it was still hard for me to think about what Anne went through, trying to make all of the parents in her life happy, when it seemed so clear the focus should be reversed.
I remember when my sister and brother-in-law were matched for an adoption awhile back which fell through. Before the first parents decided to keep their baby girl, it was unclear what the outcome might be. My family was in touch with Lori (who is my friend and our awesome book tour host), as we knew she had both first-hand knowledge as an adoptive mother and is considered an expert on open adoption.
Lori was able to counsel my sister, brother-in-law, and really our entire family, on a perspective that might not have otherwise occurred to us, as we waited to find out if the baby girl's first mother and first father had decided to parent her. Lori suggested that we all try to look at the situation from the point-of-view of the baby and just how loved that little girl is. We all found that to be such wonderful and ultimately healing advice.
I hope and pray that going forward more families in the adoption mosaic (you can see how much I like that terminology) will embrace the idea that when making decisions about parenting what's best for the baby should come first. More and more, as I understand it, what is best (when possible) is an open adoption in which children understand from the very beginning just how loved and wanted they are by all of their family members, including both their adoptive parents and their first parents.
Question 2: The woman's maternal adopted grandfather obviously had serious alcohol problems. It didn't appear to be any hush, hush big secret over the years. But none of the family members seemed to ever define it as alcoholism. As a society, when did we start labeling it as alcoholism, a serious, hereditary disease?
I noticed this too and if I recall correctly, the word alcoholic only came up once in the entire book. Coming from an extended family in which alcoholism has been prevalent and labeled as such for many generations, I was surprised that the disease was not addressed more specifically, in light of Anne's family members that appeared to struggled so much with their addictions. I was sharing this observation with my husband and wondering aloud to him, why that was the case. He wisely suggested that maybe it was because, from what I shared with him, that none of Anne's loved ones who may be alcoholics ever got sober and joined a 12 step program to help them in their recovery.
So to me the question is not when did we started labeling alcoholism for what it is. Rather, until a family or a person realizes that there is a problem with/addiction to alcohol and chooses to get help, the terminology is less important. To be clear, I don't think a practicing alcoholic has to get sober for a family to get the help they need. As anyone familiar with 12 step programs can speak to, in addition to Alcoholics Anonymous (AA), there being many successful and helpful support groups for those who love and care about alcoholics, including Alanon, Alateen, and Adult Children of Alcoholic (ACA). I often thought while reading The Sound of Hope about how things might have been different if Anne and her maternal grandmother, along with her mother, father and her brother who did not seem to have a drinking problem, could have benefited from participating in Alanon or Alateen to help them to cope.
Question 3: After (their) reunion, when her birth mother want to hear that Anne had a good life, Anne allows Jo to believe she did. But she asks herself, "I thought about the nuns and how they hid the pregnant girls. Was I any better than they were, covering up the mistakes of others with lies?" Do you see any differences between the nuns' lies and Anne's?
This question struck me while I was reading The Sound of Hope, but it was the last sentence in the same paragraph, which this quote comes from, on page 171, that seemed even more profound. It reads,
"Wasn't it the motive behind each action that mattered?"
That is something I have often pondered and struggled with in my own life.
When loved ones are dishonest and/or do other things which may hurt our feelings, does it matter if they had good intentions?
I think good intentions/motives do matter. I think they matter a great deal. That doesn't mean I believe that those who lie and or hurt us deserve a pass on their words and behavior, just because they meant well. There should be consequences for our behaviors. But the older I get and the more life experience I have, the better able I am to try to see another's point of view and picture myself in their shoes before I am so quick to pass judgment.
Likewise, when I have told lies in my life or hurt others' feelings, I know that in almost every case I was not trying to hurt anyone and believed what I was doing or saying was with the best of intentions. The more mature I get and the more I marinate (as a friend recently referred to the process of aging and becoming more wise), I also find it easier to take responsibility for my words and actions. This includes apologizing to loved ones when I have hurt them, even if especially when it is inadvertent.
So to answer the original question more directly, no, I don't see a big difference between the nuns' lies and Anne's, because I believe their motives were pure, inspired by their kind hearts and compassionate minds. It seems to me they were making the best decisions they could with the information they had at the time. I believe that is all any of us can do or strive for.
To continue to the next leg of this book tour, please visit the main list at LavenderLuz.com
Thank you for reading my thoughts on The Sound of Hope and my answers to the questions I chose to answer for the book tour. I look forward to your comments.