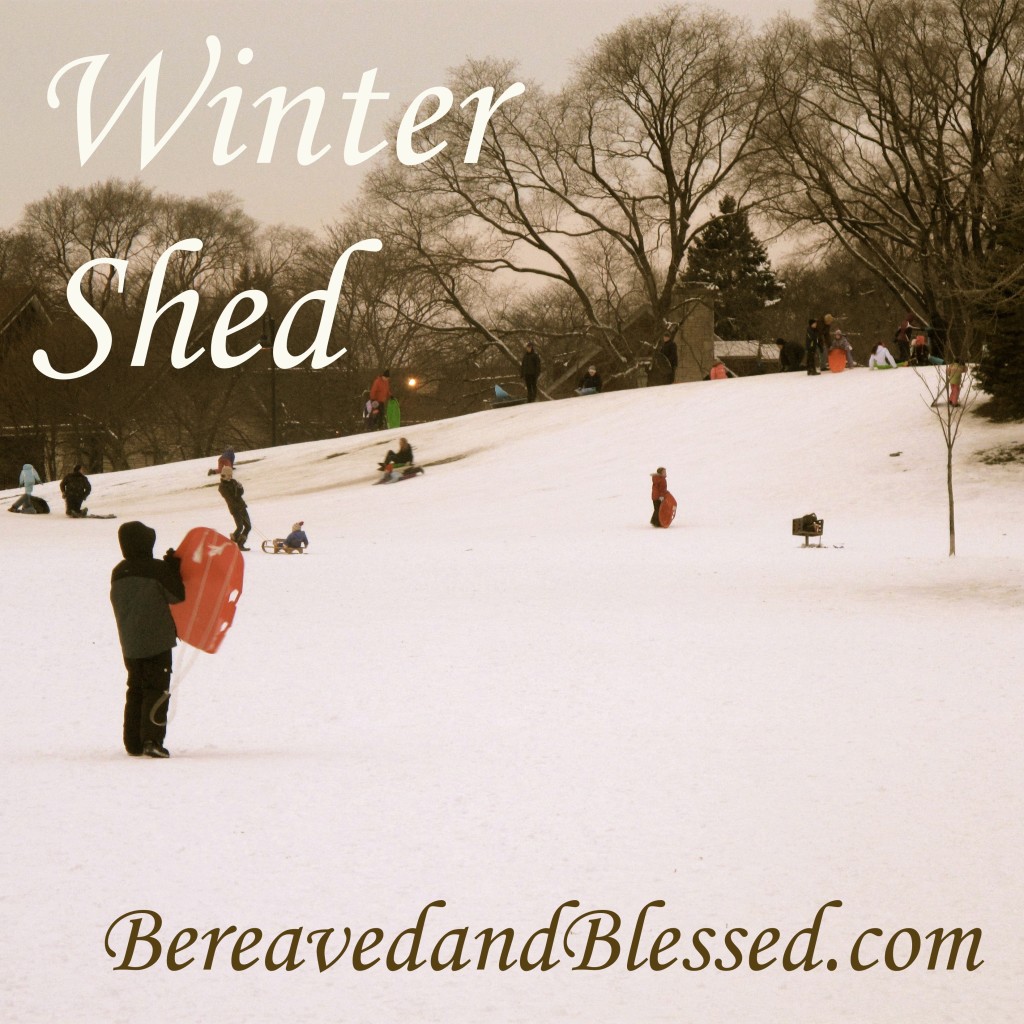 Welcome to the tenth and final Friday check-in for the Winter Shed!
Here is the back story about this support group/blog hop for those trying to be accountable for the positive changes we intend to make in our lives in 2013. Whether you are trying to shed weight, find more balance or let go of something else that is dragging you down in the New Year… We can do this — together!
Before you read on, just a heads up/reminder that this is last week of Winter and thus it is also last week of the Winter Shed. However, I do intend to continue with this support group/blog hop in the Spring (next Friday and every one thereafter), I will just have a new button and will be referring to that round as the Spring Shed. I know the name is so original, right? But I like the consistency of and meaning behind using the word "shed."
For those who want to continue on, feel free to take a look at your goals for this Winter/New Year and adjust them as you want or feel the need to, in effort to better represent where you want your focus to be during this next season.
For anyone new, who might want to join us for this round/season, by all means, please do! I have really enjoyed the connections I have made through and the accountability it brought for me doing this during this Winter Season at the start of this New Year.
Now to report on how I did during week ten:
1) Keeping Fit & Shedding Weight
I exercised 5 out of 7 days this week.
This included taking a HIIT aerobics class, teaching a Step aerobics class, doing the Ali McGraw Yoga Mind and Body DVD routine, as well as hiking in the Indiana Dune with Bob the kids and power walking with my mom.
I continued to use the My Net Diary Pro app on my phone to track what I ate and watch my calories/portion control.
I did well fairly well eating 2 – 3 portions of veggies and 2 servings of fruit most days this week.
I am pleased with how I ate overall this week, with some splurging over the weekend at belated birthday dinner with my side of our family and on Sunday at South Side Irish Parade Day parties.
I 1 lb. this week and have lost 7 lbs. total since Friday, December 28th!
This is the lowest number I have seen on the scale this year or last and I am very pleased!
My goal for this week is to lose 1 -2 lbs. by next Friday.
I would need to lose 5.5 lbs. to reach my original goal for next Friday (since today I hoped to be 4.5 lbs. less than I am), but know that is an unhealthy and unrealistic goal. So I will do what I can (while still eating enough) and see where I end up.
I attended physical therapy (PT) again this week to help with my urinary tract, bladder and pelvic floor issues. I continue to learn helpful exercises to do on my own to help deter and cope with my muscle spasms/flare ups.
When my PT and I were reviewing the past week I admitted to "cheating" on some of my dietary restrictions around the time of my birthday. She asked how things went when I did and I told her overall well, though I did have some flare ups that were likely related. But now that I know how to manage them, it wasn't too bad.
In light of that report, she told me I could start to try to reintroduce some food and beverages this week and see how it goes. I was elated and have enjoyed getting to experiment with how some of my favorite things, which I haven't been allowed to eat and drink for months, affect my muscle spasms and whether they seem to contribute to my flare ups.
2) Housekeeping
I did okay this week with housekeeping tasks.
I mostly did "basic tasks" (including laundry and dishwashing).
I did not use my to do list app Toodledo on my phone again this week.
Once again this is an area that I need to try harder to focus on and take action with.
3) Balance & Harmony
It was another fun and busy week for my family and me.
Last Friday I went power shopping at Kohl's in the morning, while Abby was a preschool, to spend a generous gift card that I received from a loved one for my birthday. I also had some great Kohl's coupons to pair with it, which led me to, as I so often am able to there, get a lot for my money!
Also that day my sister and I has been trying to find cute coordinating outfits for her kids and mine to wear on Easter this year. we thought it would be fun to have the Axe cousins match or at least coordinate for her son's first Easter. We found some adorable outfits at Gymboree and I ended up (voluntarily) driving to multiple Gymboree stores in our area to track down everything we needed for the two boys and two girls in their sizes, some of which were already sold out online.
My sister and I are both frugal shoppers, but since we both receive and share a lot of hand-me-downs, it is nice to splurge on new things for our children, now and then, especially for holidays, like Easter.
Saturday Bob, the kids and I went to the Indiana Dunes with Bob and Sean's Cub Scout troop for Maple Tree Fest. It was so fun and interesting to learn about how real maple syrup is made, as well as to hike in such a beautiful place. There was a lot of snow on the ground and it was a bit chilly, but we still had a wonderful time.
Saturday evening our Axe family had a very nice, though a bit chaotic (because of the young children), dinner out at one of my favorite restaurants in celebration of my birthday last week. I really enjoyed my meal and dessert, but was reminded how I feel sometimes when I choose not to eat very healthy (which is not always good).
Sunday our family enjoyed the annual South Side Irish Parade Day in our neighborhood. We watched the parade from in front of and at times inside a friend's office building on Western Ave., which was a lot of fun and then we party hopped, getting to visit a few friends' homes, since we didn't have our own parade party this year.
While we were party hopping, in the rain, I took a picture that I absolutely love of Bob and the kids walking and holding umbrellas. I feel in love with it so much, that I decide to update the design of my blog, using it as my new header and adapting the color scheme to compliment it.
Monday morning my iPhone spontaneously stopped working, which led to an unplanned trip to a local Apple Store or "the mothership" as the employee who helped me to fix it referred to it.
That night we had our first Christ Renews His Parish (CRHP) Women's Retreat Planning Team meeting with the group I am serving as Co-Spiritual Director for with an old and dear friend, who I couldn't be more excited to be working with. We will be in formation together over the next year preparing for the next retreat in February 2014 and I am really looking forward to this experience.
Wednesday I really enjoyed teaching my step aerobics class, which I always do, but this one was particularly fun, as the energy in the room was high and everyone seemed to having a great time and getting a really good workout!
Then when Abby and I returned home the rest of our day was consumed by #smokewatch and the #conclave to elect a new pope to lead the Catholic church. As I am sure you know, the cardinals did choose a new leader that day. I was surprised and am encouraged by their choice of Jorge Mario Bergoglio, who has taken the name Pope Francis.
I wrote two posts this week related to the conclave and election of Pope Francis: For Those Below and Lord, Make Him an Instrument of Your Peace.
I also wrote a post about Tasks of Grief the and marking the three-month milestone since the tragedy at Sandy Hook Elementary School in Newtown, Connecticut, inspired by a moving Katie Couric Show episode which aired last week, but I didn't watch until yesterday
Finally, I wrote for The Today Voice about some of the first things I bought with my own money on.
This week we also had a nice visit from/with my parents, which I continue to be grateful to get every week. It is a wonderful benefit of them both being retired and living relatively close to us.
I also spent time this week getting ready to go to a mom conference with my sister this weekend. I am looking forward to a little time away and another girls weekend, after having really enjoyed attending BlogHer`12 in NYC together last summer.
One other thing that was interesting about this week which contributed well to this particular goal was my getting started with Oprah & Deepak's 21-Day Meditation Challenge. I am on Day 5 and finding it to be a wonderful and peaceful experience.
Updated to add (3/16/13): How could I forget that I hosted this month's Time Warp Tuesday this week?! Somehow I did… Here's the link to my post about the theme of Luck and you can find links in the comment section (because of my issues with the LinkyTools site that is not yet resolved) to the posts that others who "did the Time Warp again" this month wrote! 🙂
How was your week?
Did you make progress towards your goals for 2013?
What helped you to succeed?
What challenges did you face?
What do you plan to focus on in the week to come?
As I shared in my introductory post, when I reflect on what has helped me to shed weight, get/stay in shape in the past, prioritize housekeeping tasks and find more balance in my life, accountability is huge! I have kept myself accountable various ways in the past, but this time I am doing so publicly here on my blog.
Once a week, on Fridays, until at least mid-June/Summer, I will check in and share how my week has gone in the key areas I am working on. My hope and intention is that knowing I have this self-imposed report card to file will motivate me to stay focused on my goals.
If any of you want to join me in this "Winter Shed," soon to be "Spring Shed," you are welcome to link up to your Winter Shed blog entries below and/or you can comment here on how you are doing from week to week, so we can support and encourage each other, as well as share what works and what doesn't for each of us when it comes to striving towards our goals. You are welcome to participate every week or when you have the time/the spirit moves you.
Please join me and we can cheer each other on as we start 2013 strong and stay the course!
We can do this — TOGETHER!

See you next Friday (if not before)!
You are welcome to grab the code for the Winter Shed button by clicking here and put it on your blog. The link will take you to a Google Doc where you can copy the code. If your browser does not allow access to your computer's clipboard, you can use Ctrl-C for Copy and Ctrl-V for Paste, or use your browser's Edit menu.
PLEASE NOTE: I am still having trouble with LinkyTools, in that there seems to be an issue with my router being confused by my opening the LinkyTools site on multiple computers at the same time and there is something I need to try fix with my MAC address. So until I resolve this I can't access LinkyTools for this blog hop. I hope to fix it soon and in the meantime, please share links to your posts in the comment section if you choose to participate this week. Thank you!
UPDATED (3/18/13): Problem resolved! I added everyone's posts to the LinkyTool! 🙂
---
This linky list is now closed.