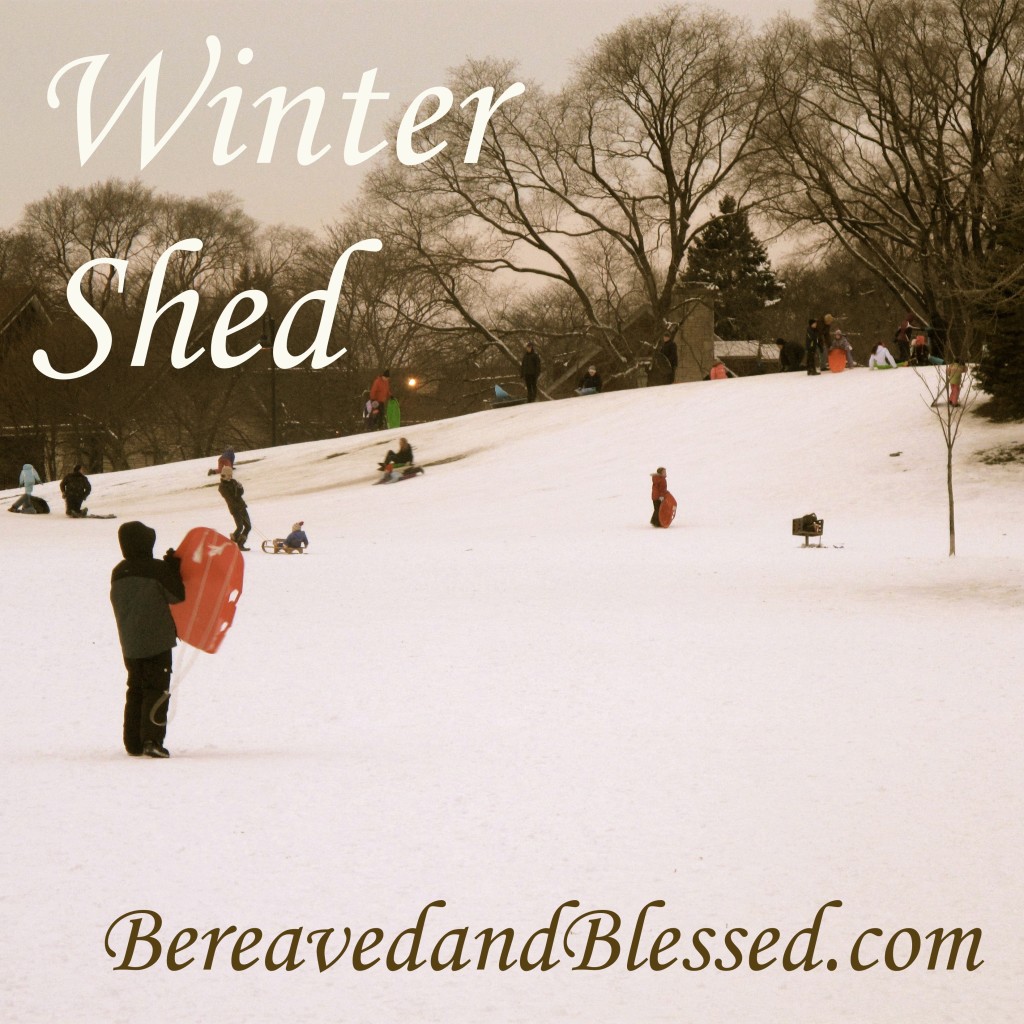 Welcome to the ninth Friday check-in for the Winter Shed!
Here is the back story about this support group/blog hop for those trying to be accountable for the positive changes we intend to make in our lives in 2013. Whether you are trying to shed weight, find more balance or let go of something else that is dragging you down in the New Year… We can do this — together!
Before you read on, just a heads up that this is the second to last week of Winter and thus it is also the second to last week of the Winter Shed. However, I do intend to continue with this support group/blog hop in the Spring, I will just have a new button and will be referring to that round as the Spring Shed. I know the name is so original, right? But I like the consistency of and meaning behind using the word "shed."
For those who want to continue on, feel free to take a look at your goals for this Winter/New Year and adjust them as you want or feel the need to, in effort to better represent where you want your focus to be during this next season.
For anyone new, who might want to join us for this round/season, by all means, please do! I have really enjoyed the connections I have made through and the accountability it brought for me doing this during this Winter Season at the start of this New Year.
Now to report on how I did during week nine:
1) Keeping Fit & Shedding Weight
I exercised 6 out of 7 days this week.
This included teaching a Yoga Sculpt class, shoveling snow twice (one of the times I did so for 2 hours straight and it was heavy!), doing the Ali McGraw Yoga Mind and Body DVD routine and the Jillian Michaels Ripped in 30 DVD Week One routine, as well as logging 8,000 and 12,p00 steps on my pedometer on various days.
I continued to use the My Net Diary Pro app on my phone to track what I ate and watch my calories/portion control.
I did well eating 2 – 3 portions of veggies and 2 servings of fruit most days this week.
I am pleased with how I ate overall this week, with a bit of splurging around my birthday on Wednesday.
I held steady this week and have lost 6 lbs. total since Friday, December 28th.
At one point this week I weighed 1 lb. less than I did on the scale this morning, which was the lowest number I have seen on the scale in 2012-2013. I found that very encouraging, but it was also frustrating not to be able to maintain that loss.
Some factors this week that may have contributed to me holding steady are my birthday (my family and I went out to dinner to celebrate) and my period starting, as I tend to be bloated and weigh more in the days leading up to that.
My goal for this week is to lose 1 -2 lbs. by next Friday.
I would need to lose 5.5 lbs. to reach my original goal for next Friday (since today I hoped to be 4.5 lbs. less than I am), but know that is an unhealthy and unrealistic goal. So I will do what I can (while still eating enough) and see where I end up.
I attended physical therapy (PT) again this week to help with my urinary tract, bladder and pelvic floor issues.
This was a one step forward, two steps back kind of week related to my muscle spasms/flare up issues.
As I mentioned last week, my urogynecologist and I decided I should trying lowering the dosage of a medication I am taking to help with the pain. Since things had been going so well, we thought I might not need the original dose. But about four to five days in on the new dosage my pain level was significantly worse. I hadn't realized how much the medication may have been helping me and we decided for now that I should return to the original dosage. So messing with all of that was a bit of a setback, but also a learning experience.
My PT did more Visceral Manipulation and worked on my c-section scar/scar tissue area and that seems to continue to help.
I have two weeks left in the initial set of twelve-weeks of PT sessions. My PT thinks we still have a lot of work to do, so she ordered twelve more. I have mixed feelings about continuing on, especially because I wasn't able to keep the consistent weekly schedule we have now, same time and place each week. So each week the time and day will vary a bit and I will have to travel further away to another office some weeks, which is frustrating. But I also get how important this is and will prioritize it so I can hopefully continue to get better.
2) Housekeeping
I did better this week with housekeeping tasks.
I mostly did "basic tasks" (including laundry and dishwashing).
I listed some more things on our local Buy/Sell Facebook group, but so far haven't gotten any bites. That has been disappointing, as last time I sold a lot and was optimistic I would have a similar experience. If I don't sell much of soon, I will likely donate the items, which I am fine with and feel good about too.
I made some progress with organizing and straightening around the house, but did very little cleaning.
I finally started using my to do list app Toodledo on my phone again this week.
3) Balance & Harmony
This was a mixed week with my muscle spasm/flare ups set backs.
Overall it was great though, especially with my birthday being on Wednesday!
A big change (for me) that I made this week was waking up every morning around the same time as my husband, as opposed to sleeping in a bit, as I sometimes do. This allows us to be on more of the same schedule and for me to be able to get more done around the house in the morning. By nature I am a night owl and Bob is a morning person, so at times it is hard for us to be in sync with our sleep schedules, but it is nice when we can make it work.
On Friday Bob and I attended Abby's first preschool parent/teacher conference, which was interesting and nice to hear how she is doing from her teachers.
Sean hit some milestones this week when it comes to being more responsible. He helped us shovel on more than one occasion and one of our neighbors even hired him to take in their newspaper and put their garbage and recycling bins away on pick up day, while they were on vacation.
Friday night I got to go to a cocktail party downtown to celebrate the grand opening of Collective Bias's Chicago office. It was really fun to meet some of Collective Bias staff, as well as to mingle with other local Chicago bloggers and Collective Bias clients, some of whom I had met before and many more that I had not.
Saturday Abby got to go to a preschool friend's princess themed birthday party. It was her first birthday party for a classmate and so cute to see them all dressed up in princess costumes!
That day Sean played in his last basketball game of the season for his school's 2nd/3rd grade team and got two rebounds!
Finally, on Saturday our whole family got to go to my sister and brother-in-law's house to celebrate their daughter's/our niece/Goddaughter's third birthday, which was a lot of fun!
Sunday I taught Religious Education and after church I took Sean to see a musical, in which some of his friends performed, at our local arts center. Sean was really excited to see it and a bit sad that he didn't get to be in this one, since the practice schedule did not work with our family's schedule this season.
That evening we had a family game night after dinner, which was a lot of fun!
My parents visited on Monday, which we always appreciate, getting to see and spend time with them.
Tuesday began ISAT testing at Sean's school, which meant little to no homework for him this week, which was nice and more relaxing for all of us.
Tuesday also brought the biggest snowstorm we have had in Chicago this Winter season, which was exciting and a bit overwhelming because the snow just kept on coming, which made for a lot of snow shoveling and moving.
Wednesday, I as mentioned, was my birthday and it was a really nice and relaxing day! One of the reasons it was so great is that I was successful in not expecting too much from anyone in my life and thus everything that happened was a bonus!
I got a kick out of the Facebook birthday love with all the messages on my Timeline all day long. That definitely made me feel special!
I taught my weekly exercise class at Beverly Bodyworks that morning, which I enjoyed.
Abby took a rare nap that afternoon, while Sean was at school, which allowed me to relax and do whatever I felt like.
Since Sean didn't have any homework after school, we got to have a rare weekday playdate at a friends house where their kids are close in age to ours. So the kids got to hang out together and I got to chat with their mom, who is a good friend.
That evening Bob, the kids and I went out to dinner, which was delicious and then stopped by a grocery store, where we each got to pick out a special treat, in lieu of a cake. I chose a donut, as did the kids and Bob got cheesecake. When we got home they sang to me with a single candle on my donut and it is a special memory.
After the kids went to bed Bob and I watched the first two episodes of Thirtysomething on DVD. It was so interesting to watch them as late "thirtysomethings" ourselves and we look forward to watching more soon, as we have all four seasons on DVD.
I also received some very thoughtful cards and generous gifts from family and friends this week, which I really appreciate.
I wrote a birthday post this week about being 38 Special and I wrote for The Today Voice about five things I love about my hometown.
Yesterday I didn't feel up to par, so I took it easy at home with the kids and skipped my MOPS meeting.
I am feeling better today, but since I don't usually report on Fridays until the next week I will wait to share about today until next Friday.
How was your week?
Did you make progress towards your goals for 2013?
What helped you to succeed?
What challenges did you face?
What do you plan to focus on in the week to come?
As I shared in my introductory post, when I reflect on what has helped me to shed weight, get/stay in shape in the past, prioritize housekeeping tasks and find more balance in my life, accountability is huge! I have kept myself accountable various ways in the past, but this time I am doing so publicly here on my blog.
Once a week, on Fridays, until at least mid-March/Spring, I will check in and share how my week has gone in the key areas I am working on. My hope and intention is that knowing I have this self-imposed report card to file will motivate me to stay focused on my goals.
If any of you want to join me in this "Winter Shed," you are welcome to link up to your Winter Shed blog entries below and/or you can comment here on how you are doing from week to week, so we can support and encourage each other, as well as share what works and what doesn't for each of us when it comes to striving towards our goals. You are welcome to participate every week or when you have the time/the spirit moves you.
Please join me and we can cheer each other on as we start 2013 strong and stay the course!
We can do this — TOGETHER!

See you next Friday (if not before)!
You are welcome to grab the code for the Winter Shed button by clicking here and put it on your blog. The link will take you to a Google Doc where you can copy the code. If your browser does not allow access to your computer's clipboard, you can use Ctrl-C for Copy and Ctrl-V for Paste, or use your browser's Edit menu.
PLEASE NOTE: I am having trouble with LinkyTools this afternoon, the site seems to be down, so for now, please post your link in the comment section if you want to link up and I can always add the code later. Thanks! 🙂
UPDATED (3/11/13): It turns out there is not a problem with LinkyTools and/or the LinkyTools site, there seems to be an issue with my router being confused by my opening the LinkyTools site on multiple computers at the same time and there is something I need to try fix with my MAC address. So until I resolve this I can't access LinkyTools for this blog hop. I will fix it ASAP.
UPDATED (3/18/13): Problem resolved! I added everyone's posts to the LinkyTool! 🙂
---
This linky list is now closed.