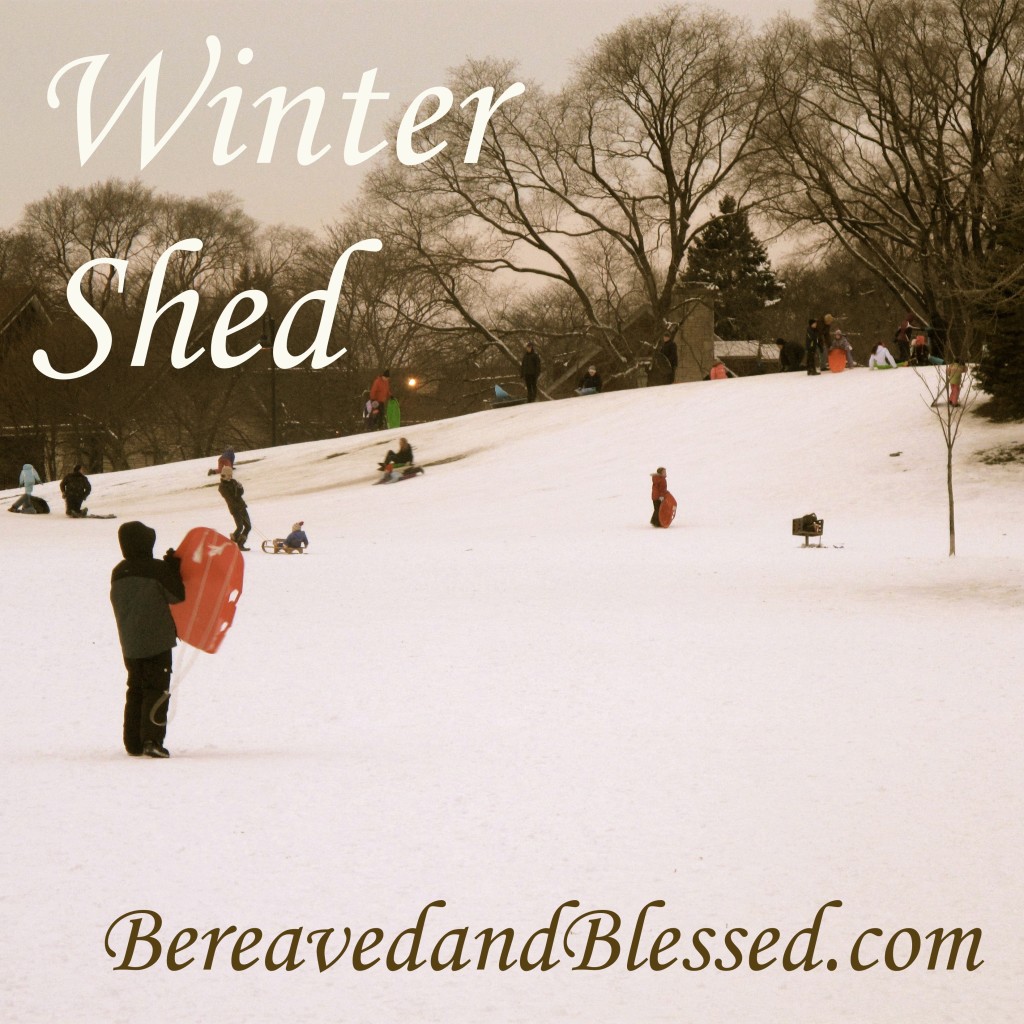 Welcome to the eighth Friday check-in for the Winter Shed!
Here is the back story about this support group/blog hop for those trying to be accountable for the positive changes we intend to make in our lives in 2013. Whether you are trying to shed weight, find more balance or let go of something else that is dragging you down in the New Year… We can do this — together!
Now to report on how I did during week eight:
1) Keeping Fit & Shedding Weight
I exercised 6 out of 7 days this week.
This included taking a HIIT fitness class and shoveling heavy snow twice, as well as logging 8,000, 10,000 and 12,500 steps on my pedometer on various days.
I continued to use the My Net Diary Pro app on my phone to track what I ate and watch my calories/portion control.
I did well eating 2 – 3 portions of veggies and 2 servings of fruit most days this week.
I am pleased with how I ate overall this week.
I didn't track what I ate as much over the weekend while I was serving on the cooking team for a women's retreat at our church, but I figure that for the most part the amount of time I spent on my feet those two days (when I logged 12,500 and 10,000 steps) cancelled out any splurging I did on all the yummy food we had for the retreat.
I lost 1 lb. this week and have lost 6 lbs. total since Friday, December 28th.
I am 0.5 lbs. above the lowest number I have seen on scale so far this year and last, which I saw one day this week before going back up a bit.
I am pleased to have broken through my plateau and hope to avoid going back up anymore.
My goal for this week is to lose 1 -2 lbs. by next Friday.
I would need to lose 4.5 lbs. to reach my original goal for next Friday (since today I hoped to be 3.5 lbs. less than I am), but know that is an unhealthy and unrealistic goal. So I will do what I can (while still eating enough) and see where I end up.
I attended physical therapy (PT) again this week to help with my urinary tract, bladder and pelvic floor issues.
I also had a follow-up appointment with my urogynecologist and it was interesting to discuss how things are going with my treatment. We decided to lower the dose of a medication that I am taking to help with my pain/discomfort, but it can take up to three weeks to determine if there is much of a difference with the lower dose.
My PT did more Visceral Manipulation and worked on my c-section scar/scar tissue area.
I continue to feel like we have made significant progress in PT in helping me to eliminate my muscle spasm flare ups and when I do have them to better cope with the symptoms.
2) Housekeeping
I did better this week with housekeeping tasks.
I mostly did "basic tasks" (including laundry and dishwashing).
I also made progress with organizing and straightening around the house.
I did not use my to do list app Toodledo on my phone this week, but still feel good about the things I accomplished.
Bob and I have discussed if I continue to get paid writing projects, as I have had the past few weeks, that we might consider hiring a cleaning person or service now and then to help us keep our home clean.
3) Balance & Harmony
This was a game-changing week in my life! How often do we get to say that?
The main reason being that after much planning and preparation to serve on the cooking team for our parish's Christ Renews His Parish (CRHP) women's retreat at our church this Saturday and Sunday, I got to do the actual serving with my fellow cooking teammates. Though that in and of itself was a wonderful and exhausting experience, it also led me to reflect on my experience with CRHP over the past two years, since I first attend as a participant in March 2011.
I had trouble sleeping on Saturday night, in part because I had an epiphany of sorts, and ended up dealing with my insomnia by trying to write out and through my thoughts.
I shared much of what I wrote in a post called My Epiphany, where I talked about my decision to let go of some commitments in my life, after I fulfill my responsibilities to them through this May, to make room for me to take on a new role as a Spiritual Director for the CRHP Women's Retreat program at our church, something leaders in our parish have been asking and encouraging me to do for a while.
This was not an easy choice for me, but I am proud of myself for realizing that I couldn't take on this new position, without giving up other things in my life. That is part of what was so game-changing, being able to recognize and act on that, in the name of trying to maintain balance and harmony in my life and our family.
As for my other writing this week, I wrote this short piece about how I was moved by Ben Affleck's Oscar acceptance speech for his movie Argo. I also wrote my second blog post and created my second Google + album for Collective Bias/Social Fabric. Finally, I wrote for The Today Voice about the first person to die in my life and how I felt.
Bob continues to be very busy with work and our family continues to adapt as needed.
Sean had a fabulous weekend with his Cub Scout Regatta Boat Race, in which he and his boat placed third in his Bear Dean! He also did well in a Tae Kwon Do tournament that he competed in on Sunday, coming in 3rd in the breaking technique category for his brown belt level.
Sean and Abby both got to spend a lot of quality time with Bob over the weekend, while I was serving on the cooking team for the CRHP Women's Retreat at our church, which was nice for all of them
When I got home on Sunday night I realized how much I missed seeing and being with all of them, which is nice sometimes, to get a break from our normal routines and thus appreciate them and our loved ones that much more.
Sunday night was I excited for the Oscars, being an awards show junkie. Bob and I made one of my favorite meals, cheddar and beer fondue and enjoyed it in front of our TV while watching the red carpet coverage and opening monologue. After that despite my enthusiasm for the Academy Awards, I was so tired from the serving on the cooking team at the retreat that I fell asleep on the couch for most of the show. I ended up skimming through it Monday night and catching the highlights.
We got to see and spend time with my parents twice this week, which was awesome. They usually visit once a week, but since I write about my weeks for the Winter Shed going from Friday – Thursday, it turned out that both of their visits fell within that time frame. Sean had a half day of school on Wednesday, one of the days they were here, so it was nice that he got to have extra time with them, since he is usually at school most of the time there are here.
Finally, I had my annual OB/GYN appointment this week, which was uneventful overall, but still bittersweet to return to that place, which holds so many happy and sad memories for me and my family. I have a post about my experience percolating that I hope to finish and share here soon.
How was your week?
Did you make progress towards your goals for 2013?
What helped you to succeed?
What challenges did you face?
What do you plan to focus on in the week to come?
As I shared in my introductory post, when I reflect on what has helped me to shed weight, get/stay in shape in the past, prioritize housekeeping tasks and find more balance in my life, accountability is huge! I have kept myself accountable various ways in the past, but this time I am doing so publicly here on my blog.
Once a week, on Fridays, until at least mid-March/Spring, I will check in and share how my week has gone in the key areas I am working on. My hope and intention is that knowing I have this self-imposed report card to file will motivate me to stay focused on my goals.
If any of you want to join me in this "Winter Shed," you are welcome to link up to your Winter Shed blog entries below and/or you can comment here on how you are doing from week to week, so we can support and encourage each other, as well as share what works and what doesn't for each of us when it comes to striving towards our goals. You are welcome to participate every week or when you have the time/the spirit moves you.
Please join me and we can cheer each other on as we start 2013 strong and stay the course!
We can do this — TOGETHER!

See you next Friday (if not before)!
You are welcome to grab the code for the Winter Shed button by clicking here and put it on your blog. The link will take you to a Google Doc where you can copy the code. If your browser does not allow access to your computer's clipboard, you can use Ctrl-C for Copy and Ctrl-V for Paste, or use your browser's Edit menu.
---
This linky list is now closed.