It's the last Monday of the month which means its time to share our Perfect Moments from March with Lori from Lavender Luz. I look forward to participating in this blog hop/writing exercise hosted by my friend, and soon to be published author, every month.
I have said this before here and I will say it again, I know life is good and it is has been a wonderful month when I have so many perfect moments coming to mind that I have trouble choosing which one to share about. I am going with one that happened at an awesome conference for Christian moms, called Hearts at Home (the brain child of the incredible and inspiring Jill Savage), which I attended for the first time earlier this month. I went with my sister Meg, who had attended last year, and among the things that I loved about the weekend was getting to have quality time together on our road trip to/from the conference, as well as sharing a hotel room and attending some of the sessions together.
The theme of the conference, which really resonates with me and so many others who were there, was "No More Perfect Moms." As a recovering perfectionist I appreciated all the ways the conference planners/facilitators got that message across, about how there are many ways to be an imperfect mom (and that's okay), but there are just as many ways to be a perfectly wonderful one. In addition to being with Meg at Hearts at Home, I also enjoyed connecting with some friends from the MOPS group that I participate in twice a month and meeting other moms who were attending the conference. The sessions I went to were also pretty awesome, inspiring and left me with a lot to chew on as a mother, wife, friend, daughter/daughter-in-law and Christian.
One of the highlights of the conference was an event called Moms Night Out, which was held on Friday evening after dinner. It began with an unexpected Flash Mob which Meg, some MOPS friends and I had a great aerial view of from our seats in the balcony. Then Jill Savage came out and spoke to us a bit, followed by a Christian married couple, Bill and Pam Farrel, who shared with us about their idea of "red-hot monogamy!" There was also a hilarious Christian comedian (I didn't even know there was such a thing) Anita Renfroe who had us all laughing so much and so hard, I can't remember the last time I did that. But the highlight for me was hearing Christian singer Meredith Andrews sing with her band (including her husband on the keyboard and guitar). I hadn't heard most of the songs that they sang, but since they put the words up on a big screen, it was easy to follow along, for those who wanted to.
At times in between the songs Meredith would share some about her life, family (which includes her fellow musician husband, their 2 1/2 year-old son and their newest addition, another son, who had been born just four weeks earlier at home) and faith journey. As Meredith began to introduce one of her songs, she told a story about her husband's cousin, who had a baby that was born still.  She talked about how hard the loss was for their entire family and then she looked out into the audience and said that she couldn't imagine what it is like to lose a baby, but that her heart goes out to anyone in the room who has lost a child.
I felt like Meredith was speaking directly to me.
And I am sure I wasn't the only one.
As she spoke Meg and one of my MOPS friends, whom I was sitting in between each reached out put a hand on my leg, to show their love and support, knowing what I have been through our baby girl who left this world too soon and seeing how touched I was by Meredith's words.
Then Meredith sang a beautiful and incredibly moving song called Not for a Moment (After All) about how God is always there for us, even especially during the most difficult and painful times in our lives. The lyrics remind me of the famous Footprints in the Sand story about how God doesn't just walk with us through our struggles, God carries us.
I don't know exactly why, but having my phone in hand (since I had been tweeting throughout the day about my experience at #HAH2013), I ended up recording Meredith singing Not for a Moment (After All):
After hearing it, I tweeted about how moved I was as a bereaved mother.
The next morning, a woman named Susan who works with Meredith tweeted me and asked if I was still in town for the conference. I replied that I was and she told me that she had a surprise for me! I wasn't sure what to make of it, but accepted Susan's invitation to meet her at a specific time and place later that day. Meg came with me and when we arrived Susan told us that Meredith and she had seen my tweet and asked if we would like to meet Meredith in person!
Of course we said yes and then Susan took us back stage to meet Meredith. She was as sweet and kind in person as she seems on stage. I told Meredith and Susan about our journey with our baby girl Molly and they seemed genuinely interested and touched by our story. Meredith even said something about how she wasn't exactly sure why she shared what she did on stage the night before as she introduced her song, but that she was glad to know that it spoke to me and others who have lost children. Meg asked if we could take our picture with Meredith and Susan was happy to do so.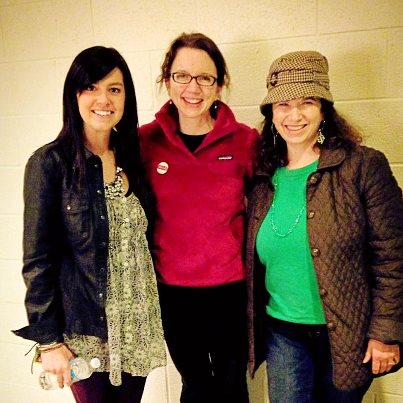 Fast forward about a week, during which I downloaded Meredith's song (which is available on iTunes) and have listened to it many times. On Sunday I decided to go for a run in our neighborhood. It was cold and windy but felt good to get outside and move my feet. I was listening to a playlist of songs that I enjoy running to, which included the recent addition Not For a Moment (After All). I had never run to it before and after listening to a number of songs from my playlist which had come up randomly on shuffle, I thought about Meredith's music and how much I would like to hear her song. But I liked the pace I had going for my run and didn't want to mess with it by trying to find her song. It was kind of a passing thought, maybe even a bit of a wish and a prayer.
So you can imagination how perfect it seemed when the next song which came up *randomly* from my playlist was, you guessed it, Meredith's!
Though most of the time I prefer to run to more upbeat music that motivates me to keeping running at a decent pace for me, now and then I love to run to more of a heartfelt ballad, like Meredith's and found the time I ran to her song to be a truly perfect moment for me this month, along with the other perfect moments I had connected to Meredith and her song at Hearts at Home. I will leave you with the lyrics, as they really capture how I feel about God's role in my life, especially when I am struggling.
Not for a Moment (After All) 
You were reaching through the storm
And walking on the water
Even when I could not see
In the middle of it all
When I thought You were a thousand miles away
Not for a moment did You forsake me
Not for a moment did You forsake me
After all, You are constant
After all, You are only good
After all, You are sovereign
Not for a moment will You forsake me
Not for a moment will You forsake me
You were singing in the dark
And whispering Your promise
Even when I could not hear
I was held in Your arms
Carried for a thousand miles to show
Not for a moment did You forsake me
Not for a moment did You forsake me
And after all, You are constant
After all, You are only good
After all, You are sovereign
Not for a moment will You forsake me
Not for a moment will You forsake me
And every step, every breath, you are there
Every tear, every cry, every prayer
In my hurt, at my worst
When my world falls down
Not for a moment will You forsake me
Not for a moment will You forsake me
Even in the dark, even when it's hard
You will never leave me, after all.
And after all, You are constant
After all, You are only good
After all, You are sovereign
Not for a moment will You forsake me
Not for a moment will You forsake me
~~~~~~~~~~~~~~~~~~~~~~~~~~
Lori from Lavender Luz says that "Perfect Moment Monday is about noticing a perfect moment rather than creating one. Perfect moments can be momentous or ordinary or somewhere in between." I love the idea of being mindful of and blogging about perfect moments. Over the years I have often used my blog more to write about things I am struggling with and though I know that is valid and important for me at times, I appreciate the idea of being intentional about also sharing the simple and very special moments in our lives. Many thanks to Lori for this wonderful opportunity to focus on what is right in our life, instead of what is wrong. 
Click here to read about and comment on more Perfect Moments (there are links to others' posts at the bottom of Lori's blog entry) and/or add a link to one of your own. Thank you for reading. I hope that you have a wonderful week and that you are aware of, as well as able to notice, many perfect moments in your own lives.