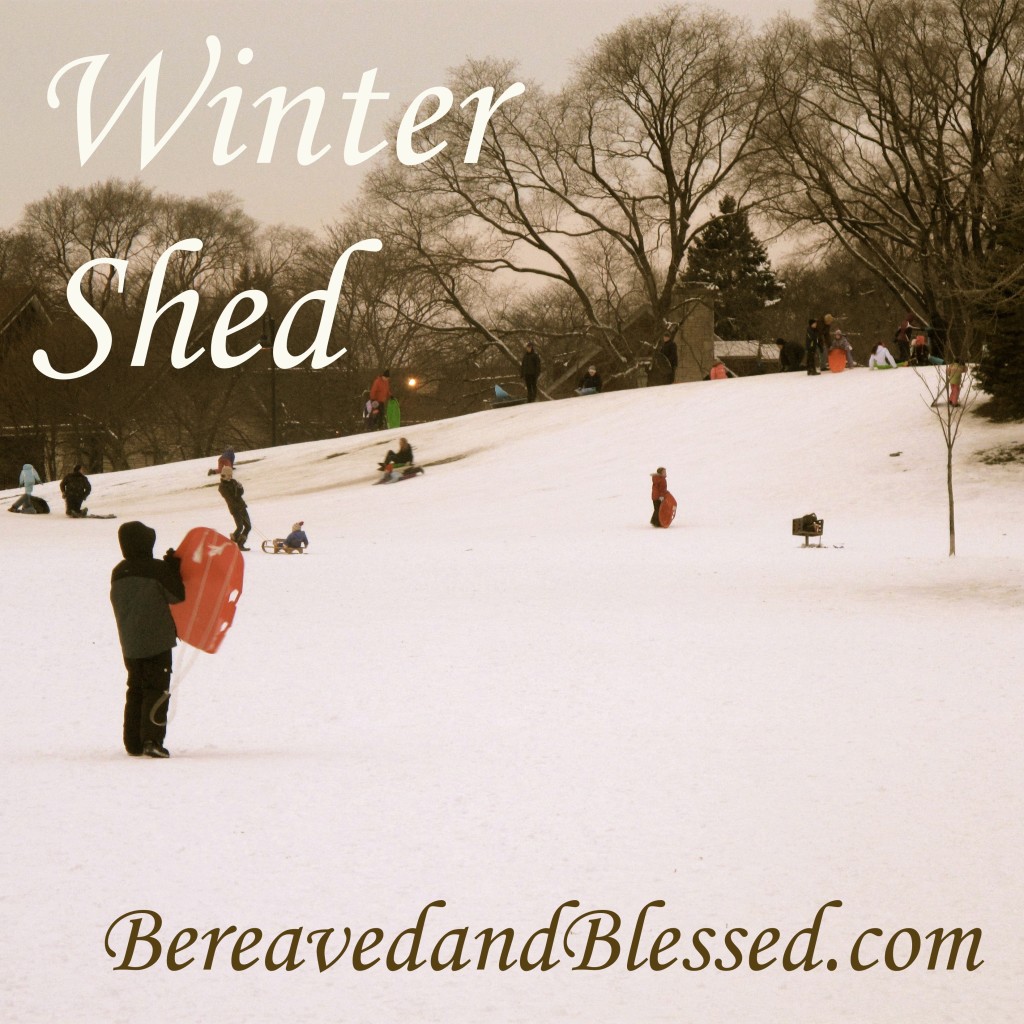 Welcome to the sixth Friday check-in for the Winter Shed!
First off, for those who are still with me, whether you are posting, reading along and/or commenting. Way to go and thank you for your support! Six weeks is a big milestone and though I am not doing everything as well as I hoped and intended to be at this point, I am proud of myself for staying the course and continuing to work towards my goals for this year.
Here is the back story about this support group/blog hop for those trying to be accountable for the positive changes we intend to make in our lives in 2013. Whether you are trying to shed weight, find more balance or let go of something else that is dragging you down in the New Year… We can do this — together!
Now to report on how I did during week six:
1) Keeping Fit & Shedding Weight
I exercised 5 out of 7 days this week.
This included teaching one group fitness class (step aerobics) and four days during which I logged over 10,000 steps on my pedometer.
I am pleased with myself for exercising consistently again this week, though I would have liked to get more strength training and toning in.
I continued to use the My Net Diary Pro app on my phone to track what I ate and watch my calories/portion control.
I did well eating 2 – 3 portions of veggies every day and 2 servings of fruit.
I am pleased with how I ate overall this week, except for last night. My family and I went out for a Valentine's Day Dinner at a local burger joint. I thought I didn't over do it, but did indulge a bit. But I felt crappy afterwards and very bloated (maybe from all of the salt in the food I ate).
It seems when my body gets used to eating healthy and then I eat junk food my body is not happy with me and it is almost not worth the splurge because of how I feel afterwards.
I held steady this week and have lost 5 lbs. total since Friday, December 28th.
But that doesn't tell the whole story. I worked really hard this week and as of yesterday morning I was down 1.5 lbs. from last Friday and a total of 6.5 lbs. since 12/28. I saw a number on the scale that I was never able to get down to last year and was so proud of myself. I had made last week's goal weight for Friday and was only 1 lb. away from this week's goal.
This morning I was very frustrated to see the number on the scale. I get that it's not just about the number, but it is still hard when I work all week to drop 1.5 lbs. and then gain it back (even if it is from bloating and/or constipation) seemingly overnight.
I will stay the course in the coming week and hope to bounce back quickly to where I was yesterday.
My goal for this week is to lose 1 -2 lbs. by next Friday.
I would need to lose 3.5 lbs. to reach my original goal for next Friday (since today I hoped to be 2.5 lbs. less than I am), but know that is an unhealthy goal. So I will do what I can (while still eating enough) and see where I end up.
I attended physical therapy (PT) again this week to help with my urinary tract, bladder and pelvic floor issues.
My PT listened to/felt/assessed my organs again this week. Then she worked on those areas, as well as y c-section scar/scar tissue area. She reminded me that what she is doing with my organs is called Visceral Manipulation. I had not gotten a good night's sleep the night before and so I was tired and more relaxed than usual during our session. That ended up being a good thing, as I found the VM to be relaxing and then when she moved on to work with my c-section scar/scar tissue I was able to better withstand the pain, which allowed her to make more progress.
I also continued to work on my c-section scar/scar tissue some myself at home, which I am getting the hang of.
It turned out when I thought I had a UTI last week I might have, as the culture came back with a lot of bacteria. But since I didn't feel bad the doctor said we could wait and see and to call her if my symptoms got worse. They didn't, so I didn't call. My PT explained at our session, which I didn't realize, that it is possible that I did have one and am healing on my own from it. I thought a person always needs an antibiotic to heal from an infection like that, so I found that interesting.
This was a break through week for me with PT, as I feel like we have made a lot of progress. My muscle spasm flare ups are far from gone, but I am learning how to manage them better and not get so anxious when I feel symptoms. When I feel one starting I tell myself that it will pass and just having that mindset helps a lot.
2) Housekeeping
To take a page from Lost in Translation's weekly Winter Shed posts, if I could I would "skip" this one this week. As I might as well have skipped it. But I can't exactly skip housekeeping entirely when I am sharing our home with my husband and children who need a clean and healthy place to live.
Again I did worse this week with housekeeping tasks.
I barely kept up with "basic tasks" (including laundry and dishwashing).
I still want and intend to do better with my housekeeping tasks next week and intend to continue to purge. But I said the past two weeks and have not changed my behavior significantly.
I did not use my to do list app Toodledo on my phone this week at all. I intend to use it in the week to come.
3) Balance & Harmony
One of the many reasons I bombed Goal #2 again this week, is that because of our car repair issues last week, I spent a lot of time researching new cars this week. We narrowed it down to two minivans and two cross-over SUVs.
Bob and I had a lot of fun at the Chicago Auto Show last Friday and even ended up going to a few dealerships afterwards to do some test driving.
After that we zeroed in on the car we want to buy, a 2013 Chevrolet Traverse and though we didn't intend to buy one until the Spring, ended up finding an incredible deal on one at a local dealer.
So we are actually going to go and likely buy it tonight! It is a big purchase, which is a bit stressful, but Bob, the kids and I are all very excited about our new car!
Last Friday night we got to go to a new restaurant in our neighborhood called Horse Their Hollow that we had been excited to try when it opened. Bob, my parents, the kids and I went for an early dinner and were very impressed with the menu, service and especially the craft beers. Bob and I like to try different kinds and we enjoyed sharing a flight of six different beers that they have on tap there.
As far as my writing, I wrote a post Saturday night called On Nerves, Johnny Carson and Self Talk as I was preparing to audition for the Listen to Your Mother (LTYM) Chicago show the next morning and I hosted my monthly Time Warp Tuesday blog hop/writing exercise this week here, the topic was Heart. I also wrote for The Today Voice about the hardest thing I've ever done. This was one of those weeks when I had so much inspiration to write, but not nearly enough hours in the day and with no time constraints could have and probably would have written a lot more.
Though I felt like my LTYM audition went well on Sunday, I did not have a good feeling about being picked for the 2013 cast and unfortunately I was right. I was not surprised really, just disappointed. The producers shared the news with me in a very kind and personal email, which I appreciate and they asked me to please consider trying again next year. They seemed to really want me too and I probably will. I appreciate what a difficult process it was for the producers/directors to choose this year's cast and I do intend to try to go and see the show with a friend, who also auditioned and was not chosen this time around.
I forgot to mention last week that I was invited to join Collective Bias/Social Fabric. For those not familiar they give bloggers paid "shoppertunities" to take pictures and share about their experiences with products from the point of purchase through home use. I didn't know what to expect when I was invited to join, but it seems like fun, interesting and reasonably well-paying opportunities.
After joining and participating in a conference call to learn how to use their website, I applied for a few "shoppertunities" and was very happy to learn this week that so far I have been chosen for two! My first blog post and Google+ album (with pictures sharing about my experience) for a product that I already use regularly and love is due this Monday and the other, for a website that I haven't used before, but am excited to try out, is due in the coming weeks.
It feels really good to have some opportunities to get paid to do what I love, writing and taking pictures.
Other highlights from this week included my kids and I going to get two new goldfish, after our first family pet, our goldfish Nemo died at the beginning of the year. Sean and Abby each got to choose one and they decided together to name Sean's Marlin and Abby's Dory, continuing on with the Finding Nemo theme with our fish names.
Our children and we also got to spend quality time with both sets of our parents/their grandparents. We continue to be grateful to still have them in our lives and living locally.
I also got to go to dinner again another night at the new neighborhood restaurant, Horse Thief Hollow, with some good friends, which was fun and delicious.
On Wednesday the kids and I went to an Ash Wednesday service at church which was a nice was to start the Lenten together as a family.
This week I also worked on preparations with some women from our parish who I am going to be cooking and serving with at an upcoming Christ Renew's His Parish (CRHP) women's retreat. We were the last team to "give" a women's retreat (in November 2011) and now the women that participated in the retreat that we facilitated are giving the next retreat, later this month, and we will do the cooking and serving, as the team before us did.
Bob continues to be busy with work and leading Sean's Cub Scout troop.
Finally, the kids enjoyed celebrating Valentine's Day this week, both preparing the Valentine's they gave to their classmates and other loved ones, as well as being on the receiving end.
Bob and I enjoyed a quiet and relaxing Valentine's evening last night after the kids were in bed.
Bob also reminded me yesterday that it was the 1oth anniversary of the date that we closed on our first house! So it was also nice yesterday to remember that and to celebrate ten years of love and life in our beautiful Beverly neighborhood on Valentine's Day.
We are looking forward to another fun and busy week to come spending time with loved ones and hopefully getting to know and drive/ride in our new car!
How was your week? 
Did you make progress towards your goals for 2013?
What helped you to succeed?
What challenges did you face?
What do you plan to focus on in the week to come?
As I shared in my introductory post, when I reflect on what has helped me to shed weight, get/stay in shape in the past, prioritize housekeeping tasks and find more balance in my life, accountability is huge! I have kept myself accountable various ways in the past, but this time I am doing so publicly here on my blog.
Once a week, on Fridays, until at least mid-March/Spring, I will check in and share how my week has gone in the key areas I am working on. My hope and intention is that knowing I have this self-imposed report card to file will motivate me to stay focused on my goals.
If any of you want to join me in this "Winter Shed," you are welcome to link up to your Winter Shed blog entries below and/or you can comment here on how you are doing from week to week, so we can support and encourage each other, as well as share what works and what doesn't for each of us when it comes to striving towards our goals. You are welcome to participate every week or when you have the time/the spirit moves you.
Please join me and we can cheer each other on as we start 2013 strong and stay the course!
We can do this — TOGETHER!

See you next Friday (if not before)!
You are welcome to grab the code for the Winter Shed button by clicking here and put it on your blog. The link will take you to a Google Doc where you can copy the code. If your browser does not allow access to your computer's clipboard, you can use Ctrl-C for Copy and Ctrl-V for Paste, or use your browser's Edit menu.
---