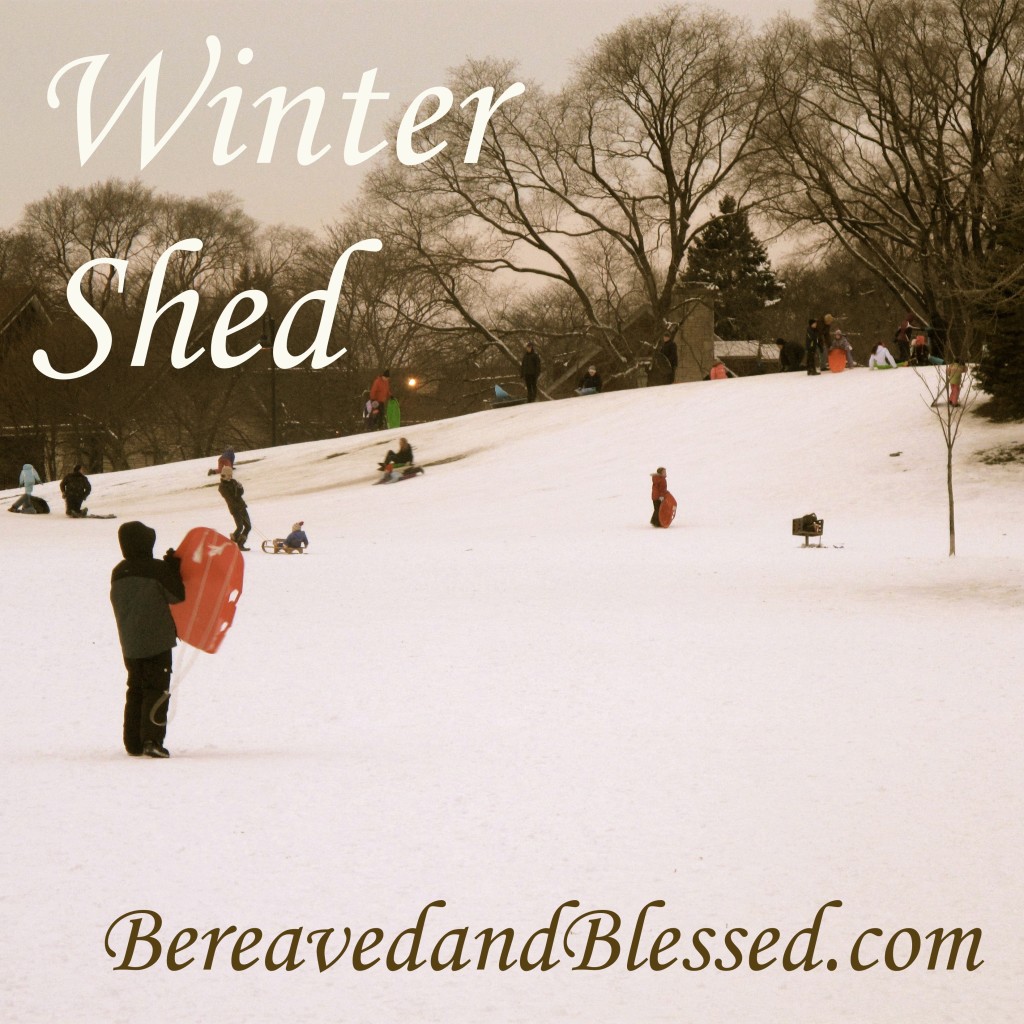 Welcome to the seventh Friday check-in for the Winter Shed!
Here is the back story about this support group/blog hop for those trying to be accountable for the positive changes we intend to make in our lives in 2013. Whether you are trying to shed weight, find more balance or let go of something else that is dragging you down in the New Year… We can do this — together!
Now to report on how I did during week seven:
1) Keeping Fit & Shedding Weight
I exercised 4 out of 7 days this week.
This included teaching one group fitness class (dance aerobics), participating in a yoga class and doing Jillian Michael's Ripped in 30 DVD two times (the Week One workout once and the Week Two workout once).
I went three straight days (Saturday, Sunday and Monday) this week without doing formal exercise and am not happy about that.
I know I can and will do better/exercise more consistently in the week to come.
I continued to use the My Net Diary Pro app on my phone to track what I ate and watch my calories/portion control.
I did well eating 2 – 3 portions of veggies every day and 2 servings of fruit.
I am pleased with how I ate overall this week.
I held steady again this week and have lost 5 lbs. total since Friday, December 28th.
My goal for this week, as it has been most weeks this New Year, is to lose 1 -2 lbs. by next Friday.
I would need to lose 4.5 lbs. to reach my original goal for next Friday (since today I hoped to be 3.5 lbs. less than I am), but know that is an unhealthy and unrealistic goal. So I will do what I can (while still eating enough) and see where I end up.
I understand that shed weight/getting in better shape is not just about the number on the scale and keep telling myself that right now.
My clothes have started fitting better in recent weeks, some even too loose, which is validating, even if I seem to have hit a plateau with my weight.
I attended physical therapy (PT) again this week to help with my urinary tract, bladder and pelvic floor issues.
My PT did more Visceral Manipulation and worked on my c-section scar/scar tissue area.
I continue to feel like we have made a lot of progress in PT in helping me to eliminate my muscle spasm flare ups and when I do have them to better cope with the symptoms.
2) Housekeeping
I did a bit better this week with housekeeping tasks.
I kept up with "basic tasks" (including laundry and dishwashing) more so that I did in recent weeks.
I also made some progress with organizing and straightening around the house.
I intend to do better with my housekeeping tasks next week and intend to continue to purge.
Again I did not use my to do list app Toodledo on my phone this week at all and want to change that in the week to come.
3) Balance & Harmony
It was another very busy week for our family, which seems to be the norm so far this New Year, but we hope to try to slow things down a bit in the weeks to come.
We did trade in Bob's 1999 Ford Explorer Sport last Friday night and bought our new 2013 Chevrolet Traverse!
We think we got a very good deal for the model and features on our new Crossover SUV and absolutely love driving and riding in our new car!
Saturday the kids got to have a sleepover with their cousins at my sister and brother-in-law's house, which they loved doing!
Bob and I were grateful to get to have a little getaway/time to ourselves overnight at a hotel on Saturday night! We even got to sleep in on Sunday morning and go out for a relaxing and delicious brunch, just the two of us.
It had been awhile since Bob and I had gotten to do something like that and we really appreciated the opportunity to reconnect and feel refreshed when we went to pick up Sean and Abby, who also really enjoyed their time away/overnight with their aunt, uncle and cousins whom they adore!
We also got to celebrate an old and dear friend's milestone birthday together with friends on Saturday evening, which was a lot of fun!
On Sunday night I was sad to see another season of Downtown Abbey come to an end and another one of my favorite characters leave the show. But I am also grateful to have gotten to enjoy this third season of well written, inspiring and entertaining episodes.
As for my writing this week, I wrote my first blog post and created my first Google + album for Collective Bias/Social Fabric and am working on another "shop" that I will be sharing about next week. I also wrote for The Today Voice about the age when I became an adult.
This week I spent A LOT of time working on preparations to cook and serve at an upcoming Christ Renew's His Parish (CRHP) women's retreat at our church this Saturday and Sunday. As I shared last week, the women who I am working with and I were the last team to "give" a women's retreat (in November 2011) at our parish and now the women that participated in the retreat that we facilitated are giving the next retreat, this weekend, and we will do the cooking and serving, as the team before us did.
Bob continues to be very busy with work and leading Sean's Cub Scout troop.
Sean has been practicing this week for a Tae Kwon Do tournament that he will be competing in on Sunday in the categories of "form" and board "breaking techniques."
Sean and Bob have also built a boat for the Cub Scout Regatta Boat Race that will be held tonight.
Abby enjoyed another fun week of learning at her preschool, playing with friends and dance class.
All of us enjoyed spending time in and getting to know our new car! It is so cool, which after trading in a 14-year-old car and holding on to an almost 10-year-old minivan, we can all really appreciate riding around in.
How was your week?
Did you make progress towards your goals for 2013?
What helped you to succeed?
What challenges did you face?
What do you plan to focus on in the week to come?
As I shared in my introductory post, when I reflect on what has helped me to shed weight, get/stay in shape in the past, prioritize housekeeping tasks and find more balance in my life, accountability is huge! I have kept myself accountable various ways in the past, but this time I am doing so publicly here on my blog.
Once a week, on Fridays, until at least mid-March/Spring, I will check in and share how my week has gone in the key areas I am working on. My hope and intention is that knowing I have this self-imposed report card to file will motivate me to stay focused on my goals.
If any of you want to join me in this "Winter Shed," you are welcome to link up to your Winter Shed blog entries below and/or you can comment here on how you are doing from week to week, so we can support and encourage each other, as well as share what works and what doesn't for each of us when it comes to striving towards our goals. You are welcome to participate every week or when you have the time/the spirit moves you.
Please join me and we can cheer each other on as we start 2013 strong and stay the course!
We can do this — TOGETHER!

See you next Friday (if not before)!
You are welcome to grab the code for the Winter Shed button by clicking here and put it on your blog. The link will take you to a Google Doc where you can copy the code. If your browser does not allow access to your computer's clipboard, you can use Ctrl-C for Copy and Ctrl-V for Paste, or use your browser's Edit menu.
---
This linky list is now closed.