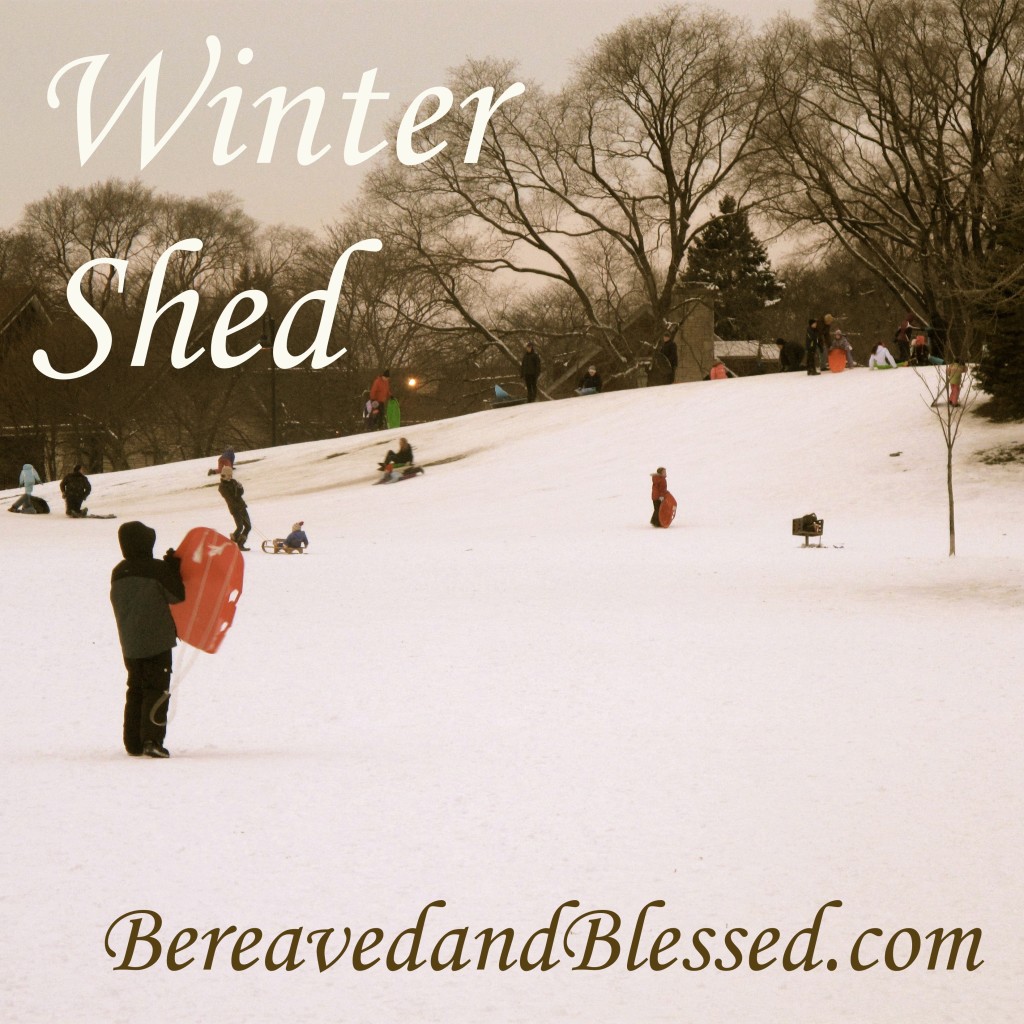 Welcome to the fourth Friday check-in for the Winter Shed!
Here is the back story about this support group/blog hop for those trying to be accountable for the positive changes we intend to make in our lives in 2013. Whether you are trying to shed weight, find more balance or let go of something else that is dragging you down in the New Year… We can do this — together!
Now to report on how I did during week four:
1) Keeping Fit & Shedding Weight
I exercised 6 out of 7 days this week.
This included participating in two group fitness classes (one High Intensity Interval Training and one dance aerobics), doing Jillian Michael's Ripped in 30 DVD two times (the Week Two workout once and the Week Third workout once), walked with my Mom twice and shoveled snow (for the first time this Winter).
I am pleased with myself for exercising more consistently this week and felt the difference in my mood, as well as saw the difference on the scale.
I continued to use the My Net Diary Pro app on my phone to track what I ate and watch my calories/portion control.
I did well eating 2 – 3 portions of veggies every day and 2 servings of fruit.
I am also pleased with how I ate this week and there was only one day when I wished I had made some different food choices.
I lost 1.5 lbs. this week and have lost 5.5 lbs. total since Friday, December 28th!
I am exactly where I hoped/intended to be today and that feels so good!
I am also very happy to have passed the – 5 lbs. milestone this week, in just about a month's time!
My goal for this week is to lose 1 lb. by next Friday.
I attended physical therapy (PT) again this week to help with my urinary tract, bladder and pelvic floor issues.
My PT continued to work on my c-section scar/scar tissue surrounding that area of my body which is painful and I felt very sore afterwards, but I understand why it is important to do.
I also began working on my c-section scar/scar tissue myself at home using cocoa butter as my PT prescribed for me to do. It is not nearly as painful when I do it myself, which my PT explained would be the case.
I continue feel very drained after my weekly PT sessions. My PT says that is normal and I do believe that we are making progress.
My PT clarified some of my dietary guidelines/restrictions this week which was helpful, but also frustrating, as I thought that when I was feeling "good" it was okay to have certain foods and beverages now and then. She explained that she wants me to have as many "stable" days without "flare ups/muscle spasms" before I experiment with that.
I continue to feel good about what I am learning and am trying to practice the exercises she is giving me.
2) Housekeeping
I did better this week with housekeeping tasks.
I still mostly did "basic tasks" (including lots of laundry and dishwashing), but they are important.
I also did more straightening and organizing around the house, as well as some vacuuming.
I continued to focus time and energy on purging things (selling, giving away and recycling), which felt good and productive.
I sold more of my transitional clothes through our neighborhood's local Buy/Sell Facebook group.
I still want and intend to do better with my housekeeping tasks next week and intend to continue to purge.
I used my to do list app Toodledo on my phone a bit more this week. I intend to use it even more in the week to come.
3) Balance & Harmony
It was another busy week for Bob at work and our family at home, but not as crazy as earlier this month.
On Saturday we attended one of our Goddaughter's birthday celebrations as a family and enjoyed a fun night with great friends!
On Sunday Bob and I watched the Screen Actors Guild Awards (SAG) awards show (I love award show season) and another awesome episode of Downton Abbey with a sad plot development that I was not expecting.
I neglected to share last week that I found out that I was invited to audition for the Listen to Your Mother (LTYM) Chicago show! This week I was given my audition date and time for later this month. I am excited for this opportunity whether or not I am chosen to be part of the 2013 cast.
This week I was especially grateful for the support of Bob and my parents. We feel blessed and lucky to live close to all of our parents and for the ways they help us with our children/their grandchildren.
I had my monthly therapy appointment this week. I have now been seeing my therapist at least once a month (in the beginning we met more often) for a year and really appreciate what I am learning from meeting with her regularly.
It was bittersweet to see the season finale of my favorite TV show Parenthood this week.
Bob and I ordered our new iPhones this week! I have had a 3GS for 2 1/2 years and am so excited to transition to my 5!
I spent a lot of time researching which cases we should buy and feel good about what we finally settled on to protect our new phones.
As far as my writing, I am especially proud of the movie review I wrote this week for Exhale about the movie Something Borrowed.
Both of our living children Sean and Abby reminded me this week how challenging and rewarding parenting is. It seems no matter what age they are there are always extremely difficult aspects of helping them to learn and grow, as well as heart-warming and fun moments that we share everyday.
How was your week? 
Did you make progress towards your goals for 2013?
What helped you to succeed?
What challenges did you face?
What do you plan to focus on in the week to come?
As I shared in my introductory post, when I reflect on what has helped me to shed weight, get/stay in shape in the past, prioritize housekeeping tasks and find more balance in my life, accountability is huge! I have kept myself accountable various ways in the past, but this time I am doing so publicly here on my blog.
Once a week, on Fridays, until at least mid-March/Spring, I will check in and share how my week has gone in the key areas I am working on. My hope and intention is that knowing I have this self-imposed report card to file will motivate me to stay focused on my goals.
If any of you want to join me in this "Winter Shed," you are welcome to link up to your Winter Shed blog entries below and/or you can comment here on how you are doing from week to week, so we can support and encourage each other, as well as share what works and what doesn't for each of us when it comes to striving towards our goals. You are welcome to participate every week or when you have the time/the spirit moves you.
Please join me and we can cheer each other on as we start 2013 strong and stay the course!
We can do this — TOGETHER!

See you next Friday (if not before)!
You are welcome to grab the code for the Winter Shed button by clicking here and put it on your blog. The link will take you to a Google Doc where you can copy the code. If your browser does not allow access to your computer's clipboard, you can use Ctrl-C for Copy and Ctrl-V for Paste, or use your browser's Edit menu.
---
This linky list is now closed.