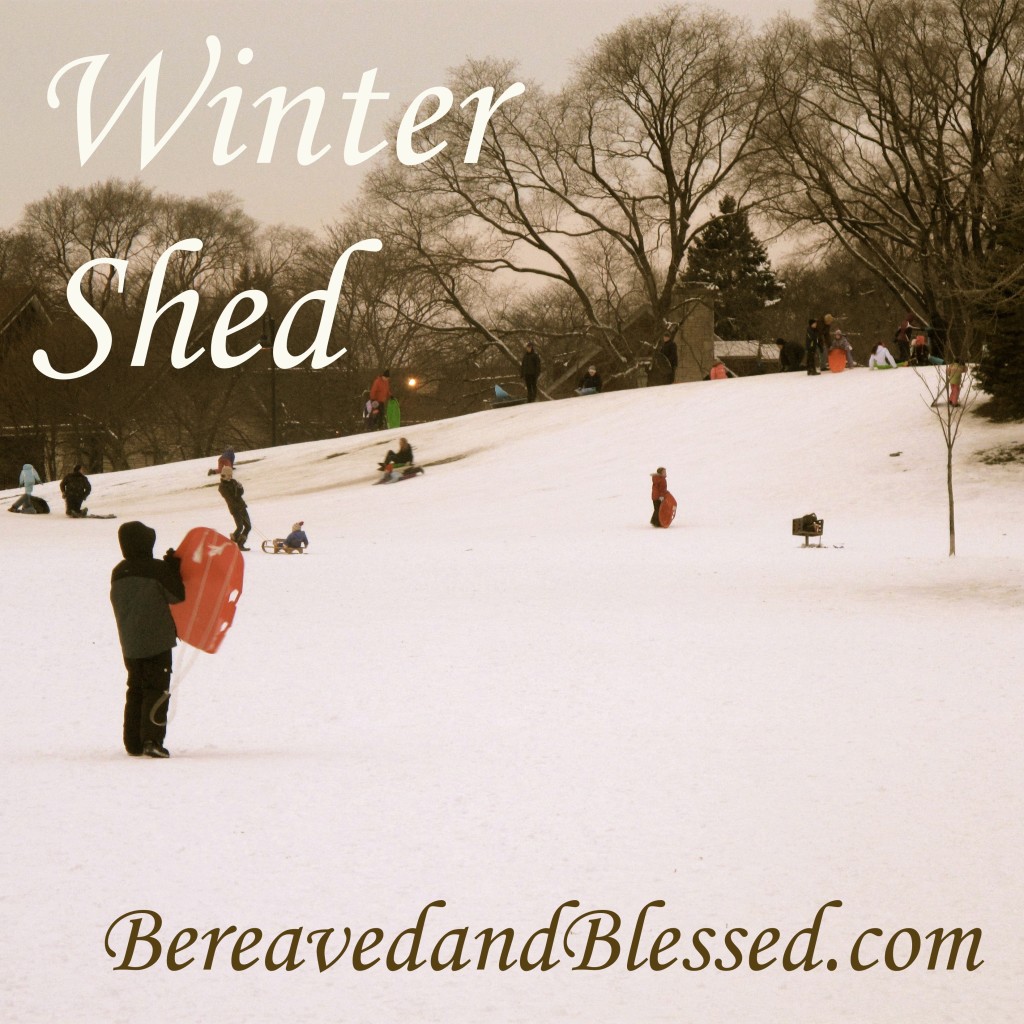 Welcome to the fifth Friday check-in for the Winter Shed!
Here is the back story about this support group/blog hop for those trying to be accountable for the positive changes we intend to make in our lives in 2013. Whether you are trying to shed weight, find more balance or let go of something else that is dragging you down in the New Year… We can do this — together!
Now to report on how I did during week five:
1) Keeping Fit & Shedding Weight
I exercised 6 out of 7 days this week.
This included teaching one group fitness class (dance aerobics), participating in a yoga class, doing Jillian Michael's Ripped in 30 DVD two times (the Week One workout once and the Week Two workout once) and shoveling snow twice.
I am pleased with myself for exercising consistently again this week.
I continued to use the My Net Diary Pro app on my phone to track what I ate and watch my calories/portion control.
I did notice this week, as I have in the past, that sometimes when I am calorie counting I actually eat more/a bigger portion than I might otherwise, because I have preplanned the serving size or measured it out and after seeing it realize that had I just put some on my plate I might have taken less. This can be good if what I am eating is veggies or something else healthy. But it can also be bad if the food is less nutritious.
I did well eating 2 – 3 portions of veggies every day and 2 servings of fruit.
I am pleased with how I ate overall this week.
I gained 0.5 lbs. this week 🙁 and have lost 5 lbs. total since Friday, December 28th.
I gained the 0.5 lb. on Saturday morning and then held steady all week.
I am frustrated that I didn't lose the 1 lb. that I intended to this week and instead gained, but know that for the most part I ate well, used portion control and exercised regularly. I realize that sometimes we can do that and still not lose or plateau.
I will stay the course in the coming week and hope to break through my plateau.
My goal for this week is to lose 1 -2 lbs. by next Friday.
I would need to lose 2.5 lbs. to reach my original goal for next Friday (since today I hoped to be 1.5 lbs. less than I am), but know that is an unhealthy goal. So I will do what I can (while still eating enough) and see where I end up.
I attended physical therapy (PT) again this week to help with my urinary tract, bladder and pelvic floor issues.
My PT listened to/felt/assessed my organs this week and looked for ones that seemed to be pulling towards or away from something (not sure if I am explaining that right, as I don't completely understand it). Then she worked on those areas similar to how she does with my c-section scar/scar tissue area.
I also continued to work on my c-section scar/scar tissue some myself at home, as my PT prescribed for me to do.
I felt less drained after therapy this week, which was a nice change.
I also thought I might have my first real UTI in a while that morning and since I go to PT at my urogynecologist's office they tested my urine just in case. Though I haven't gotten the results of the culture, I am pretty sure it was just a bad flare up/muscle spasm, possibly induced by stress or something I ate, as the symptoms got better later that day and eventually went away.
I continue to feel good about what I am learning in PT and am trying to practice the exercises she is giving me, though I could and should be doing them more often.
2) Housekeeping
I did worse this week with housekeeping tasks.
I mostly did "basic tasks" (including lots of laundry and dishwashing) and didn't even keep up very well with them.
I sold a few more of my transitional clothes through our neighborhood's local Buy/Sell Facebook group.
I still want and intend to do better with my housekeeping tasks next week and intend to continue to purge. But I said this last week and actually was less productive this week.
I did not use my to do list app Toodledo on my phone this week at all. I intend to use it in the week to come.
3) Balance & Harmony
In many ways, this was a rough week for our family, especially for Bob and I as adults/homeowners/car owners.
We got off to a fun start on Friday evening, spending time with family and friends at a fundraiser benefitting a loved one who survived a bad car accident two years ago and has a lot of medical expenses. There were lots of raffle baskets, silent auction items and other fundraising activities. We even won one of the "big ticket" raffle baskets that included a round of golf with carts for four at a local suburban golf course. It was nice to enjoy a night out with loved ones for such a good cause.
That night when we got home Abby was having trouble sleeping. Now that she is in a twin "big girl bed" I was able to get in with her, to help her wind down and fall asleep. But by the time I got back into my own bed it didn't leave many hours for me to get a good night's sleep.
Saturday morning we took our 10 year old minivan in to the repair shop and when we picked it up later that day ended up dropping off our 14 year old SUV!
We realized that the new car we had budgeted to buy this Fall will likely be moved up to be a Spring purchase, as our cars are getting too unreliable and expensive to fix. So this week also included spending time researching which cars we want to seriously consider test-driving and possibly buying.
In between repair shop visits on Saturday afternoon we attended a bowling birthday party for a good friend (close in age to Sean) with his family and other friends which was fun.
We also discovered at some point on Saturday that our cable TV/DVRs were not working. Our cable service was not restored until Tuesday morning, which was very frustrating for our family that really enjoys watching TV, especially for Bob who looks forward to relaxing in his recliner on Super Bowl Sunday every year and enjoying the pre-game shows and the actual event,as well as the commercials.
We were able to ultimately stream the Super Bowl online, but it wasn't the same or as fun. We could have gone to friends' homes to watch the game, but we were both tired after a long and busy weekend and just wanted to relax at home. It was also a school night and we wanted the kids to get to bed at a reasonable time.
We were ready to jump ship to a new cable TV provider, even though we have been longtime customers of the current company we use. But then they made it more than worth our while to stay and so we will continue to be customers for now, as we do really like the product they provide (when it is working).
I taught my second grade religious education class on Sunday morning and was reminded why, though it is sometimes hard for me to get up early on Sunday morning to teach before we go to church, it is worth it for me to get to spend time with the children. It is an honor and a privilege to be entrusted to help them learn about God and our Catholic faith traditions.
Bob and my new iPhones cases arrived this week!
Our actual phones arrived a few days earlier, but I was so paranoid that something might happen to my phone, if I used it without a case, that I didn't take it out of the box until my case arrived.
We have had our challenges transitioning Bob from his Blackberry and me from my iPhone 3GS to our iPhone 5s. But overall are very impressed with all that our new smart phones can do!
Sean and Abby are also excited to get to share my old 3GS which I essentially converted to an iTouch for them to use.
I discovered this week that it is possible to run a microwave too long on high and have it overheat! This happened when I thought I was setting just the timer function on our microwave and not turning it on to cook something. After Bob noticed my mistake (fourteen minutes in), we turned it off immediately, but soon after it just stopped working for about a half an hour.
After the week we had with so many technical difficulties, all we needed was to have to purchase a new microwave, especially when it was not even two years old yet!
Luckily after the microwave cooled down it started back up again, which I hoped would be the case after Googling what had happened and the brand we have to learn that it is a somewhat common problem, though it seems others actually were trying to cook something when it happened to them.
As far as my writing, I was inspired to write two blog posts this week here, one about my childhood imaginary friend Walter and my new (not so imaginary) friend Siri and the other about my memories of the last time Bob and I went to a Chicago Auto Show thirteen years ago, which we are doing again today. I also wrote for The Today Voice about if I could know the answer to any question (other than what's the meaning of life), what would it be and why.
Abby had a pretty good week, including her first visit to the dentist, which she really enjoyed and seemed disappointed when it was over!
Sean did very well with his second quarter report card and continues to do a good job balancing his school work and extra curricular activities (though sometimes we worry we have over-programmed him).
I also came down with a cold this week which made everything more tiring and challenging. Hopefully it won't last long.
A final note, I realize that this week especially there seems to be an imbalance between my three goals, how I am doing working on them and the amount I have reported about each here. I know that each goal/area doesn't have to have equal weight, but it may also be telling that my report on #2 this week is short and clearly needs more of my focus and attention. #3 has become almost a journal of the week's events, which was not my initial intention.
So I may try to scale back my check-in next week to be less detailed. As I have a tendency to spend more time planning to do things and assessing how I did than actually doing them. If I can write a more concise Winter Shed: Week Six check-in next Friday, maybe I will be able spend the extra time I save doing more housekeeping! 🙂
How was your week?
Did you make progress towards your goals for 2013?
What helped you to succeed?
What challenges did you face?
What do you plan to focus on in the week to come?
As I shared in my introductory post, when I reflect on what has helped me to shed weight, get/stay in shape in the past, prioritize housekeeping tasks and find more balance in my life, accountability is huge! I have kept myself accountable various ways in the past, but this time I am doing so publicly here on my blog.
Once a week, on Fridays, until at least mid-March/Spring, I will check in and share how my week has gone in the key areas I am working on. My hope and intention is that knowing I have this self-imposed report card to file will motivate me to stay focused on my goals.
If any of you want to join me in this "Winter Shed," you are welcome to link up to your Winter Shed blog entries below and/or you can comment here on how you are doing from week to week, so we can support and encourage each other, as well as share what works and what doesn't for each of us when it comes to striving towards our goals. You are welcome to participate every week or when you have the time/the spirit moves you.
Please join me and we can cheer each other on as we start 2013 strong and stay the course!
We can do this — TOGETHER!

See you next Friday (if not before)!
You are welcome to grab the code for the Winter Shed button by clicking here and put it on your blog. The link will take you to a Google Doc where you can copy the code. If your browser does not allow access to your computer's clipboard, you can use Ctrl-C for Copy and Ctrl-V for Paste, or use your browser's Edit menu.
---
This linky list is now closed.