It's the last Monday of the month which means its time to share our Perfect Moments from February with Lori from Lavender Luz. I look forward to participating in this blog hop/writing exercise hosted by my friend, and soon to be published author, every month.
I know life is good and it is has been a wonderful month when I have so many perfect moments coming to mind that I struggle to choose which one to share about. I am going with the most recent and game-changing one, which happened over the weekend.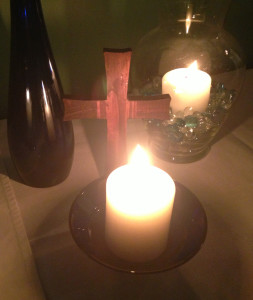 I was serving on the cooking team for a women's retreat at our church. As I have shared here, over the past two years I have been involved in the Christ Renews His Parish (CRHP) ministry at our parish. First I attended the CRHP women's retreat weekend as a participant, in March 2011. Then I continued in formation as part of the giving team for the retreat that was held in November 2011. I served as the Lay Director for that team and it was a peak life experience for me to be a part of that process of preparing for and facilitating that women's retreat.
As tradition has it at our parish, in the CRHP ministry, once you have participated in a women's retreat and served on a giving team, your next role is to be part of the cooking team for the next women's weekend retreat. That is how I ended up cooking and serving this weekend. The experience has been awesome and exhausting, as well as extremely rewarding.
When I came home late on Saturday evening, to get some rest before starting back up again early on Sunday morning, I was on a God/parish community high. I couldn't sleep and kept thinking about how I wished my CRHP ministry experience didn't have to be over after the weekend ended. Throughout my life I seem to be at my best spiritually when involved in retreats and adult faith formation. This weekend reminded me how much I love CRHP and what a good fit it seems to be for my talents/gifts. I wondered what the plan was for the next retreat team/formation. I knew who one of the Spiritual Directors would likely be, but was curious if she would be doing it on her own or if she might want to co-direct with someone else.
I had been offered the opportunity to become a Spiritual Director for CRHP retreats a few times before, but have always come back to the idea, really more so the fact, that there isn't time in my life to add anything else. I am overextended and it is and it wouldn't be healthy for my family and me to put anything else on my already overflowing plate.
This is when my epiphany (this month's perfect moment) happened, when I was able to reframe the question and my perspective on the situation.
What if I could let go of one or more other commitments in my life that takes equal or even more time?
I thought about how much I have enjoyed teaching second grade Religious Education (RE) for the past three years, but also some of the things I don't always love about that ministry, including getting up early so many Sunday mornings and being away from Bob and Abby. Sean does come with me, but is taught by a different teacher this year. It was such an incredible experience to have Sean in my class last year and to help him prepare for his First Reconciliation in January 2012 and First Communion in May 2012. I still feel a special connection to my students this year and wouldn't dream of leaving them now. But what if I were not to continue on with teaching RE next year?
I feel like CRHP needs me now, more than RE. With three second grade catechists this school year, because there were so many students (an apparent baby boom eight years ago), that could help with the transition, if I were to step down in May, after the children make their First Communion. I could even offer to still sub, if they were in a pinch and needed someone to teach on a Sunday morning now and then.
I also tried to think if there was anything else in my life that I would be willing to let go of, to make room for me to continue on with the CRHP ministry at our parish. I realized that after three years of being involved in a wonderful Mothers of Preschoolers (MOPS) group, from 2009 – 2013 (taking a year off after Abby was born), I might be ready to move on. The group that I participate in is located 30 minutes away, in Tinley Park, and is affiliated with a church that I do not attend. When I joined MOPS, there was a void in my life when it came to having relationships with women/peers who were comfortable and confident sharing about their faith and how it relates to their day-to-day life as wives, mothers and Christian community members. The more I have become involved with the CRHP women's ministry at St. Barnabas, the more that void has been filled in my own, local, church community.
I realized that as bittersweet as it might be if I transitioned out of MOPS this May, after fulfilling my duties as a small group/table leader and speaker coordinator this year, that would open up more time for me to serve as a CRHP Spiritual Director and I would get similar interactions and faith-based fulfillment from co-leading the next giving team in their formation in the year to come.
I have discussed all of this with Bob. He understands where I am coming from and supports me in doing this. He especially appreciates some of the ways this change will be more friendly to our family's weekly schedule, which will include him no longer having to come home early from work twice a month so I can leave our house to get to my MOPS meetings on time. Bob appreciates that my ministry/volunteer work will take place more locally across the board, which works better for him and our family. It also makes more sense to me.
The last time this opportunity came up was in November 2011 (though it has been discussed informally since then), when we were wrapping up the CRHP retreat that I served as Lay Director for. I was craving the chance to continue on and participate in the next giving team's formation process. But the circumstances of my life and my family were different and I knew in my head and my heart the time was not right.
Now I believe that many factors are coming together and pointing me towards this path. I have been participating in and helping to lead faith-based and secular retreats for over twenty years, since I was in high school, and have always thrived through these experiences. I truly feel called to do this.
If I become a Spiritual Director for the CRHP ministry program at our parish, it will also give me more ministry leadership experience, which could help me later in life, if and when I might want and try to pursue doing this kind of thing professionally/vocationally, as a Pastoral Associate at a parish or campus minister at a Catholic high school, college or Newman Center.
Though I no longer believe that "everything happens for a reason" and that God has a great plan for each of our lives. I do admit that in this moment of clarity, I have the distinct feeling that God is gently nudging me in this direction.
Finally, on Saturday afternoon I was getting some of the catering for our CRHP retreat this weekend out of my car. An older man with a white beard passed me power walking through our church's parking lot. The man stopped and gestured towards the convent, where the women's retreat was going on, as he asked me "how is your retreat going?" I told him "it's going very well. Thank you for asking." Then the man told me, "I am praying for all of you." I said, "thank you" and after he walked away I got choked up, as it felt like a sign from God that we were not alone in our efforts to renew our parish community.
After I wrote down much of what I have shared with you here, in the wee hours of the morning on Sunday, I actually printed out copies to bring with me to share with some of the members of the leadership team of the CRHP ministry in our parish, including our pastor. As I was leaving Bob chided me and questioned if I really planned to give them out for others to read. He suggested it might be better for me to just tell them how I was feeling and what I was thinking. I appreciated Bob's perspective and explained that I would likely do both. I imagined that I would start by explaining where I was coming from, but also thought what I wrote could possibly do a better job than I might be able to verbally, especially since that morning I was pretty tired from not getting much sleep the night before.
As I drove to the convent, across the street from our church, where the women's CRHP retreat was taking place (the women on the giving team and participants stayed there overnight on Saturday), I realized I was having a bit of my own Jerry McGuire moment. But rather than having created a mission statement, as the character Jerry McGuire does in the movie, I wrote about my epiphany. I hoped and prayed that those I would be sharing my writing with would appreciate it and not think I was crazy.
When I arrived at the convent I had the opportunity to talk with a CRHP ministry leadership team member who was very excited about what I shared with her. She felt that I would be an awesome Spiritual Director and encouraged me to touch base with other ministry team members that day to discuss. It was a busy morning for both of us, so I told her that I had actually written something about how I determined I felt ready to become a Spiritual Director, that she and other members of the ministry leadership team might want to read. She was interested and we agreed that it made sense for me to leave a few copies of what I wrote with her to read and to share with fellow leadership team members. Then I headed over to our parish's school to teach my Sunday morning RE class.
I was able to connect with the woman who runs our RE program and let her know what was going on, including that I likely would not be returning to teach RE during the next school year. She was disappointed to hear my news as it relates to the RE program, but seemed to understand that I couldn't/shouldn't try to do both and was supportive of my leaning towards being a CRHP Spiritual Director.
As the day went on I had the chance to speak with other key members of the CRHP ministry leadership team in our parish, including our pastor and another spiritual director who all seemed overjoyed that I am feeling called and want to serve in this role going forward. Since then I have also let the co-coordinators of the MOPS group I am involved with know my plans.
It isn't easy to walk away from RE and MOPS, but I do believe that it will be worth it to be able to serve as a CRHP Spiritual Director and not sacrifice more time away from my family in the process. To say that I am excited about being a CRHP Spiritual Director is an understatement and I can't wait to see where this experience takes me and everyone who is involved with the CRHP ministry program at our church.
~~~~~~~~~~~~~~~~~~~~~~~~~~
Lori from Lavender Luz says that "Perfect Moment Monday is about noticing a perfect moment rather than creating one. Perfect moments can be momentous or ordinary or somewhere in between." I love the idea of being mindful of and blogging about perfect moments. Over the years I have often used my blog more to write about things I am struggling with and though I know that is valid and important for me at times, I appreciate the idea of being intentional about also sharing the simple and very special moments in our lives. Many thanks to Lori for this wonderful opportunity to focus on what is right in our life, instead of what is wrong.
Click here to read about and comment on more Perfect Moments (there are links to others' posts at the bottom of Lori's blog entry) and/or add a link to one of your own. Thank you for reading. I hope that you have a wonderful week and that you are aware of, as well as able to notice, many perfect moments in your own lives.