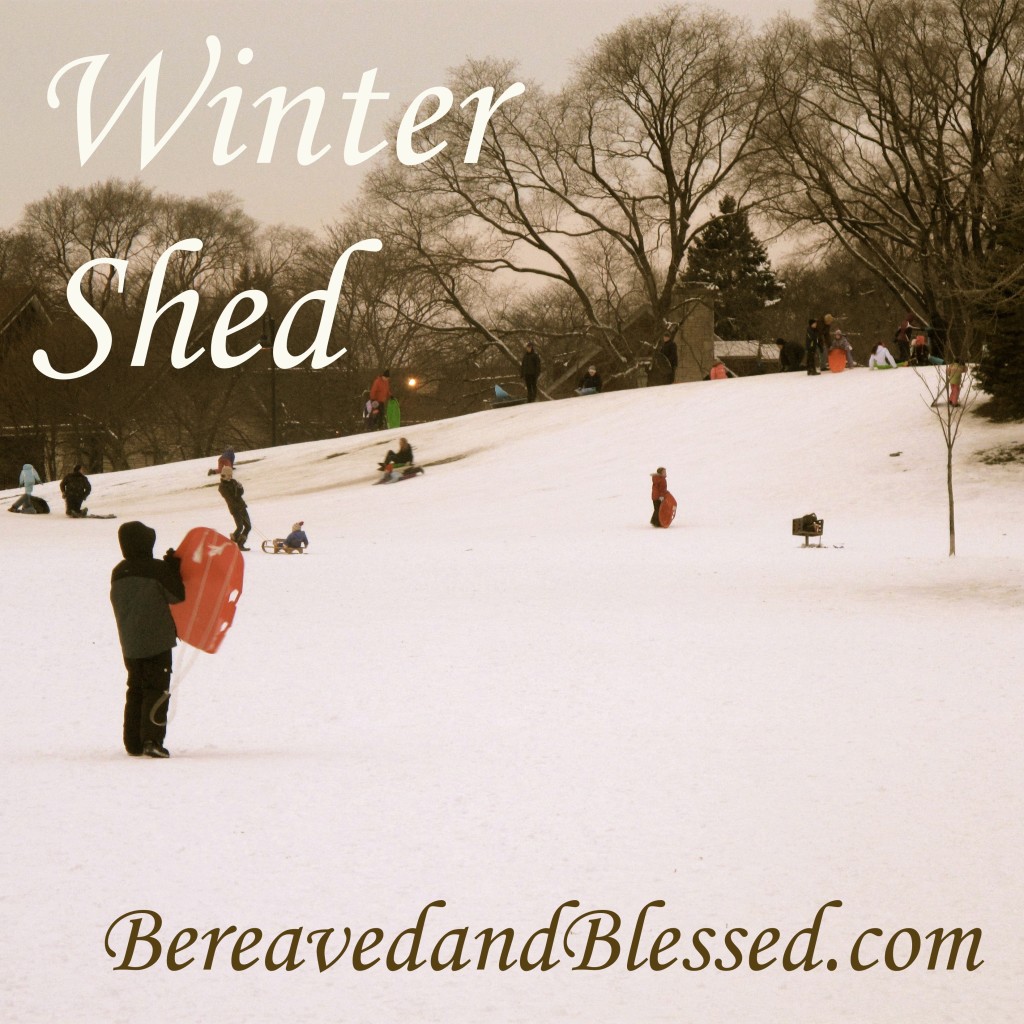 Welcome to the third Friday check-in for the Winter Shed!
Here is the back story about this support group/blog hop for those trying to be accountable for the positive changes we intend to make in our lives in 2013. Whether you are trying to shed weight, find more balance or let go of something else that is dragging you down in the New Year… We can do this — together!
Now to report on how I did during week three:
1) Keeping Fit & Shedding Weight
I exercised 4 out of 7 days this week.
This included teaching one group fitness class (step aerobics), participating in a yoga class and doing Jillian Michael's Ripped in 30 DVD two times (the Week One workout once and the Week Two workout once).
I intended to exercise more often this week, but for various reasons did not. I intend to exercise more in the coming week.
I continued to use the My Net Diary Pro app on my phone to track what I ate and watch my calories/portion control.
This was my best week yet of watching what I ate, eating healthy and most of all being consistent with portion control.
The handful of tempting situations I found myself in, I paid close attention to my options and always chose smaller portions over "all or nothing."
I did well eating 2 – 3 portions of veggies every day and 2 servings of fruit.
I lost 1 lb. this week and have lost 4 lbs. total since Friday, December 28th!
I am 0.5 lbs. above where I hoped/intended to be today.
My goal for this week is to lose 1.5 lbs. by next Friday.
I attended physical therapy (PT) again this week to help with my urinary tract, bladder and pelvic floor issues.
She has started working on my c-section scar/scar tissue surrounding that area of my body which is painful and I feel sore afterwards, but I understand why she thinks it is important to do.
I feel very drained after my weekly PT sessions, but do also believe that we are making progress.
I continue to feel good about what I am learning and am trying to practice the exercises she is giving me.
I continue to use the home remedy/recipe (a high fiber combination of oat bran, prune juice and applesauce) to help with constipation caused by a medication that I am taking and had mixed results this week, going longer stretches without bowel movements.
My PT suggested I up the serving size of my home remedy which seemed to help.
2) Housekeeping
I did okay this week with housekeeping tasks.
I mostly did "basic tasks" (including laundry and dishwashing), as well as some straightening and organizing around the house.
We bought Abby a "big girl" twin mattress, bed frame and bedding this week which was exciting and somewhat bittersweet at the same time.
So we have been rearranging and organizing Abby's bedroom this week too.
Another thing I focused time and energy on was purging things (selling, giving away and recycling), which felt good and productive.
Our neighborhood has a local Buy/Sell Facebook group, kind of like a Craig's List that I listed some of my transitional clothes on that I am ready to get rid of and was pleased to sell some of them!
I am optimistic that I will do better with my housekeeping tasks next week and intend to continue to purge.
I did not use my to do list app Toodledo on my phone much this week. I intend to in the week to come.
3) Balance & Harmony
It was a bit less hectic this week for Bob at work and our family at home, though still busy.
On Saturday morning Sean tested at Tae Kwon Do (TKD) and became a brown belt! We are all so proud of and happy for him!
The new belt level changed Sean's TKD class schedule which is an adjustment to our family's weekly routine.
We spent quality time with both of our extended families this past weekend which was nice.
Sunday we celebrated my Dad's birthday and I feel especially blessed to have had him in my family and my life for another year.
Last weekend we got a letter in the mail informing us that the Reproductive Endocrinologist, who we worked with back in 2007 when we were trying to expand our family, had died. I was sad to hear the news and processing his death has triggered me to reflect on that time in our life when we were doing Assisted Reproductive Technology cycles and how far we have come since.
I had opportunities this week to have some wonderful heart to heart conversations with good friends, for which I am grateful.
I signed up this week to attend the National MOPS Hearts at Home conference in March, here in Illinois, with my sister and some of my friends from the MOPS group that I participate in. The sessions sound awesome and I am really looking forward to it!
How was your week?
Did you make progress towards your goals for 2013?
What helped you to succeed?
What challenges did you face?
What do you plan to focus on in the week to come?
As I shared in my introductory post, when I reflect on what has helped me to shed weight, get/stay in shape in the past, prioritize housekeeping tasks and find more balance in my life, accountability is huge! I have kept myself accountable various ways in the past, but this time I am doing so publicly here on my blog.
Once a week, on Fridays, until at least mid-March/Spring, I will check in and share how my week has gone in the key areas I am working on. My hope and intention is that knowing I have this self-imposed report card to file will motivate me to stay focused on my goals.
If any of you want to join me in this "Winter Shed," you are welcome to link up to your Winter Shed blog entries below and/or you can comment here on how you are doing from week to week, so we can support and encourage each other, as well as share what works and what doesn't for each of us when it comes to striving towards our goals. You are welcome to participate every week or when you have the time/the spirit moves you.
Please join me and we can cheer each other on as we start 2013 strong and stay the course!
We can do this — TOGETHER!

See you next Friday (if not before)!
You are welcome to grab the code for the Winter Shed button by clicking here and put it on your blog. The link will take you to a Google Doc where you can copy the code. If your browser does not allow access to your computer's clipboard, you can use Ctrl-C for Copy and Ctrl-V for Paste, or use your browser's Edit menu.
---
This linky list is now closed.