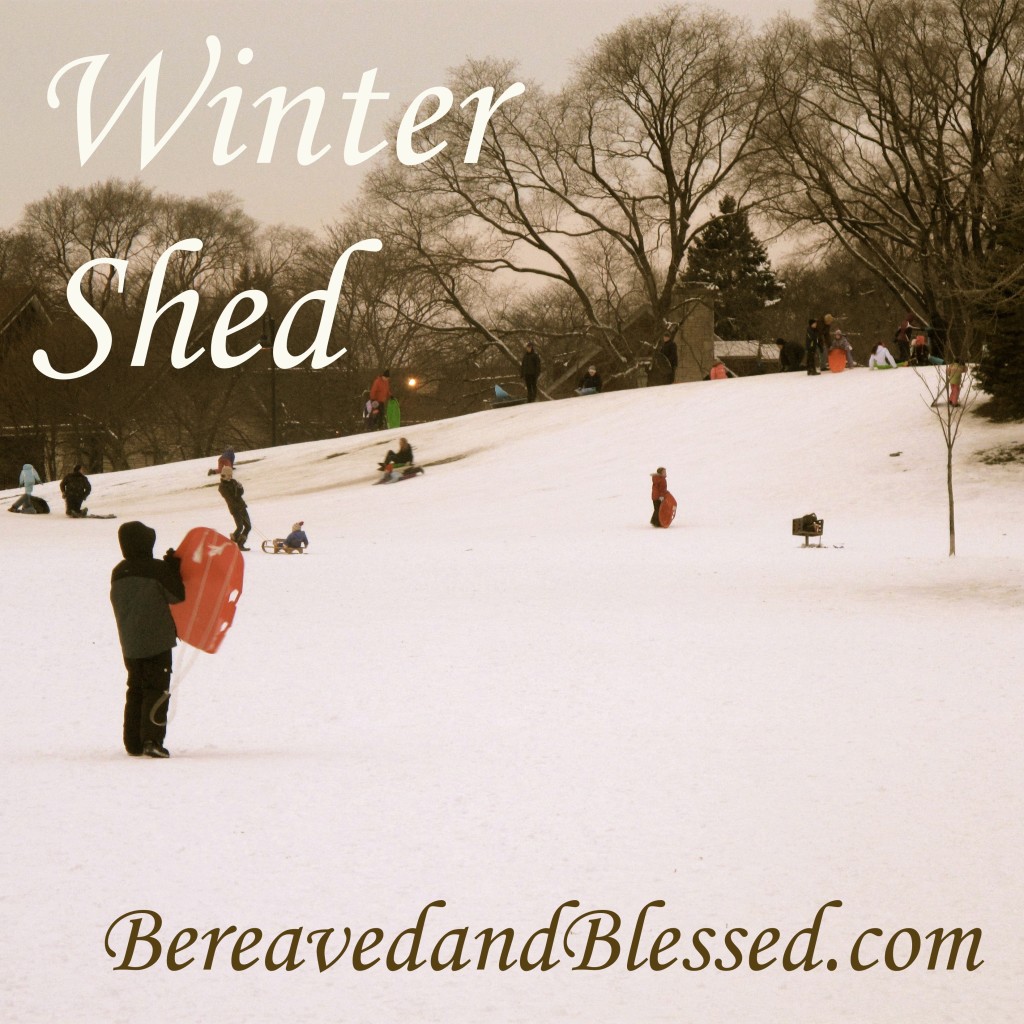 Welcome to the first Friday check-in for the Winter Shed!
Here is the back story about this support group/blog hop for those trying to be accountable for the positive changes we intend to make in our lives in 2013. Whether you are trying to shed weight, find more balance or let go of something else that is dragging you down in the New Year… We can do this — together!
Now to report on how I did during week one:
1) Keeping Fit & Shedding Weight
I exercised 5 out of 7 days this week.
This included teaching one group fitness class (step aerobics), participating in three other classes (yoga, high intensity interval training and dance aerobics) and walking with a friend in our neighborhood.
I used an app on my phone to track what I ate and watch my calories/portion control.
I ate three servings of vegetables and two servings of fruit every day, except for one (when I had less, only two veggies and one fruit).
One of my new favorite healthy snacks is two stalks of celery cut up into 2 inch pieces with either 1 tbsp of natural peanut butter or 1 tbsp of spreadable cheese.
I chose one "special treat/sweet reward" each day, except for one day (when I didn't have any).
After being "good" most of the week with healthy eating and portion control, one night we ordered-in deep dish pizza with friends. I over ate and regretted it. After the first piece I didn't quite feel full, but after the second I felt too full. I believe that if I had waited a few more minutes before taking seconds, I might not have done so (or could have considered only taking a half piece) and still would have really enjoyed the meal.
I weighed myself every morning.
I shed 1.5 lbs. pounds this week and 3 lbs. total since Friday, December 28th!
My goal is to shed 1 – 2 pounds per week between now and mid-late March.
I attended physical therapy (PT) to help with my urinary tract and bladder issues and learned a lot.
I continued to implement the dietary restrictions suggested by my PT to try to help minimize the "flare ups" I experience in my urinary tract and bladder leakage. Many of these restrictions include acidic foods and carbonated beverages.
I identified at least one food item that might be irritating my digestive system and urinary tract (a store-bought spaghetti sauce).
I practiced techniques that I learned in PT and was pleased to see some tangible results already.
I am very pleased with my progress related this goal and intend to keep up the good work!
2) Housekeeping
This week I mostly did basic household tasks.
This included: straightening, budgeting, laundry, dishwashing and meal preparation.
I could have done a lot better and intend to in the week to come.
3) Balance & Harmony
This week our family has been processing the death of our first pet, Nemo the Goldfish. He was with us for six months and we all miss him swimming around in the fish bowl in our kitchen.
Bob had a stressful and busy week at work, which I tried to be supportive of and understanding when he needed to arrive home later than usual most nights.
Because it was a busy week, Bob and I didn't get to spend as much time together in the evenings as we like or typically do.
Bob and I did get to share watching this week's episode of Parenthood together which was so well done. I am always amazed how that TV show, my favorite currently on the air, can make me laugh and move me to tears multiple times in one hour.
We also really enjoyed watching the premiere of the third season of Downton Abbey, another of our favorite TV shows. I was so excited about seeing the episode and was not disappointed. There were so many great lines in the show, especially by the newest character played by Shirley MacLaine.
I helped Sean and Abby transition back into our somewhat normal routine after winter break was over.
Abby started her first weekly "Bitty Basketball" class, which she loves, especially because her big brother also plays basketball.
She also returned to preschool and her weekly dance class after winter break.
Sean got back into the swing of things with his activities and school, including Tae Kwon Do, starting a new acting class and basketball practice for his game on Saturday.
He also lost another tooth this week!
Tuesday and Wednesday evenings I had the honor of helping out with the St. Barnabas Parish Reconciliation Service for the second graders, including those in my religious education class, who were making their First Reconciliation/Confession.
I had a lot of writing/blogging tasks to complete this week, which I allowed to divert my attention from other important areas in my life, such as housekeeping.
This included hosting my monthly blog hop/writing exercise Time Warp Tuesday. I really enjoyed reading the participants' posts about the theme of "change." It was also therapeutic for me to write my new Time Warp post about change, as well as to reflect on the old post that I chose to revisit, from five years ago (the week after we received our daughter Molly's diagnosis and prognosis).
I finished reading an awesome BlogHer Book Club book called The Will Power Instinct by Kelly McGonigal, Ph.D., shared my review of it and participated in this week's discussion on BlogHer.
I am pleased with how I did with this goal, but the week felt over programed and that was stressful at times.
I want to try to slow things down in our life, which is not always easy to do.
How was your week?
Did you make progress towards your goals for 2013?
What helped you to succeed?
What challenges did you face?
What do you plan to focus on in the week to come?
As I shared in my introductory post last Friday, when I reflect on what has helped me to shed weight, get/stay in shape in the past, prioritize housekeeping tasks and find more balance in my life, accountability is huge! I have kept myself accountable various ways in the past, but this time I am doing so publicly here on my blog.
Once a week, on Fridays, until at least mid-March/Spring, I will check in and share how my week has gone in the key areas I am working on. My hope and intention is that knowing I have this self-imposed report card to file will motivate me to stay focused on my goals.
If any of you want to join me in this "Winter Shed," you are welcome to link up to your Winter Shed blog entries below and/or you can comment here on how you are doing from week to week, so we can support and encourage each other, as well as share what works and what doesn't for each of us when it comes to striving towards our goals. You are welcome to participate every week or when you have the time/the spirit moves you.
Please join me and we can cheer each other on as we start 2013 strong and stay the course!
We can do this — TOGETHER!

See you next Friday (if not before)!
You are welcome to grab the code for the Winter Shed button by clicking here and put it on your blog. The link will take you to a Google Doc where you can copy the code. If your browser does not allow access to your computer's clipboard, you can use Ctrl-C for Copy and Ctrl-V for Paste, or use your browser's Edit menu.
---
This linky list is now closed.