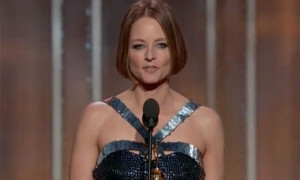 When I was a junior in high school I was assigned a research paper to do about famous person who has had an impact on America. If I recall correctly, my classmates and I were given a list of approved men and women that we could write about. But, I had someone else in mind and appealed to my American Studies (English & Social Studies) teachers to let me write about Jodie Foster. At the time she was one of my favorite actors and had also become a director. Though at first my they were hesitant, my teachers did allow me to do my research paper about her.
I hadn't thought about this in a long time until Sunday evening, when I  was watching the Golden Globe Awards. I got to see Ms. Foster be given the Cecil B. Demille Award for "outstanding contributions to the world of entertainment." I was inspired and moved by her acceptance speech, how she talked about her identity, why she asks for people to respect her privacy and especially when she spoke directly to her mother, whom it sounded like has Alzheimer's, or at least some type of dementia. This touched a chord with me as both of my beloved maternal grandparents experienced dementia in their final years and were diagnosed with Alzheimer's after they died in 1998 and 2000.
I decided to look for my paper this week and found a copy of it, complete with my grade (an A) and feedback from both teachers!
I submitted my paper on May 22, 1992. It is surreal to realize that when I wrote it, I was 17 and Jodie was 29. Now I am 37, soon to be 38, and she is 50! As I have done here in the past, I thought it would be fun and interesting to share what I wrote back then. The disks that we used on my parents' first computer (with a green screen) at the time can't be read by anything we own now. I had hoped to share this sooner, but being that this was a research paper and not a short essay, it took me some time to type up. I wasn't sure the best way to adapt my footnotes into a blog post, so I chose to incorporate them throughout the research paper, as well to list them in a Bibliography at the end. It was also fun to see that I turned my term-paper in with a small gold-plated butterfly paper clip (because of the title that I chose), which was still in place when I found it.
~~~~~~~~~~~~~~~
Tomorrow's Butterfly: A Study of Jodie Foster's Positive Effect on America
The rest of us have family albums to remind us of what we looked like in youth. Jodie Foster could have a movie library and a stack of press clippings. Because she has been an actress for 25 of her 28 years, she can screen the public record of her childhood. [Richard Corliss, "A Screen Gem Turns Director," Time 138 (October 14, 1991): 68.]
Alicia Christian "Jodie" Foster has had a positive effect on America in three specific ways: impact on America as an actress, impact on America as a director, impact on America as a role model.
Jodie Forst has had an impact on America as an actress. Jodie got into acting by accident. Her family had a back ground in the "business," and she landed her first job as "the bare-bottom Coppertone child" ["Jodie Foster," Current Biography Yearbook, (1981), pp. 150-152.] one morning in 1965 when her mother couldn't get a baby sitter. Her older brother had an audition for the sun-tan-lotion company, but when they say Jodie, big brother was out of the picture. Although Jodie never took an acting class, she went on to be in about 45 commercials, made appearances on numerous television shows, and eventually was offered a ticket to the "big time!" Jodie was in her first movie at twelve. ["Jodie Foster," p. 150.] But it was her first feature film, Taxi Driver (1976), that introduced America to Jodie Foster.
Now, at the age of 29, Jodie Foster already has two academy awards to her credit. She won her first Oscar for The Accused (1988) in 1989 for her portrayal of rape victim Sarah Tobias. The time and effort Jodie put into The Accused tested her self confidence.
The entire experience of The Accused exploded her concept of self and self-control. "I wasn't flipping my lid or anything," she admits, "but I was getting pretty insecure toward the end of the film. I just wasn't on top of everything." [Linda R. Miller, "Jodie Foster: One Tough (Terrific) Survivor, Cosmopolitan, (February 1989): 203.]
Overall, the movie had a positive effect on her life. It helped Jodie get her bearings on where she wanted to go and what she wanted to do with her life.
" I think The Accused really turned me around," she says. "Acting shouldn't be your own form of therapy, but at the same time, it makes you grow up… I think this film really changed how I look at acting. I can finally say, "oh, this is what I want to do when I grow up." [Ibid.]
Jodie won her second Oscar for The Silence of the Lambs in 1991 for her portrayal of Clarice Starling, "the first woman detective (in a movie)… who didn't appear in her underwear, sprint in high heels or fall in love with a killer," according to Glamour ["Women of the Year…Jodie Foster: For giving smart women a good name in Hollywood," Glamour (December 1991): 79.] Her character in The Silence of the Lambs was important to Jodie and she hopes tot he women who saw it. [Phillip Zonkel, "One of America's Best Actresses is Taking On a New Role" Director," Seventeen (October 1991): 69.] "This is a real hero … using her training, her gifts, her emotions, her fears. Both head and heart… it's not about brawn," Jodie told Time. [Richard Corliss, "Women on the Verge of a Nervy Breakthrough: Bucking Hollywood's Musclemaina, Jodie Foster and a clutch of fine young actresses snag some serious roles," Time 137 (February 18, 1991): 59.] The director of The Silence of the Lambs, Jonathan Demme, and Jodie agree that "any movie can deliver tingles by placing a little lady in an old dark house…. What beguiled Demme and Foster was the character study of a young woman discovering strength under pressures," according to Time. [Ibid., p. 60.] Clarice wasn't the only strong-willed person Jodie has ever portrayed. "The characters she plays tend to come out winners. They draw on inner strength to rise above their situations." [Brook Hersey, "Oscar-winner Jodie Foster stars in The Silence of the Lambs, another powerful movie about violence again women," Glamour (March 1991): 202.] Foster is said to be "the emotional anchor of most of her films," according to Linda R. Miller in Cosmopolitan. [Miller, p. 200.] Jodie has been on screen (TV followed by movies) since age three.
"People assume I've been robbed of my childhood. I don't think that's true. I've gotten something extra. Most kids, all they have is school. That's why they get so mad when it's boring and feel so bad if they fail. I have my work; I know how to talk to adults and how to make a decision. Acting has spared me from being a regular everyday slob. I used to think of it as just a job, but now it's my whole life, it's all I want to do." [Corliss, "A Screen Gem," p. 68.]
At least at the time acting was all Jodie wanted to do; but the talent she is most known for, acting, is hardly her whole life.
Jodie Foster has had an impact on America as a director. Prior to Little Man Tate (1991), the first feature film Jodie directed, Jodie told Time,
"It would be great to be a director. They get to do anything! They have people killed, blow things up, make people cry and laugh. Directing is just like creating life…. It's a very masculine thing they do; they all end up in the hospital after a picture. It's a hard job." She said she hoped to start with a small budget film. "Something sensitive with two people." She was determined, though, not to appear in a film she also directed. "That is the biggest mistake, unless you're Woody Allen." [Ibid.]
Much of what Jodie wanted in a film that she would direct came true, but one small detail didn't. Jodie directed herself as the mother, one of the three main characters, in Little Man Tate. [Ibid.] Jodie told Seventeen magazine she found directing a hard job, but rewarding:
"…It's the ultimate task of concentration between the head and heart," she says…. "You're constantly combating two different heads: The director is analytical and focused, always being the observer/choice-maker. But the actor is experience-oriented, all about art, and has to be of structure. It's hard to let go and find freedom. It takes a tremendous amount of energy." [Zonkel, p.69.]
She found planning was pivotal, "`Films are too important not to have drawn a road map,' she says. `I won't wing it. When I come into a shoot, I always have an idea.' According to Time, "as director of Tate, she amassed storyboard details on each scene–not just the camera blocking but underlying emotions of each character." [Corliss, "A Screen Gem," p.72.]
Prior to Little Man Tate Jodie had some early experience with directing.
When she was 13, she directed a short "tone poem," Hands of Time, a series of shots of hands that depict life from cradle to old age: a baby, a couple getting married, a man cooking a rifle, a man's hand on on a pregnant woman's stomach, and an old man holding hands with a little kid. In one day she had to write the treatment for it, select the cast, direct the crew, and decide on the editing order. Forst remembers the film as "lyrical, very pretty." [Ibid., p. 72.]
In addition to the piece from her childhood, Jodie has learned much from the many talented directors that she has acted under, including: Martin Scorsese, Taxi Driver; Jonathan Kaplan, The Accused; and especially Jonathan Demme, The Silence of the Lambs. [Ibid., p. 70.] On the set of The Silence of the Lambs Demme allowed Foster to add many of her own ideas to the film's direction.
Others in the business, as well as critics, speak well about Jodie's achievements and working with her.
Screenwriter (Little Man Tate) Frank who had hoped to direct the movie (said), "There's no one in this town like her… she seems so small and sad; you want to protect her. Then you find she's a pretty and intelligent woman who knows kick boxing. She's one of the few people who's not tongue-lashed in the business…. Jodie's resourceful. She knows movies, but she knows more than movies. She's unpretentious…" [Ibid.]
Another filmmaker on Jodie's first direction:
Says French filmmaker Louis Malle: 'Jodie's film is basically about the profound loneliness of childhood, and she's dealt with it head-on. I would be very happy and proud to have made that film that she did…." Malle's Murmur of the Heart is one of Jodie's favorite movies and one of the inspirations for Little Man Tate. [Ibid.]
Jodie has had an impact on America as a role model.
She never really knew her father, survived life as a child star and suffered when a crazed fan tried to assassinate a president just to impress her. Yes, Jodie Foster is one of Hollywood's most famous victims… but she's much more interesting as a heroine." [Michael Segell, "What's Driving Miss Jodie?" Redbook (November 1991): 77-79 & 105-107.]
Jodie's mom (Evelyn "Brandy" Foster) found out she was pregnant with Jodie (her fourth child) the morning she was to first appear in "divorce court." [Miller, p. 200.] Jodie's dad/Evelyn's husband left the family with no support. [Ibid.] Growing up in a single-parent family is something many in America can relate to, and Jodie dealt with it exceptionally well. In fact she even looks at it as a plus in her maturation.
Jodie  Foster told Patrick Pacheco in an interview for After Dark (July 1980), "I feel lucky in a way that I never knew a father, that there was never marital conflict in the house. I've always felt like a replacement… that I took the place of a husband, roommate or pal." ["Jodie Foster," p. 150.]
But her no-dad home did have an effect on Jodie, and Evelyn Foster once commented on her daughter's youth (for an article in Cosmopolitan),
"Jodie was never a traditional little girl, and I think that had a lot to do with her success. It was just at the beginning of a women's liberation, and she kind of personified that in a child. She had a strength and uncoquettishness. Maybe it comes from being raised with out a father to say, "turn around and show daddy how pretty you look…" [Miller, p. 203.]
Throughout her life, Jodie Foster has had to learn from life's disappointments. In those lessons she has gained inner strength. Jodie now chooses to pass on the knowledge she had acquired, "You don't learn, evolve, become more of a human being, by winning Oscars, making money, and living in Malibu," Foster told Cosmopolitan.
You learn by disappointments. By having this Big Plan… and not having it pan out…. I thought if worse came to worse, if I lost control, something would just come in and scoop me up and take care of me. But it didn't happen. When something really terrible happens, the first thing you find out is that you're on your own." [Ibid.]
As to being on your own, Jodie feels people should do what is right for them, and not try to be someone they're not.
She hopes moviegoers will do the same. "My work is my work," she says. "It has always been a way to express myself, and to be things I'm not. My character precedes my job. I was who I was before I became an actress. I became an actress because I like to act, not to get my picture in the paper and have people wonder what color socks I wear–not to be able to get the best table at the Polo Lounge or to be good friends with Barry Diller." [Corliss, "A Screen Gem," p. 71 & 72.]
Women are very important to Foster. Many have labeled her as a feminist.
"Many people have the idea that my movies are fueled by an avid feminism," Foster explains. "I am a feminist–I don' think  it's a dirty word–but that's not what the movies are about. I'm interested in complexity. I'm tired of seeing women on the screen who are cheerleaders or victims with a capital V, incapable of being anything in between. That's oppressive to me." ["Women of the Year," p. 79.]
From Glamour (who named her one of their 1991 "Women of the Year"), "'`I think what we need to do is find out how to make women leaders,' says Foster…. `Encouraging a leader psychology in women is… much more complicated than just having women paid the same amount.'" ["Women of the Year," p. 79] She says, "`People who are outcasts move me. It's the vindication of these people that interests me. The think I love about women is courage.'" [Hersey, p. 202.] Jodie has her eye out for women and for quality. She told Time,
"Women's roles are rarely written as human beings," she says. "Instead they are written as plot adjustments: sister of, daughter of. The hero had to save someone, so they wrap that someone in cord and put her on a railroad track. But don't kid yourself: there are very few good scripts–for men, women, or dogs. This business has gotten to the point where everyone writes from the producer's notes or they write for audience  marketing…. It all goes in phases," she says. "I've seen everyone come and go. In the long run, you have to stick with quality. The only thing you can count on is your instinct for quality." [Corliss, "Women on the Verge," p. 60.]
Jodie also knows "the business" well. She knows where there needs to be some changes. Women should feel good knowing Jodie's on their side.
"This not a business that is kind to women, but it needs them," she says. "The female pioneers have to be ten times better than a man. Maybe someday there will be an old-girl network. But I'm not interested in alienating the audience. I'm actually conscious of the business in this town and how I organize my career!" [Corliss, "A Screen Gem," p. 72.]
Although Jodie is a wonderful role model for all people in America (especially young women), and although she is flattered that people do look up to her, fans can sometimes get out of hand. In an article in Glamour concerning John Hinkley's attempt to impress her by trying to assassinate former President Ronald Reagan,
She wrote about the Hinkley matter in 1982 in Esquire: "…in a time of crisis, you resort to strength you'd never dreamed you owned, like frantic mothers lifting children from under two-ton trucks. The will to survive is stronger than any emotion in the human system." [Hersey, p. 202.]
Once a child star, Jodie Foster has successfully made the transition to adult actress, director and role model. [Zonkel, p. 69.]
Jodie Foster's allure was a hybrid of child and adult. Even in her earliest performances, she displayed a concentration and tension, a worldly self-possession normally associated with much older actors. And this control that she exercised still colors everything in her life. [Miller, p. 200.]
Although Jodie got much out of directing Little Man Tate, she won't be directing again in the near future. Most recently she has begun work in Virginia on Jon Amiel's Sommersby. The film takes place at the end of the Civil War. She'll be starring opposite Richard Gere. [Lawrence Van Gelder, "Foster to co-produce and star in film on actress Jean Seaberg," Chicago Tribune (April 23, 1992) p. 13A.] Later this year, Jodie will be co-producing and starting in a drama about the life of actress, Jean Seberg (who was in one of Foster's favorite movies: Breathless). [Ibid.] "`It's the relentless search in Jean that fascinates me the most,' Foster said, 'that quality led her into situations and events I personally have protected myself from. As an actress,  wonder who I might have been had I embraced those paths.'" [Ibid.] Looking to other prospects for Jodie's further impact on America and the world, a Time critic said of her future, "If this is the larva, imagine the butterflies to come." [Corliss, "A Screen Gem," p. 72.]
~~~~~~~~~~~~~~~
BIBLIOGRAPHY
Books
Current Biography Yearbook. New York: H.W. Wilson Co., 1981.
Periodicals
Corliss, Richard. "A Screen Gem Turns Director," Time 138 (October 14, 1991): 68-72.
Corliss, Richard. "Women on the Verge of a Nervy Breakthrough: Bucking Hollywood's muscle mania, Jodie Foster and a clutch of fine young actresses snag some serious roles," Time 137 (February 18, 1991): 58-60.
"The 50 Most Beautiful People in the World 1992: Jodie Foster," People Weekly (May 4, 1992): 122.
Gelder, Lawrence Van. "Foster to co-produce and star in film on actress Jean Seaberg," Chicago Tribune, Tempo, Section 5 (April 23, 1992): 13A.
Hersey, Brook. "Oscar-winner Jodie Foster stars in The Silence of the Lambs, another powerful movie about violence against women," Glamour (March 1991): 201.
Meter, Jonathan Van. "Child of the Movies," The New York Times Magazine, Section 6 (January 6, 1991): 16-19 & 51 – 55.
Miller, Linda R. "Jodie Foster: One Tough (Terrific) Survivor," Cosmopolitan (February 1989): 200-203.
Segell, Michael. "What's Driving Miss Jodie?" Redbook (November 1991): 77-79 & 105 – 109.
"Women of the Year… Jodie Foster: For giving smart women a good name in Hollywood," Glamour (December 1991): 79.
Zonkel, Phillip, "One of America's Best Actresses is Taking on a New Role: Director," Seventeen (October 1991): 69.
~~~~~~~~~~~~~~~
NOTES FROM MY TEACHERS:
Social Studies (Mr. E): Kathy – It is clear that you have learned a great deal about Foster. The paper presents a good amount of info on her. However, it could explore her impact in all three areas in greater depth. Otherwise, form and mechanics look great.
English (Dr. M): Kathy… Good show (no pun intended). Good term-paper form and smooth, insightful development of your focus with well-chosen quotation and excellent analysis. Clear organization and tight control of focus. Pleasant to read. (Have you seen her in Siesta?)
Dr. M also made lots of interesting notes throughout my paper which were fun to revisit. He liked my opening, the way I developed the background, how I integrated quotes, many of my transitions, my use of sources and specifics and how the final quote I chose/last line of the paper ties into my title. I also want to note that Dr. M was my all-time favorite teacher. I have been working on a post about being in his class that year and what I learned from him, that I hope to share here sometime in the not too distant future. Also, in reading his comment I realized that I have still never seen Jodie Foster in Siesta and will have to remedy that.
~~~~~~~~~~~~~~~
Thank you for reading.
What do you think of Jodie Foster's speech at the Golden Globes this year?
How do you view her impact on America as an actor, a director and a role model?
Did you ever writer a research paper like this when you were in school?
If so, who did you write about?
Photo credit: Reuters