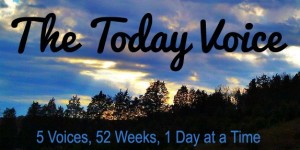 It's Thursday, which means my latest post is up over at The Today Voice.
It's been five weeks since I last shared links to my posts as "Thursday's Voice." I appreciate your support and feedback about my posts and am especially grateful to those who have taken time to comment on my posts over there and share your thoughts on the weekly prompts.
If you are not familiar with The Today Voice writing project, click here to read the back story and I how I got involved.
Here are the links to my posts from the end of December and all of January, along with the writing prompts for each week:
Week Twenty-seven: Kathy Benson ~ What's one thing you've learned this year?
In which I share about what I learned in 2012.
Week Twenty-eight: Kathy Benson ~ Write about your new year's resolutions.
A post about my New Year's resolutions for 2013 and how I did with the ones I made for 2012, including a video of yours truly!
Week Twenty-nine: Kathy Benson ~ Write about five people that have most affected your life.
In which I share about six people (I cheated) who have most affected my life.
Week Thirty: Kathy Benson ~ What is your favorite book and why?
A post about one of my favorite books and what I learned from reading it.
Week Thirty-one: Kathy Benson ~ Write about anything.
In which revisit a post that I wrote/shared on my blog about a year ago regarding "What God Wants." I would love to know what you think.
To check out the other Today Voice posts written by my fellow authors, this week or from previous weeks, click on the links below to read what they have shared:
Monday's Voice: Bridget Scoville (the newest member of our Today Voice Team!)
Tuesday's Voice: Brian B. Baker
Wednesday's Voice: Peter Combs
I hope that you will continue to follow our journey on The Today Voice and share your thoughts on our posts.
You can follow us on Twitter @TheTodayVoice and "like" our Facebook page here.
Please share your thoughts in the comment section of my posts on The Today Voice, here on my blog or in a post on your own blog and then let me know/share a link so I can read it.