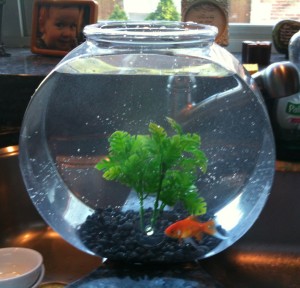 This one of the many questions we have been discussing with Sean and Abby since our first family pet, Nemo the Goldfish, died last Thursday.
Nemo appeared to be sick or not himself for a few days. It was strange and sad to essentially watch him die and to have an ongoing conversation with our children about what was happening to their beloved Nemo.
Abby prayed for him at "special prayers" that night after he stopped moving and likes the idea of him being in Heaven with God and Molly. She is also excited about the prospect of getting another one and would like for us to name it Dory.
We discussed our options for laying Nemo to rest. Abby preferred flushing him down the toilet, but Sean wanted to bury him in our backyard. Since technically Nemo belonged to Sean, because he won him in June at an end of the school-year fair, he got to make the call.
We had good intentions to find something to bury Nemo in and then find the warmest point during a recent sunny day to try to get him in the ground in our backyard. But then the ground was hard from the cold and our lives were busy. Many days passed and somehow Nemo was still floating lifelessly in his fishbowl.
Finally last night we knew we had to do something with Nemo. We discussed it with the kids and Sean agreed that it would be okay to flush him down the toilet. He bravely took a net and got Nemo out of the fish bowl. He carried him to the toilet and we all said our goodbyes.
Then Sean flushed him down the toilet.
It was a bit surreal to watch the bright orange goldfish, who had been energetically swimming around in a bowl on our kitchen counter for the past six months, swirl around in the toilet bowl and then get flushed away.
Sean looked sad and choked up afterwards and I gave him a big hug.
Abby didn't seem very upset at the time, if anything she seemed to get a kick out of the whole thing, especially watching Nemo spin around in the toilet before going all the way down.
But then this morning Abby woke up and asked where Nemo was. She wanted to know why he wasn't in his fish bowl.
I reminded her what had happened last night, that we had flushed Nemo down the toilet, because he was dead.
Abby seemed sad.
Then she said,
"Maybe if he was done dead, he could come back here?"
I told her that I didn't think that was possible.
Abby continued to process all of this out loud saying,
"Maybe his dad can go to Heaven and see how he is feeling?"
I explained that I also didn't believe that was possible, but that I wished it was.
We talked about how we like the idea that maybe her sister Molly in Heaven can take care of Nemo now for us.
Then Abby said,
"If Nemo was not dead, he could just twist in the toilet and come back up!"
Oh Abby, I wish that were true for Nemo and so many loved ones that have left this world too soon.
I agreed with Abby how cool it would be if that could happen, but told her that I didn't think it would.
So for now we need to try to make peace with our goldfish's death. If my children and I find it comforting to believe he is in Heaven, I think that is okay.
Just keep swimming, just keep swimming…
We will probably also get a new fish sometime soon, as Sean and Abby really want to and Bob and I are not opposed to it.
It is bittersweet for me to realize that I didn't appreciate Nemo enough when he was here.
I think we can say that about a lot of people, pets and other things that are important to us.
I am amazed how lonely our kitchen counter seems now, without our golfdish there.
Rest in peace Nemo.
Has your family had to say goodbye to a pet? How did you handle it? 
If you have children, how did you help them to process the experience?