Tonight I have insomnia and was catching up on some blog reading when I read Mel's post, which in turn drew my attention to Julya's post about making a conscious effort to remember someone's name, other than the shooter, who died on Friday at Sandy Hook Elementary School in Newtown, Connecticut.
I love this idea.
Thank you Julya and Mel.
I will remember Catherine Violet Hubbard.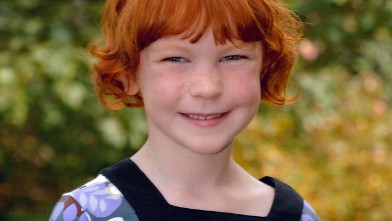 I saw this picture of the adorable little red-headed girl (which makes me think of the Charlie Brown cartoons) on ABC News' website yesterday and for some reason her face and sweet smile spoke to me.
Catherine was six years old and in first grade at Sandy Hook Elementary School.
As with so many, the ABC family has been touched directly by the tragedy in Sandy Hook.

One of the young victims, Catherine Hubbard, is the niece of an ABC News employee.

Here is a statement from the family:

"We are greatly saddened by the loss of our beautiful daughter, Catherine Violet and our thoughts and prayers are with the other families who have been affected by this tragedy.

We appreciate the overwhelming support from our community that we have received over the past 24 hours. "We also wish to express our gratitude for all of the emergency responders who responded to this tragic incident as well as the teachers and staff of Sandy Hook School. Our local police and fire departments and the other agencies who are working on this continuing investigation have been incredible.

We also want to recognize outstanding work of The Connecticut State Police who have been supporting us from the very beginning of this ordeal and continue to provide unwavering support to our family.

We have no further statement to make at this time and ask that we be afforded the opportunity to grieve with our friends and family.

We ask that you continue to pray for us and the other families who have experienced loss in this tragedy.

Jennifer and Matthew Hubbard"
Update (Wednesday, December 19): Catherine Hubbard's wake will be held today, followed by her funeral and burial tomorrow. Here is a link to Catherine's obituary. According to her obituary, "she will be remembered for her passion of animals and a constant smile."
Catherine's family has asked that in lieu of flowers donations be made to: Newtown Animal Center, PO Box 475, Newtown CT 06470 or click here to donate online.
Please keep Catherine's parents, older brother, grandparents, aunts, uncles and cousins in your thoughts and prayers as they lay their sweet girl to rest and have to learn to live without her in their lives in the days to come.
I continue to send my thoughts and prayers to all those mourning the loss of the children and adults from Sandy Hook who died on Friday.
Update (Thursday, December 20): I read that Catherine Hubbard's funeral, later today, will be one of eight (for school shooting victims) to be held at St. Rose of Lima Catholic Church in Newtown, CT. I didn't know that Catherine was Christian, let alone Catholic, when I chose to remember her. But I feel an even closer connection now to Catherine and her family as a fellow Catholic.
Sending thoughts and prayers to all those laying loved ones to rest this week in Newtown, CT and around the world.
Update (Friday, December 21): Here are some links to articles I have found about Catherine. I appreciate learning more about Catherine Violet Hubbard, as it is helping me to ensure that I will truly never forget about this precious little girl who left this world much too soon.
Catherine Hubbard: Charming girl loved animals by Kristin V. Brown, Connecticut Post (December 20, 2012)
This piece tells about her funeral yesterday.
Through a Photo, Feeling Newtown's Pain by Lori Riley, Hartford Courant (December 20, 2012)
This one was written by a woman whose family shares Catherine's love for animals and specifically horseback riding.
Catherine Hubbard's love for animals and her red hair serve as reminders of a vivacious child by Christopher Dean Hopkins New Haven Register (December 20, 2012)
Another, more in depth, article about Catherine's funeral. This line broke my heart, as a fellow mother who is also a catechist, that taught my own child (our son) last school year in my class.
"(Msgr. Weiss) held the Hubbards up as an example for the 300 mourners, noting Jenny Hubbard would continue to teach one of the church's catechism classes despite the fact that her daughter would no longer be in it."
Whose name will you remember?