I was compensated for my participation in Coca-Cola's Balanced Living Workshop, but my thoughts and views are my own.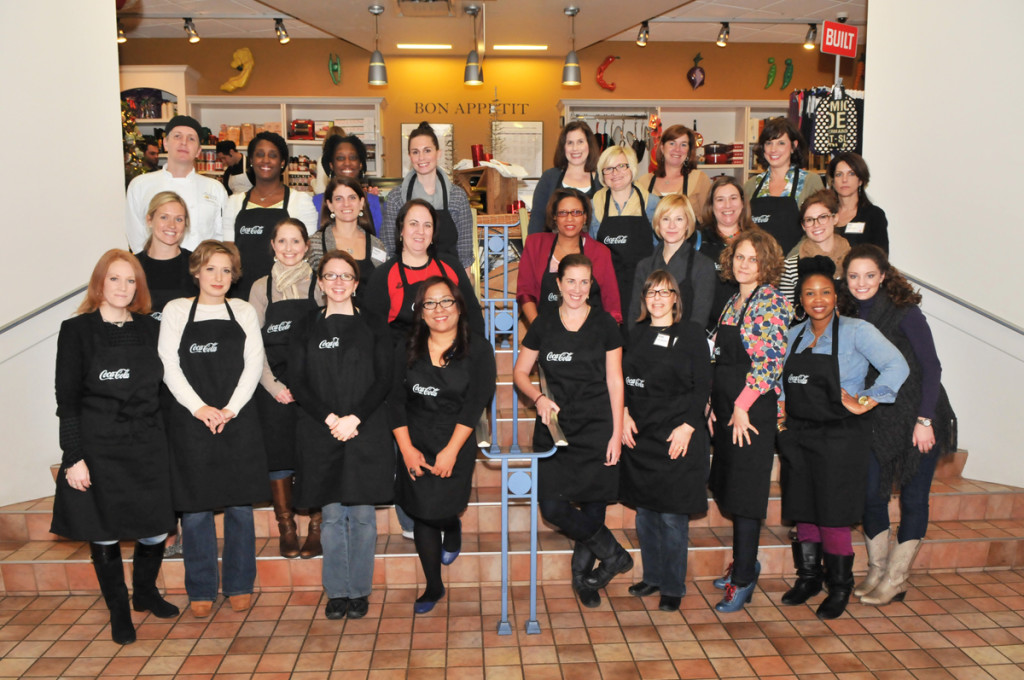 "Mothers of the world are the biggest healthcare system in the world, so we really hold a lot of power and responsibility." ~ Coca-Cola Balanced Living Workshop
There were many things that struck me throughout Coca-Cola's Balanced Living Workshop, December 11th – 12th, here in Chicago. This quote, from one of Coke's resident nutrition experts, was one of them. As mothers we talk a lot about having "Mommy guilt" and this is one of the reasons why; we understandably feel a great sense of responsibility for the health and wellness of our families, especially our children. Though I often think about the responsibility I have as a mother, I rarely thought about the power that I hold until I attended this workshop.
Many of my friends and family members were as curious as I was to find out what my take-aways from the two-day event would be. I can tell you that the experience far exceeded my expectations. Being primarily a Stay at Home Mom it was awesome and surreal to be given so much time to focus on myself, as well as my vision for the future health and wellness of my family. I soaked up every opportunity that we were given to hear from experts in the fields of nutrition, fitness and meal planning/preparation. It was also wonderful to meet and get to know so many fellow Chicago area bloggers who are also moms.
Food is Our Fuel
I love analogies and one that I picked up during the workshop from the XSport Fitness personal trainer Debbie Gurvitz, that I had a one-on-one consultation with, was to imagine that my body is a luxury automobile. She talked about how we shouldn't put cheap gas in a really nice car and likewise we should try not to put too much junk food in our bodies. When I am deciding what food to eat, I need to consider what that choice is going to do for me. That really helped me to visualize the difference between serving healthy and not-so-healthy foods to my family and me.
10,000 Steps
During our session with celebrity fitness trainer Harley Pasternak, I was reminded how important it is for my family and me to be active regularly. You would think this is a no-brainer, considering that I am an American Council on Exercise certified group fitness instructor. However, I still struggle at times to prioritize exercising and finding time for our whole family to do so consistently.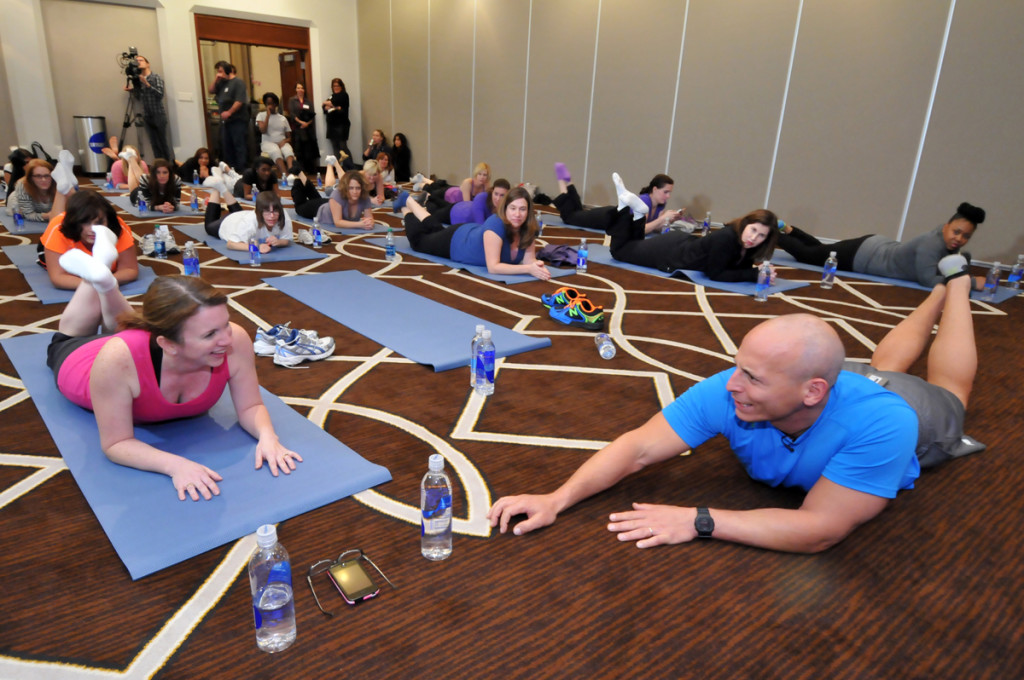 Harley emphasized that though participating in formal exercise, whether it be a group fitness class or working out at a gym, is great, there are many other ways to stay physically fit, including very basic activities, such as going for a walk as a family around the block after dinner. Harley talked about how helpful it can be to wear a pedometer to track the amount of steps we take, with the goal of 10,000 steps per day. So I was all the more excited when we each got to take home our own pedometers to aid in our efforts to get and stay more fit.
Bring on the Veggies!
I have been a picky eater for most of my life and only in the past ten years, since we had our first child, have I made a conscious effort to change my eating habits. I have slowly learned to try to eat more vegetables, both because I know it is healthy and to be a good example to our nine-year-old son and three-year-old daughter. That said, until we reviewed the My Plate (Food Pyramid's successor) government recommendations for healthy eating, portion size and a balanced diet, I didn't realize just how much of our meals should consist of veggies.
Now I have no more excuses (ignorance was pretty blissful) and intend to increase the amount of vegetables on our plates and frequency with which my family and I eat them. I also plan for us to try some new veggies, along with new recipes for preparing vegetables, to help during our transition. Renee Clerkin, the dietitian that I got to have a one-on-one consult with during the workshop, also had some great suggestions to get me started serving and eating more veggies.
The First Bite is Best
During that one-on-one consult with Renee, an awesome dietitian, we were talking about how to try to limit some of our favorites foods that may not be so good for us. She emphasized that we do not need to deprive ourselves completely of almost anything that we crave. However, Renee suggested that when given the choice between one cookie or two, one is usually enough to satisfy our sweet tooth. I keep reminding myself during this holiday season to think about the idea that, "the first bite is best" and thus if we eat slowly and really savor our food, we are able to enjoy our guilty food and beverage pleasures in moderation, without much guilt or damage to our waistlines and overall health.
Imagining a Healthier Future
I have always thought "vision boarding" would be a cheesy and not very helpful activity for me. So I was skeptical when I found out that I would be making one during Coca-Cola's Balanced Living Workshop. However, when my old friend from high school and BlogHer Co-Founder, Jory Des Jardins, led our group through the exercise of imagining a healthier future for our families and ourselves through making vision boards, I couldn't believe how much I enjoyed the process and love being able to revisit my finished product. Here is what I made: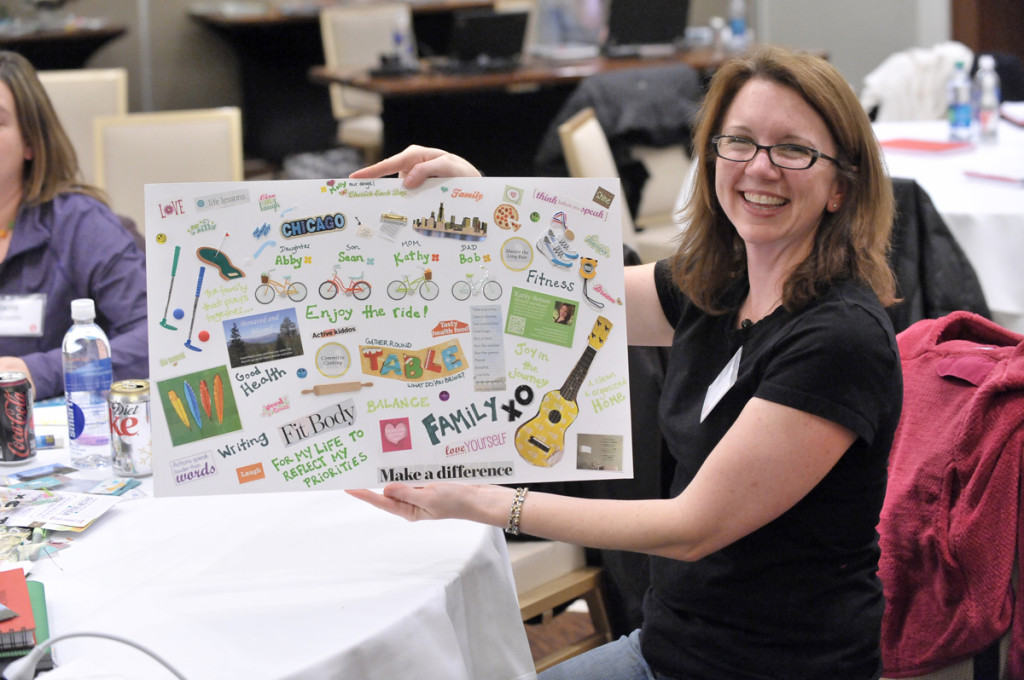 Each of us was invited to give a brief presentation about our vision boards after we created them. I shared how mine represents finally having made it to a place in my life/with my family that I hoped for and dreamed about for so long. I talked about our five-year journey through secondary infertility and loss and how now that we have this awesome family of four (with Molly and our other angels watching over us), I want to focus more on "enjoying the ride."
Coca-Cola Cares
There were some things that surprised me to learn about Coca-Cola. Besides the fact that they were hosting a workshop focused on "balanced living" for moms here in Chicago, in the first place– which tells me that they care about us, our families and our community– I was impressed by how important gathering and educating others with accurate information about our health, wellness and especially nutrition appears to be to them.
There was a session early on the first day, called Nutrition in the News: Putting in into Perspective. It was led by two of Coke's registered dietitians, Joan Koelemay and Robyn Flipse. I found their presentation fascinating and helpful when it comes to trying to disseminate through the overwhelming amount of headlines and claims out there regarding our health and wellness, especially as it relates to what is in the food and beverages that we consume. I was also pleased to find out more about Coca-Cola's non-soda products and even got to try some throughout the two-day workshop.
Many thanks to Coca-Cola and BlogHer for the opportunity to participate and share with you here about my experience in their Balanced Living Workshop. I do believe that the information and tools I acquired during the workshop have given me the motivation and inspiration I was looking for to help my family and me eat and live healthier in the days, months and years to come.
As one of the Balanced Living Workshop team members told me, "It's not easy, but it is simple." We just need to be ready and willing to take what we have learned and make some significant changes in our eating habits, which includes meal planning, and prioritizing exercise, whether we do so individually or, even better, together as a family. I look forward to a fresh and healthy start to 2013 and wish the same for you and your loved ones!
~~~~~~~~~~~~~~~~~~~~~~~~
Photo credits: The Coca-Cola Company and Bruce Powell Photography
Disclaimer: I am being compensated for attending Coca-Cola's Balanced Living Workshop, as well as sharing about my expectations and experience. However, the opinions expressed here are my own.