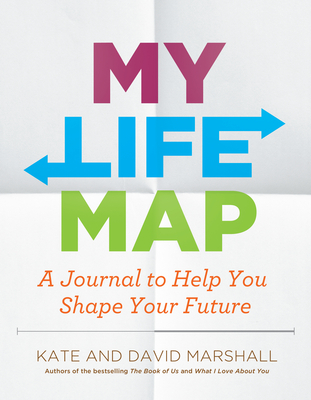 It's been ten months since the last time I read and reviewed a book for the BlogHer Book Club (BHBC). There were many reasons this year that I passed on opportunities to participate and in a few cases I didn't respond quickly enough to get the chance. However, I am glad to be sharing this review of my latest/sixth BHBC read, My Life Map: A Journal to Help You Shape Your Future by Kate and David Marshall with you today.
Part of what attracted me to reading My Life Map, is the stage of life that I am in. In the past year we made the choice to be done trying to expand our family, after all that we experienced on our journey between the births of our two living children (including five years of dealing with secondary infertility and loss).
Though I still love being primarily a stay at home mom, I know that our third grader and preschooler will not be young forever. I want to cherish this time with our son and daughter, but I also want to be aware and begin to prepare for when they are older. A few years down the road, when they are both in school all day, I may choose to more formally pursue some of my professional hopes and dreams, whether I return to the workforce part-time and/or try to do various contractual jobs from home.
It was really interesting to reflect on my past and think about my future after years of focusing so much on trying to build our family. I am a planner by nature and thus I certainly have spent time daydreaming about what's next over the course of my life. However, I liked how this book approaches helping you to imagine and intentionally shape your future, in part based on reviewing key events, patterns and interests throughout your past. I also thought the workbook style was appealing and enjoyed filling in the blanks along the way.
The journaling process in My Life Map, including formulating a tangible vision and measurable goals for my future, allowed me to think about and prioritize what is most important to me personally, in my relationships (especially with my family and close friends) and vocationally. I found this extremely useful, as the way I spend my time does not always reflect what I claim my priorities are.
With each New Year I find myself resolving to do a lot of the same things over and over again, seeing various degrees of progress. But there is something to having all of this written down now in a book that I can revisit, which can help me with accountability, as well as to reshape my vision and goals as things change in my life going forward.
I recommend this book, especially if you are at a turning point or in a time of transition in your life. Please join our discussion over on the BlogHer Book Club page where you can share your thoughts and find out what others are saying about My Life Map.
If you have already read/worked through My Life Map or decide to check it out in the future, I would love to know what you think of it.
~~~~~~~~~~~~~~~~~~~~~~~~
Disclaimer: I received a free copy of this book to read for this review and to participate in the related BlogHer Book Club discussion. However, I was in no way encouraged to write a positive or negative review about My Life Map.