It's been almost two weeks since I last posted here. I can't remember the last time I went that long in between blog entries. One of my old friends even sent me a message this morning checking in to make sure that I was okay, since things had been so quiet around here. Thank you friend.
There has just been so much going on in my life and blogging has taken a back seat. I have been dealing with my recurrent urinary tract issues, including meeting with multiple specialists to try to get to the bottom of the problems I am experiencing. There has been a lot going on with my church commitments and my children's schools which has kept me busy attending meetings when I might otherwise find time to write. I have been trying to catch up with housework and trying to purge a lot of what we have accumulated over the years. I have also been trying to get back to exercising regularly and watching what I am eating, as I somehow managed to put on some weight in recent months.
In short, though I love to write I have not been prioritizing it. I have also struggled to keep up with reading and commenting on the blogs that I follow. I hope in the coming weeks to find a way to balance it all. That said, I believe that blogging shouldn't feel like work (unless a person is actually getting paid to do so) and thus I have tried not to put pressure on myself to blog if I don't feel like it or if doing so is taking away from other things that I need to focus on right now, especially my family and my health. I do have a lot of blog entries percolating in my mind and drafts in my notes app on my iPhone. I look forward to working on those and sharing them here soon.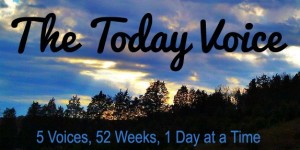 In the meantime, I have honored my commitment to The Today Voice, though I haven't posted links to my weekly entries over there in over a month. So today I will share links to the last five posts that I wrote in response to the weekly writing prompts.
I continue to enjoy the experience of being "Thursday's Voice" and appreciate your continued support and feedback about my posts since we launched this writing project in July. I especially appreciate those of you have taken time to comment on my posts over there and share your thoughts on the prompts each week.
If you are not familiar with The Today Voice writing project, click here to read the back story and I how I got involved.
Here are the links to my October posts and the last one from September, along with the writing prompts for each week:
Week Thirteen: Kathy Benson ~ How old were you when you had your first kiss?
Week Fourteen: Kathy Benson ~ When do you think it is OK to keep a secret and why?
Week Fifteen: Kathy Benson ~ Write about anything
Week Sixteen: Kathy Benson ~ Write about your favorite childhood memory.
Week Seventeen: Kathy Benson ~ Write about your least favorite childhood memory.
To check out the other Today Voice posts for the past month or so click on the links below to read what my fellow writers have shared:
Tuesday's Voice: Brian B. Baker
Wednesday's Voice: Peter Combs
I hope that you will continue to follow our journey on The Today Voice and share your thoughts on our posts.
You can follow us on Twitter @TheTodayVoice and "like" our Facebook page here.
Please share your thoughts in the comment section of my posts on The Today Voice, here on my blog or in a post on your own blog and then let me know/share a link so I can read it.