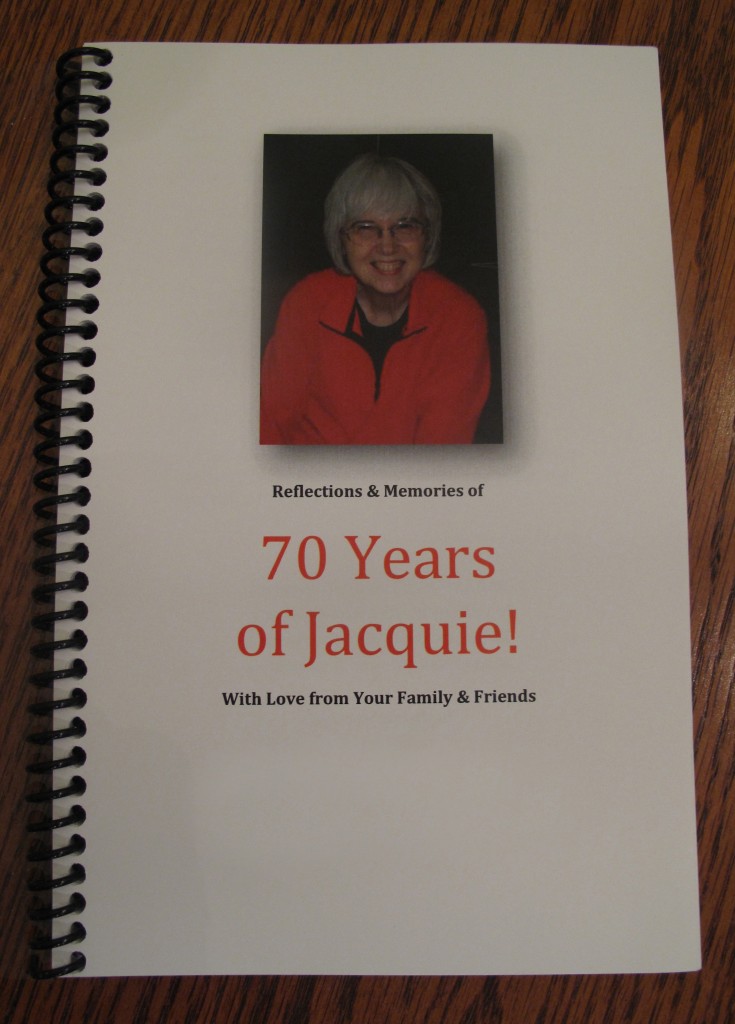 It's the last Monday of the month which means its time to share our Perfect Moments from September with Lori from Write Mind Open Heart.
~~~~~~~~~~~~~~~~~~~~~~~~~~
Regular readers of my blog may have noticed in recent weeks that things have been rather quiet around here. I haven't been posting, reading or commenting as much as I usually do.
This was because I was spending most of the free moments I had working on a surprise for one of the most important people in my life, who also happens to read my blog, therefore I could not directly mention the reason for my absence.
That person is my mom and this weekend we celebrated her 70th birthday!
Bob, Sean, Abby and I went away for the weekend to a family friendly resort here in Illinois with my parents, sister, brother-in-law, niece and nephew. My mom thought our getaway, which was awesome, that we had planned many months ago was her birthday celebration. However, about nine months ago my dad, sister Meg and I decided that we want to throw her a surprise party. The last time someone (my dad) did this for my mom was 35 years ago and I was too young to remember.
We threw my dad a surprise party eleven years ago for his 60th birthday party. The following year when we asked my mom whether she wanted a big party to celebrate her 60th, she kindly said no, that she would rather just go away for the weekend and spend quality time together as a family. So that is what we did and had wonderful time.
Fast forward ten years… Dad, Meg and I wanted to honor mom with a party to celebrate her 70 years and thus we did not ask her how she wanted to celebrate. She seemed a bit taken aback when we told her how WE wanted to celebrate her birthday this year. We said that we had so much fun in January 2011 when we went away for the weekend to celebrate dad's 70th, that it made sense to us to do the same thing again for her milestone birthday.
When we first sprung the idea on her, she pushed back a bit and said that she wanted to think about what SHE would like to do to celebrate turning 70. Who could blame her? We felt a bit guilty knowing that we weren't giving her the chance to choose what she wanted to do. But then, as mom so often does, she took some time to contemplate what we had proposed and circled back with an enthusiastic "yes" and "thank you" for wanting to go away together as a family to spend a fun and relaxing weekend in honor of her birthday.
From there we began to plan the party and sent a "save the date" to local loved ones. The stars aligned in that her actual 70th birthday fell on Saturday, which made it easy to decide when to have her birthday party. Meg researched options as to where to have the surprise party, as she lives close to the resort we were staying at. She did a great job narrowing it down and ultimately we decided to have the party on site at the resort in a banquet room. We told mom that we had made dinner reservations at a nice restaurant there and didn't let on otherwise until the last-minute.
Meanwhile, we wanted to give mom a special gift, in addition to throwing her a surprise birthday party. Two years ago, when my sister Meg turned 40 we got an idea from some friends to put together a surprise memory book for her. We requested that family and friends send pictures and memories of Meg being in their lives, including fun, serious, humorous and/or sentimental stories and messages for her. It was a lot of work, but truly a labor of love and it was so awesome to present my older sister with a "40 Years of Meg" memory book the weekend of her 40th birthday!
After having created such an awesome book of memories for Meg, we knew we wanted to do the same for our mom. In some ways it was easier this time around, as I already had the format in place that I used to make Meg's book and decided not to change it. I emailed and sent private Facebook messages to as many people who have been a part of my mom's life as I was aware of/had access to. It was so interesting, fun and moving to receive the entries that her loved ones sent to be included "70 Year of Jacquie." When visiting my parents with the kids overnight for a few days this summer, I was able to secretly borrow a bunch of old photos that I scanned for mom's memory book.
Planning a surprise party and memory book for anyone is not an easy task, but when you are doing it for one of your closest friends, someone who you talk to and spend time with often, it is extremely difficult. Especially in recent weeks when my mom would ask me "what's new?" I was truly at a loss for words. I would try to come up with things that made me sound busy, which I was (and not just because of the party planning and book making), but often wondered if she was on to me. She did mention after the party, that she noticed recently that something was up with me, but couldn't figure out why.
In light of the contact I had with those submitting entries for the book and RSVPing for the party, it was even harder to keep this secret. One of my mom's close friend's fathers passed away and her friend had kept me updated on his condition, as she wasn't sure if she would be able to make it to mom's surprise party. So when he died she emailed me soon afterwards and it was bizarre to not be able to share with my mom that I knew. Then when my mom shared the news I had to act genuinely surprised, though I didn't have to fake the sadness.
So you get the idea, while it was a lot of fun to prepare to celebrate 70 years of Jacquie, by this weekend I was so ready for the big event and gift presentation!
Somehow we pulled off the surprise and when my sister Meg told our mom a few minutes before we left for dinner on Saturday evening that the restaurant where we had made reservations had bumped us to a private banquet room at the hotel/resort because of the size of our party (ten people, including four kids) and it being her birthday, she didn't suspect a thing. It was beyond perfect to witness the look of surprise and happiness on my mom's face when we entered the room and she saw and heard her family and friends greet her with "surprise!" and then sing "happy birthday."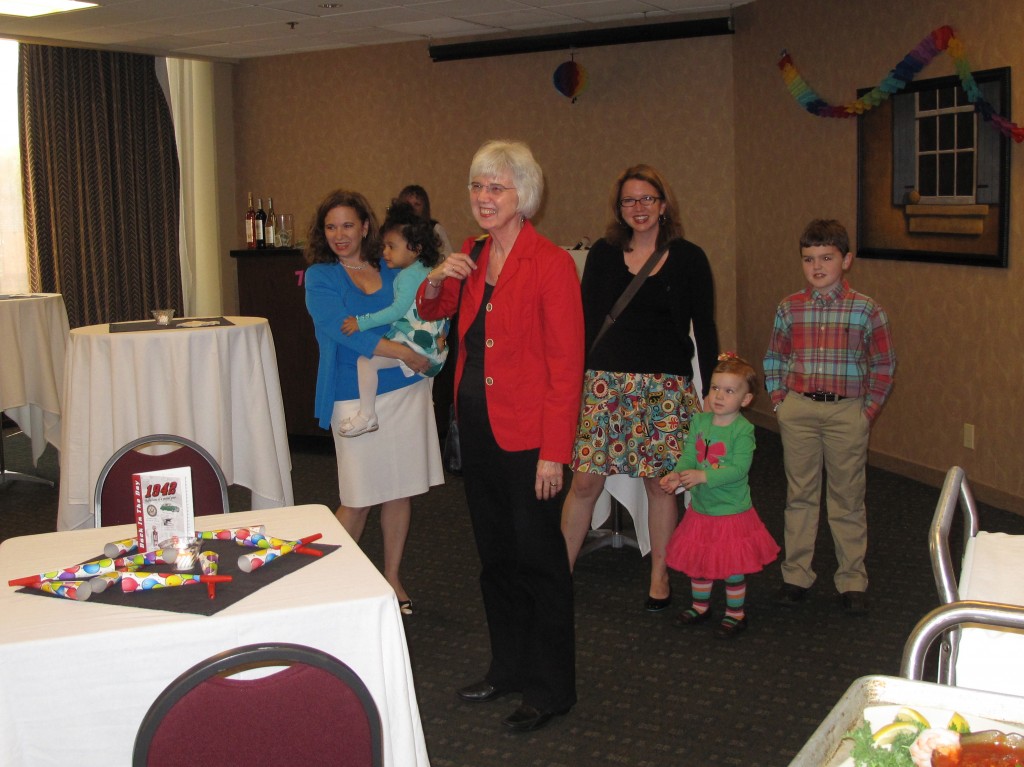 After she had the chance to mingle with loved ones that came to celebrate her milestone birthday, we gave her a bag filled with copies of her memory book "70 Years of Jacquie!" Having contributed to the surprise memory book for her older daughter/my sister two years ago, she immediately knew what it was. We had a few color copies made for our immediate family to keep and then six black and white versions of the book for party goers to browse during the event. I also emailed a PDF version to all those who contributed to the book and attended mom's birthday party, so that everyone would have the opportunity to read what an incredible impact my mom Jacquie has had on so many people throughout her 70 years. It was an honor and privilege for me to get to compile the photographs and memories of my mom's loved ones in tribute to her.
As my mom said the next morning after having woken up early, still excited about the events of the night before, and read the entire 70 page memory book cover to cover, it was like getting to be present for your funeral, but in a good way. She thought it was such a blessing to get to read what she means to her family and friends while she is still here with us, instead of after her passing someday (hopefully not for a very long time). I was so pleased that she felt that way, though not surprised, as that was our hope and intention in putting this together. Not unlike the book Tuesdays with Morrie, I wish everyone got the chance to receive such a memory book in this lifetime.
I plan to take a few months off, but then want to make another one for my dad, as he too deserves to have such a special book celebrating his years, relationships and legacy in this lifetime. There are no major milestones coming up for him, but I don't want to wait, as you never know what can happen and I want him to get to enjoy his own memory book soon. It doesn't have to be a surprise, I will just do it anyway and ask his loved ones to contribute their photographs and memories.
Pulling off the surprise party and memory book in honor and celebration of 70 Years of Jacquie was a perfect moment that I will never forget. Thank you to all who helped make it happen and a very Happy 70th Birthday to my dear mom!
I will leave you with one of my entries from "70 Years of Jacquie," the last message that I wrote for her book. Many of the previous entries were shorter and more lighthearted, but I chose to end with a more sentimental one about what my mom means to me.
"What did you do with what God gave you?"

A priest that mom respected challenged her with that question many years ago. She in turn relayed it to me and it is something I have returned to time and time again.

I have tried very hard to live a life so far that God and my parents, especially my mom, would be proud of. This is in part because of the amazing role model mom has been to me, my sister, our children and so many others (including many of my friends who feel a special connection to her).

I feel extremely blessed and lucky that God gave me the woman he did to be my mother and one of my best friends.

Though we have our moments, we have been very close over the years. I can relate to so many of the stories about my mom in this memory book, as I too know first hand what an incredible, loving, generous, patient, kind, faithful, honest, trustworthy and forgiving mother, wife, friend, Christian, activist and woman she is.

My mom is also a great example of living a healthy and balanced life, from how she eats to exercising and taking care of her skin.

Like her good friend Maryann, I have walked many miles along side my mom (though probably not as many thousands as they have covered together) and I am grateful for our power walks and talks. My mom knows just about everything there is to know about me and it means so much to be able to talk with her about anything that I am happy, sad, concerned and/or confused about.

As so many other loved ones have said, my mom is a great listener and has such a big heart. I admire that in her retirement she chooses to give so much of her time and energy to reach out to and advocate for others, especially as it relates to peace and social justice issues.

Mom always tries to make her children's (including her son-in-laws) and grandchildren's lives easier, as her mother did for her. Whether it's helping to fold our laundry, unloading/loading our dishwasher, coming early to a special event that we might be hosting at our home to assist us with preparations and/or watching our children so that we can get things done, we are always grateful for everything she does for us and our families.

I was very close to my mom's mom/Grandma Dee and it means so much to me to see that my own living children Sean and Abby get along so well with my mom/their Grandma Jacquie. They adore each other and it brings me so much joy to see them spending time together. As a retired reading specialist mom knows how important it is for children to learn to read and I appreciate everything she has done with Sean and Abby to help encourage their love of reading.

It also means a lot to me that my mom is sensitive and caring when it comes to helping our family honor the life and memory of Bob and my daughter/her granddaughter Molly who left this world much too soon after her birth. She was also very supportive over the years during our long and difficult journey through secondary infertility and recurrent pregnancy loss.

There is so much more I could say here, but more than anything there hasn't been a day in my life when I didn't know how much my mom loves me. That is huge. She has always been one of my biggest fans and believed that I could do anything I set my mind to and heart on.

My mom has also shown my sister Meg and me tough love at times over the years when we needed it and I believe we are both better adults, women and especially mothers for that.

During extremely difficult, painful and uncertain times in my life my mom has been there for me on the phone to talk things through and in person whenever I needed her, whether it was accompanying me to a doctor's appointment or watching and playing with my children so I could deal with what was going on.

Mom,

Thank you for being you!

You have been such an awesome mom and friend to me over these past 37 years!

HARPPY 70th BIRTHDAY!

I hope and pray that you will be with us to celebrate many, many more birthdays, as I can't imagine a life that didn't have you in it to share all of our joys and sorrows.

I will leave you with one of my favorite quotes, by Erma Bombeck, that exemplifies to me who you are and who I try to be:

"When I stand before God at the end of my life I would hope that I would have not a single bit of talent left and could say, `I used everything you gave me."

I love you so much!

Love, Kathy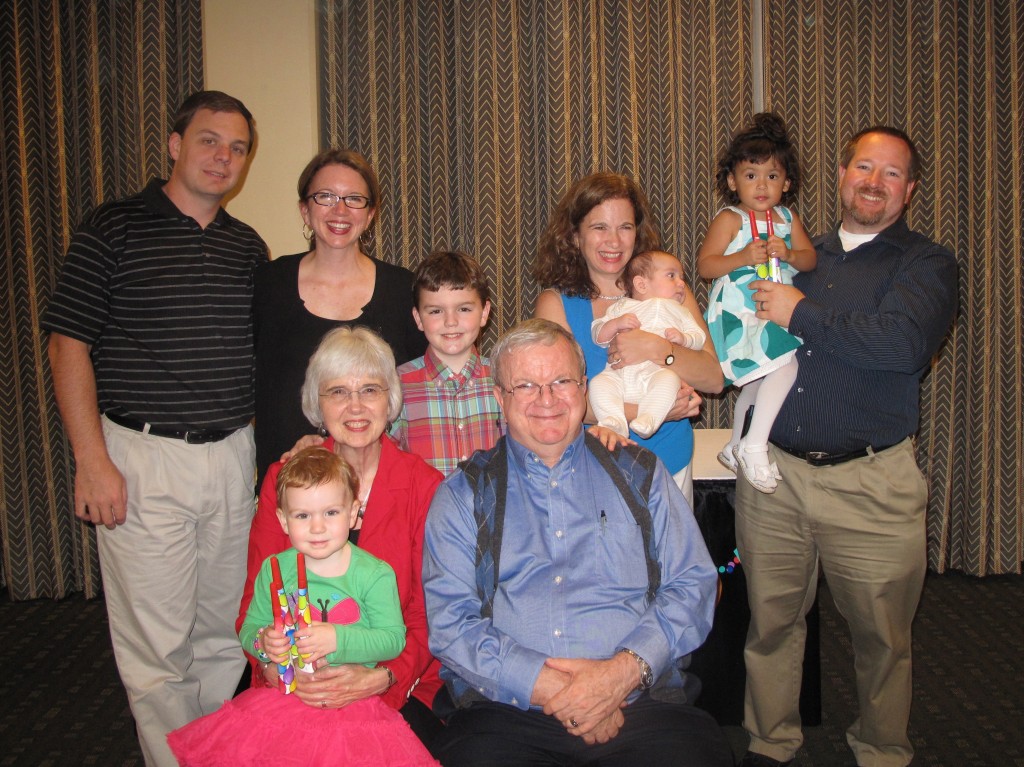 ~~~~~~~~~~~~~~~~~~~~~~~~~~
Lori from Write Mind Open Heart says that "Perfect Moment Monday is about noticing a perfect moment rather than creating one. Perfect moments can be momentous or ordinary or somewhere in between." I love the idea of being mindful of and blogging about perfect moments. Over the years I have often used my blog more to write about things I am struggling with and though I know that is valid and important for me at times, I appreciate the idea of being intentional about also sharing the simple and very special moments in our lives. Many thanks to Lori for this wonderful opportunity to focus on what is right in our life, instead of what is wrong. 
Click here to read about and comment on more Perfect Moments (there are links to others' posts at the bottom of Lori's blog entry) and/or add a link to one of your own. Thank you for reading. I hope that you have a wonderful week and that you are aware of, as well as able to notice, many perfect moments in your own lives.