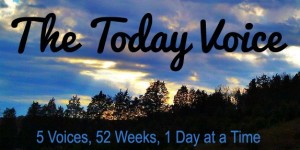 It's Thursday! Which means it my day to write about this week's prompt over at The Today Voice.
Thank you for your continued support and enthusiasm since we launched our new writing project last month. I especially appreciate those of you have taken time to comment on my posts over there and share your thoughts on the prompts each week here and/or there.
If this is the first you have heard about The Today Voice writing project, click here to read the back story and I how I got involved.
The prompt for this week is:
What story does your family always tell about you?
As I shared in the intro to my post today, this is a timely writing prompt, as lately whenever my kids and I are with my parents our eight-year-old son Sean will ask them to please tell him stories from when I was a kid. There are only so many that they can recall and so after a while the same ones get repeated. Sean doesn't mind though, as I think he gets a kick out of hearing them over and over again. I know I felt the same way when I was younger hearing tales of when my parents were kids and still do.
Here is a link to my ninth post as Thursday's Voice:
To check out the other Today Voice posts for this week click on the links below:
Tuesday's Voice: Brian B. Baker
Wednesday's Voice: Peter Combs
Friday's Voice: Amanda Kasper (post will be live at noon EST on Friday, August 31st)
I hope that you will continue to follow our journey on The Today Voice and share your thoughts on our posts "52 weeks, 5 voices, 1 day at a time."
You can follow us on Twitter @TheTodayVoice and "like" our Facebook page here.
What story does your family always tell about you?
Please share your thoughts in the comment section of my post on The Today Voice, here on my blog or in a post on your own blog and then let me know/share a link so I can read it.