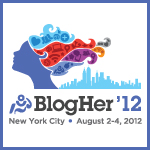 I got home from New York City late Sunday evening (our plane was delayed) and am still processing the wonderful time that I had at my first BlogHer annual conference.
I do intend to share one or more posts about my experience in the days to come. However, in the meantime, here are links to some awesome reflections on BlogHer`12 by my dear friends who I got to spend time with there:
BlogHer`12 Wrap-Up: the Good, the Bad and the Unbecoming by Melissa Ford
BlogHer 12: Life at Hogwarts by Jjjraffe
Thoughts on BlogHer by Justine
BlogHer12: Bright Sites, Big City by Lori Lavender Luz
You can also check out the tweeting that I did while at BlogHer`12 to get an idea of what inspired and moved me throughout the weekend.
Until I am able to put into words what BlogHer`12 meant to me, I decided to make a photo montage with highlights of my conference experience.
BlogHer Co-Founder and one my old friends from high school Jory Des Jardins (who wasn't able to be at BlogHer`12 because she is due to have her second child any day now) told me before I left for NYC that I would have the time of my life and she was right! That is one of the reasons I chose the song that I did for this video.