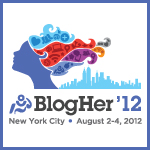 One week from tomorrow I will be leaving on a jet plane for my first BlogHer annual conference in NYC.
I am excited and nervous being a "newbie."
I am trying to go into this experience with an open mind and few expectations.
There have been a slew of great posts written recently (and in the past) by those who have been to the annual conference more than once before. I find myself eating up these blog entries about what they learned from going to BlogHer and, in some cases, how their approach this year is going to be different.
Here is a list of some that I have come across and found really helpful (I may add to this in the days to come, so please feel free to share links in the comments to any you recommend):
Conference Corner: Tips for Newbies by Shannon Carroll (BlogHer)
All the Advice You'll Ever Need for Attending the BlogHer Conference by Melissa Ford (BlogHer)
Stress Free BlogHer! by Annette (Catnip and Coffee) –> Thanks to Mel for linking to this one in her post listed above.
BlogHer'11: The Year of Fewer Parties and No Blisters by Melisa Wells (Suburban Scrawl)
On Schmoozing by Momo Fali –> Thanks to Melisa for linking to this one in her post listed above.
What I Love About BlogHer by Cecily Kellogg (Mom Crunch for Babble)
Navigating BlogHer12 from within by Lori Lavender Luz (Write Mind Open Heart)
Most of these women learned from their past experiences that attending unofficial off-site parties and/or trying to accumulate swag wasn't the most fulfilling way for them to do a BlogHer conference.
I admire their intentions and appreciate what they have shared about previous trips to BlogHer conferences. Reading their posts has help me to find comfort knowing that I can and will have a lot of fun next week if I just "go with the program" by attending sessions, keynotes, BlogHer sponsored parties and most importantly connecting and hanging out with new and old blogging friends.
That said, not having had the benefit of past experience at a BlogHer conference (outside of driving to/from downtown Chicago to meet Mel for lunch in 2009), I am not ruling out doing a few things, such as getting and bringing home a little (not a lot of) swag.
I received one (and only one) invite to an off-site/private party and, mostly out of curiosity, I plan to go. I don't think doing so makes me a bad person, as it will be the exception to how I intend to spend my time in NYC, not the rule.
I also hope to walk through the Expo and possibly talk with some of the sponsors there. It is not my main focus to connect with brands, but I am open to it. I was recently contacted by one of the official sponsors, who will be at the Expo. It happened to be one that I have used their products and am a fan of. I feel honored that they reached out to me and hope to connect with them while I am there.
I am very excited about the sessions! There are some on the writing track that especially interest me.
I am also really looking forward to speaking on the panel My Blog No Longer Fits Me! Blogging After Life Change with Lori, Kir and Mel on Saturday during Session 5 from 3:15 – 4:30 p.m. If you are going to be there, we would love for you to join us and contribute to our discussion.
The keynotes scheduled for this year sound awesome (the ones with celebrities, such as Katie Couric and Martha Stewart, and even more so  the community ones/Voices of the Year).
Since I plan to spend most of my time at BlogHer inside the Hilton hotel attending sessions and parties, I will be waking up early on Friday morning to participate in the BlogHer 5K Fun Run around NYC. Having been to NYC twice before, I don't feel like I am missing out by not getting to do too much sight-seeing this trip. But I do look forward to getting outside for some exercise and fresh air before the conference really gets rolling. If you are planning to do the BlogHer 5K too, keep an eye out for me in my green Team Nate running shirt.
As a stay at home mom for the past nine years, who has been through every clothing size between 4 and 16 multiple times due to pregnancies, my wardrobe is pretty old and out of style. So I did have some fun shopping over the past few weeks trying to find cute and inexpensive outfits at Carson's, Kohls and Target. I was successful and though I know it wasn't necessary, I am excited to have some new clothes to wear, along with some old standbys, at BlogHer'12 which will also be nice to have back home in the coming months.
In these final days preparing to go to BlogHer it seems to me, as in life, we all have to do "what works for us" and that's okay.
We don't all have the same priorities and past experiences guiding our decisions about how to spend the time we will have in NYC.
I look forward to seeing for myself what a BlogHer conference is all about and will surely debrief/share about my experience here on my blog when I return.
As others have said in their pre-conference posts, if you are going to BlogHer`12 and happen to see me there, please don't hesitate to introduce yourself and I promise to do the same.
I am definitely a people person, I am friendly, I love to chat and to boogie. So look for me at the sessions, meals and on the dance floor at the parties.
BlogHer`12 here I come!!!
If you have been to a BlogHer annual conference before, what was your favorite part?
What "works for you" there?
What is the best advice you would give a "newbie" like me?
If you are going this year, what are you most looking forward to?
If you are also a newbie, how are you feeling going into this experience?
If you are not going this year and haven't in the past, do you hope to attend in the future?